Details

Written by

Gordon Prentice
Doug Ford tells us the former CEO of Hydro One, Mayo Schmidt, got "zero" severance. He says he was proud to make the announcement.
But now the Globe and Mail tells its readers Mr Schmidt is sitting on Hydro shares worth over $8 million and he could cash them in.
Does Ford have a view on this or on executive pay packages more generally?
The backgrounder put out by the Province's newsroom yesterday makes no mention of Mr Schmidt's shares in Hydro One.
We are told:
"Mr Schmidt and the Company have agreed to the payment of a $400,000 lump sum amount on the effective date of his retirement in lieu of all post-retirement benefits and allowances.
Mr Schmidt will not receive severance payment, requirement allowance or change of control payment."
The Globe and Mail says
"Mr Schmidt, like other company executives, has participated in a range of long-term stock plans during his time at Hydro One. As is typical, the company awards the shares, but the executives cannot turn around and sell them in the open market. Instead they "vest" or become fully owned and saleable, when the executives continue their employment, or hit certain performance requirements."
We learn that "only" 50,000 of Mr Schmid's stock awards have vested. The rest – the hundreds of thousands of unvested shares - could be retained with Schmidt eventually owning them outright on their original schedule and terms.
However, the Globe and Mail reveals that under the terms of the agreement between the Province and Hydro One Schmidt could cash in hundreds of thousands of "unvested stock awards"
"at a specified (and undisclosed) price"
and these could be worth $8.2 million.
This begs a series of questions. Is Schmidt going to sit on his shares and cash them in later when the heat is off or is he going to take the cash now? And if it is the latter, how much is he going to get?
Ford made a big deal about Schmidt being the "Six million dollar man".
But as we now know, his salary was $1.2m with the bulk of the compensation package coming in the shape of Hydro stock.
Schmidt will of course be paying the CRA every cent that is due to them but it is a sad fact of life that people with stratospheric earnings can be slippery customers.
They have a million ways to keep their cash out of the clutches of the Canada Revenue Agency.
During the election campaign former MPP Chris Ballard reminded us:
"People on $14 an hour are not parking their money offshore."
It was a nice line.
When high earners are not paying their fair share the rest of us pay more than we should.
This email address is being protected from spambots. You need JavaScript enabled to view it.
Details

Written by

Gordon Prentice
Things are stirring down at tomvegh.com.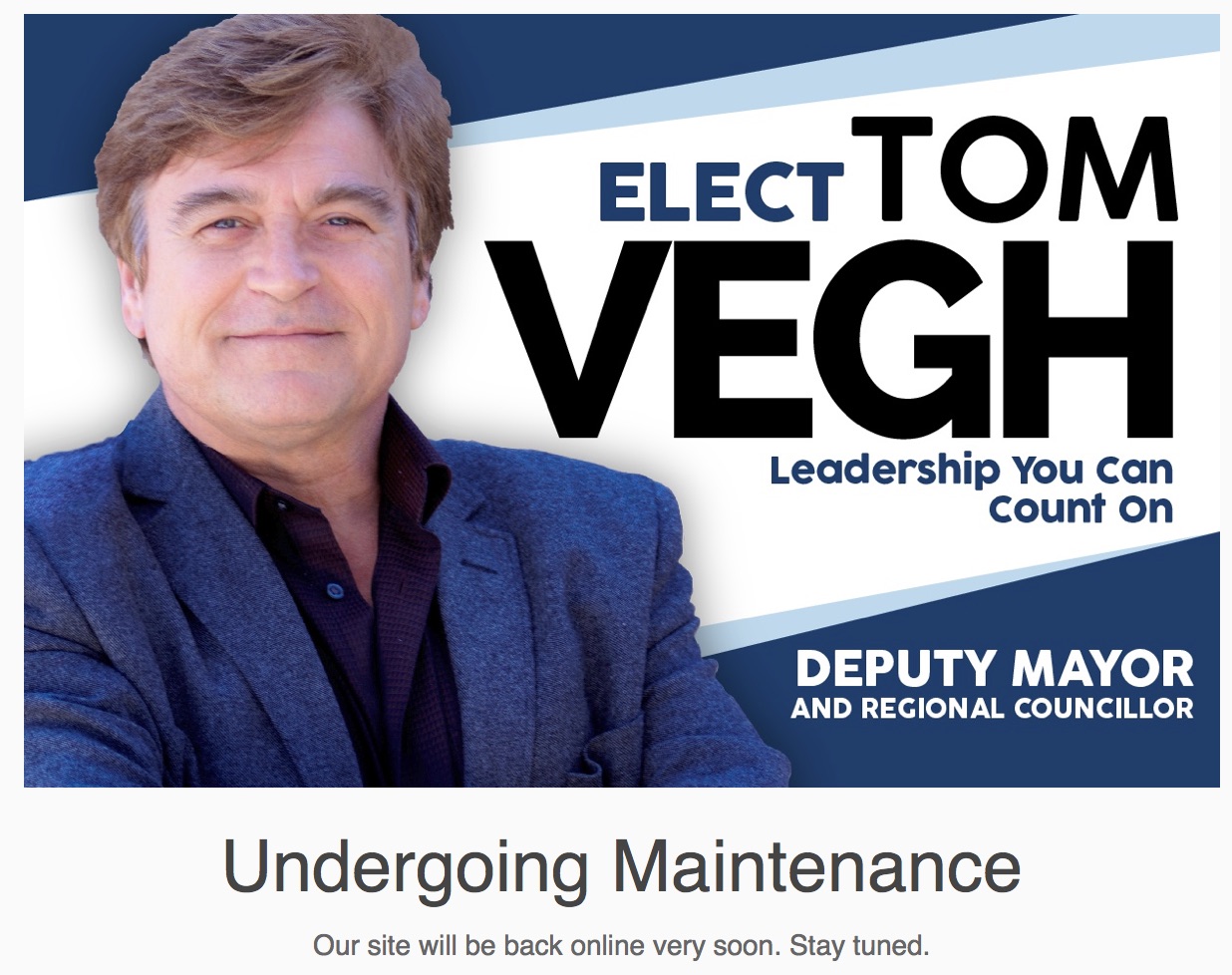 The wannabe Newmarket Deputy Mayor and Regional Councillor has finally visited his own website and given it a bit of a tweak.
Tom has posted a photograph of himself above the text: Undergoing Maintenance.
But he has revealed his campaign slogan:
"Leadership you can count on."
Can we?
In what way can we count on you Tom?
Please be as specific as you can. But no need to rush.
Joan Stonehocker, the chair of Newmarket's Library Board, has also declared, joining the Leader you can count on and Chris Emanuel in what could be a fascinating three-way race.
More will follow.
This email address is being protected from spambots. You need JavaScript enabled to view it.
Details

Written by

Gordon Prentice
Figures released by the Province's Ministry of Finance show the Non-Resident Speculation Tax (NRST) – brought in by the Liberal Government last year to cool the housing market – collected $53m in York Region compared with $82.8m in the whole of Toronto.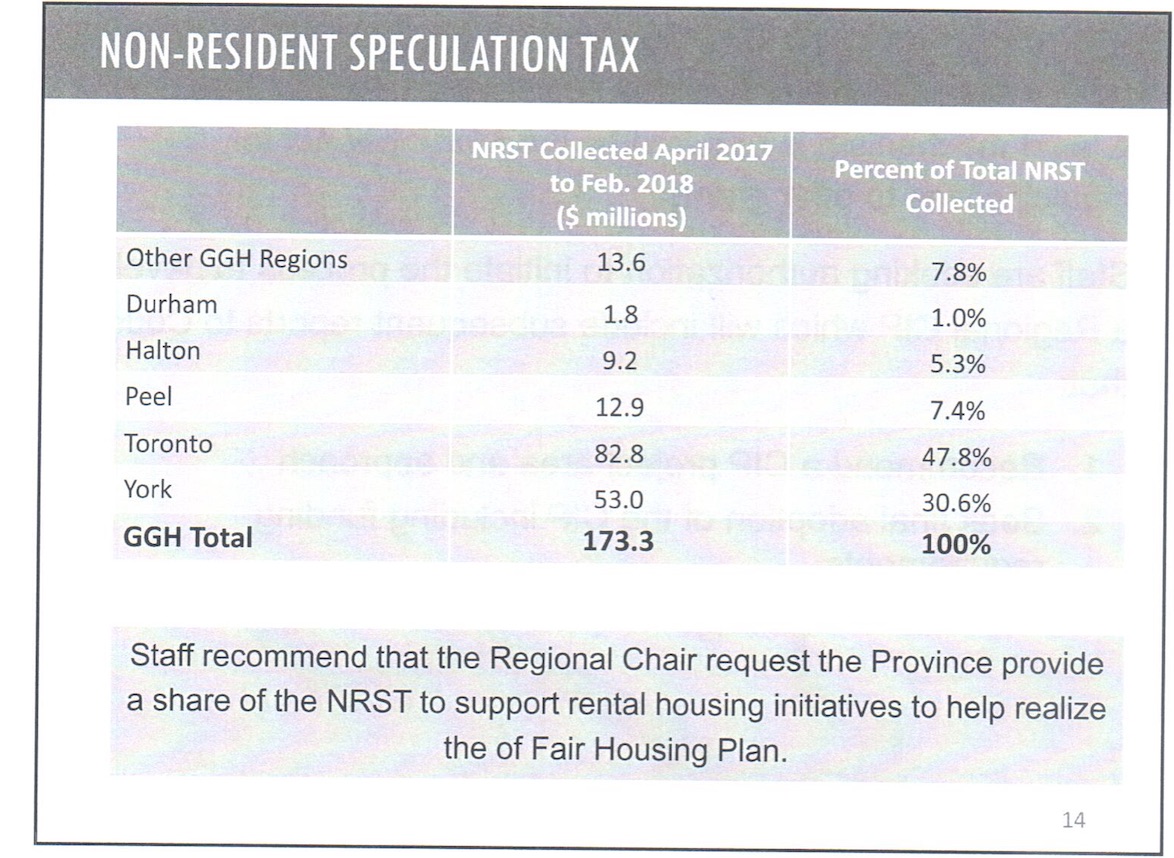 The table alongside shows that tax collected from speculators operating in Toronto and York Region dwarfs the tax-take from elsewhere in the GTHA (Greater Toronto and Hamilton).
The tax figures cover the period from April 2017 to February 2018. They show that 682 speculation tax payments were made in Toronto over this period.
But, astonishingly, 339 speculation tax payments were made in York Region – almost exactly half as much as the whole of Toronto.
Plague of Locusts
No wonder house prices in Newmarket and in surrounding areas have been going through the roof. The speculators have descended on our neighbourhoods like a plague of locusts.
The Premier Designate, Doug Ford, has himself been speculating about what he might do with the tax on speculators. He is toying with the idea of abolishing it saying housing supply and demand should be left to the market.
Expecting profound insights from Doug Ford on the operation of the housing market (or indeed anything else) is asking for more than he is capable of delivering.
We don't know what he is going to do yet. More worryingly, he doesn't know either.
We shall see what, if anything, the new Government has to say after Ministers are sworn in on 29 June 2018.
Yesterday members of York Regional Council asked the Province for a chunk of the Non-Resident Speculation Tax to help it take initiatives promoting more rental housing. You can read the report here.
Housing crisis in York Region
There is a housing crisis in York Region where even people with a household income of between $80,000 and $120,000 are finding it difficult to buy - or to rent.
There was much talk of increasing rental supply and giving incentives to developers to construct purpose-built rental.
Aurora's Mayor, Geoffrey Dawe, the resident clown on York Regional Council, wondered what was to prevent
"the fabulously wealthy Mayor of Newmarket"
getting one of these units?
Answer from the Region's Chief Planner: There would be specified criteria the applicants would have to meet on income and such-like.
Van Trappist, true to form, made no contribution to the debate. But John Taylor, the man who is determined to succeed him as Mayor of Newmarket, had plenty to say.
In an animated little speech, Taylor tells us that 80% of people in Zurich, Switzerland, rent.
Hmmm.
I find myself wondering if that's because speculators have been buying up everything in Town that isn't nailed down.
This email address is being protected from spambots. You need JavaScript enabled to view it.
Details

Written by

Gordon Prentice
Doug Ford's first policy initiative as Premier Designate was to trumpet the end of: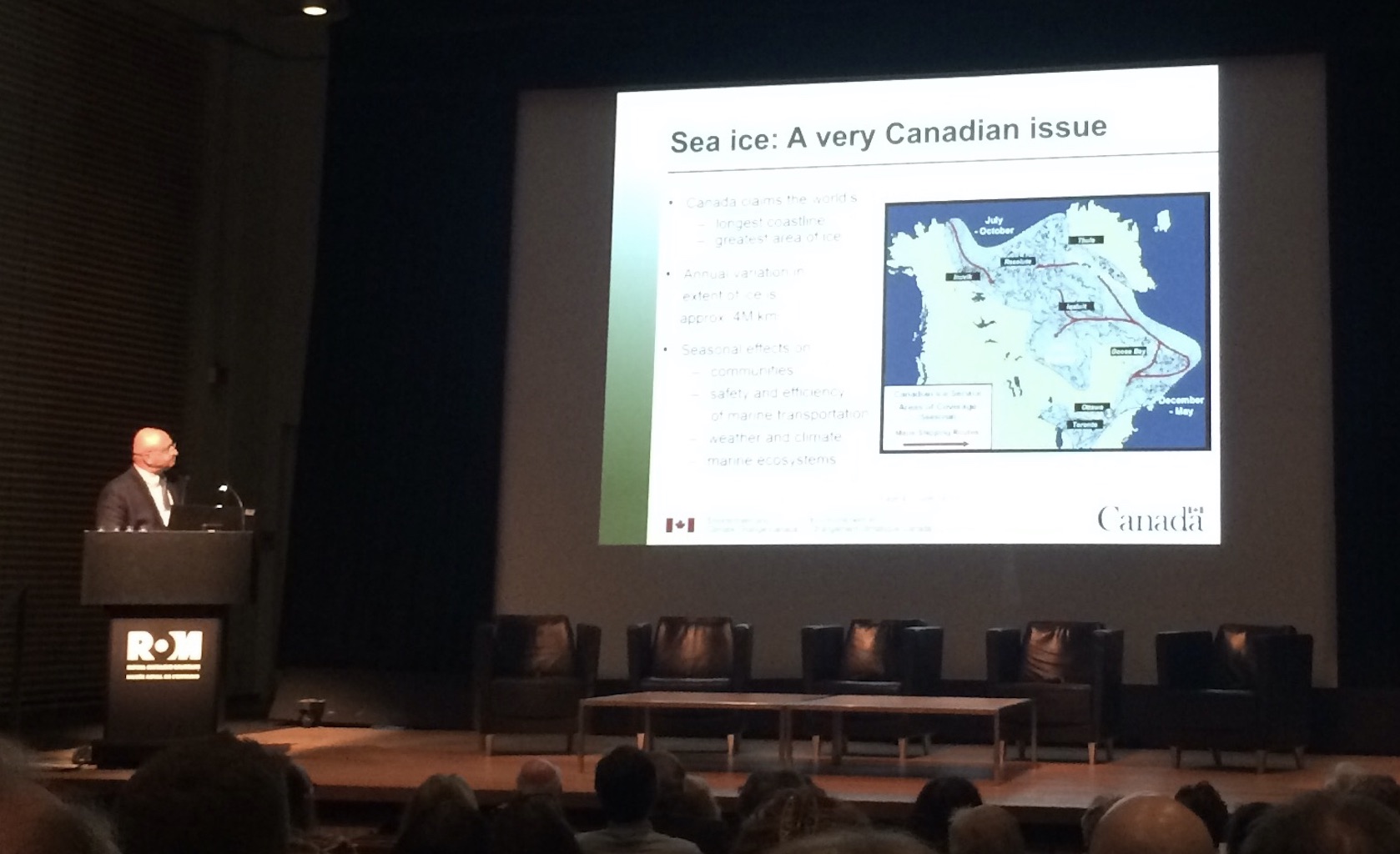 "Ontario's Cap-and-Trade Carbon Tax"
A press release issued by his office on 15 June 2018 reminded us what Ford had said during the campaign:
"I made a promise to the people that we would take immediate action to scrap the cap-and-trade carbon tax and bring their gas prices down. Today, I want to confirm that as a first step to lowering taxes in Ontario, the carbon tax's days are numbered."
Ford is, of course, conflating cap-and-trade and the carbon tax although, by now, he should know the difference.
"Cap-and-trade" caps the total level of greenhouse gas emissions by industry or across the economy. Emission allowances can then be bought and sold by companies operating in a specified sector/s. This mechanism creates a market price for greenhouse gas emissions and encourages companies to develop non-carbon or low carbon alternatives to fossil fuels.
Dumb Petrolhead
A Carbon Tax is different. It puts a tax on greenhouse gas emissions or the carbon content of fossil fuels. The aim of both Cap-and-Trade and the Carbon Tax is the same - to drive down the use of carbon and, in so doing, save the planet.
All the available evidence suggests that Ford is a dumb petrolhead. And as a climate change denier he will be joining the swelling ranks of conservatives in Canada who are turning a blind eye to what is happening.
Climate change will impact catastrophically on people who are alive today.
Conservative Dishonesty
In today's Globe and Mail Gary Mason talks about the Carbon Tax debate "being filled with dishonesty". He makes the valid point that those who oppose carbon pricing "should at least reveal their climate plans".
Mason reminds us the Antarctic is melting at an alarming rate. But what about the Arctic, here in our own back yard?
40% of Canada is in the Arctic.
On Monday I was at the ROM for a terrific one-day symposium on the Far North. Michael Byers, 51, a law professor at the University of British Columbia, tells us 50% of Arctic sea ice has disappeared in his lifetime. We are now seeing the loss of 13% of sea ice every decade.
Ice free
Sir John Franklin's ships – HMS Erebus and HMS Terror – were trapped by sea ice in the North West Passage in the summer of 1846. Nowadays, cruise ships offer summer voyages into the very same North West Passage.
The Arctic is warming twice as fast as the planet as a whole.
Caribou herds are shrinking. Polar bears are starving. The whole fragile eco-system is on the brink of collapse.
And I am left wondering if Doug Ford has a view on this.
Probably not.
This email address is being protected from spambots. You need JavaScript enabled to view it.
Details

Written by

Gordon Prentice
Steven Del Duca, the former Transportation Minister in the last Liberal Government, has thrown his hat into the ring for Chair of York Regional Council.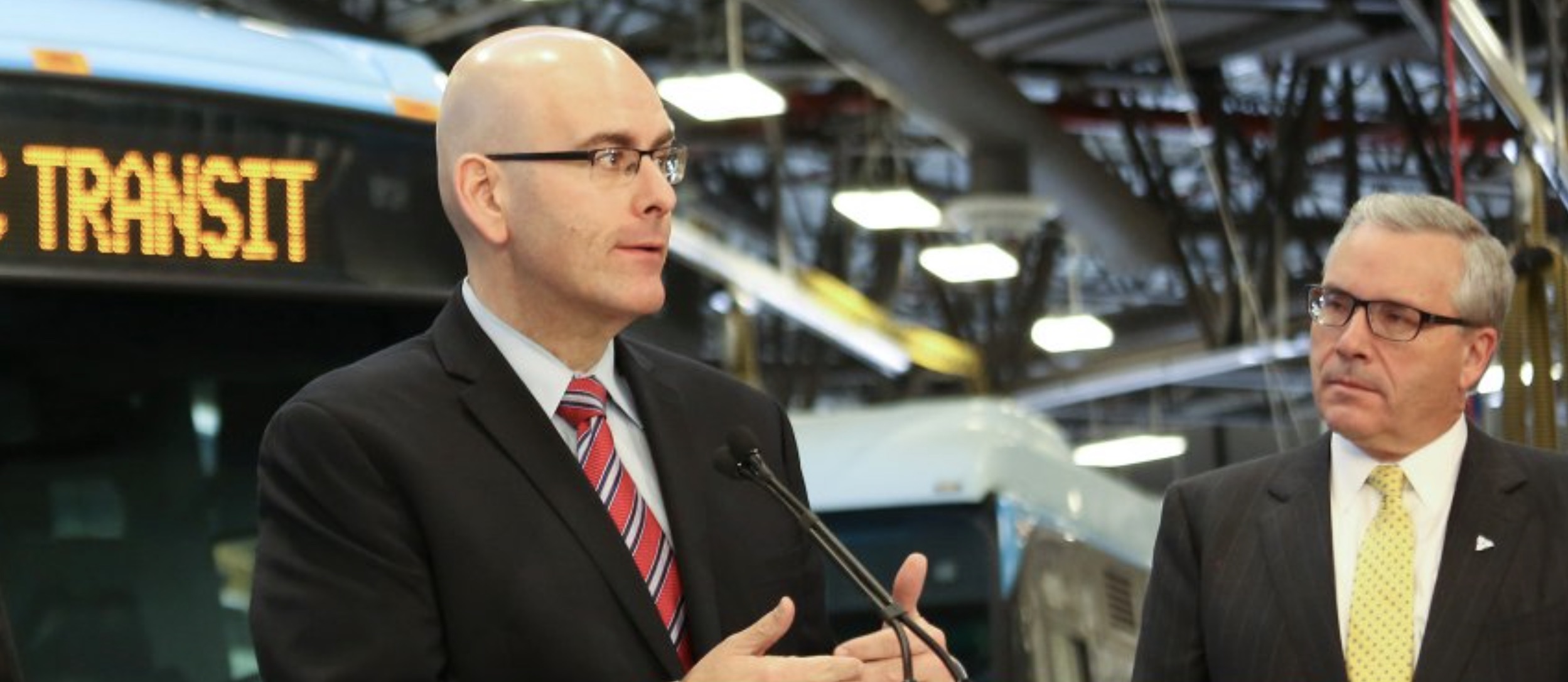 Last year the current Chair, Wayne Emmerson, received a pay and benefits package of $273,000.
The Regional Chair will be directly elected by voters at large for the first time this coming October. At the moment, the Chair is indirectly elected by members of the Regional Council.
Key part of Ballard's legacy
The move forcing a change to direct election was pushed forward by former Newmarket-Aurora MPP, Chris Ballard, as a backbencher in the previous Government. When he became a Minister his Private Members' Bill 42 would have died on the Order Paper had the proposal not been taken up by the Wynne Government and put into law.
The Forces of Darkness: Van Trappist and Dawe
The forces of darkness in the current Regional Council wanted to stick with the status quo.
Newmarket's crusty old barnacle of a Mayor, Tony Van Trappist, set his face against direct election. So too did Aurora's Mayor Geoffrey Dawe who failed to show up at the Committee Stage hearing of Ballard's Bill 42 in March 2016.
Newmarket's Darryl Wolk gave evidence to the Bill Committee on 24 February 2016 in the same session as Mario Racco, the former MPP, who is also running for Chair. I gave evidence on 2 March 2016, as did Newmarket's Chris Campbell and Christina Bisanz. At Queen's Park there was no opposition to the proposal.
Sprinkling Stardust
The entry into the race of the high profile Del Duca will put the York Region election on the map for many people - especially in and around his home turf in Vaughan where many voters live.
York Region is a big spender and an influential player in Ontario politics yet most people haven't got a clue what it does.
That is about to change.
This email address is being protected from spambots. You need JavaScript enabled to view it.
Subcategories