The Liberal Riding association in Brampton Centre is looking for a candidate to replace Ramesh Sangha who was kicked out of the Liberal caucus after making "baseless and dangerous accusations against a number of his caucus colleagues." Sanga, who now sits as an independent, says he won't be running again.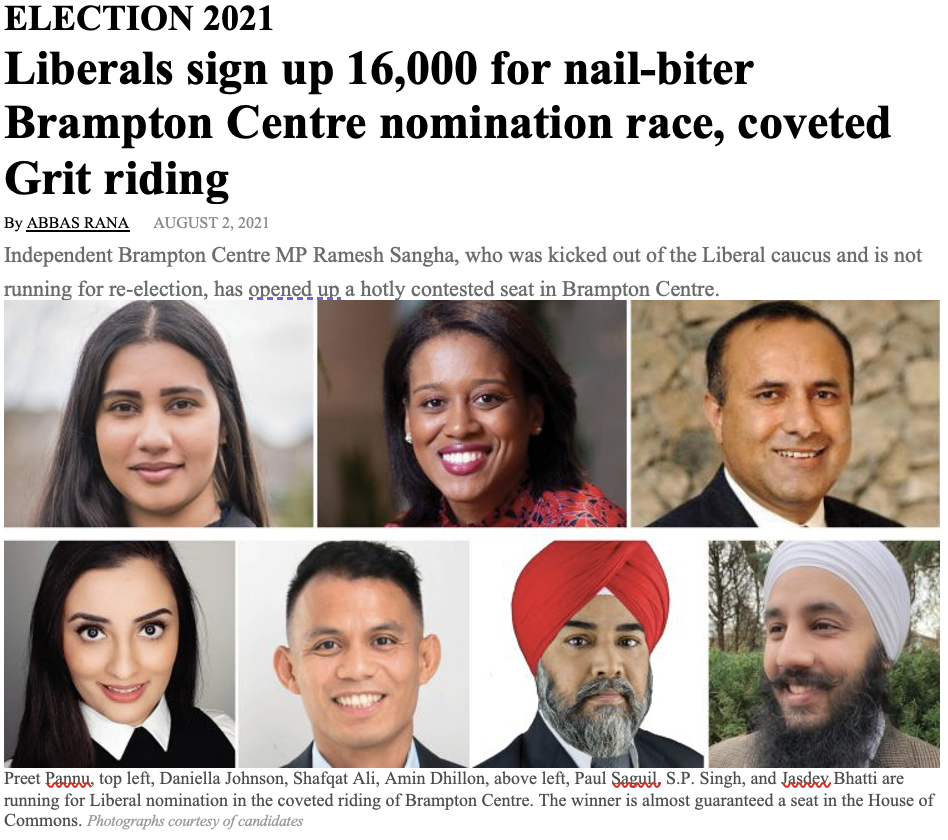 Tomorrow Liberal Party members will begin voting on a new Federal election candidate for Brampton Centre.
Getting selected means getting elected
In this riding getting the Liberal Party nomination pretty much guarantees a seat in the House of Commons. Securing the nomination is the hard part.
The Hill Times tells me that a staggering 16,000 new Liberal members have been signed up by the seven wannabe MPs seeking the Party's nomination. Over one fifth of the riding's 78,229 electors are now members of the Liberal Party. Just like that!
These contests to become the Party's official candidate are straight out of the old Wild West. They are not policed or regulated in any way by Elections Canada - though nomination contests must be registered and details provided. Otherwise Party rules and procedures decide what happens.
And sometimes they fall short of what is required.
Dark Arts
Brampton Mayor, Patrick Brown, a master in the dark arts of Party management and manipulation, claims that by-election wins when he was PC Leader triggered an avalanche of interest in becoming a PC candidate:
"We were not prepared as a party for the lengths people would go to win nominations. We had to shut down attempts to print fake ballots, produce fake ID's, stop fistfights and even the stuffing of ballot boxes. I was beyond frustrated to hear these ongoing stories."
We don't even know how many members some parties have. Brown told TVO in January 2019
"When I first announced my intention to run for the Party leadership there were 10,000 Party members. It wasn't diverse. It was largely rooted in rural Ontario. By the time I was removed as Leader the number was either 15 times or 20 times that depending on what numbers you believe. We were at a record membership either way…"
Both the Progressive Conservatives and the Liberals allow people seeking the Party nomination to sign up members in the run up to the vote. This is an invitation to malpractice and skulduggery. And it leads to cronyism and clientism.
Disqualified
Jass Johal, who loaned $375,000 to Brown, went on to become the PC candidate for Brampton North in November 2016 after selling PC memberships on an industrial scale – 6,200. He was disqualified as PC candidate on 15 March 2018. Brown failed to disclose the loan and was censured by the Integrity Commissioner.
By any measure Brampton Centre's 16,000 new Liberal members is impressive but there are some ridings with truly staggering membership totals.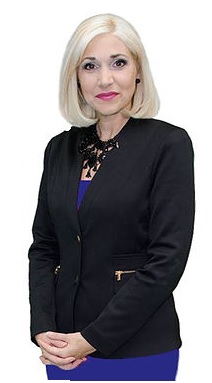 Yesterday's Hill Times tells me:
"In 2015, the Liberal riding association of Surrey-Newton, B.C., had 25,000 party members in which Liberal MP Sukh Dhaliwal and Liberal Randeep Sarai competed for the party's nomination. Mr. Dhaliwal won, and Mr. Sarai later ran in Surrey Centre, B.C. Since then, Mr. Sarai has won that riding twice. In the same election cycle, the riding of Brampton South had about 16,000 members and the riding of Brampton East had about 10,000 members…"
Paper Members
At a time when participation in political parties is shrinking I think it is great that some riding associations are increasing their memberships. New members bring in much needed money, fresh energy and new perspectives. But there is a downside if those new recruits are merely paper members, here today and gone tomorrow, joining up to advance the interest of one candidate and walking away if he or she doesn't win the nomination.
Malpractice, cheating and fraud can happen anywhere, not just in Brown's Brampton.
Here in Newmarket-Aurora in 2017 the President of the PC riding association with the support of the riding executive branded their then candidate, Charity McGrath, a cheat for falsifying signatures on memberships and paying the $10 membership fee for new members. (Photo right: Charity McGrath)
So, what needs to be done?
I'd like to see the political parties invite Elections Canada and Elections Ontario to become involved in Party nomination contests to ensure everything is squeaky clean.
I also believe people who are seeking a Party's nomination for the Federal or Provincial Parliament should not be in the business of signing up new members at the last minute to boost their chances.
There should be a cut-off date, say six months before a nomination contest, and only members prior to that date would be allowed to participate.
I know it sounds a bit harsh and uncompromising.
But the alternative is very unappealing.
This email address is being protected from spambots. You need JavaScript enabled to view it.
Update on 7 August 2021: The Liberal Party in Brampton Centre selected Shafqat Ali to be their candidate in the Federal Election.
Update on 9 October 2021: Shafqat Ali MP was elected with 16,189 votes (47.7%). The Conservatives came second with 11,026 votes (32.5%) and the NDP trailed third with 5,932 votes (17.5%).