This is the pandemic election no-one wants and, if the pundits are correct, we could see a huge increase in the number of people voting by mail, determined to steer clear of Polling Stations.
Yesterday, Ontario's chief medical officer, Dr Kieran Moore, told us the vaccination rate in the Province has stalled at around 75% and, as a result, we could be seeing 1,200 new daily covid cases by mid-September. To be safe he wants to see 90% vaccinated.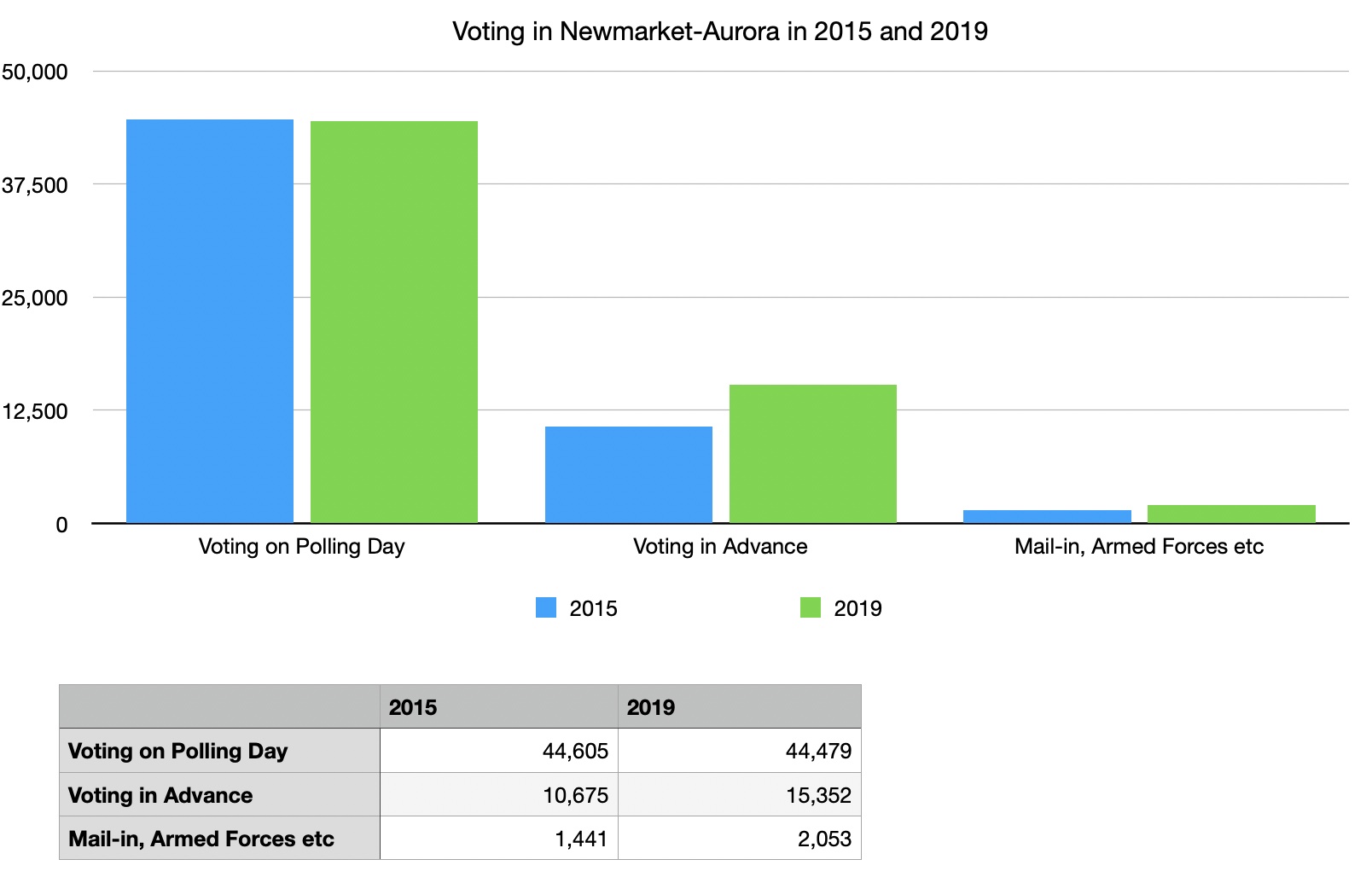 It is hardly surprising then that Elections Canada is planning for up to 5 million people voting by mail – out of a pool of 27 million potential voters.
Mail-in voting
Here in Newmarket-Aurora in 2019 only 3.3% of voters cast a so-called "special ballot" which can be used by people who are away from their home riding or who are at home but prefer to vote by mail. This was up from 2.5% in the Federal Election in 2015.
The Greens saw their mail-in ballot vote increase four fold. The NDP saw a 60% increase.
People who want to vote by mail in this election will be able to apply to Elections Canada by 6pm on Tuesday 14 September.
The numbers voting at Newmarket-Aurora's four Advance Polling Stations soared from 10,675 in 2015 to 15,352 in 2019 – from 18.8% of the total votes cast to almost a quarter, 24.8%. In this election voting in advance starts on 10 September.
Practical Consequences
These changes in voting behaviour have practical consequences. For a big chunk of the Newmarket-Aurora electorate, the election campaign is effectively over on the day they vote.
The political parties have to front-end their campaigns – identifying their likely supporters and getting their key messages across sooner rather than later.
The Conservatives and the NDP have already published their election programs but, mysteriously, the Liberals hold back, saying they will do this closer to the Party Leaders Debates on 8 and 9 September.
Preparing the ground
I can see why the Liberals believe there is no rush - but they are dead wrong. Team Trudeau has spent months preparing the ground, releasing new (or re-packaged) policy proposals, but most people only sit up and take notice once the campaign is under way.
The Newmarket Chamber of Commerce tell me they plan to host a candidates debate on the core issues affecting the business community and, more broadly, the economy and it will be virtual. I applaud the Chamber for taking the initiative and how I wish other groups would organise their own debates, as the climate change watchdog, Drawdown, did in 2019.
Debates are important
Election debates are important – though I believe the virtual format, while necessary at the moment, is very much second best. They tell us if candidates can think on their feet. They tell us if candidates are familiar with current issues and have a grasp of policy detail without having to leaf through huge ring binders on the table in front of them. But the questions they are asked by the moderators are important too.
No patsy questions please! And allow the candidates to quiz each other.
This email address is being protected from spambots. You need JavaScript enabled to view it.
The Elections Canada office for Newmarket-Aurora is at 16655 Yonge Street, Suite 4, Newmarket L3X 1V6.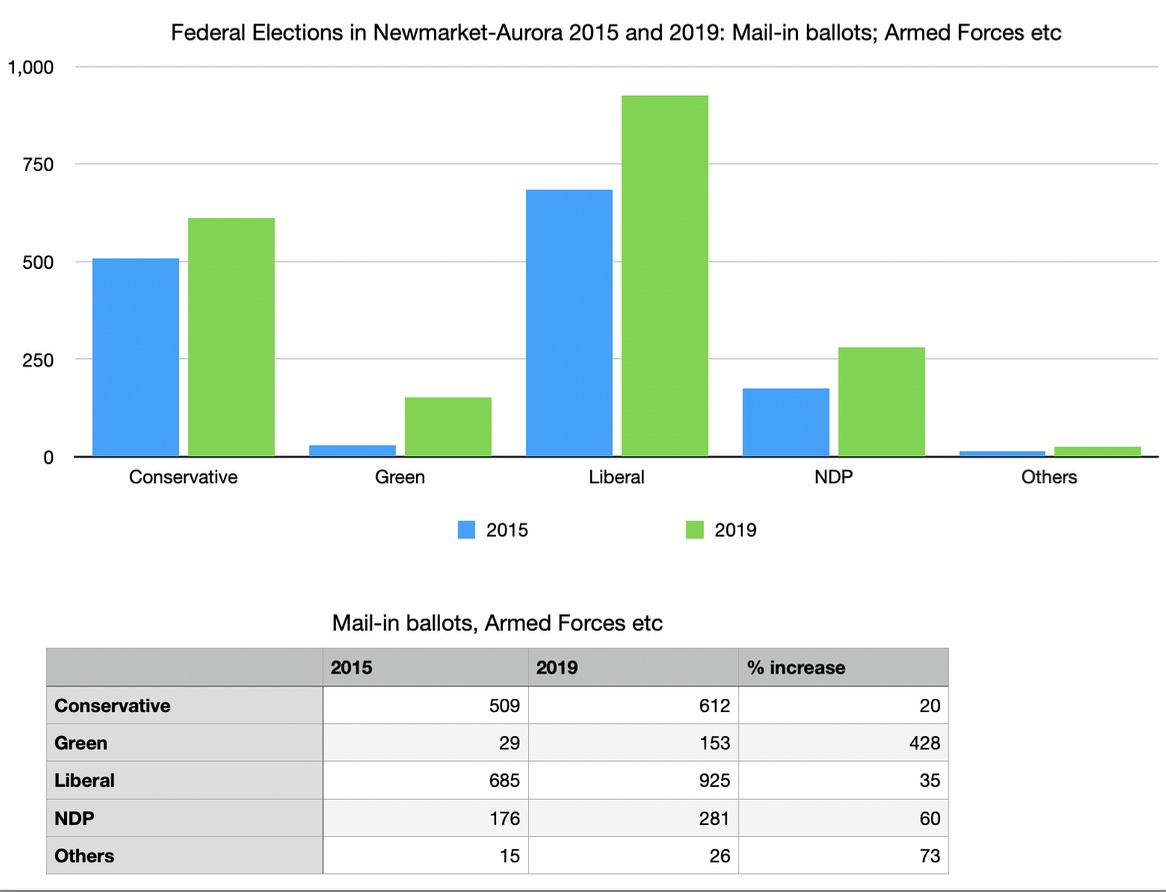 Update 25 August 2021: The authoritative polling aggregator 338canada.com has now moved Newmarket-Aurora out of the likely Liberal win category to a toss-up between the Liberals and the Conservatives.
Update on 29 August 2021: from the Globe and Mail: Mail-in ballots are changing how parties run their campaigns