So, Brampton Mayor Patrick Brown has today thrown his hat into the ring to become the next leader of the Federal Conservatives.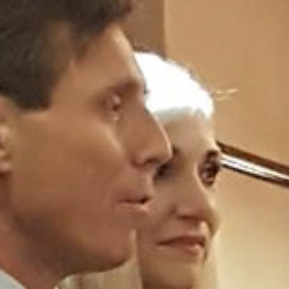 This now makes five hopefuls. (Photo: Brown with former Newmarket-Aurora PC candidate Charity McGrath)
The absurd leadership rules require candidates for leader to stump up $300,000 – but the same rules lower the number of required signatures from supporters from 3,000 down to 500. It is all upside down and back to front.
A simple and elegant solution would be for aspiring Party leaders to have the declared support of a given percentage of Conservative MPs. 10% - 15% would thin out the field and should not be an insurmountable hurdle for serious candidates. (17 candidates ran in 2019)
Signing up a stage army
Brown will have no difficulty in signing up new members. This is what he does best. He appeals to new Canadians, telling them what they want to hear, echoing their grievances about what's gone wrong "back home".
The $300,000 may be more of a challenge. But in the past he has shown he can borrow money from friends.
Brown's decision to run will, inevitably, resurrect concerns about what he got up to when he was Leader of the Ontario PCs.
A report from Ontario's Integrity Commissioner was laid before the legislature in 2018 but Brown's resignation as PC leader meant it was never considered or acted upon. You can read the report here.
The Integrity Commissioner found that Brown twice breached the Members' Integrity Act 1994 in failing to disclose rental income from his personal residence in 2016 and 2017 and in failing to disclose a $375,000 loan from Mr Jass Johal in the same two years. Johal went on to become the PC candidate for Brampton North in November 2016.
Deception
The Integrity Commissioner says of Brown's deception:
"The seriousness of the breach was aggravated by the fact that it occurred in both the 2016 and 2017 statements and was not corrected at either of his personal meetings with me when his statements were reviewed. On all the evidence it is clear to me that the non-disclosure was deliberate and not through inadvertence."
Johal was disqualified as PC candidate for Brampton North on 15 March 2018.
Brown's decision to enter the race comes days after his defamation lawsuit against the CTV News was resolved. The broadcaster acknowledges that it published "key details" about sexual misconduct allegations against him that were factually incorrect and required correction.
In 2018, in the wake of the Provincial Election, the Globe and Mail's Adam Radwanski said we all collectively dodged a bullet when Patrick Brown stepped down. He says there was deal-making and low ethical standards.
Nothing has changed.
This email address is being protected from spambots. You need JavaScript enabled to view it.
From Newmarket Today on 13 March 2022: Brown announces his candidacy for Conservative leadership
Update on 15 March 2022: From the Toronto Star: Don't undersestimate Patrick Brown - for better or for worse