Spending over the statutory limits means instant disqualification from office. It is in everybody's interests that the law on elections is observed meticulously. It's fair to candidates running for office. It's fair on the public. Photos on right: Lawn sign September 2018 asks voters to "elect" Tom Vegh. Lawn sign October 2022 with sticker top left asking voters to "re-elect" Tom Vegh.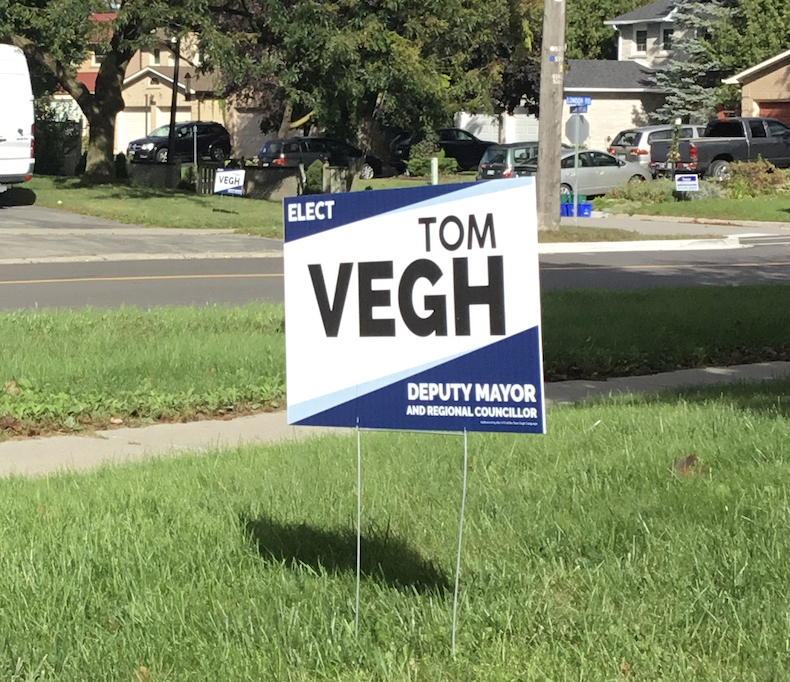 I emailed this to Tom Vegh earlier today:
Good afternoon Tom
I hope you are well.
Your signs are all over Town. They make a very impressive showing.
You will realise, of course, that all campaign goods and materials from a previous municipal campaign used in this campaign have to be itemised in Table 4 of the Financial Statement we all have to file with the Town of Newmarket once the campaign is over.
We are required by law to (a) describe the campaign materials (b) the date they were acquired (c) the supplier (d) the quantity and (e) the current market value $.
We both have a self funding limit of $16,098.
In your 2018 Financial Statement you declared 40 wooden stakes with a value of $70 purchased on 8 September 2014 from Upper Canada Signs.
Importantly, the value of the campaign materials must be recorded as a

contribution from the candidate and as an expense

.
I do not know if the signs you are using in this campaign are from the 2018 campaign. But we have noticed that your signs have stickers in the top left hand corner with the word "Re-elect". This suggests that you are using old
signs but it is not proof positive. That will come when you file your 2022 Financial Statement.
Can I ask if you are using your signs from 2018 or have you had a new batch printed - with the same design and photograph?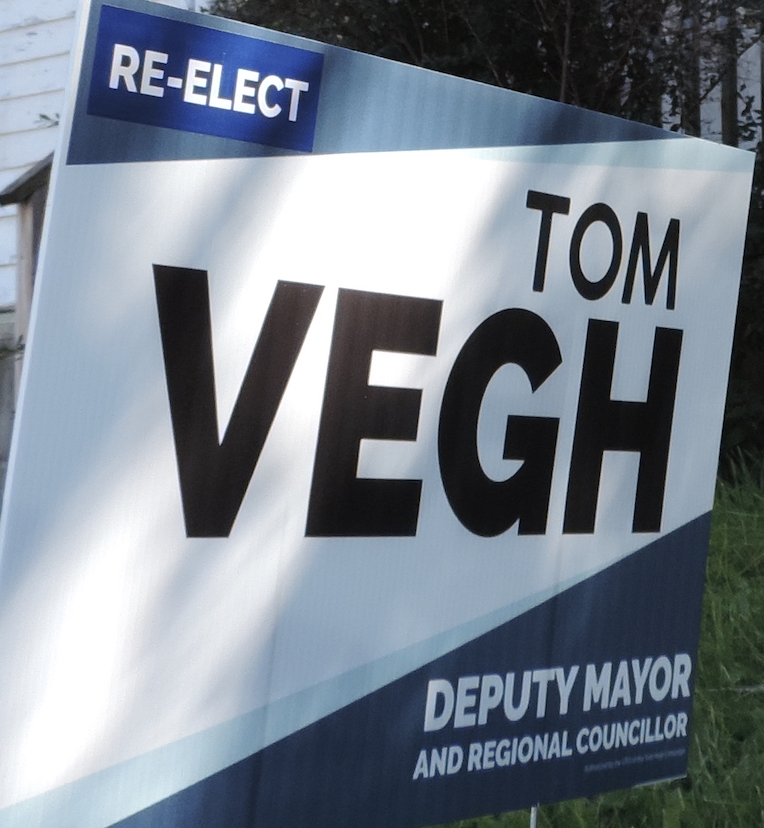 You told Newmarket Today on 30 September 2022 that you would be self-financing your campaign and you wouldn't accept money from people who are doing business with the Town or may do in future.
In 2018 you spent $11,472.30 on signs.
According to the Bank of Canada's inflation calculator this would be $13,044 in today's money.
If we subtract $13,044 from your self-funding limit you are left with $3,054 for all other expenses.
Of course, you can fund-raise to meet any deficit but you have already foresworn donations from people who do business with the Town or may do.
You should know that, win or lose, I am putting you on notice that the expenses you submit in your Financial Statement will be analysed by me in minute detail.
The locations of your lawn signs and their numbers are already out there in the public domain.
I expect to see this and all other details required by law to be accurately reflected in your Financial Statement 2022.
I am copying this to Joseph Quigley at Newmarket Today and Lisa Queen at the ERA.
Gordon