Yesterday's bombshell story in the Globe and Mail reveals that Susan McGovern, appointed by Doug Ford to the Board of the Greenbelt Foundation, is the sister of Michael Rice who bought the Greenbelt lands at Bathurst in King for $80M and is the spouse of John McGovern, the Rice Group's Senior Vice President of Policy and Planning.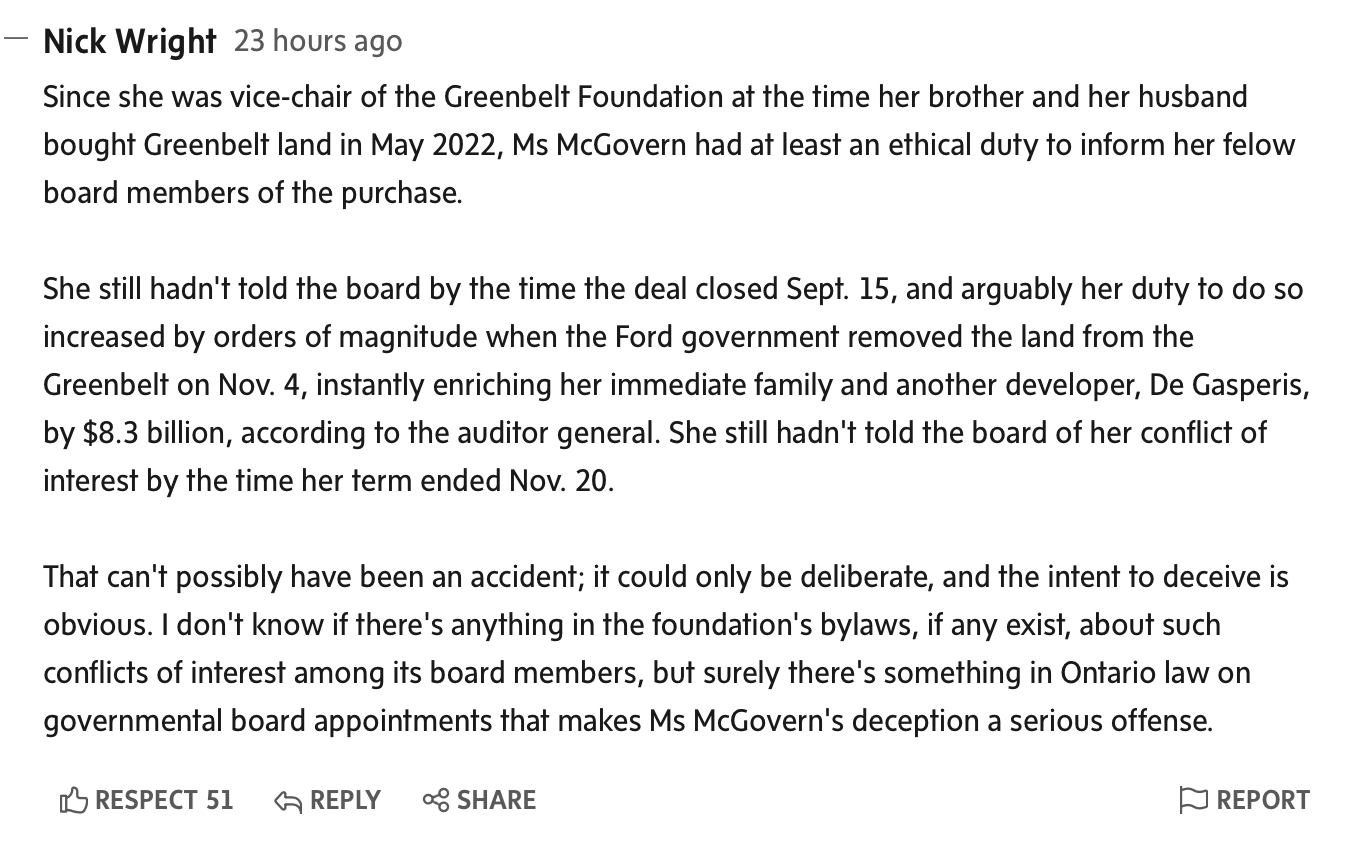 Nothing prepared me for this.
I now realise the developers' tentacles extend everywhere.
Everything is corrupted. From municipalities that bend the truth to hospital administrators who stay silent.
Permanent, Protected and Prosperous
The Globe and Mail tells us:
"The government appointed Susan McGovern in 2019 to the board of the Greenbelt Foundation, which describes itself on its website as "the only organization solely dedicated to ensuring the Greenbelt remains permanent, protected and prosperous." Her three-year term ended on Nov. 20."
As I was scrolling through the readers' comments on these astonishing revelations, I came across this one from Nick Wright (right) which, I think, neatly sums up the position.
Conflicts of Interest
The Greenbelt Foundation has a policy covering conflicts of interest of members (whose definition includes Board members), associates and employees:
"It will be the responsibility of all members, associates and employees to identify when a real or potential conflict may exist, and to inform the Board or CEO of such situations when they arise."
We know from the Globe and Mail's research that Susan McGovern did not declare any conflicts of interest. Perhaps she didn't discuss Greenbelt issues with her brother or husband who were actively engaged in removing land from the Greenbelt throughout 2022 if not before.
I don't know what she got up to in her years on the Greenbelt Foundation Board. But I have asked for sight of the Board minutes covering the period from her appointment to the Board until her departure and I shall see where it takes me.
This email address is being protected from spambots. You need JavaScript enabled to view it.
Update on 11 September 2023: Toronto Star Editorial: Doug Ford's Greenbelt fixation more than defies explanation. It demands further investigation.
And the Greenbelt Foundation's Annual Report for 2020-21 tells us:
"Since February 2020, the Greenbelt Foundation and Oak Ridges Moraine Foundation have been integrated, working collectively to preserve, protect, and restore the environmental and agricultural integrity of the Oak Ridges Moraine."
A new Oak Ridges Moraine Committee of the Greenbelt Foundation's Board of Directors was set up to oversee this work. Susan McGovern was a Committee member. The ex-Greenbelt land at Bathurst bought by her brother, Michael Rice, for $80M on 15 September 2022, contained land which was part of the Oak Ridges Moraine. The Ford Government has now redesignated that land as a settlement area, open for development. See Timeline.