I formed the view some time ago that Official Plans are generally not worth the paper they are written on.
When Newmarket's Mayor, Tony Van Bynen, told us "it was the right thing to do" to stand by the residents of Glenway and "defend the official plan" at the OMB he was talking his usual hogwash.
Newmarket's planners boycotted the OMB. The Town's hired consultant came down on the side of the developer. And the Mayor, not wanting to cause any unpleasantness, typically looked the other way. It was no surprise then that the OMB adjudicator Susan Schiller, decided in favour of building over the greens and fairways of Glenway.
The open space that gave Glenway its quiet, green ambience is about to disappear despite the residents' heroic campaign to preserve it.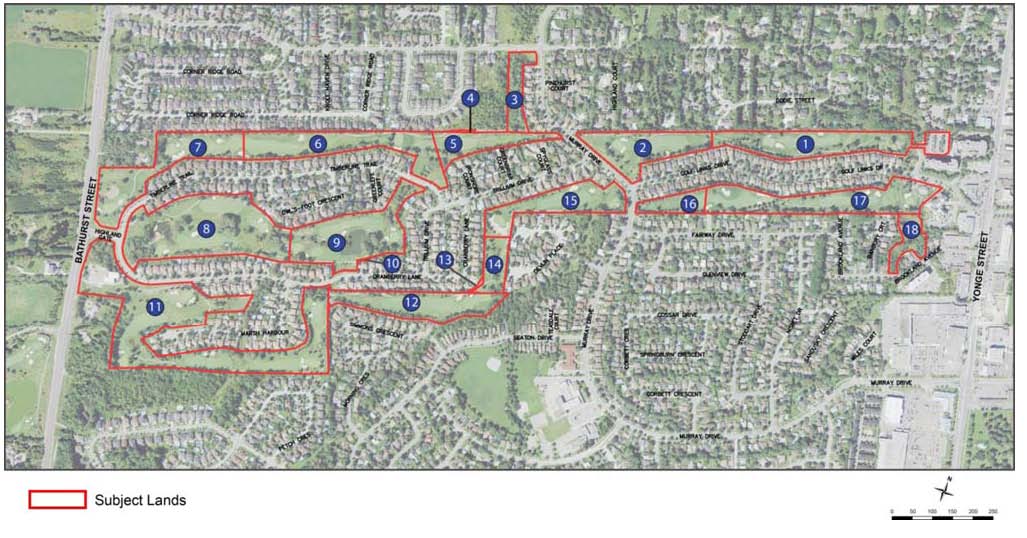 Further to the south, in the neighbouring Town of Aurora, lies the former Highland Glen Golf Course which the owners want to redevelop notwithstanding its current designation as Private Parkland and Environmental Protection in the Town's Official Plan.
The owner wants to build 184 single detached houses and a high density residential building with some commercial. This requires a zoning by-law amendment moving from major open space to residential.
In the Planning Opinion submitted by the developer, Highland Gate Developments Inc, Glenway is cited (on page 71) as a precedent:
"The subject site presents a unique opportunity adjacent to an existing stable residential neighbourhood. As provided for by the OMB decision for the Glenway Golf Club site in Newmarket, there is no test of need to support intensification within the built boundary in the PPS and Growth Plan and therefore the policies contained in Section 3.3 should be interpreted as a directive of where growth ought to go, and not be restrictive in terms of the location and amount of intensification."
It goes on:
"Although the subject site has not been identified as an area for intensification in the Official Plan, it represents a viable option for general intensification due to its location both within the built-boundary (utilizing existing municipal services) and settlement area, adjacent to the Yonge Street Regional Corridor. This is in keeping with the general policy intent of the Growth Plan and the York regional Official Plan that intensification is to occur generally within the built-up areas of municipalities; while there are areas specifically identified and recognized by the Region and Town for intensification, this does not limit intensification to those areas."
History, alas, is in danger of repeating itself.
The second of three public meetings on the controversial Highland Gate Development in Aurora will be held at the St Maximilian Kolbe Catholic High School cafeteria, 278 Wellington Street East, Aurora at 6.30pm next Wednesday (30 September).
This email address is being protected from spambots. You need JavaScript enabled to view it.
---