Newmarket is set to lose out badly in its bid to get a fast all-day two-way GO rail service to Toronto. Because of the Town's lethargy and inaction many of the benefits of Regional Express Rail (RER) are set to pass us by while our next door neighbour, Aurora, claims the prize of a seamless, streamlined 15 minute service to Toronto throughout the day. Newmarket will have a 30 minute service during peak hours and a one hour service off peak. Better than what we have at the moment but it is not what we were promised.
Instead of making a case for parity of treatment with Aurora and banging the drum insistently, the Council under the soporific and flaccid leadership of Tony Van Bynen, seems resigned to accepting whatever is on offer. If Van Bynen remains content to follow an agenda set by others the Town will be sidelined. RER is not a second order issue. It requires the Mayor's full undistracted attention.
Relax. There's little difference between a 15 and 30 minute service.
At the Metrolinx presentation at Mulock Drive on 9 November 2015, Van Bynen told Metrolinx's Chief Planning Officer, Leslie Woo:
"In my own mind the difference between a 15 minute and 30 minute service doesn't change the world immensely although I think eventually we'll need to get there. But I'd rather see us easing into that, responding to the demand as we go forward."
If against all expectations, Van Bynen and Taylor deliver a new station at Mulock Drive, a 15 minute service to Newmarket and grade separations at key points in Town, they will both deserve a tumultuous round of applause. The omens, though, are not encouraging. Though Taylor has raised some important questions over the months he rarely follows through. He is easily distracted, chasing after hares, and, as a result, he is too often ignored by staff. As a full-time politician with the heft that comes with his position as Regional Councillor and Deputy Mayor, he should be sitting on their shoulders, demanding action and getting results.
Meeting the Minister. We need more than a tweet
Last Thursday (3 December 2015) Tony Van Bynen and John Taylor met the Minister of Transportation, Steven Del Duca, at Queen's Park to press the case for a new GO Rail Station at Mulock Drive. Also at the meeting were Aurora Mayor, Geoff Dawe and local MPP Chris Ballard. But I am left wondering if we are we going to get more than one tweet from Taylor? What were the questions he and the Mayor asked? And what kind of response did the Minister give?
Why is the 15 minute service stopping at Aurora?
Eight months ago, in April 2015, local MPP Chris Ballard tweeted saying more time was needed to build a number of crossings in Newmarket before the Town could get a 15 minute service. At the Metrolinx presentation to Newmarket Council on 9 November 2015, Leslie Woo talked about "edge points" and "turnaround points" at Aurora but, astonishingly, no-one asked her to amplify. Is the projected cost of grade separation in Newmarket the decisive factor as Ballard seems to infer?
At the same meeting, an inquisitive Joe Sponga asks how is it possible for Newmarket to have an inferior service when it is one of a handful of designated places to grow. Our next door neighbour, East Gwillimbury, is also planned to grow massively.
Why is there so much confusion over double tracking?
In September 2014, the President of GO Transit, Greg Percy, told the Metrolinx Board:
"We know one new track will be required pretty much along the full length of the (Barrie) corridor because much of it is single track today."
Since then, the messages sent out by Metrolinx have been anything but clear. At the Metrolinx presentation on 9 November 2015, John Taylor confessed to being confused about what was being planned. He was unaware of a "third track".
Leslie Woo tells councillors there will be a second track from Toronto to Aurora with a single track continuing north to Barrie but with two lengths of passing tracks at locations yet to be determined.
A third track is planned from East Gwillimbury down to Toronto but this will be completed outside the 10 year RER horizon. All this begs a million questions few of which were asked.
Is freight traffic, for example, a complicating factor?
Is there going to be grade separation in Newmarket at Mulock Drive and Davis Drive?
This looks increasingly unlikely. Over a year ago, Percy told the Metrolinx Board the average cost of road rail separation is around $25m but it could fall anywhere within the range $15m - $80m depending on the complexities of the engineering. This is big money.
When Taylor asks Woo when she expects the grade separation study to be completed she tells him she doesn't know. Taylor asks her to imagine what Davis Drive will look like if there is no grade separation and 32+ GO Trains are passing through every day. The level crossing barriers will be going up and down metronomically all day long, snarling up road traffic and the Viva Next Rapidway.
Are we going to get a new station at Mulock Drive?
Probably not. The spadework simply hasn't been done. We only learned last month that the Mulock Station was a priority for Van Bynen. During the Silken Laumann OMB Hearing in late September we were given no inkling that the Town was determined to see a major new rail station a few hundred yards away. The fact is, the Mayor makes it up as he goes along. There seems to be no-one at the Town Hall taking a strategic overview and pulling everything together. This is catastrophic as Van Bynen relies on staff to do his thinking for him.
What is happening to the GO Rail Station at the Tannery on Davis Drive?
Very little. The proposed Mulock Drive GO Rail Station links directly with the existing GO Rail Station at the Tannery on Davis Drive. The Town's Secondary Plan, adopted 18 months ago in June 2014, says the Davis Drive Station will have limited park-and-ride and will be planned to be primarily accessed by pedestrians, cyclists and transit riders.
There is to be a so-called "Mobility Hub Study" looking at the area around the Tannery. Bob Shelton languidly tells the Metrolinx presentation meeting that the decision on the study was taken about 18 months ago. Why has nothing been done to advance this? Shelton says it is supposed to be up and running within the next six months – by which time key decisions on RER affecting Newmarket will already have been made.
At this month's Metrolinx Board meeting, Leslie Woo told members:
"Municipal engagement on the potential new Regional Express Rail stations analysis was completed in fall 2015 and public engagement is planned for winter 2015-16. An update is underway to the 2013 GO Rail Parking and Station Access Plan to address RER impacts to existing station access with municipal engagement occurring in fall 2015."
Newmarket plans and those of Metrolinx are clearly out of alignment. Who at the Town Hall is monitoring developments on RER on a daily basis and giving advice? Who has a grip on it all?
Regional Express Rail will be truly transformative. But unless Newmarket ups its game it is going to lose out in a very, very big way.
This email address is being protected from spambots. You need JavaScript enabled to view it.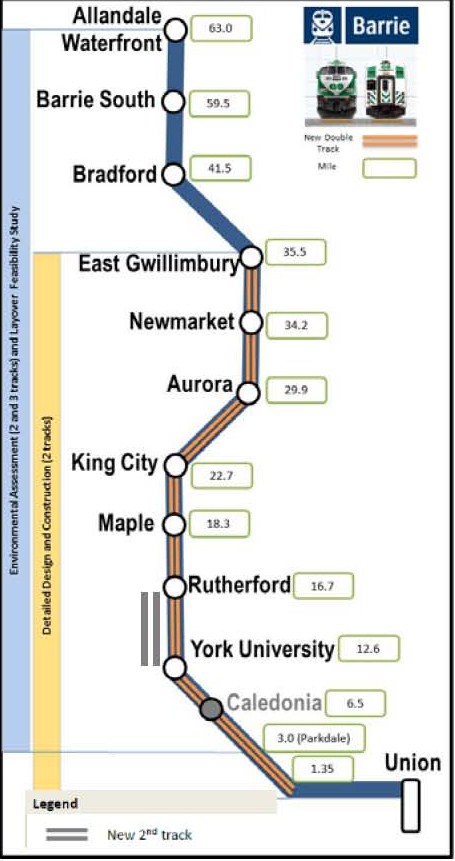 ---
Note A: The Metrolinx Presentation to Newmarket councillors on 9 November 2015.
I sense a lot of potential for confusion. A slide on Environmental Assessments talks about adding a second track from Landsdowne Avenue in the City of Toronto "all the way up to" the Allandale Waterfront GO station in Barrie. It also mentions identifying potential locations for passing tracks north of Aurora and reviewing space needs for a possible third track up to the East Gwillimbury GO station. Councillors are told this would be needed if a future express service was being considered. Finally there is mention of a future layover facility for up to eight trains in the Town of Bradford.
Councillor Joe Sponga spends a long time talking about train whistles (admittedly an important issue) before getting to the core issue. Why is it that Aurora is getting a 15 minute service and we're not when we are a regional centre and designated as a place to grow?
Leslie Woo (Chief Planning Officer, Metrolinx) replies: "Newmarket will be getting two-way all-day service every 30 minutes. When we were developing the business case for the RER (Regional Express Rail) program, there are several markers for evaluating the extent of the ten year program. It is based on ridership uptake and also the level of difficulty for implementation. It was felt Aurora would be the best "edge point" for the 15 minute service and that was the business case that was made for going to Aurora. Every 30 minutes to Newmarket.
Aurora is the "turnaround point"
"Ridership is one of the measures as is deliverability - the ability to build and construct and so forth. There's about 40 markers that we measure against the business case and in that evaluation it was deemed – given the constraints of the 10 year period, the performance and what we own in terms of corridors (even though this is not really an issue as we own all of the Barrie corridor)  – it was determined that Aurora would be the turnaround point for the 15 minute service."
Now Sponga asks about level crossings and grade separation. He also wants to know about any new transit station.
Leslie Woo: "We are doing a comprehensive review of all crossings and that evaluation is underway as we speak… So once that evaluation is complete we are going to be measuring – because we actually cannot afford to do every single rail crossing in all seven corridors – so we will have to prioritise the most critical ones. (Those) that will best perform and enable because there are other ways to deal with the frequency in addition to just a separation. You can put down barriers and so forth that may interrupt local traffic. In the ten year period we will have to make choices."
Sponga wants to know if the evaluation is going to happen prior to the introduction of the 30 minute service. Will we have a 30 minute service with no grade separation?
Leslie Woo: "I can't answer your question right now because part of the evaluation will inform our phasing of the program and that is exactly one of the considerations – the sequencing of all those pieces."
Taylor: I'm confused
John Taylor: "… I always learn something new and I've been to many of these meetings now and many open houses and corridor meetings and – partially because it was work in progress – but I was under the impression from an email I have from Metrolinx that twinning of the tracks was not going to be continuous. I heard of passing tracks but I hadn't heard about a third track possibly. So are the tracks getting twinned the entire distance or…
Leslie Woo: "No." She now takes councillors to slide 24 in the appendix. "It is a very difficult diagram but right here where you see Barrie red is a new track and the red little…
Taylor: "Bump outs."
Leslie Woo: "Yes. Is what we refer to as the passing track so the Barrie corridor has… We are doubling the track to Aurora and then there is a series of passing tracks along the way."
Taylor: "OK. Because it does say adding a second track to Barrie."
Leslie Woo: "Adding a second track in the Barrie corridor to Aurora."
Taylor: "OK. The passing tracks you've got there north of Aurora. Are those locations now defined?"
Leslie Woo: "No. Even the grade crossings identified here, I should note, are place holders because we are going through the whole evaluation."
The mysterious Third Track
Taylor: "And the third track is something I definitely hadn't heard before. Does that mean continuing from Aurora possibly going all the way up?"
Leslie Woo calls to the microphone, Nick Spence, Director of the Barrie Corridor Capital Infrastructure.
Nick Spence: "The third track is contemplated in the future as a passing track…. It will not be implemented as we go forward. There will be double tracks starting from about the Davenport Diamond all the way up to Aurora. A full double track. The third track is considered to be future as running down from East Gwillimbury all the way down to the southern part of the corridor. But it is a future express track."
Taylor: "So it is not contemplated in this under-ten year period?"
Nick Spence: "Not within the ten year period. We are getting the environmental assessment to facilitate for that sometime in the future."
Taylor: "I think it is important to know that. You also get this station analysis down to 50. I just want to confirm that Mulock is on that.
Mulock GO Rail Station is on the shortlist
Leslie Woo: "Yes. Mulock is in the 50."
Taylor: "Mulock Station. Just out of curiosity. I am going to warn you in advance this is a trick question but it is a valid question. The decision that I have been told many, many times by the Minister himself, a decision which at this point is final, on coming to Newmarket with a 15 minute service – would that (decision) be revisited if a new station was added because that would not have been considered at the time of the original decision?
Leslie Woo: "I don't know the answer to that question. Part of the development of the infrastructure plan, service plan, the phasing plan, and the implementation plan was somewhat iterative and as we get more and more detail we fine tune. Whether or not it changes I can't say at this time. We will learn more when we do more detailed work. When we do an environmental assessment. Yes.
Taylor: "And if a Mulock Station isn't moving forward immediately – or relatively immediately- that short a time-frame. And when they look at it, the business case will consider additional cost of parking you'll need in Aurora with a 15 munite service and good chunks of Newmarket going there. Or Davis Drive with the parking constraints it has. Because this would solve the issue to a certain degree, if not substantially.
Leslie Woo: "The analysis looks especially at the regional scale. The impact of a new station or even existing stations relative to where people will drive instead and what that will do. We are reviewing all our parking strategy relative not just to new stations but to existing stations.
30 minutes means 30 minutes
Taylor: "Is it accurate to state… I was told previously a 30 minute service in Newmarket could be in fact be a 20-30 minutes. Is that correct? I was told that before.
Leslie Woo: "I am not sure that is necessarily correct. I have not heard that before.
Taylor: "OK."
Mayor: "My question is with respect to the Hub studies and the first and last mile. My understanding is that we do have a hub study planned for either Q4 2015 or Q1 2016. Is that correct? And if so – Mr Shelton could you clarify that? – it is my understanding (there is) capital funding or budget funding for that time frame, have we not?
Bob Shelton (Chief Administrative Officer): "We do have a Budget that was set for 2015 and it relates to a conversation we did have with Metrolinx and GO and Viva from, I guess, about a year and a half ago now. So I did warn Leslie that this question may come up. To answer that in terms of the timing I'll turn it over to you, Leslie.
Leslie Woo: "The timing is actually really good timing insofar as that work is progressing jointly with your staff. It becomes important input to the station analysis in its totality because we will now have more detailed information to input into our station analysis. So I think that is very timely that this was contemplated ahead of time.
Tannery Study at Davis Drive up and running within 6 months
Mayor: "And that's combined with Metrolinx, Viva Next and municipal staff and particularly in light of the challenges we have with parking at the one station we do have (ie GO Rail at the Tannery on Davis Drive). So will that start probably within the next six months?
Bob Shelton: "That is our hope, Mr Mayor. Just in terms of the partners around the table, the Region of York would be (there), and my understanding is that there would be a significant dialogue with the various stakeholders including landowners in that area.
Mayor: "And public consultation?"
Bob Shelton: "Yes."
Taylor: "I am trying to recall the estimated timeline for the grade separation study to be completed."
Leslie Woo: "I'll have to get back to you to answer that question. I don't know and I am looking at Nick."
Taylor: "It is next year. I am pretty sure I was told that. I just can't remember."
Nick Spence: "We are trying to accelerate the process as quickly as we can because of the pending work (that) is coming. But it is still work in progress."
Leslie Woo: "I am happy through staff to get that information to you."
Taylor: "If I could close by reiterating something – one comment by Councillor Sponga is that obviously grade separation is a concern for everyone. There are 174 you've got to look at. A large number like that and we have four of them and they are all meaningful to us and to other towns. But Davis Drive is complicated as it is. Trying to imagine 32+ trips per day going across there. To add some humour to this we may have to rename Viva Rapid Transit o something else if we don't have a grade separation. So I really hope… and I assume the study will look at traffic volumes and other interaction (with) other types of transit. It is hard to imagine how we don't address that.
Demand patterns and commuter behaviour
Now Christina Bisanz is asking questions about the Richmond Hill corridor which is planned to terminate at a new station at Bloomington. What impact would that have on Newmarket? Demand patterns may change quite dramatically if people from Newmarket go to Aurora or Bloomington. Leslie Woo tells Bisanz that Richmond Hill corridor won't have the same frequency of service as the Barrie corridor.
Note B: The Secondary Plan and what is says about the GO Rail Station on Davis Drive
Newmarket GO Rail Mobility Hub Station Area
i.The Newmarket GO Rail Station will be planned as an urban station that is primarily accessed by pedestrians, cyclists and transit riders, with limited park-and-ride capacity.
Park-and-ride service should be focused at the East Gwillimbury GO Rail station and the proposed Mulock Road (sic) GO Rail station.
ii. The Town of Newmarket will encourage Metrolinx to partner with the Town, the Region and other relevant partners to prepare a Mobility Hub Station Area Plan for the area around
the Newmarket GO Rail Station, as conceptually illustrated in Schedule 5. The Mobility Hub Station Area Plan should address as a minimum, the following:
a) the long-term role and function of the Newmarket GO Rail Station within the broader GO Rail network, taking into account Policy 9.3.2.1(i);
b) potential for grade separation of the rail line at Davis Drive;
c) potential re-location of the
Newmarket GO Rail Station access to Main Street to improve access and reduce traffic impacts on Davis Drive;
d) integration between the GO Rail Station, the Rapidway, the future GO bus services and the GO
bus terminal;
e) pedestrian connections between the Rapidway Station at Davis Drive and Main Street and the GO Rail platform;
f) pedestrian connections between the active transportation network and
the GO Rail platform;
g) opportunities and constraints to development in the vicinity of the station, including floodplain restrictions; and
h) accessibility and bicycle parking considerations
Note C: Timeline on all-day two-way on the Barrie corridor
April 2014: As part of the Secondary Plan process, the Town of Newmarket publishes a transportation study commissioned from the outside consultants GDH. In the section entitled "GO Train frequency" the report states:
"…Furthermore, two-way all-day services will be introduced within 10-15 years (before 2031). Metrolinx has advised that the tracks will have to be doubled to Newmarket and beyond, to accommodate this service improvement."
Premier Kathleen Wynne in her speech to the Toronto Region Board of Trade says:
"Over ten years, we aim to phase in electric train service every fifteen minutes on all GO lines that we own."
June 2014:  Liberal Chris Ballard wins the Provincial election in Newmarket-Aurora, promising "all-day two-way north and south, electric GO trains, connecting people to jobs and jobs to people".
Newmarket adopts its Urban Centres Secondary Plan. It pledges that the Newmarket GO Rail Station (at the Tannery)
"will be planned as an urban station that is primarily accessed by pedestrians, cyclists and transit riders with limited park-and-ride capacity. Park-and-ride service should be focused at the East Gwillimbury GO Rail Station and the proposed Mulock Road (sic) GO Rail Station."
There is to be a Mobility Hub Station Area Plan for the area around the Newmarket GO Rail Station which will look at, amongst other things, integrating the GO Rail Station with the GO Bus Terminal opposite Upper Canada Mall.
September 2014: In a presentation to the Metrolinx Board, the President of GO Transit, Greg Percy, says:
"We know one new track will be required pretty much along the full length of the corridor because much of it is single track today. We need to double track that corridor and it also includes quite a few road and rail grade separations along the way."
Newmarket Official Plan (Office consolidation) is published. We learn:
The location of the "Conceptual Future Rail Station" at Mulock Drive is not intended to be specific and the identification of the final location will be subject to the applicable process and will not require an amendment to this Plan (OPA#7, By-law 2012-42).
March 2015: The Metrolinx Board gets an update on progress from the Head of GO Transit, Greg Percy. He talks about
"An electrified service on corridors Metrolinx owns (and Barrie is one) with 15 minute frequencies in core areas."
But what precisely is a core area? The original commitment seems to be morphing into something else.
April 2015: Kathleen Wynne, gives details of the proposed service on the Barrie line. She promises an all-day two-way service every 15 minutes from Union Station to Aurora and a "new two-way hourly service to Barrie during the midday, evenings and weekends". This was not what was promised at the outset.
Local MPP, Chris Ballard, tweets
@lynngr Enhanced service coming to Newmarket. Need time to build a number of crossings in Newmarket before 15 min. service possible, though.
2.41PM – 17 Apr 2015
Grade separations at Mulock Drive, Davis Drive and Green Lane would have been costly. How much time is needed?
May 2015: Regional Councillor John Taylor tells his York Region colleagues he wants a report on the implications of the Province's decision to press ahead with all-day two-way GO trains. What about grade separation (getting rid of level crossings)? What about additional car parking that will be necessary? He fears we could have a 15 minute service (though not from Newmarket) but with only enough parking to service the current numbers of train users.
July 2015: Transport Minister, Steven Del Duca, tells a Town Hall in Aurora to expect details from Metrolinx on the location of grade separations by the end of 2015 or shortly thereafter.
August 2015: Newmarket planners recommend approval for a Townhouse development on protected meadowlands a stone's throw from the railway corridor. The July 2013 noise study measured "sporadic rail pass bys" and was undertaken before the all-day two-way policy was adopted by the Province. The Transport Minister, Steven Del Duca, predicts the 70 GO trains per week on the Barrie line will increase to 200 within five years.
September 2015: Metrolinx staff tell the Board the Barrie rail corridor has 25 level crossings; 13 of which cross regional roads and 12 cross local roads. The staff say:
"The planned increase in rail and vehicle traffic will trigger the need for grade separations on all existing level crossings between Regional Roads and GO rail corridors."
But money is tight. There's not enough to do everything.
Metrolix staff tell York Region a report with firm recommendations on the location of new stations and grade separations will be unveiled in early 2016. The Region's top planner, Valerie Shuttleworth, says, disingenuously, a new station at "Mulock is one we are looking at". Taylor asks lots of questions but is fobbed off – as is often the case.
October 2015: Staff produce an Information Report on Davis Drive but there is no reference to the GO Rail Mobility Hub Study of the Tannery and surrounding lands at Davis Drive.
The proposed Mulock Drive GO Rail station is nothing more than a circle on a map.
If the Town is remotely serious about getting a rail station at Mulock Drive, it should buy the land that is now available.
November 2015: Metrolinx Chief Planning Officer, Leslie Woo, gives a presentation on Regional Express Rail to Newmarket councillors.
4 December 2015: Regional Councillor John Taylor tweets:
Queen's Park yesterday with @TonyVanBynen & Mayor Dawe & @ChrisBallardMPP & @StevenDelDuca Minister of Transportation about new GO Station.
---