The Town's "servicing allocation" policy deserves more attention than it gets.
Developments – even with planning approval - can't go ahead unless they are hooked up to the water mains and sewage pipes and this "servicing allocation" will be rationed until 2024.
From time to time the Region assigns new capacity to its nine consituent municipalities and they in turn decide how it is divvied up in their patch and which developers are lucky enough to get an allocation. The latest figures show Newmarket is getting just over 2% of the total new capacity being made available by the Region.
It's time to Party!
With the completion of Davis Drive, Mayor Van Bynen declared it was "time to party". But if too many developers come knocking at the door they will have to be sent away empty handed because of these capacity constraints.
This hasn't stopped the Town from drawing up a marketing strategy for Davis Drive, designed to lure developers to the corridor even if some of them won't be able to build anything there. What an exquisite irony.
The issue – which sounds dry and technical - rarely rates a mention. A report to yesterday's Special Committee of the Whole on the 2016 Six-Month Servicing Allocation Review, moved by Dave Kerwin and seconded by Jane Twinney, received no debate at all and was carried nem con.
Regional Councillor John Taylor chose not to comment even though he had been quite agitated (for him) when a related report went up to York Region's Committee of the Whole on 8 September 2016.
Why is the servicing allocation policy so important?
Water and sewage capacity is effectively rationed in Newmarket until 2024 with the completion of the Upper York Sewage Solutions (UYSS) infrastructure project. York Region's engineers describe this as a
"sanitary servicing solution to accommodate growth in Holland Landing, Queensville, Sharon and parts of Aurora and Newmarket".
When complete, UYSS will provide additional servicing capacity for over 80,000 people. (See Note 1 below)
This means that even though a development application gets approval from the Town it has to wait in line until it gets a servicing allocation.
The Town has development applications on file that would require servicing capacity for 7,104 people. We now know there is capacity for an additional 5,784 people up until the end of 2021 – five years away.
Some of the Town's development applications were approved years ago but the landowner is sitting on the land, choosing not to develop (22 George/39 Davis Drive). Others such as the Clock Tower are awaiting a Council decision. We are told the paperwork for the Townhouse development on protected meadowland at Silken Lauman, a stone's throw from the proposed new GO Rail Station at Mulock Drive, is being finalized for the OMB. King George School rates a mention as does the controversial Gorham Street apartments. The full list is shown at Appendix A in yesterday's report. (Agenda item 4)
If there is a burst of development activity in the Centres and Corridors it should make it less likely that developments elsewhere in Town will get a servicing allocation. But it is not quite so straightforward.
"Orderly development"
The Town says it prioritises developments in the Centres and Corridors but that is not the whole story. The report says:
"In addition to the (Servicing Allocation) Policy's location hierarchy, which seeks to direct servicing capacity to urban centres as a priority, staff also considers matters such as orderly development, completion of communities, and maintaining an on-going sales and building program when considering the distribution of servicing capacity."
The Town, if it so chooses, could take a much more muscular approach to servicing capacity, directing development to the Centres and Corridors and away from the Gorham Streets of this world where inappropriate development is being shoe-horned into stable residential neighbourhoods in the name of "intensification".
Glenway
Talking of which… The Marianneville development which is transforming Glenway is only proceeding now because Marianville entered into an agreement with the Town and Region to take action
"to reduce the inflow and infiltration of groundwater and stormwater into the sanitary sewer system… in an effort to make the system more efficient, in effect creating additional capacity in the system".
So while capacity is currently rationed, inventive developers can move up to the front of the line if they come up with an "Inflow and Infiltration" program that ticks all the right boxes and they are prepared to pay for it.
Taylor "disappointed and concerned" about impact on Newmarket
Back in September at a meeting of the Region's Committee of the Whole Taylor confessed he was
"disappointed and concerned with what we have in front of us".
He said the 2016 capacity assignment (which looks forward five years) gave Newmarket additional capacity for 1,500 people through until the end of 2021 out of a total of 71,838 across the Region's nine municipalities. He told his Regional colleagues the Town was meeting every landowner in the Davis Drive corridor to (a) drum up and (b) gauge interest in intensification. He said the unused capacity shown in the report (4,284) was misleading and that it was much smaller.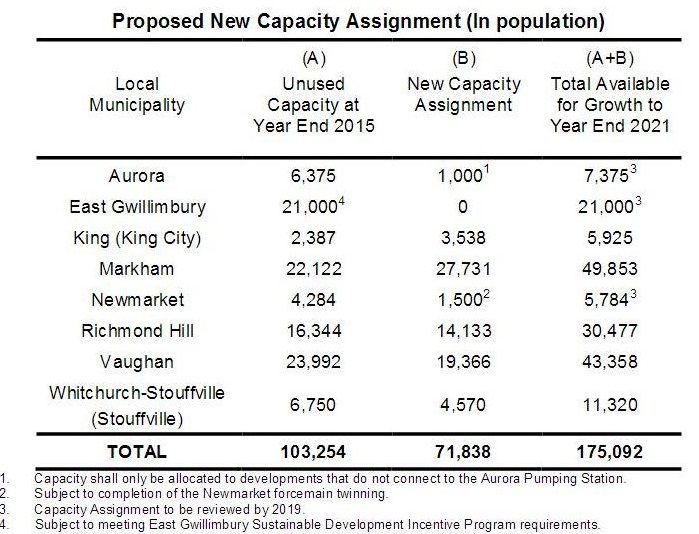 The Town could say no
The Town is asking developers to get moving on the Davis corridor but he says
"We could end up having to say no."
Taylor says the outlook is very uncertain. And this, he says with mild exasperation, is happening in a designated Growth Centre where the Province has already spent millions on new transit infrastructure.
The Region's Commissioner for Environmental Services, the very impressive Erin Mahoney, tells Taylor the points he makes are very well taken. She talks about the possibility of another Inflow and Infiltration pilot unlocking a further 3,800 for development use in Newmarket. But she is light on detail. (See note 2 below)
The bottom line is this. There is not enough servicing capacity to support significant development along Davis Drive – should the development industry take the bait that the Town is now offering through its marketing initiatives.
And in the absence of significant intensification in the Centres and Corridors, such servicing capacity as Newmarket holds could be allocated to the wrong kind of development in glaringly inappropriate neighbourhoods in Town.
No doubt all done in the name of "orderly development".
This email address is being protected from spambots. You need JavaScript enabled to view it.
Note 1. Yesterday's report uses a standard paragraph which tells us:
"Staff now understands that the delivery of the UYSS is expected to be delayed until 2024"
and will report back with updates from York Region.
This phraseology is replicated in the May 2016 and April 2015 servicing allocation reports. You can also read the May 2014 report here. 
The UYSS project includes as a component the twinning of the Newmarket forcemain (a pipe that carries wastewater under pressure) in 2019. This will increase servicing capacity by 1,500 people to a total of 5,784 people which is available for growth to the year end 2021. This Newmarket figure compares with 21,000 for East Gwillimbury. (See Table above)
Note 2. On 22 September 2016, the Regional Council agreed an amendment (to the 8 September report) authorizing staff:
"to consider a second inflow infiltration reduction project in Newmarket based on the same general principles set out in the first pilot project (ie Glenway) provided that the first pilot project is completed or it can be demonstrated that the second developer funded inflow and infiltration project does not impede the ability of the first pilot project (Glenway) to achieve the allocation needed to complete its development up to the maximum capacity stipulated by the project agreement."
Note 3. A further report (Water and Wastewater Capital Infrastructure Status Update) goes to the Region's Committee of the Whole for information this Thursday (3 November 2016). It confirms the figures set out in the 8 September 2016 report.
---