There is something surreal about watching a debate in York Regional Council about affordable housing.
It is a very clubby atmosphere and disagreements, where these exist, are expressed gently.
The members of the club are comfortably housed yet all around there is an unfolding housing crisis. The report before them describes the scale of the challenge.
New housing is unaffordable for many. New rental housing scarcely exists.
61 new private sector rental units were built in the whole of York Region in the last four years. Of these, 4 were completed last year and 7 in 2014.
The situation is dire.
The average resale price of a house in the Region rose by 103% between 2005 and 2015. Yet, over the same period, average hourly wages only rose by 18%.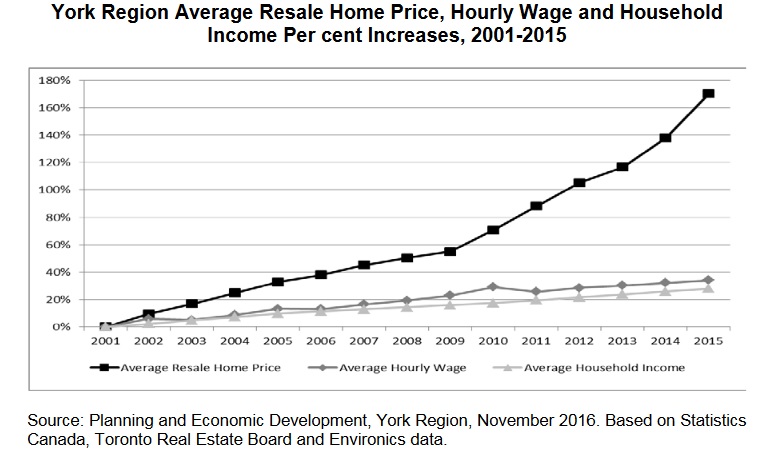 Going through the roof
The average price of a new single detached home is going through the roof. In 2015 it was a staggering $988,638. It is anyone's guess what the figure is today.
Last year, the maximum affordable ownership price (using the provincial definition) was $459,170 region-wide. Only 40% of all new housing was affordable and one bedroom condos made up over half of these "affordable" units.
Mayor Justin Altman, the self confessed quiet man from Whitchurch-Stouffville and a relatively new member of the club, laments that new houses are selling for $1.1-$1.3m in his patch. He can be nervous talking to the older and more experienced members. Now he is gabbling, firing a million questions at the bemused Chief Planner, Valerie Shuttleworth. Now Altman plaintively asks: what is to be done?
Do developers need incentives?
Newmarket's John Taylor switches the focus to rental where the numbers are "abysmally low". But, apparently, we are in a fortunate moment in time where we can nudge the market and the development industry into action. He says they are very close to doing it themselves - without incentives. But now he is warning us we have got to make sure we are not "over-incentivising".
Now he is wandering into the weeds, talking about rental related development charges (DCs). Why not consider a different rate for rental housing? We have one for hotels.
Valerie Shuttleworth, talking slowly and deliberately so as not to leave anyone behind, is not sure DCs can be structured by tenure. But perhaps they can do it by apartment size? This is a rare admission of ignorance and is all the sweeter for it. Ms Shuttleworth has perfected the art of talking down to people, perhaps without realising she is doing so. Earlier she apologises for using the word "decile" as if we would all be left bewildered.
Now she looks to Bruce Macgregor, the Chief Administrator, who agrees the Council should be able to incentivise rental.
Land Prices and Land Supply
Richmond Hill's Vito Spatafora wonders aloud how it is possible to get more affordable housing when land prices are rising in the corridors.
Yes. Perhaps land supply is the problem. Mayor Steve Pellegrini from the rural fastness of King certainly thinks so. He tells us whole swathes of land in the Greenbelt and in the Oak Ridges Moraine are out of bounds, putting pressure on what's left.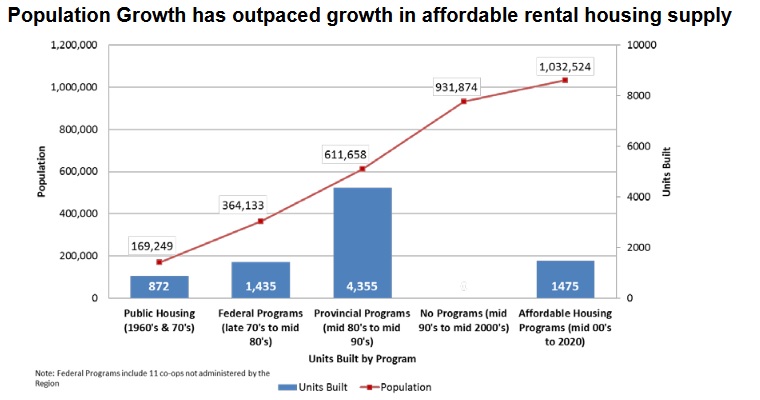 Gino Rosati from Vaughan says where demand is high and supply is low the number of people who fall into the "can't afford" category will grow. I see people nodding their heads as if they've heard something new and profound.
Tippy-toe
Shuttleworth senses controversy lies ahead and says she will "tippy toe" into the land supply issue. She tells her audience the Region is required to have a 10 year supply of land designated for residential use and a three year supply serviced for residential development. Land supply, she says, may be a factor. We may not have an "over supply". And homes are bigger now. (True. But who are the people buying these gigantic mansions?)
Up on the screen we see a list of potential incentives to get developers building what is needed rather than what they can sell for the biggest profit. There are grants and loans and deferrals and exemptions from taxes and charges and fees of one kind or another.
But do the developers need these inducements?
In a telling intervention, the Region's treasurer Bill Hughes reminds us that development charges represent less than 5% of the cost of new residential build in York Region. In 2012 when development charges were raised, developers predicted this would lead to a slump in new building. Hughes says it doubled.
A little less conversation, a little more action
Vaughan's Mayor, Maurizio Bevilacqua, ruffles feathers when he says the rich are getting richer and the poor are getting poorer and he fears for the future. He asks Shuttleworth to "bring the future to the present". What will 2026 look like in terms of housing options?
Shuttleworth says future housing trends are the hardest of all to predict. We rely on the market. The developers build our communities.
The Region's Director of Strategies and Partnerships, Lisa Gonzales, says the development industry is building what people are buying. The fact is many people can't afford to buy what is being built now. Shuttleworth says people like teachers and nurses and even urban planners are being shut out of the market. To gentle amusement she excludes herself from the list.
Bevilacqua says a big bang is needed - not endless incrementalism. The development community, who are doing very well thank you, is absent. They are not coming up with ideas. They've got to be creative and put things on the table.
"There are too many conversations on process."
Naturally lit product
Markham's well paid Mayor, Frank Scarpitti, calls for more "ground level naturally lit product". This is the weird language senior club members use to describe what the rest of us call houses. Secondary suites (or basement apartments) are not the solution. He says businesses need people to live close to where they work.
In an astonishing break with the Club's unwritten code of conduct, Taylor directly challenges Scarpitti, dismissing his comments about basement apartments, saying they are "absolutely crucial" in Newmarket and have been for many years. He tells us they represent a big piece of affordable housing in the Town.
Taylor is more energised than I've seen him in a long time. He looks at Bevilacqua for support and tells him his insights are important. We learn from Taylor there were 5,500 people on the waiting list for social housing ten years ago. Now there are 13,600.
"We need rental housing and we can make progress on this file ourselves."
212 Davis Drive
Now he is bathing in the glow of the new rental apartment block going up at 212 Davis Drive. As we all know, he has been to the top. He chastises his colleagues for their neglect of rental housing and for their lack of vision. He wants to see buildings like 212 Davies Drive sprouting up every two years all over the place.
Newmarket's Tony Van Trappist, a club member for fourteen years, snoozes in his chair, saying nothing.
His thoughts are elsewhere.
This email address is being protected from spambots. You need JavaScript enabled to view it.
---