Back Story: Metrolinx is in the middle of a big consultation on its 2041 Draft Transportation Plan. Newmarket is hosting a public meeting for the York Region area and last night I wander along to the Community Centre at Doug Duncan Drive to see what's what.
Metrolinx staff are there in huge numbers. There are top policy makers and blue sky thinkers but fewer members of the public than I hoped to see. To compensate, I spot our Mayor, Tony Van Trappist, at the far end of the room. I hope to hear his views on the big transit and planning issues.
His default position is to say next to nothing, adopting a "I'm here to listen" pose, but I hope to flush him out on at least one or two issues. I see a vacant place at the Mayor's table and I bag it. He greets me enthusiastically. (I made that up.)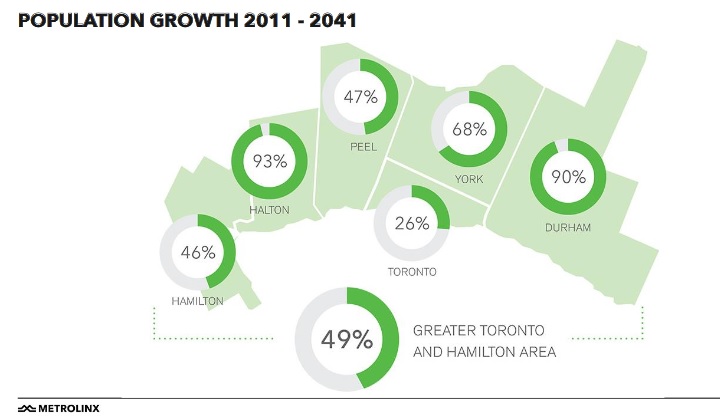 In the room next door there are a hundred seniors getting some kind of briefing on financial strategies in retirement. As the evening progresses they get more and more excitable. They force our key presenter, Lisa Salsberg, to use the microphone she had abandoned earlier as a way of making the evening more conversational. As Manager of Systems Planning and Strategic Policy she is one of Metrolinx's top movers and shakers.
Population Growth
She has a difficult job. Metrolinx has to deal with four levels of government and 30 municipalities - each with its own agenda. But they all face an explosive growth in population over the next 25 years. How will people move about in future without facing massive gridlock and congestion?

Ms Salsberg does the impossible, condensing the Draft Transportation Plan into easily digested bite-sized pieces which we are invited to consider in our round table discussions.
It is fascinating stuff. I hear about the future of transportation and autonomous vehicles but I don't want to go down that road. I am less interested in crystal ball gazing than in addressing the practical issues facing us here and now in Newmarket - such as no grade separation on Davis Drive. This puts the kybosh on a 15 minute GO Rail service from the Tannery.
15 minute service to Mulock
There is no way the Provincial Government is going to allow a huge chunk of the recently completed Davis Drive Rapidway to be ripped up to accommodate an underpass or an overpass. Just think of the optics! The Mayor breezily suggests an alternative. The 15 minute service could be extended up to Mulock where there will have to be grade separation. I am left wondering what the impact would be on the Tannery.
And John Taylor will be musing again on the interplay between both rail stations and the GO bus station on Eagle.
Now we are talking about the so-called "first and last mile". How do people get to the bus or rail station without using their cars? They can walk if it's not too far but what are the other options?
In the distant past when he was a simple banker and before he became famous the Mayor used to live in Pickering. He speaks lyrically of its Dial-a-Ride service where little buses, each dedicated to one of the six zones in the Town, would ferry travellers from the station to their homes, or close by.
I get the feeling the Mayor has been talking about Pickering for years, holding it up as an example of something which could be done and should be done but, for one reason or another, isn't being done. At least, not widely.
Land banking
One of the things Lisa Salsberg mentions in her tour d'horizon earlier is the need for better integration between transportation and land use planning. This gives me the perfect opening to lambast developers like Peter Czapka who buy land in strategic locations, get planning permission and then sit on it for years, choosing not to develop and waiting for land values to soar.
This happened with 22 George Street where planning approval was given in 1993 for a twelve storey, 115 unit condo. In 2009 approval was given for a twenty storey 280 unit condo at 39 Davis Drive. Scandalously, neither has been acted upon. The answer is to have planning permissions which lapse after, say, five years if work hasn't started on site.
Van Trappist stuns me by agreeing something should be done but says it would require legislation. And that, of course, is not his responsibility. He is asked if he has raised the issue at AMO - the Association of Municipalities of Ontario. The mumbled reply suggests he hasn't.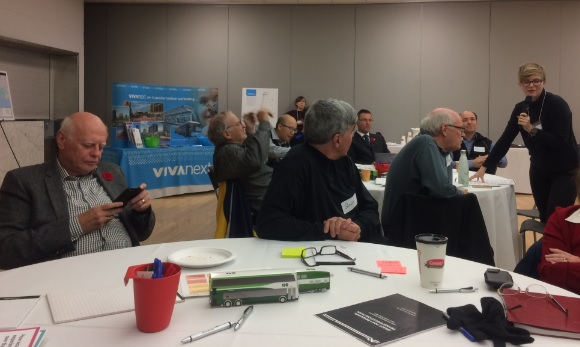 Now each of the round tables is reporting back to the full meeting.
As the rapporteur at the table next to ours is making a series of very interesting points I notice Van Trappist is, yet again, glued to his iphone, face six inches from the screen.
Respect

There was a time when he considered such behaviour disrespectful because it indicated you were not listening to what was being said.
This is just the kind of inattention that gets him into trouble at York Regional Council.

This email address is being protected from spambots. You need JavaScript enabled to view it.
Metrolinx will be posting a report on the consultation meetings on its website in due course.

---