On Thursday (10 January 2019) I wander along to York Regional HQ for the first meeting of the new Committee of the Whole where our elected officials are briefed by senior staff on how the machine functions. The presentations are polished. Next week there will be a second round of briefings. One third of York Region's elected officials are new and are still finding their feet.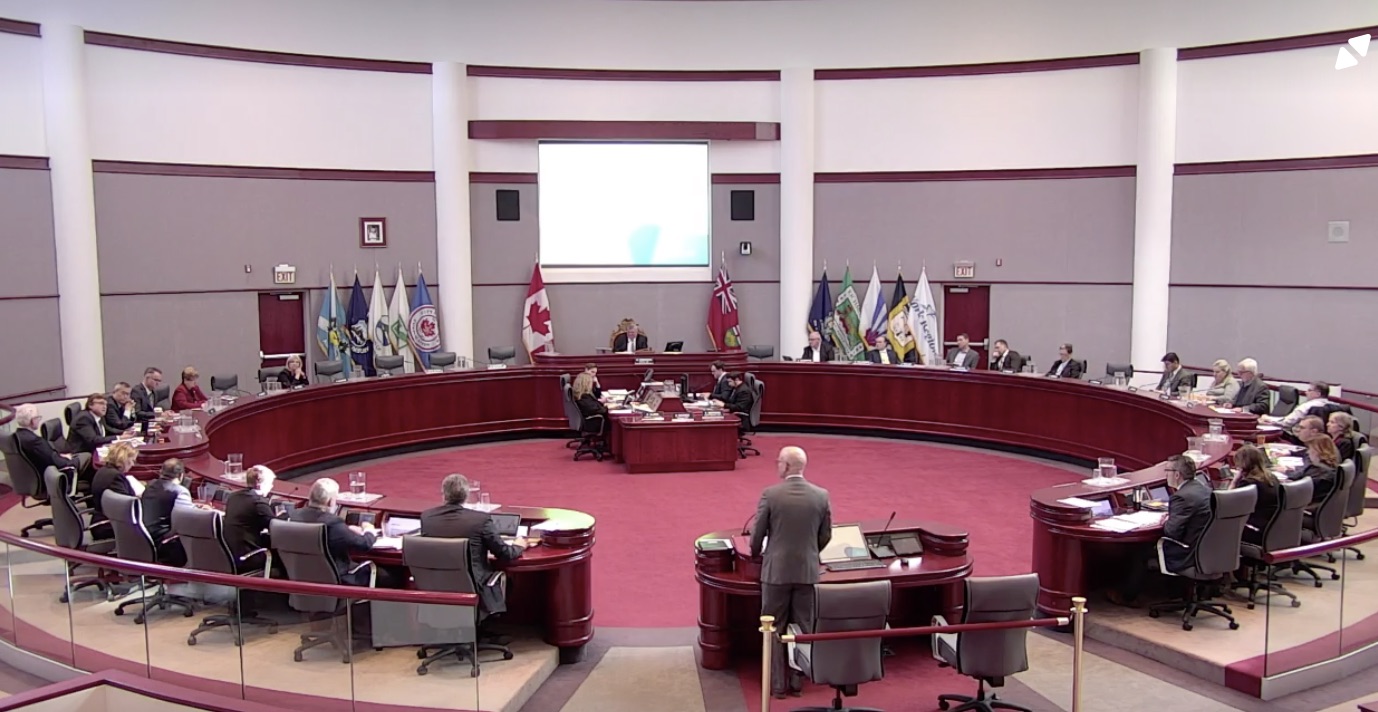 Regional Chair, Wayne Emmerson – re-appointed by acclamation and safe and secure in his $270,000 berth for the next four years – is his usual jovial self.
Emmerson tells his colleagues the meeting is to be live-streamed on video for the very first time.
"You are being watched by people from Australia, China, North America and all over the world… You are being watched so just remember!"
Now I see everyone laughing and smiling and waving at the cameras, saying hello to two senior staff who can't be present but who are following the meeting on line.
Streaming changes the dynamics
Video streaming and its archive will, over time, subtly change the dynamics of Council and Committee meetings and will keep our elected members on their toes. As the months go by, clips will be picked up by the broadcast media and by the Era (we can only hope) and the on-line Newmarket Today. Gone for good, I hope, are the days of the coasting Regional Council member, wholly disengaged from the business at hand but content to pick up the pay-cheque.
Emmerson, elected by members of the Regional Council, was of course always dead against video broadcasting Council and Committee meetings. So too was the bald baritone Frank "Pretty Boy" Scarpitti, the Mayor of Markham, who feared he was not televisual enough. Scarpitti sits next to the Chair and always talks at great length about anything touching on his home turf.
New faces
A lot of the old stagers are back for the new Council term 2018-2022 but we have a healthy sprinkling of new faces. I see the new Regional Councillor Robert Grossi, a former five term Mayor of Georgina, who can be expected to bring heft and experience to the Council Chamber. And I see Iain Lovatt from Whitchurch-Stouffville who replaces the controversial unlamented Justin Altmann, the Mayor who kept a huge photo montage of adversaries in his washroom at the Town Hall, claiming it was a "mind map" which helped him remember things.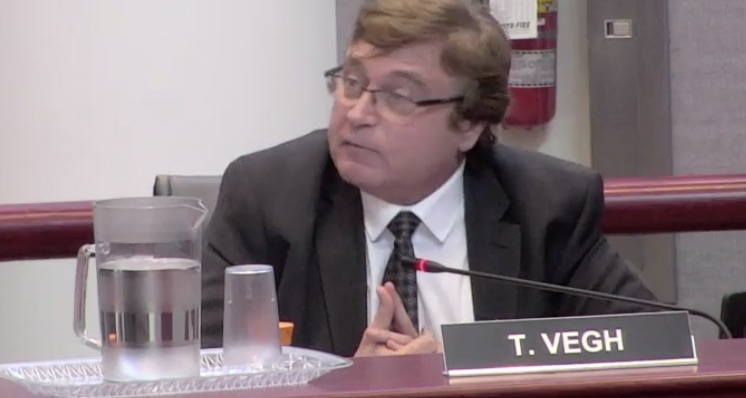 And then there is Tom Mrakas who takes over from the previous Aurora Mayor, the ineffective lightweight Geoffrey Dawe. People are hoping for great things from Tom Mrakas whose Council is resolutely opposed to Doug Ford's Bill 66 which threatens the Greenbelt. And Mrakas wants people to know it.
From Newmarket I see Tom "I'm committed to a new library" Vegh. He joins the Town's Mayor, John Taylor, but sits directly opposite him in the hemicycle, thirty feet away. Tom tells us he is interested in the proposed 400-404 link road and wants to be involved in any meetings involving the Region which may be convened by Caroline Mulroney. Good to see Newmarket's new library man is putting down a marker.
Joe DiPaolo
There is a smattering of other newcomers including Vaughan's Linda Jackson and Richmond Hill's Joe DiPaola – the husband of the infamous Charity McGrath, the one-time Provincial PC candidate for Newmarket.
Now the Region's Commissioners – the top staff - are giving us an overview of their departmental fiefdoms. It is a learning experience for all of us – and completely free of charge. I hear that the Region planted 90,000 trees every year during the last Council term, removing 80,000 tons of carbon from the atmosphere, the emissions generated by 60,000 vehicles. The Region's inventive engineer, the impressive Erin Mahoney, introduces us to the term "infrastretching" – getting more out of the region's capital assets such as sewers. (I shall stop there.)
Mulock GO Rail Station threatened by Ford
Now we are on to the transit and transportation presentation from Brian Titherington. He reminds us that last November the Ford Government "paused" work on the new GO Rail stations while looking at a new "market-driven approach" involving private sector partners. Regional Express Rail (RER) is being rebranded as "GO Expansion" but other than that it all seems very opaque. Brian Titherington confesses things are a bit unclear. But it has
"put the two new stations (on the Barrie line) into a big question mark."
This is serious stuff for Newmarket. The Town has already committed $250,000 on developing a new secondary plan for the Mulock area and no-one wants to see this money disappear down the drain.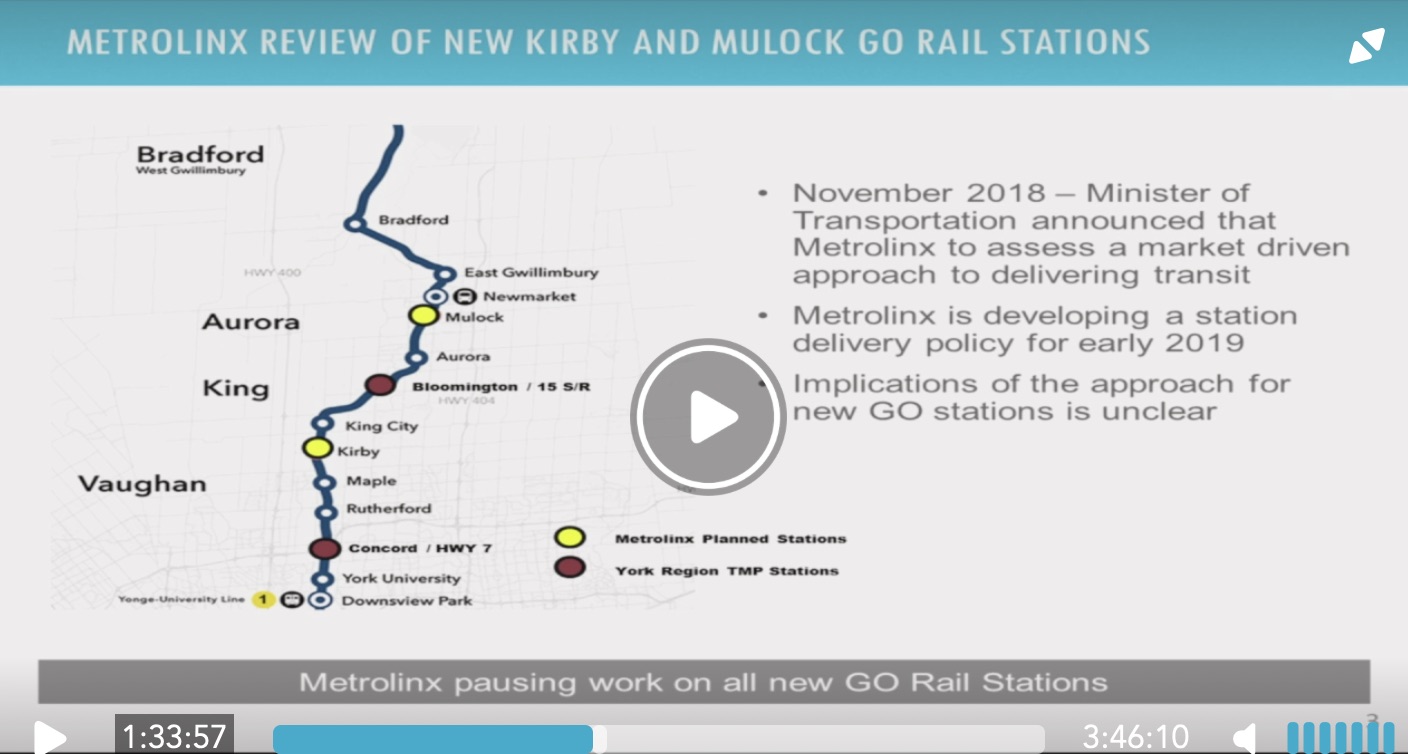 The Metrolinx Board will be getting a report from their staff next month on where things are heading. In the meantime:
"For new stations, Metrolinx is actively pursuing opportunities for Transit Oriented Development with third parties. TOD improves integration of the system with local transit and local communities, generate(s) additional ridership, and deliver(s) stations at lower cost."
With so much up in the air, Frank Scarpitti, always ready to fight his corner, suggests the Region should prepare a formal resolution that could be sent on to the Province setting out Regional priorities. He wants Ministers to understand the implications of delaying projects:
"We don't want to see things fall off the back end of the truck."
Now he is talking at length about the new GO Rail stations on the Barrie line:
"I applaud the fact that Metrolinx and the Government (are) going back and re-looking and re-visiting some of the stations that were announced previously and looking to see if there are development opportunities that can actually pay for those stations on the GO line – Mulock and Kirby being the two that were highlighted."
Scarpitti wants new stations in and around his patch:
"This Council requested two other – I think if not more – additional GO stations. We were trying to get these included in the (Metrolinx) Plan and as much as I applaud what the Government is doing here on these two stations (Mulock and Kirby) I think we should go back and ask them to revisit those stations as well. I am thinking of Denison in Markham and also north of Major Mackenzie east of Highway 48 which would help both Markham and actually Stouffville and other northern communities because people could get to them…"
Scarpitti with his shopping list of pet projects for Markham sees this pause as an opportunity "to open the door" on matters which everyone thought had been settled.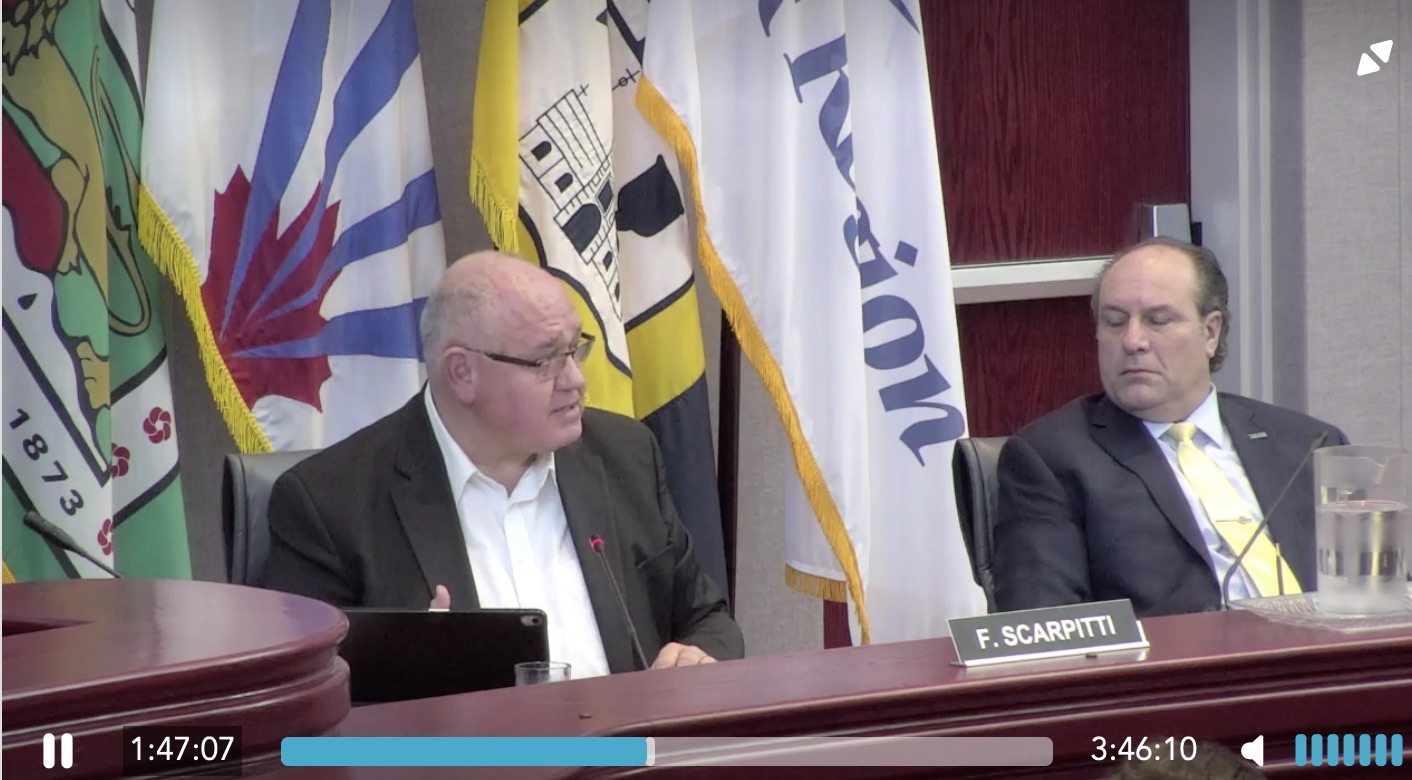 Mulock Station "teetering on the brink"
Newmarket's new Mayor, John Taylor, is sceptical. When he tells us he is going to put his comments "respectfully" he has clearly decided (in his understated way) to challenge Scarpitti. (Video at 1.53)
He says the priority is to keep what we have. The proposed new stations at Mulock and Kirby are to be removed from the procurement process pending some kind of re-evaluation. Taylor looks at Scarpitti:
"I applaud your optimism as seeing this moment as a "door opening" to revisit other stations. But the words used were: "Kirby and Mulock to be removed from the process". I don't see a door opening. I see one closing…"
"Is it a good strategy to have a discussion when a door is closing to try to keep it open (and) secure what you have? Or is it a good strategy to say we should push for more and maybe in pushing for more they (the Government) say this is all too much?"
"The Mulock Station was announced and it is important to us and I am worried about asking for more when we seem to be losing ground… What we have is teetering on the brink of disappearing."
Taylor hopes the pause is not a "veiled cancellation". But, even at best, he sees long delays with no possibility of getting the new Mulock Station up and running by 2025 as originally proposed.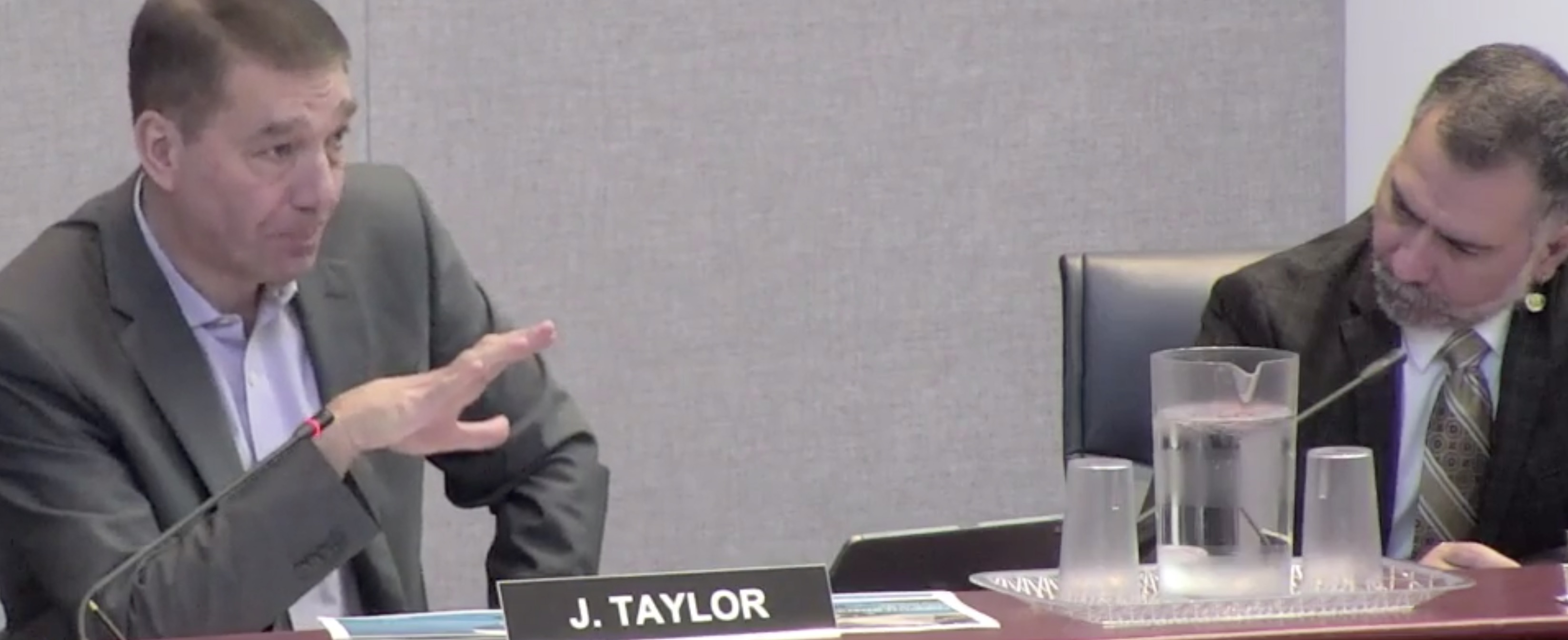 It is a stark reminder that elections have very real consequences.
An emollient Scarpitti says his priorities won't impact on those of his colleagues. He is at pains to reassure Taylor :
"We are not trying to insert ourselves before the two new stations."
As if!
Doug Ford – cutting spending
During last year's municipal election campaign Taylor was loathe to criticise Doug Ford on the grounds that, if elected, he would have to work with him. But with Mulock Station now directly threatened he is less circumspect.
He tells us the Provincial Government is retreating on spending and the Region needs to itemise its priorities. And Taylor wants to make sure Mulock is up there at the top.
We shall see what comes up to the full Council meeting on 31 January 2019.
But no matter how elegantly drafted, it is difficult to see how the report can satisfy both Frank Scarpitti and John Taylor.
This email address is being protected from spambots. You need JavaScript enabled to view it.