Here in Newmarket there's been talk about a new Library for years but nothing concrete has materialised. Who is responsible for this paralysis in decision making?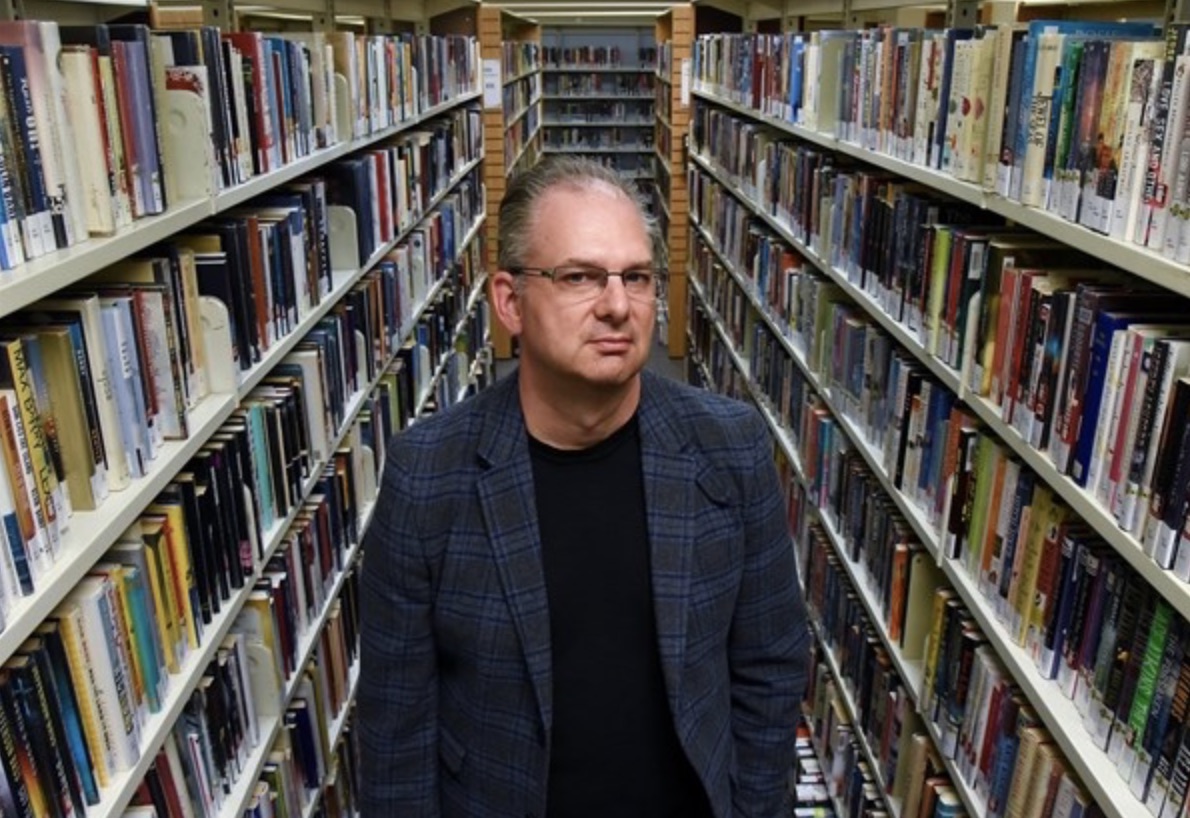 We either need a new Library or we don't.
Todd Kyle, the Chief Executive of the Newmarket Public Library (NPL), never one to rock the boat, has been dancing around the issue for as long as I can remember. But then, a year ago he found his courage and posted a blog on the NPL website, nailing his colours firmly to the mast.
Todd tells us NPL is one of the smallest libraries in the Province given the size of our population and
"We also spend less per capita on library services than successful libraries in similar-sized communities."
In fact NPL is 15th out of 17 comparators on spending per head and comes last in terms of so-called service points. We've got one library and no branches for a population that is slated to grow.
Todd says
"The proposed options for expanding library space in Newmarket are to create a new, larger central library to replace the existing one, or to keep our current location and also build a new branch to serve another area of town."
Delay and Procrastination
Library Board and Town reports show the issue has been allowed to drift for many years as politicians keep kicking the can down the road, unwilling or unable to provide leadership and take a decision. A joint Library/Town workshop was held on 15 June 2016. And on 7 September 2016 the Library Board decided to commission a study on future facility needs and options.
A report went up to the Town's Committee of the Whole on 8 May 2017 which recommended the Town approve the commissioning of a consultant study on Library facility needs using the money the Board had already earmarked for this purpose. The report was signed off by Todd Kyle and Ian McDougall, the Town's Commissioner of Community Services, who seemingly now can't remember what he said then.
John Taylor and Tom Vegh argued this work (the library facility needs assessment) should be referred to staff and come back again once an efficiencies review of Library operations had been completed. This would look, amongst other things, at synergies between the Town and Library that may deliver savings.
The completed Library efficiencies review went to the Library Board on 15 November 2017 and to a Board/Town closed session workshop on 30 January 2018. I have no idea what it says. I am left wondering why this "efficiencies report" (redacted if necessary) isn't publicly available.
Todd sent a memo to the Board on 21 February 2018 on "Operational Efficiencies Review Implementation" in which he asked the Library Board:
"to urge the Town to demonstrate support for a Library Facilities Needs Study (LFNS) as previously approved by the Board."
At Council on 5 March 2018 Jane Twinney and Kelly Broome – both members of the Library Board – are content with yet more delay, showing no sense of urgency. They recommend the Town gives further consideration to a LFNS in early 2019 as part of the 2018-2022 Council Strategic Priority setting process.
Which brings us bang up to date.
Setting Strategic Priorities
The Town's Strategic Priority setting exercise is moderated by a team of outside consultants brought in for the purpose. Their job is to help our elected officials in workshops sift the wheat from the chaff and decide what's really important to get started (and hopefully deliver) in their four-year term of office.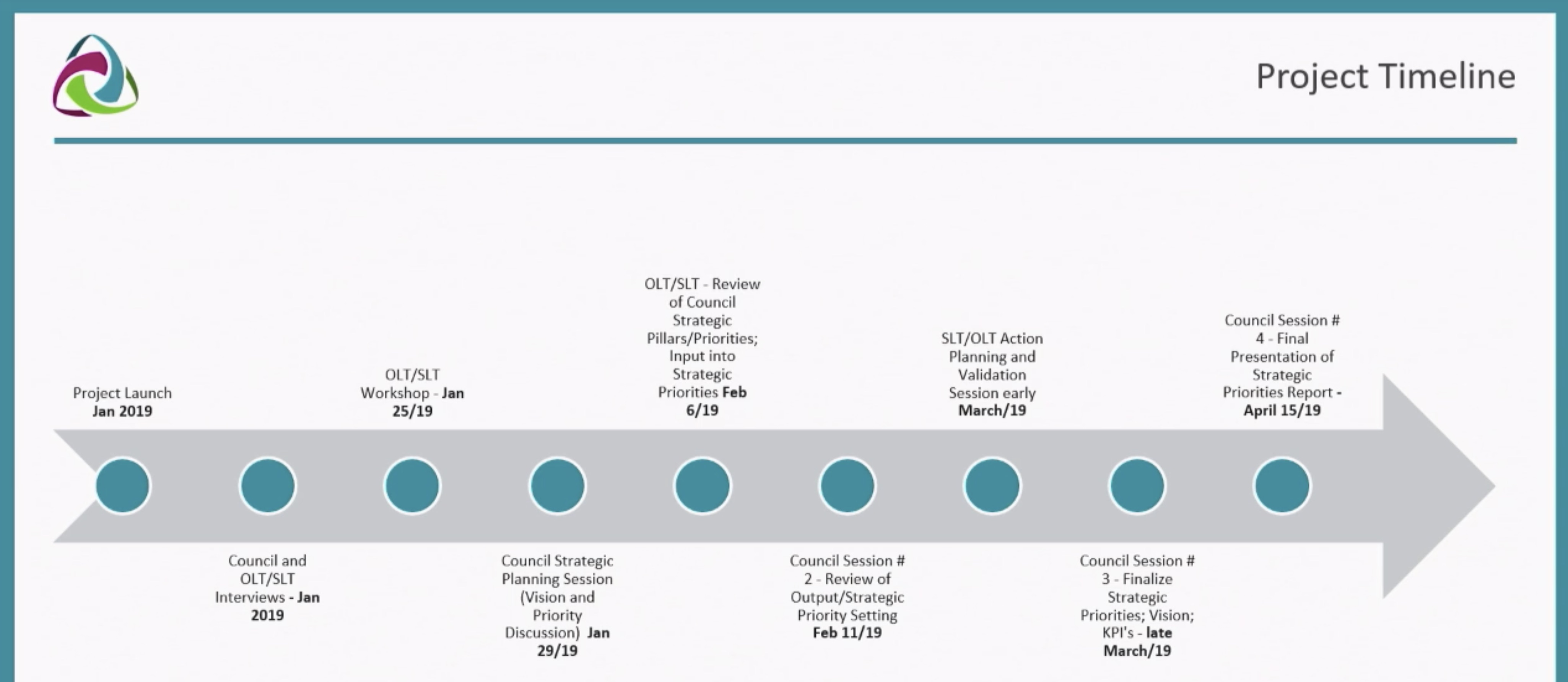 Our councillors are asked to come up with a list of strategic goals and objectives and then rank them in each of the six categories – environment, transportation and so on. They all have buttons to press. And the ranking process is anonymous.
The strategy session on 29 January 2019 focusses on "vision and priorities". They discuss things together and also break out into little groups and come back with ideas.
There are problems with this approach. Councillors have to be given accurate information if they are to make considered decisions on how to rank competing priorities. This didn't happen on some key issues. For example, everyone seemed to be completely in the dark about plans for enhanced library services and no one was there who could bring them up to speed.
If I were Chief Executive of the Library I would have made it a priority to brief all members of Council after last October's election knowing they would soon be setting their strategic priorities for the coming term.
Tom Vegh and his new library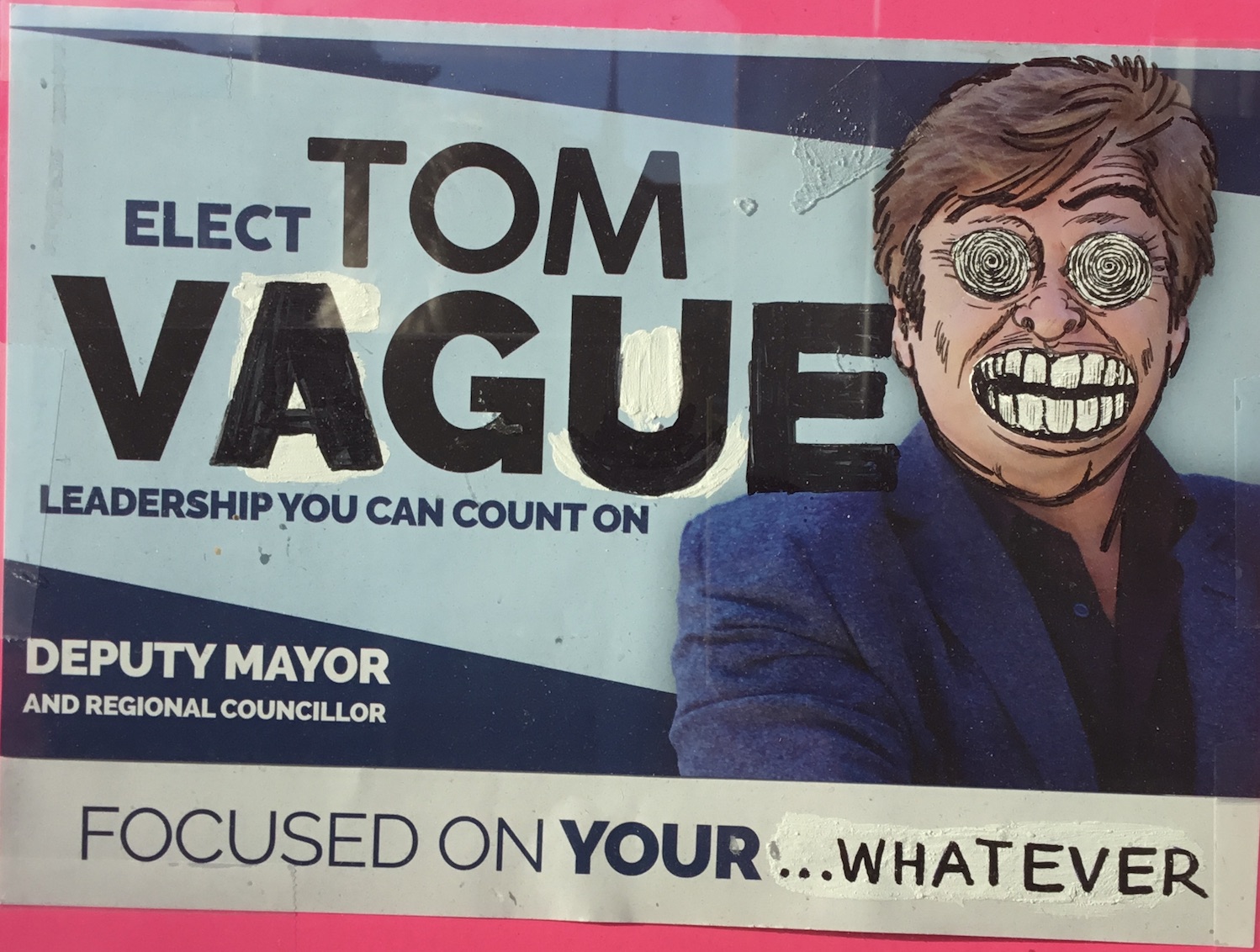 So, full of anticipation, I tune in to watch Tom Vegh argue the case for a new Library and Seniors' Centre located at the Hollingsworth Arena site which was a central plank of his election prospectus less than four months ago.
Oh dear!
Instead of setting out his stall and arguing for it clearly and cogently he is all over the place. He disappears down a rabbit hole, gingerly putting the case for a needs assessment for both the library and his new seniors' centre. Vegh was Vice Chair of the Library Board during the last Council term. Why wasn't he insisting on action then? This is the man who boasts at election time that he gets results.
Christina Bisanz is aware of the problem. She says she wants to come up "once and for all" with a plan on what we want to do with the library.
"We've kind of kicked that forward a few times and so when we were talking about it we weren't necessarily saying we are going to do "X" with the library but just that we would have a plan in the next three years of what we would do."
The new councillor for Ward 2, Victor Woodhouse, agrees there needs to be a plan for the library, whether it is enhancing the space there or doing nothing or having a totally new location. He too wants a plan!
The library is up there on the big screen bundled in with a bunch of other priorities. The moderator wants to know if it should be a separate priority. Yes.
Now we have a new priority:
"Plan for Library enhancement or re-location"
The new councillor for Ward 1, Grace Simon talks enthusiastically about the library being a community hub, a vibrant and welcoming meeting place.
A Process of Discovery
Taylor, who gives the impression of having just arrived from Planet Zog and is new to it all, says the Library Board should go through a "discovery process" to see what is needed. Would there be a satellite library he wonders or a whole new thing?
Now Library Board member Jane Twinney is challenging the language used to capture the library priority:
"I agree with Councillor Woodhouse about having a plan but it sounds to me (like) a plan for library enhancement or relocation. It is saying we need it enhanced and need it relocated…
Jane is in favour of a needs study:
"so the Board knows it is a Council priority and that (means) just looking at it and not necessarily moving forward with anything."
Jane Twinney has been on the Library Board for many years. If those sentiments are from a friend of the library does it need any enemies?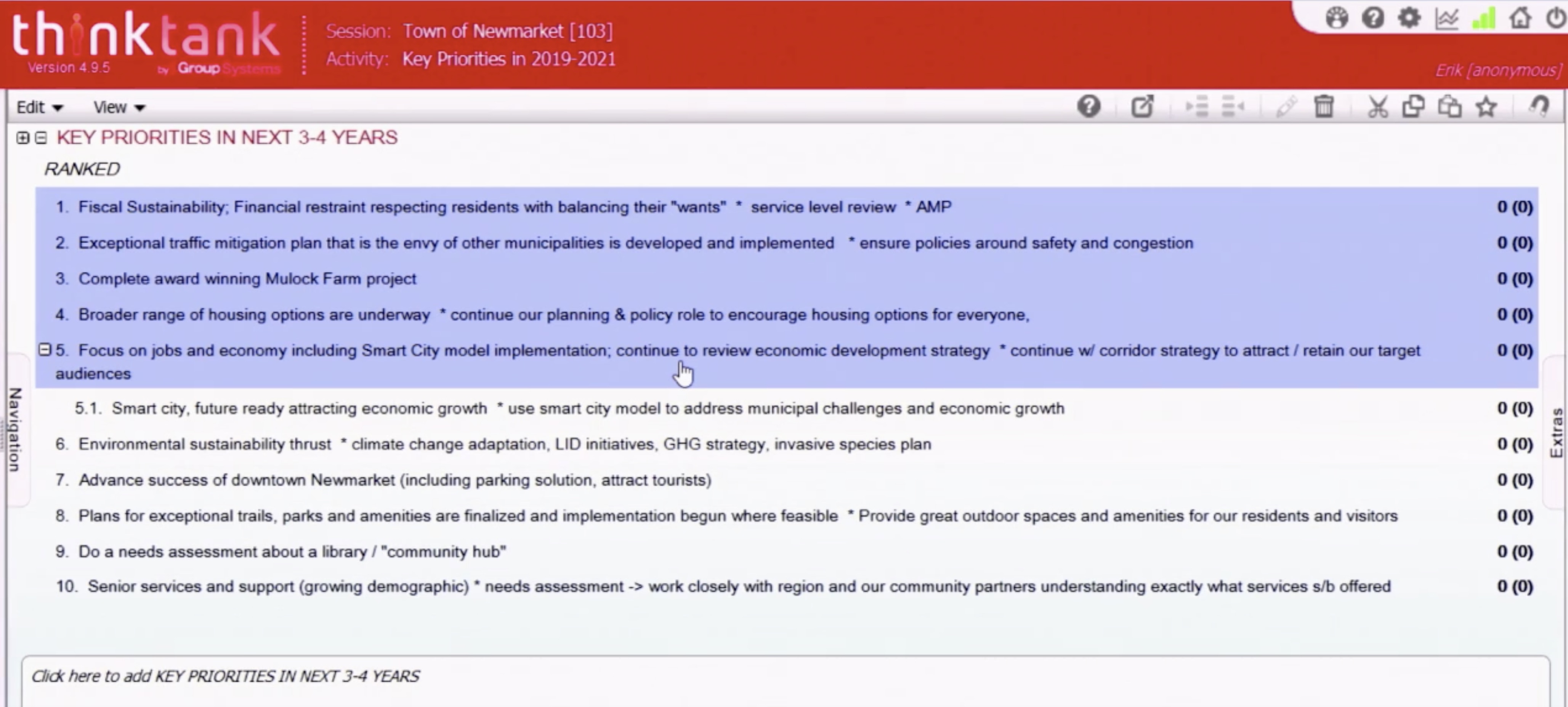 Taylor suggests changing the wording to:
"Library needs assessment (community hub)"
This is tortuous. It's like watching a Committee draft a resolution.
Bricks and mortar
Now Tom Vegh has a thought.
"Does it make it easier to put 8 (expanded Seniors' Centre) in with 6 (Library/Community Hub) as it focusses then on the process, on the needs assessment, as opposed to the bricks and mortar."
He asks for his colleagues views. Taylor says they should be kept separate. Vegh, deferring, says OK.
Vegh's bold commitment to a new library and seniors' centre on the Hollingsworth site (i.e. bricks and mortar) is shrinking before my eyes. He has been sucked into a meandering discussion about process rather than bang the drum for his big idea.
Now the moderator wants councillors to boil down their lists of priorities to six key priorities to get started on this year and next.
Vegh wants to know how you compare and prioritise something that costs a fortune with something which already has a budget allocated to it. Fair point.
"..The library actually has a budget for (a facility needs assessment) and it has very little impact on Town resources being spent. Other things are long term and much more expensive. Any suggestions on how we weigh all this?
His concerns fall on deaf ears. In the vote, the library fails to make it into the top six.

Now we fast forward to the meeting earlier this week (11 February 2019).
Tom Vegh is absent (for understandable reasons which I needn't go in to) but I am disappointed there is no Conference call linking the great man to the Council Chamber. He cannot simply run away from the commitment he made to the voters a few months ago. I want to hear him outline his plans.
John Taylor picks up where he left off. He wants to know if the Library Facility Needs Study (LFNS) should be undertaken by the Library Board or by the Town.
Todd Kyle absent
Ian McDougall (Community Services Commissioner) tells Taylor:
"I know who paid for it! (laughter) It would have to be discussed at Council for sure and definitely be discussed at the Library Board. Unfortunately the CEO of the Library is not here to offer comment… I think it would be a joint initiative but funded through the Library."
In fact McDougall co-authored the report that went to the Committee of the Whole on 8 May 2017 which said this:
"The Library Board originally approved funding for a (Library facility needs) study on September 7, 2016 by allocating a portion of capital reserve for Alternative Service Delivery that was originally envisioned to explore other ways of delivering library service to the community, including a parking study. The Board approved the allocation pending an indication of Council's willingness to support the study."
The very same report also gave details of the scope of the Library Facility Needs Study.
The Mayor wonders if this particular strategic priority is
"one best advanced by the Library Board… Or is it partnership-based enough that we can both advance it? I would have thought the Library Board would then have a discussion about this, the scope of what they think needs to be looked at and they would be moving this forward as a priority for the Library to come to Council and the Town in terms of focussing on what we can effect and achieve."
Garbled advice on the Library's priority
Tom Vegh is absent. But why doesn't Jane Twinney or Kelly Broome do a quick re-cap on why we are where we are? Instead, Ian McDougall delivers this unintelligible gobbledegook:
"My sense I think is that the Library Board or at least I know through the CEO understands the need that the Council sees this as also being important. So I think that, potentially, if I may offer (a suggestion), maybe, just use put the arena of Library Facilities Needs Assessment. (It) would really be up for consideration potentially in one of those top five or six (spots) and perhaps on the actual language we can work with the Library to make sure it is appropriate in keeping with their uniqueness. I think maybe I just leave that tail end on there and see if there is a fit with Council's interest."
Taylor says the Library Board should be driving the issue and then bring it to Council:
"…if that's the case we park it with them and we focus on our priorities."
Why wasn't the Library Chief Executive at the Strategic Priority Setting meeting? Seems to me his presence – and the explanations he could offer – could have made a big difference. Was he even invited?
Library doesn't make the cut.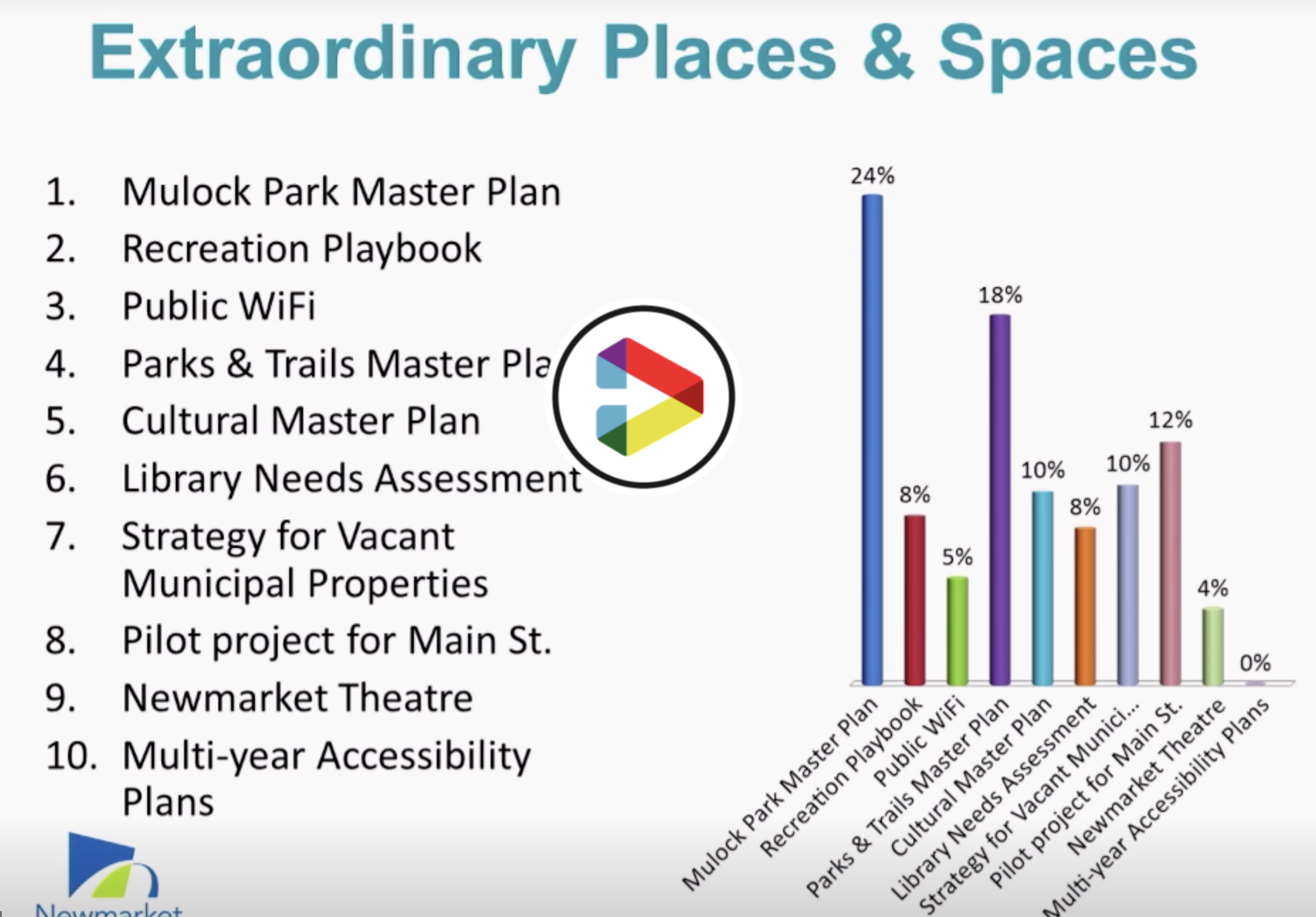 Now our councillors are voting on what to include as the strategic priorities for the coming term. The moderator tells them if their choice is not in the top five "it would likely not make it into the strategic priorities".
Ian McDougall agrees but adds that some policies that don't make it into the top five could still "work their way into some work plans".
He asks councillors to think about it this way:
"The five most important (policies) that outwardly show the community that we are driving to move the needle on. That would be the biggest criterion in ranking your top five. What would be the most important that we would want to demonstrate to the community that we're moving that needle on in terms of advancement?"
In the vote on ranking, the library doesn't make it into the top five.
Too small and overcrowded
In July last year Todd Kyle was telling the local press the library was too small and overcrowded. The workshop on strategic priorities was his opportunity to set the record straight with councillors who had either forgotten all about it or had never been told about the history of the Library Facilities Needs Assessment.
Todd told the press:
"The last two terms of council haven't put the library on the priority list. It would be nice to just have a space where people aren't tripping over other people constantly."
"The current location has restrictions on the land so we would have to build up to expand, which isn't ideal. Our two options seem to be building a new facility or constructing satellite branches to increase our services to the public."
In July 2018 the former Town chief administrative officer, Bob Shelton, and the Commissioner for Community Services, Ian McDougall, both suggested the library issue should be addressed. McDougall said staff would be recommending councillors consider the library one of the strategic priorities to be included in the next four-year term.
Which is where we came in.
What is to be done?
The Strategic Priorities project timeline gives councillors a chance to change course – if they wish.
Personally, I would put the Library Facilities Needs Assessment back in there, making it clear the Council will respond "as a priority" to the findings of the report commissioned and funded by the Library Board.
It may well be that the Town has other more pressing priorities and cannot or will not sanction a new or differently configured library service. But at least the debate will be out in the open and we can have the conversation.
In the meantime, the Deputy Mayor, Tom Vegh can work up his plans for a combined "bricks and mortar" Library and Seniors' Centre at the Hollingsworth site.
Or he can just admit it was never meant to be taken seriously.
This email address is being protected from spambots. You need JavaScript enabled to view it.
Newmarket Public Library Study Implementation (Council on 5 March 2018)
Moved by: Councillor Twinney Seconded by: Councillor Broome
That staff, in conjunction with the Newmarket Public Library CEO, be authorized to implement the recommendations in accordance with the presentations made at the January 30, 2018 Joint Council and Newmarket Library Board Workshop provided implementation is in line with current and future approved operating budgets; and,

That Council refer the further consideration and direction with respect to library facility needs study to the 2018 – 2022 Council Strategic Priority setting process.