The decision by developer Bob Forrest to sell the iconic Clock Tower building and the adjacent historic commercial buildings is great news.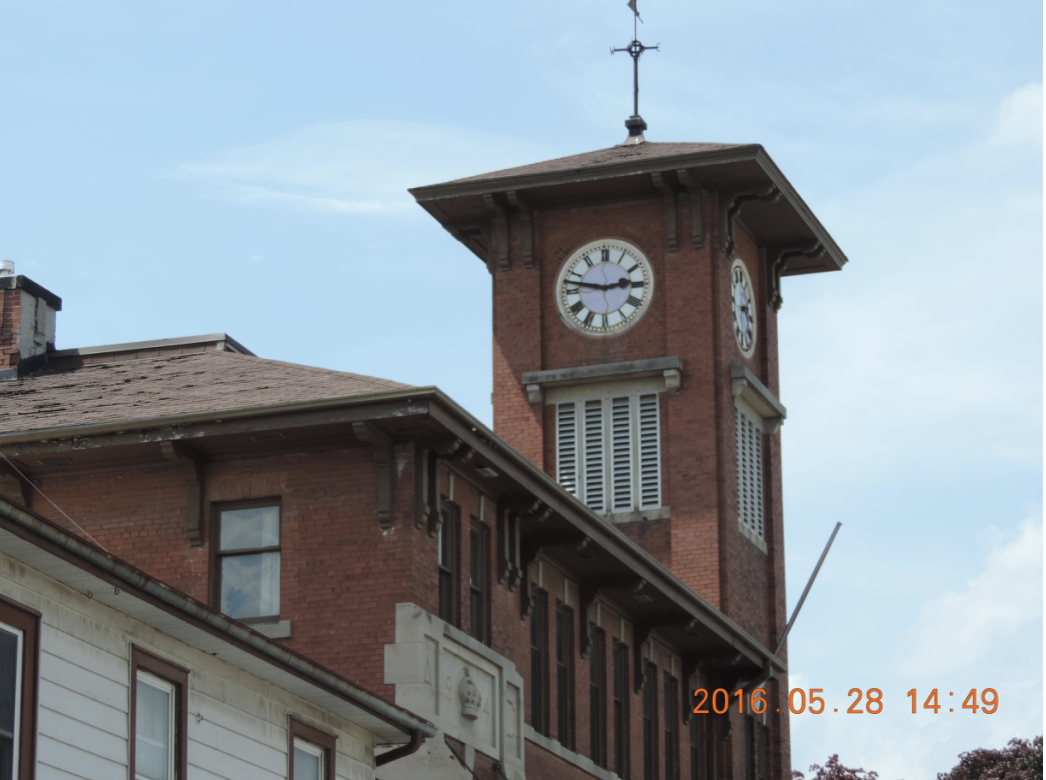 Forrest has been like a dose of anthrax to Newmarket's historic downtown and the sooner he packs his bags and leaves the better. Personally, I'm fed up looking at his desolate boarded-up properties.
I've been writing about Bob for far too long. But I know from long years of experience that stamina is required when dealing with developers. They play the long game. They have very deep pockets and have time on their side. They can sit out protests and wait for people to lose interest and move on with their lives. That's the way they win.
Bob's plans had been incubating in his head for years before we got to hear about his "concept" in 2013. And when Bob discovered people were less than impressed he spent another three years going back to the drawing board, amending, refining and tweaking his concept before finally throwing in the towel and admitting defeat.
The Town Solicitor will be giving councillors an update on the sale and what it may mean tomorrow Monday 29 April. You can find agenda item 5.2 here.
Bob's allies
Developers always have their enablers. Forrest had an ally in the former Mayor – Tony Van Trappist – but, at the end of the day, support from the old banker wasn't enough.
At public meetings on Forrest's development proposals Van Trappist would tell people they "would have plenty of opportunities to make their voices heard". This is a tried and tested way of managing a meeting when the audience is hostile or sceptical or both. We didn't know then he had already made up his mind. But there were plenty of clues.
The new Mayor of Newmarket, John Taylor, is cut from different cloth. He sees the sale as a win for the community on the grounds Bob's departure will get things moving again in the heart of the heritage conservation district. I hope so.
How did we get here?
Forrest bought the Clock Tower for a song in 2011. He spent masses of time and barrow loads of cash trying to get his development through.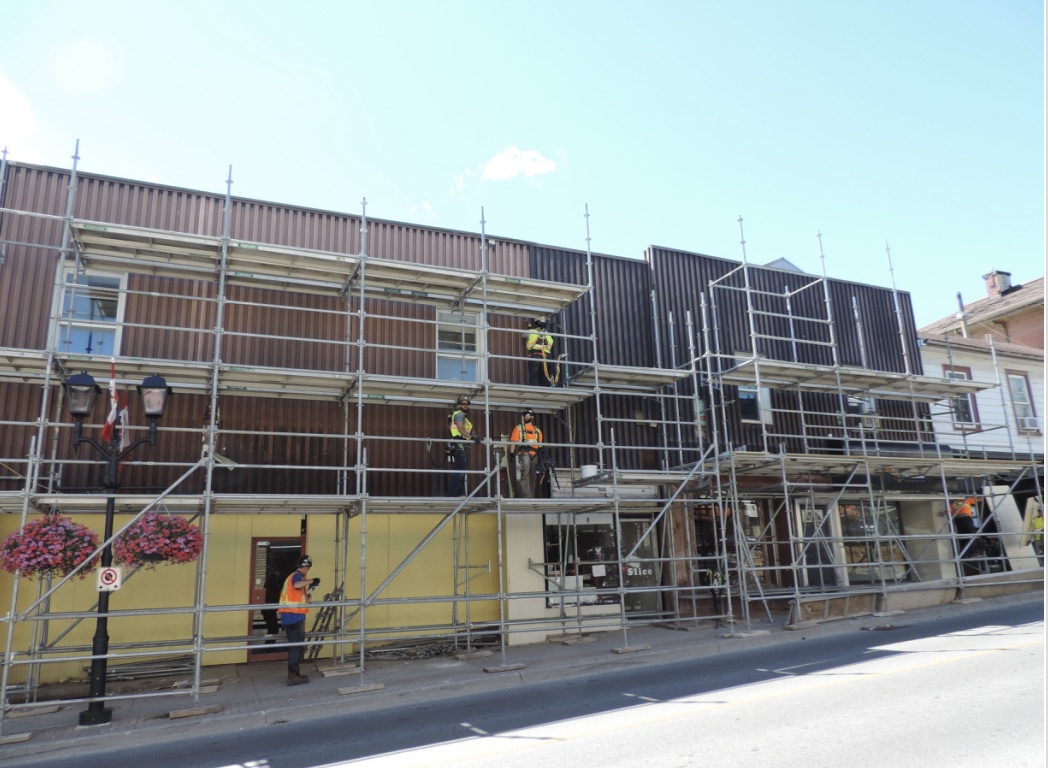 The Town's senior staff spent endless hours discussing Bob's plans, trying to devise a win-win that would increase density in the old downtown while protecting the Town's built heritage. They wanted to accommodate Forrest if at all possible. And as a consequence, they were too slow to recognise that Bob's plans – whether seven, nine or six storeys - would never fit into the old downtown.
Forrest had a formidable coalition ranged against him – from downtown retailers to citizens' and charitable groups like the Heart of Newmarket and the Architectural Conservancy of Ontario who fought to protect the Town's built heritage. Bob tried hard to seduce councillors but failed. Only the old banker took the bait.
In 1995 the Town passed a by-law to designate the Clock Tower as being of architectural and historical significance. In 2007 the Town agreed in principle to establish a heritage conservation district and the following year work started on the Lower Main Street South Heritage Conservation District (HCD) Plan.
Bob buys the Clock Tower for $2.3M
In March 2011, Bob's numbered company 2259613 Ontario snapped up the Old Federal Post Office (aka the Clock Tower) for the knock-down price of $2,340,000. It was on the market for $3,275,000. In June Forrest gave a presentation on his "Clock Tower concept" to a closed session of the Committee of the Whole.
In July senior staff reviewed Forrest's Clock Tower proposal where there is talk about drawing up a balance sheet: Benefits for Town vs Costs for Town. Other meetings followed to discuss access rights, heritage issues and parking. The latter has always been a big issue in the old downtown.
On 5 October 2011 the Heritage Conservation District Plan was endorsed by Newmarket Council.
In the new year things began to heat up. Mike Bryan, the owner of 184-194 Main Street South emailed Newmarket CAO, Bob Shelton, to say he was in the process of selling the properties and he was authorising the buyer, Main Street Clock Inc and its parent company Forrest Group, to "discuss details of my company's land exchange with the Town of Newmarket". He sold his properties to Forrest for $1,800,000.
Bob needed Town owned land for his project to get off the ground
On 30 April 2012 Forrest's right-hand man, Chris Bobyk, made a PowerPoint presentation to the Committee of the Whole in closed session and on 7 May councillors considered a report on the Clock Tower and the proposed land exchange. At this stage the land swap was a complete mystery to the public. We would find out later that the development could only go ahead if the Town agreed to make available the land that Forrest needed. Senior staff and councillors danced around this issue for years, waiting for Forrest to lodge his planning application before deciding whether to do the land swap or not.
On 18 October 2012 Chris Bobyk told the Town's planners Forrest didn't want to go to the trouble of doing detailed design work on the Clock Tower until they got the OK from the Town that they had the zoning agreed and in place. Forrest's people were also sweet talking so-called "community leaders" to get them on side. The Town's senior staff were briefed on all these shenanigans.
On 23 October Forrest warned the Town's Chief Administrative Officer Bob Shelton and others he could pull out:
"We are spending money to work out issues with Heritage and BIA. The cost of preparing a complete application for zoning is far too onerous for us to undertake without having (redacted). Given that we have spent over $100,000 on reports and design, in the last 30 days, if the above is not going to fly, we prefer to withdraw right now."
In November Forrest was again in discussion with senior Town staff on a myriad of issues including the difficulties he faced in developing the site and how he should go about consulting the public. There were parking and heritage issues. He asked for their thoughts.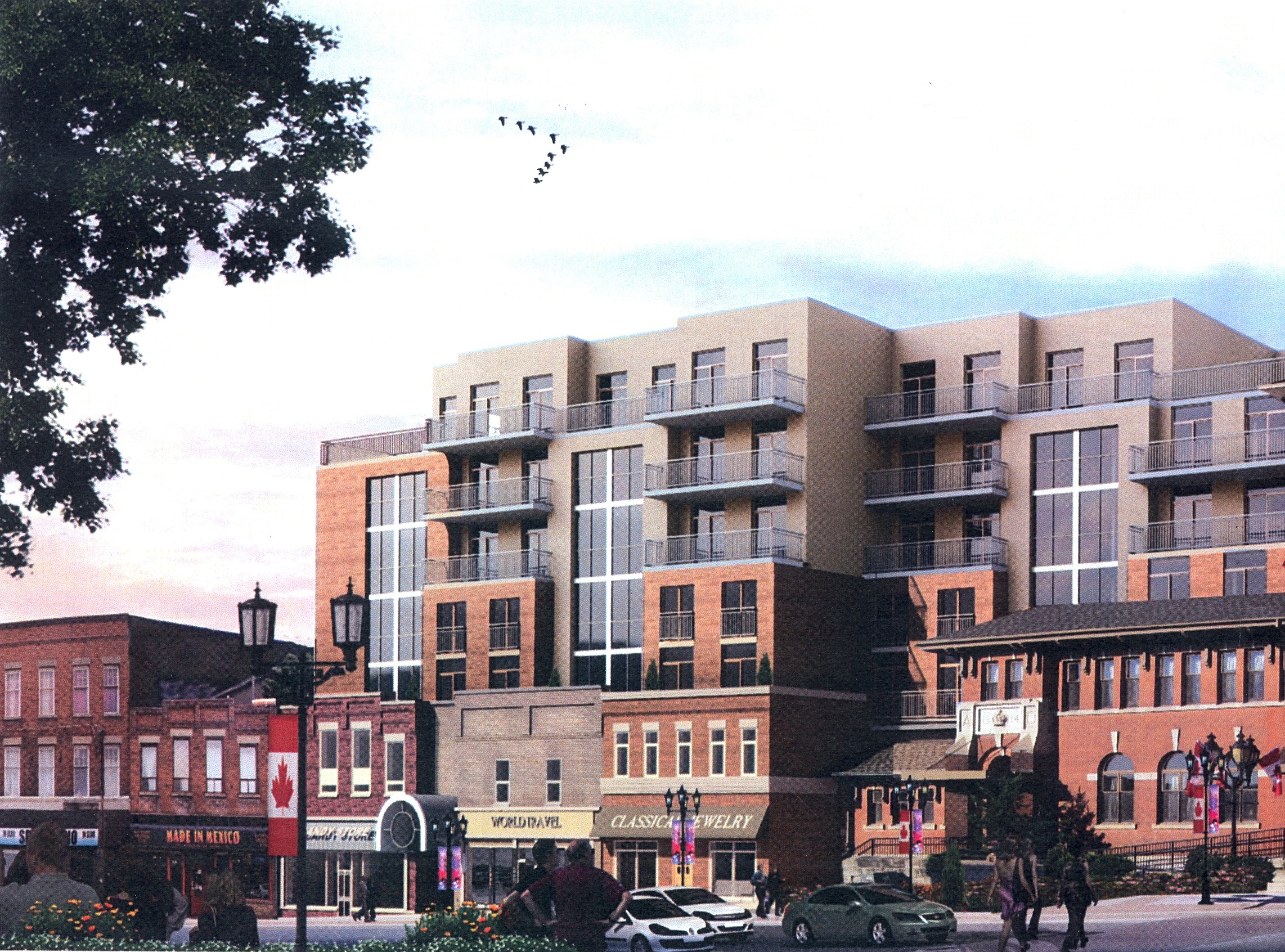 Now we are into 2013 and Bob was again complaining about how much this Clock Tower venture was costing him. He said he was bending over backwards to accommodate the Town but there were limits. In January Chris Bobyk emailed Van Trappist, Bob Shelton and others to say they couldn't make any more concessions without putting the entire project in jeopardy.
"Our proposed density has been reduced in the current plans inclusive of height to the lowest point possible while maintaining financial feasibility for the project."
On 3 April 2013, Bobyk unveiled the Clock Tower redevelopment concept to a sceptical audience at the Community Centre in Doug Duncan Drive. He chose not to mention that the Town's heritage watchdog, the Heritage Advisory Committee, had voted against the proposed development. He said an application would be lodged with the Town "in the next few months". That didn't happen. Bob wanted to get all his ducks in a row first.
Where is the Heritage Conservation District Plan?
On 30 April 2013 I urged Van Trappist to take immediate steps to bring forward a By-law to bring fully into force the Lower Main Street Heritage Conservation District Plan which had been approved by Council in 2011 but the enabling By-Law had never been implemented.The Director of Planning told me there wasn't enough money in the budget to cover the additional staffing costs.
In June staff presented a report (2013-29) to the Committee of the Whole. We learned that since mid 2011 Forrest had been considering various conceptual development proposals for these lands which involved "closed session discussions with Council on related property matters". They'd been jabbering for years.
The latest concept was for a development including a six-storey apartment building with 145 apartments and 6 retail units with a mix of surface and underground parking. On 17 June and again on 24 June the Committee of the Whole met in closed session. Forrest subsequently insisted there was an agreement in principle. The Town denied this. Despite repeated Freedom of Information requests the Town refuses to make the report and minutes public.
Secret discussions to stay secret
The Town says publication of the minutes will give the game away if their negotiating strategy is revealed. They claim, preposterously, that this would imperil future negotiations if they show their hand – as if they always rigidly follow the same negotiating position.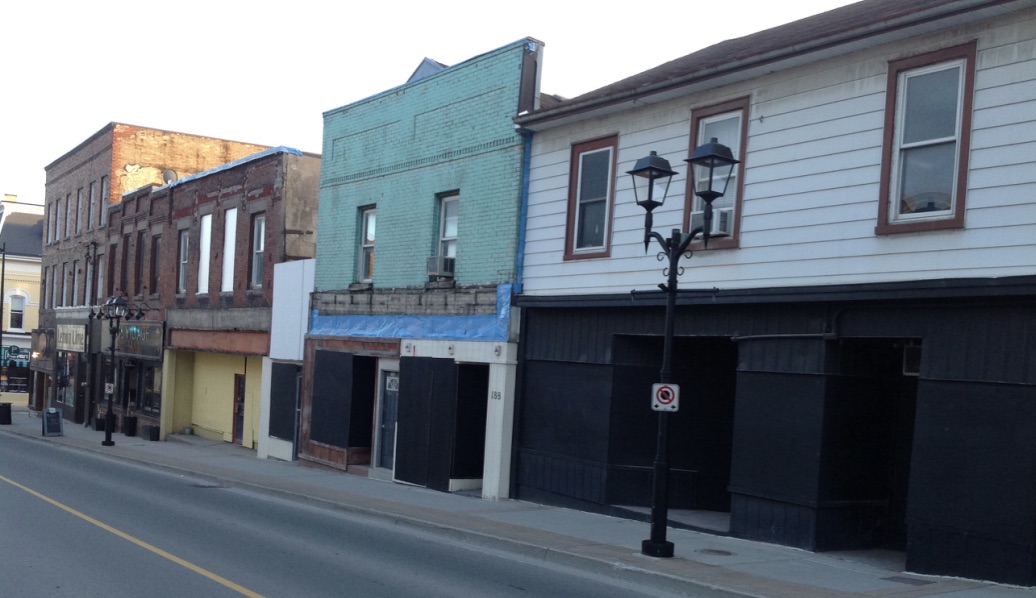 "The information contained in the records is detailed, specific and describes a negotiating strategy that, if released, would prejudice the Town in future negotiations. The release of these records will reveal the Town's negotiating position and tactics and would impact the Town's position in future negotiations."
The public finally learned that Forrest needed Town-owned land for the project to proceed. In August, a staff report recommended passing the necessary by-law to bring in the 2011 Heritage Conservation District Plan. All this was costing Forrest time and money and in September he took out a mortgage on the Clock Tower property for $3,000,000 with PACE Savings and Credit Union.
Eviction notices
Later that month Forrest decided to evict his business tenants on Main Street South citing demolition and redevelopment as a reason, even though there is no certainty the Council would give approval to demolish. He wanted them out by 31 March 2014.
Forrest emailed the then Town Clerk, Andrew Brouwer, asking the Council to defer any decision to bring into force the Heritage Conservation District By-law. But the Town pressed ahead nevertheless and the by-law was agreed on 21 October 2013.
In November a report on the Clock Tower application (2013/55) told us Forrest wanted a zoning by-law amendment to permit a mid-rise 6 storey building with 150 residential units above 10 units of ground floor commercial and two levels of underground parking with 173 spaces. The underground parking would extend under the existing library parking and a portion of Market Square parking lot.
We learn this development – one of a number of iterations - would have a floor space index (FSI) of 4.25. The FSI, which is a measure of density, would later become a controversial issue.
In November 2013 Forrest appealed to the Ontario Municipal Board saying his planning application for the condo proposal, deemed complete, had been lodged with the Town before the Heritage Conservation District By-law had been enacted. In December the Newmarket Heritage Advisory Committee calls on the Council to reject Bob's development.
Bob shoots for the sky with a nine-storey condo
We are now into 2014 and Bob still had not submitted a formal application to the Town. He was endlessly testing the water. In January, in a last-minute revision of plans, he decided to go for a nine-storey condo, up from seven.
The statutory public meeting on 3 February 2014 was packed. Chris Bobyk said the underground car park could not be built solely on the land that Forrest owned. For technical reasons it would have to "spread out" and encroach on to Town owned land. People were beginning to ask why the Town didn't just say no.
In March Forrest, conciliatory and brazen in equal measure, offered to extend the lease of his tenants until September 2014 and then on a month-by-month basis but only if all opposition to his project was stopped.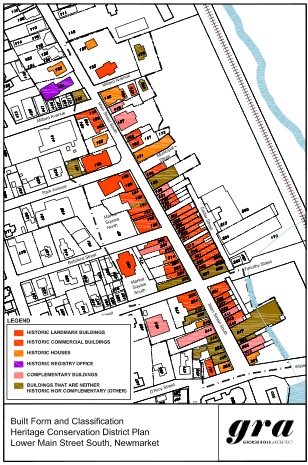 On 19 June Bob put the Clock Tower and adjacent buildings up for sale. But no buyer emerged or he subsequently decided not to sell. We don't know. In a bizarre twist he subsequently denied ever trying to sell them.
Forrest met Van Trappist and Bob Shelton on 14 August 2014 to discuss a wide range of issues. He made it clear he wanted a firm land swap deal.
On 19 August the OMB issued an Order bringing the Heritage Conservation District By-law "into full force and effect" as from 31 October 2013 except for the properties under appeal (180-194 Main Street South).
Town is "dysfunctional"
Now we are into 2015. Forrest was continually in contact with the OMB, updating them on the progress of his development proposal. Angry and exasperated, he branded the Town "dysfunctional".
In May Bobyk had separate meetings with councillors - away from the Town Hall – to brief them on the overall history of the Clock Tower application and to review the proposal that was current at the time. Bobyk told Van Trappist he would report back on what happened, telling him what individual councillors thought.
By June Bobyk was becoming increasingly impatient and he pressed Bob Shelton to get the land swap issue sorted out in August. He wanted to know if the Town would be holding out for public parking spaces in the cavernous underground parking garage. He told Shelton:
"the boundaries for the land exchange vary dependent on whether the municipal parking option is included or not. Need your direction soon."
On 5 September Forrest told his business partners the land swap agreement was being drafted and that he already had the Town's agreement in principle. Forrest said he had settled on six storeys but there was a real possibility he could get seven with rental. In October Bob Forrest floated with councillors the idea of making the proposed development rental.
On 15 December 2015 the increasingly restive BIA Board of Management carried a motion calling for:
"responsible development within the three storey height limitations permitted in the Downtown Newmarket Heritage Business District... (It) objects to and opposes any proposed transfer or swap of Town-owned Heritage land (specifically the land on or below the critically important Market Square parking block) by the Town to the Forrest Group or any other developer for the purpose of providing space to build an underground parking lot for its intended project, the construction of which would have catastrophic effects on BIA businesses."
Boarded-up shop fronts
Now we are into 2016. On 5 January Forrest told his business tenants on Main Street he had been wrong-footed by the Heritage By-law and didn't see it coming. He said he would let his tenants stay where they are for a little bit longer. He said he worried about boarded-up shop fronts and how the Council would react. He told his tenants:
"My business isn't renting stores. My business is building buildings and I want to get to the point that I can build my building at the earliest possible moment."
In February Bobyk had more one-to-one meetings with councillors.
On 7 April 2016 Forrest applied for a Zoning By-law amendment for a seven-storey rental apartment building at the Clock Tower. On 11 April the Mayor, Tony Van Trappist, finally revealed his true colours, telling the local press:
"The Clock Tower is a great example of the intensification we need."
On 14 April the President of the Architectural Conservancy of Ontario, Catherine Naysmith, spoke to a packed meeting at Trinity United Church on historic Main Streets and how they can be protected and yet still thrive. Heritage properties can be money spinners.
Later that month John Taylor declared that no land would be sold or transferred in relation to the Clock Tower site
"unless in relation to a Council approved and endorsed development and only after the project has significantly advanced".
A second statutory meeting on Bob Forrest's latest plan for the Clock Tower was held on 9 May. First six storeys then nine. Now we are on seven. Forrest's much anticipated slide show makes no mention of the land swap.
Demolition by neglect.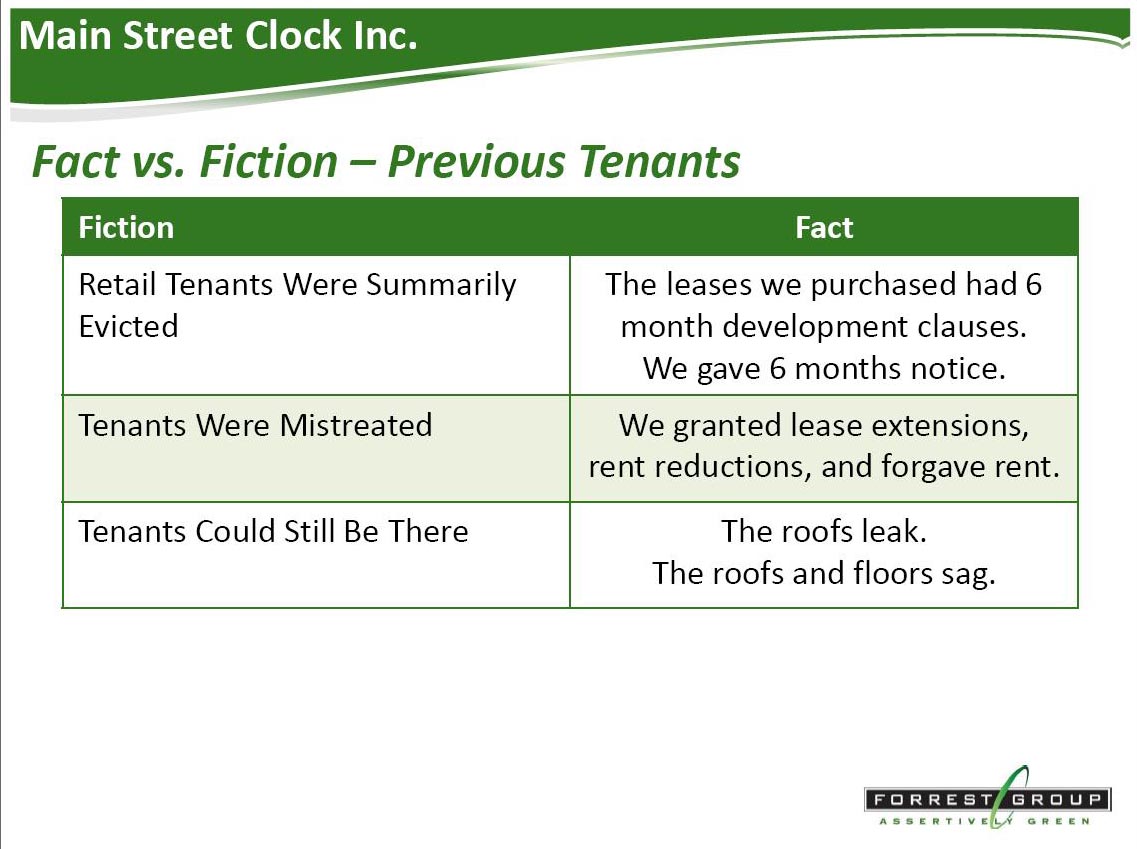 Speaking about the historic commercial properties he owns, Forrest candidly admitted:
"The roofs leak. The roofs and floors sag."
This is demolition by neglect. In September the historic commercial buildings on Main Street showed their faces to the public for the first time in decades. In October Forrest released his "Project Landscape" document, allegedly addressing misunderstandings and misconceptions about the Clock Tower development. It made no impact.
Despite the planning paralysis over the Clock Tower, in November the Canadian Institute of Planners voted Newmarket's historic Main Street one of the great places in Canada.
Town's planners go for a compromise
On 17 November 2016 the Town's planners recommended approval for an amended version of Forrest's Clock Tower development. They wanted Forrest's resubmitted planning application for a Zoning By-law amendment to be approved subject to certain conditions. The planners wanted the height of the proposed development fronting on to Main Street pegged to five storeys including step backs and the height on Park Avenue, including step-backs, to be capped at seven storeys.
On 21 November 2016 John Taylor said he would not support a seven-storey development: "It is simply too large for the site and for the Heritage Conservation District". On 24 November Forrest rejected the planners' compromise and said he would ask the Council to support his original application.
It is D-Day. The Committee of the Whole on 28 November 2016 heard from members of the public and from its own staff – including the Director of Planning, Rick Nethery, who conceded under questioning that the report before councillors was inaccurate on the crucially important FSI metric which is a measure of density.
"There's no question that what Mr Wall was saying is that we're looking at an FSI that's above what is currently in the documents. We don't dispute that. That is a question of whether or not if Council were to approve it they would be so approving with that in mind."
Instead of the document's purported FSI of 2.9 the Clock Tower had in fact an FSI of 4.279 which would have given the structure the highest density in the whole of Newmarket. The Director of Planning allowed a report to be presented to councillors with recommendations for decision which contained facts he knew to be false.
The Town's senior staff subsequently tried to explain this away by insisting height and massing were more important than the Floor Space Index. But we now know the FSI calculation had been manipulated by including in the calculations the proposed development's underground car parking. The Town's Zoning By-law specifically excludes the underground parking area in the calculation of the FSI.
On 14 December Forrest appealed the Council's decision to the OMB. Forrest's lawyer, the silver-tongued Ira Kagan, said with a straight face:
"The proposed development represents good heritage planning and good planning in general".
We all know that is complete cobblers. It is just a well-worn formula lawyers and planners trot out when the occasion demands.
In 2017 the Town and Forrest braced themselves for an OMB Hearing. And the Town threatened litigation over the ownership of the lands in Market Square. Both sides backed off.
On 2 May 2018 the Town and Forrest agreed Minutes of Settlement saying they were committed to an "open and transparent process".
In April 2019 we learn Bob is going to sell.
This email address is being protected from spambots. You need JavaScript enabled to view it.