The convicted fraudster, Conrad Black, has been rooting for Boris Johnson in the latter's quest to become Britain's next Prime Minister. It is easy to see why. They both display a casual disregard for the truth.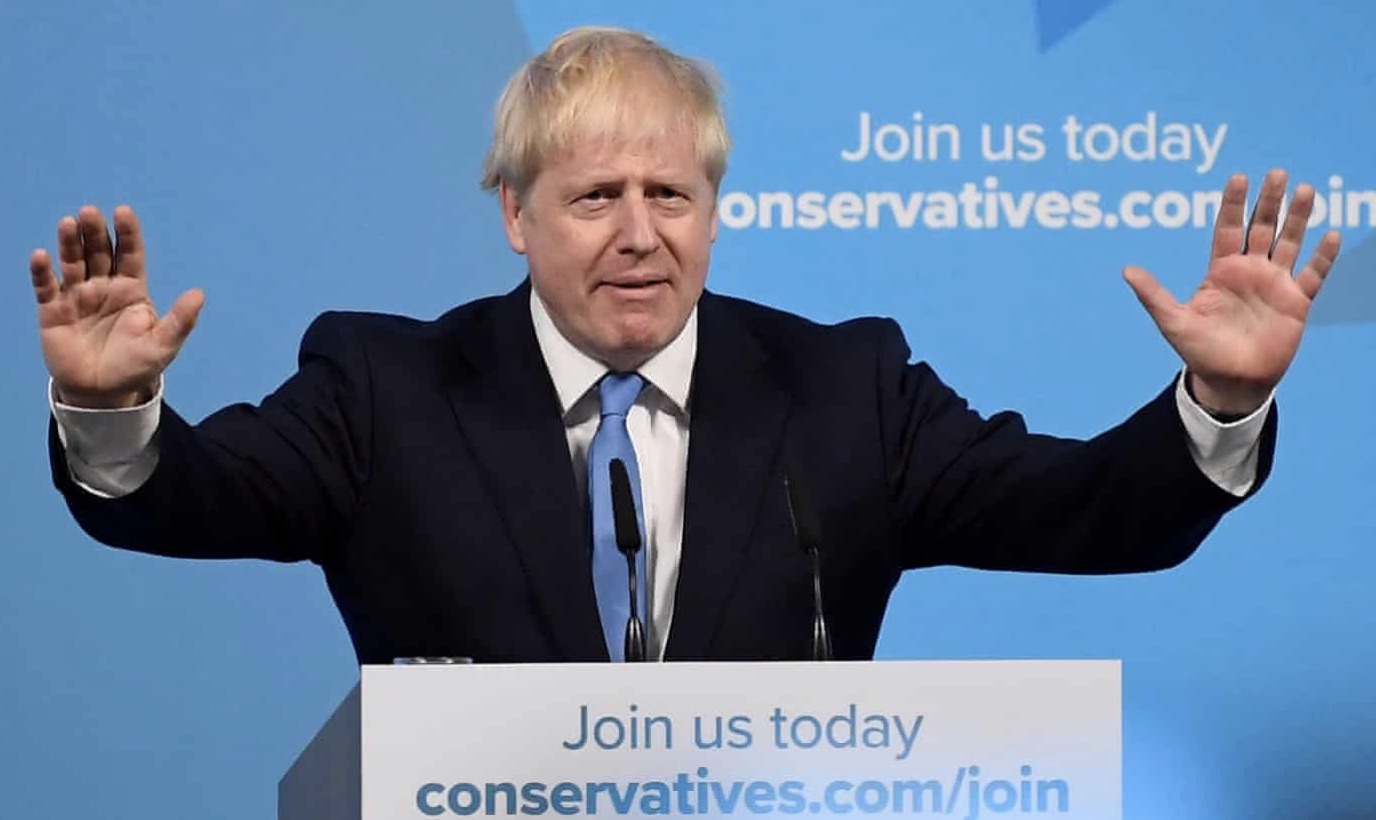 Earlier today Johnson won the Conservative leadership with 66% of the votes on a 87.4% turnout – 92,153 to Jeremy Hunt's 46,656. So Johnson becomes PM on Wednesday after his visit to the Palace, voted into office by a tiny unrepresentative sub-set of the British population.
The shrivelled membership of the Conservative Party (with only 159,320 members) looks quite unlike contemporary Britain - it is older, wealthier and whiter – but they like Boris who makes them laugh and feel good about themselves. And they are prepared to overlook his many negative qualities.
More bluster than achievement
After following the antics of Donald Trump for years, the New York Times knows a liar when it sees one. It describes Johnson today in these terms:
"A rumpled master of political theater and the quotable quip, he is idolized by rank-and-file Tories determined to quit the European Union no matter what the consequences. Yet his record as journalist, legislator, London mayor and foreign secretary displays far more bluster than achievement, and a consistent disdain for hard work, probity or the truth."
Johnson routinely makes false claims. When he was European Correspondent of the Daily Telegraph he invented stories about the EU which, astonishingly, were taken at face value by credulous Conservative voters back home in Britain. He told them, for example, the EU wanted to standardise the size of coffins and condoms and they lapped up this drivel.
The winning formula that brought him success as a journalist was all laughter and lies.
Horrible to behold
Half a lifetime ago when Johnson was editing The Spectator and I was a humble backbench Member of Parliament he called me out of the blue to quiz me on my views on fox hunting (which were then very well known). I was very much in favour of a ban on hunting with hounds and played a modest part in getting the law changed. In the profile which subsequently appeared Johnson observed: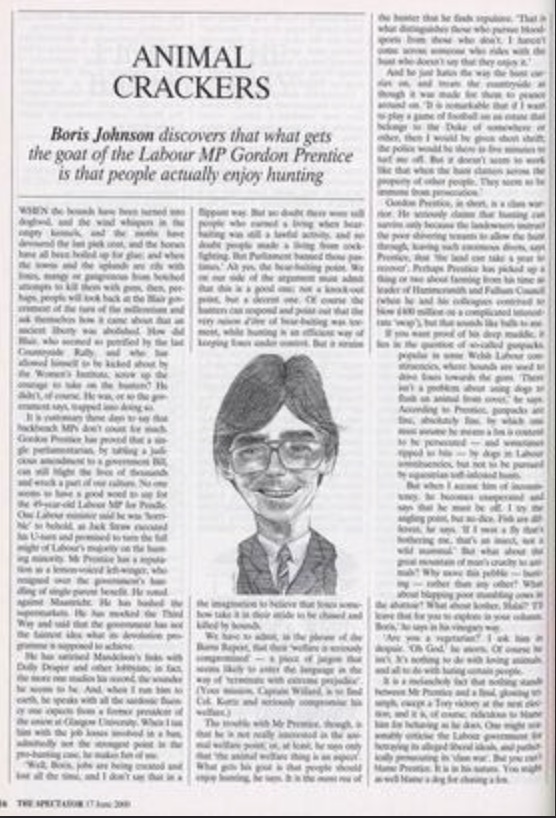 "It is customary these days to say that backbench MPs don't count for much. Gordon Prentice has proved that a single Parliamentarian, by tabling a judicious amendment to a Government Bill, can still wreck a part of our culture."
I was quite happy with that but then he goes and spoils it all by quoting an unnamed Labour minister who apparently says I am "horrible to behold" and that no-one has a good word to say about me.
Oh dear!
Now that he is Prime Minister, Johnson's promises will collide with reality. Writing in Sunday's Observer Andrew Rawnsley reminds us that at various times Johnson promised (a) to leave the EU without a deal on October 31 if the EU refuses to renegotiate Theresa May's Withdrawal Agreement (b) not to have a General Election before Brexit is done and (c) no further referendum. Rawnslay says:
"At least one of those pledges cannot be kept. When it has to be broken, I'd quite like to see the look on Theresa May's face."
"Utterly unfit to be Prime Minister"
Boris Johnson's former boss at the Daily Telegraph Max Hastings, tells us he is "utterly unfit to be Prime Minister".
"Johnson would not recognise truth, whether about his private or political life, if confronted by it in an identity parade. In a commonplace book the other day, I came across an observation made in 1750 by a contemporary savant, Bishop Berkeley: "It is impossible that a man who is false to his friends and neighbours should be true to the public." Almost the only people who think Johnson a nice guy are those who do not know him."
Conrad Black, who was the proprietor of the Daily Telegraph and The Spectator from 1985-2004, last month sprang to Johnson's defence. In a piece in the Spectator Black brands Hastings a coward:
"Max Hastings vs Boris Johnson: I know who I'd trust more"
"(Boris Johnson) had his lapses, but he was capable, successful and reliable when it counted, and he is, as he appears, a pleasant man. Max is an ill-tempered snob with a short attention span. He has his talents, but it pains me to report that when seriously tested, he was a coward and a flake. I think Boris will be fine."
Donald Trump agrees.
With endorsements such as these how can Boris fail?
This email address is being protected from spambots. You need JavaScript enabled to view it.
Update at 18.20: And this is how the Guardian views the Johnson Premiership.