The coronavirus has taken a terrible toll at one Newmarket long-term care home, Mackenzie Place, a short walk from where I live.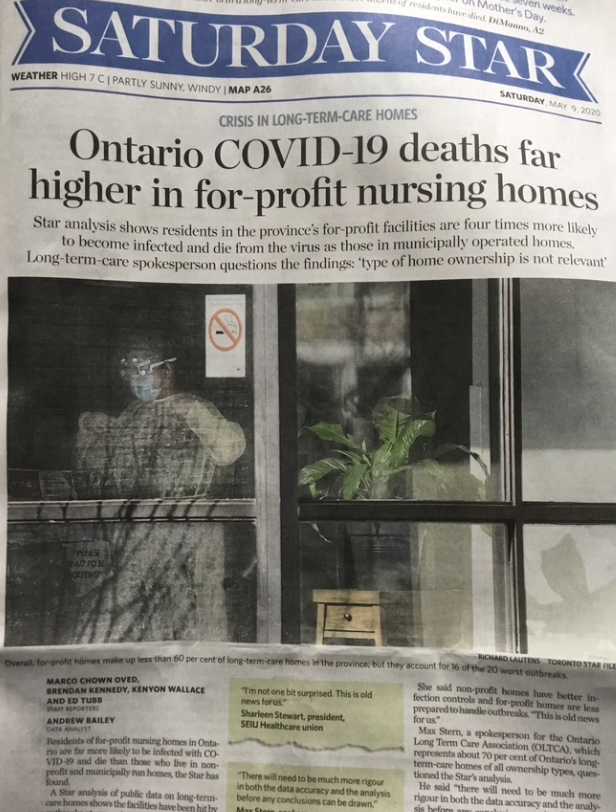 A couple of weeks ago I noticed a colourful poster on the dining room window telling passers-by:
"Heroes walk through these doors every day".
Absolutely.
Containing the virus
The staff work valiantly to contain the virus but it spreads relentlessly. By May 8th Newmarket Today was reporting 11 deaths at the home. 78 residents and 23 staff had tested positive.
This is the biggest outbreak in York Region.
I find myself wondering why the virus cannot be contained.
The interim guidance on how to control Covid-19, published by the Public Health Agency of Canada over one month ago, on 8th April, was reassuring.
Belt and braces
To me, the guidance seemed like a real belt and braces job, spelling out the steps that should be taken to keep residents and staff safe.
However, I now learn from Jodi Hall, the Chair of the Canadian Association of Long-Term Care, that the guidance from Public Health Canada is "basically impossible" to follow in many care homes which have outdated facilities.
Many homes have "four-bed, hospital-like wards with residents separated only by a curtain". In these circumstances, preventing cross infections is challenging.
Mackenzie Place is owned and operated by Revera, one of a number of private sector providers of long-term care.
Four times more likely
Over the weekend, the Toronto Star reported that Covid-19 deaths in Ontario are far higher in for-profit nursing homes. Its analysis
"shows residents in the province's for-profit facilities are four times more likely to become infected and die from the virus as those in municipally operated homes."
If this is true it is deeply worrying and begs the fundamental question of whether the private sector should be in the business of long-term care at all.
Pat Armstrong, a Distinguished Research Professor of Sociology at York University, believes long-term care should lie in the public sector. She gave her reasons to the CBC's Michael Enright in a fascinating conversation on his Sunday Edition on 26 April. Meals and staffing are prime candidates for cost control.
Professor Armstrong paints a picture of what long-term care can be like given imagination and resources. She points to examples overseas, in Scandinavia, where long-term care offers residents a fulfilling and stimulating life.
Questions and Answers
I hope these themes can be explored by the House of Commons Health Committee when it meets on Wednesday, 13 May 2020. It will be webcast from 4pm-7pm and Pat Armstrong and Judi Hall are amongst the witnesses.
Newmarket-Aurora MP, Tony Van Bynen, is a member of the Committee and I hope he will explore the public/private issue in the time he has available.
But if this is outside the Committee's terms of reference for the current inquiry - and it may be - he may wish to focus on the guidance from Public Health Canada which is, apparently, in many settings impossible to follow.
This email address is being protected from spambots. You need JavaScript enabled to view it.
Update on 12 May 2020: From the Toronto Star: National Standards of Care Needed says Federal Minister. And Martin Reg Cohn argues that accountablity and responsibility matter more than ownership. Cohn writes:
"The Ford government decided last year to end comprehensive annual inspections, opting instead for a complaint-based model — as if seniors suffering from dementia, or without extended families, can truly benefit from the premier's fetish for snitch lines or online web forms. There is no excuse for not regulating and inspecting comprehensively, annually and aggressively."
Update on 13 May 2020: The Province says it is taking steps to better protect residents and staff in long-term care homes. And the Toronto Star calls for a public inquiry into the crisis in long-term care.
Update on 19 May 2020: Province announces independent inquiry into long-term care.
Update on 21 May 2020: From the Toronto Star: Long-term Care - Ontario needs the real deal.