Why did Newmarket-Aurora MP, Tony Van Bynen, miss the key House of Commons Health Committee meeting yesterday concerning the crisis in long-term care? Instead he travels 412km to Ottawa to read a question about agriculture from a script, which lasts 25 seconds.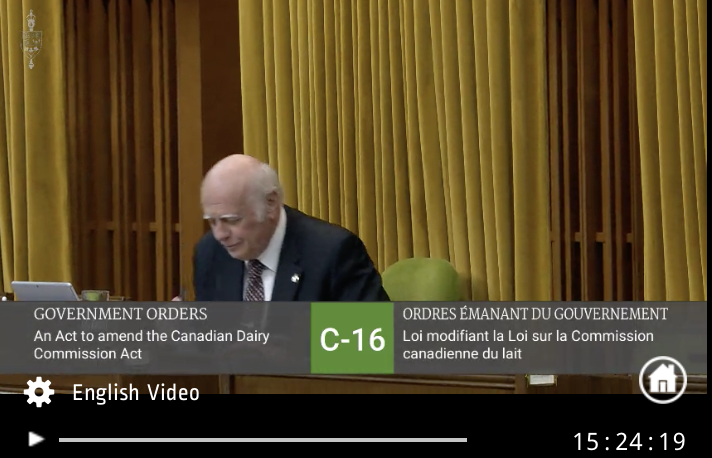 I suppose it is a question of priorities.
This is Van Bynen's zinger:
"Mr. Speaker, my understanding is that the Conservative government cut $400 million in 2013 from the AgriStability fund and the business risk management programs. Why is it now, when we are improving the program, that this is such a significant improvement?"
Gobbledegook
This gobbledegook has, apparently, some relevance to Bill C-16 which amends the Canadian Dairy Commission Act to increase the Commission's borrowing powers. The Bill is supported by all Parties in the House and there is no need for a roll-call vote.
Shortly after Van Bynen rises in the Commons Chamber the Health Committee gets underway by teleconference with evidence on long-term care from a number of experts.
To cover for him while he is away in Ottawa, Van Bynen asks Markham-Stouffville MP, Helena Jaczek, (Liberal) to take his place. (The Standing Orders of the House of Commons allow for the appointment of "acting members".)
Knows her onions
Helena Jaczek certainly knows her onions. She is a medical doctor by training and was the Minister for Community and Social Services in Kathleen Wynne's Liberal Government from 2014-2018 and Ontario's Minister of Health and Long-Term Care in 2018.
She asks a series of pertinent questions. She wants to know, for example, what the Federal Government should be doing to assist in the redevelopment of long-term care homes which are outdated and no longer fit for purpose. We are told that homes with more modern designs have had greater success in preventing the spread of Covid-19.
I watch the entire three-hour committee session and, though the technology played up from time to time, I find it informative and learn a lot.
Sticking to the script
Sadly, we don't get the chance to see Van Bynen at work, quizzing the experts on how we should tackle the crisis in long-term care. What issues would he raise? Would he express a point of view? Would he ask penetrating follow-up questions based on what he had just heard? Or would he stay safe, metronomically sticking to a script?
Van Bynen had lots of material to draw on. One of the worst outbreaks in the whole of York Region is in his Newmarket-Aurora riding at Revera's Mackenzie Place in George Street.
This is what Newmarket Today tells us in its latest update:
In Newmarket, institutional outbreaks have caused 144 cases and 13 of its 16 COVID-19 related deaths. A Newmarket man, 57, was the first individual to die of a workplace outbreak acquired case.
Outbreaks remain active at five facilities in Newmarket, including at Mackenzie Place, which has one of the most severe outbreaks in long-term care homes in the region with 80 residents and 24 health-care workers testing positive, as well as 11 deaths.
AgriStability
I now know what my MP thinks about ancient Conservative cuts to the AgriStability fund and the business risk management programs.
But I don't have a clue on how he would go about fixing the crisis in long-term care and whether the private sector should still have a role.
This email address is being protected from spambots. You need JavaScript enabled to view it.
Update on 15 May 2020: From Newmarket Today: Two more deaths at Mackenzie Place bringing the total to 13.
Update on 16 May 2020: from the Toronto Star: for-profit nursing home chains make big payouts to shareholders, execs.
Update on 18 May 2020: Latest on the local impact of Covid-19 from Newmarket Today:
"Fourteen residents of Mackenzie Place have died as a result of the outbreak that continues to have the highest number of COVID-19 cases in the region, with 80 residents and 24 health-care workers at the 93-bed home testing positive."
How Tony Van Bynen MP spends his time. Tweeting furiously. Signalling non-stop activity.