On Saturday (27 June 2020) the Toronto Star carried an eye-catching full page advertisement from the Ontario Nurses Association which represents more than 68,000 registered nurses and health care professionals and more than 18,000 nursing student affiliates providing care throughout Ontario's health care system.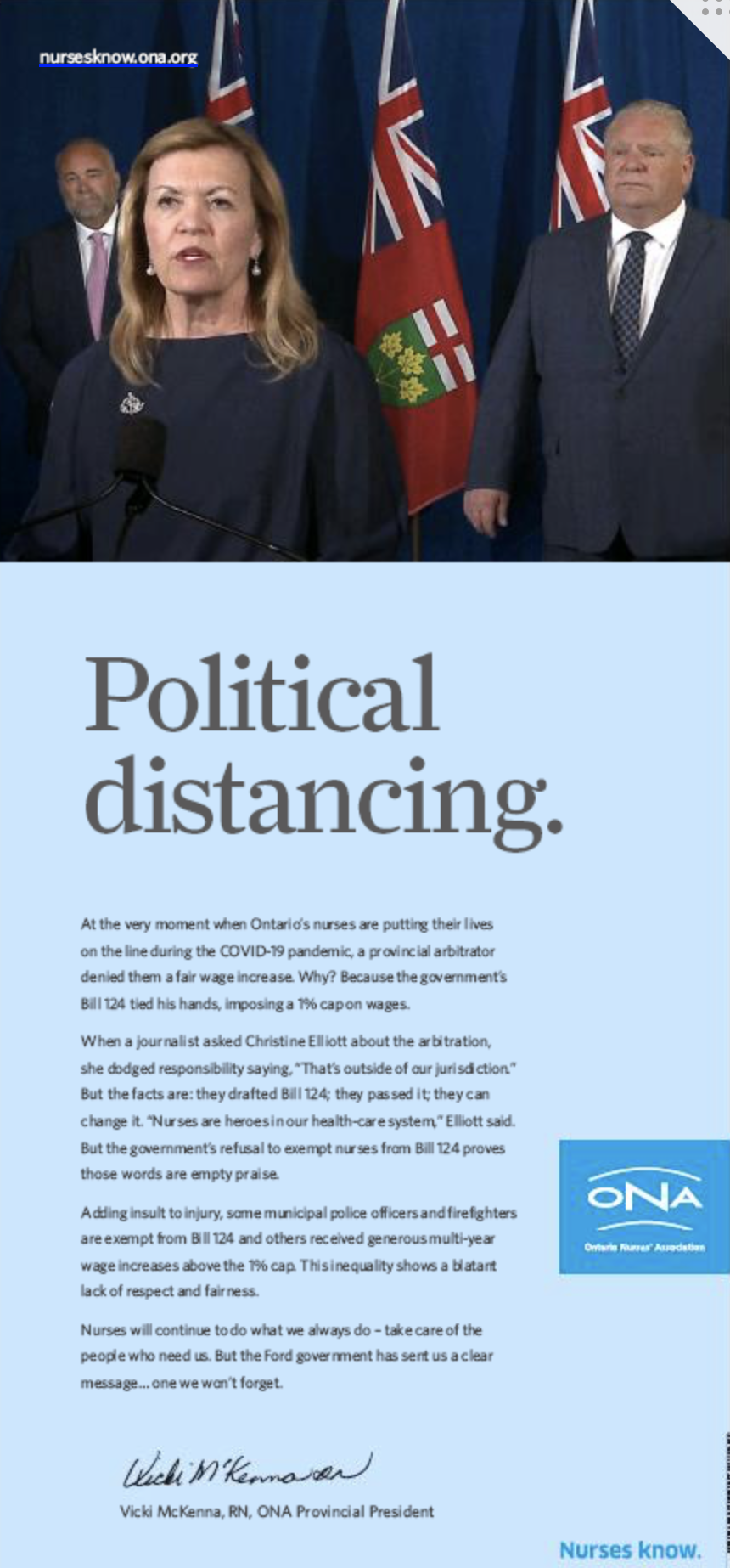 The nurses are upset their pay increase has been pegged at 1% for each of the next three years. Many people in the health care sector have to rely on arbitration to resolve bargaining disputes. They are deemed to be essential service workers and do not have the right to strike.
Nurses told 1% and no more
The nurses advertisement, blistering in its condemnation, tells us:
"At the very moment when Ontario's nurses are putting their lives on the line during the Covid-19 pandemic, a provincial arbitrator denied them a fair wage increase. Why? Because the Government's Bill 124 tied his hands, imposing a 1% cap on wages."
"When a journalist asked Christine Elliott about the arbitration, she dodged responsibility saying, "That's outside our jurisdiction." But the facts are: they drafted Bill 124; they passed it; they can change it. "Nurses are heroes in our health care system," Elliott said. But the Government's refusal to exempt nurses from Bill 124 proves those words are empty praise."
Full of praise
Christine Elliott, Health Minister and MPP for Newmarket-Aurora, is forever praising nurses.
In March she told us it was critical to protect
"…our frontline nurses who are fighting to protect us from COVID-19 every day,"
She repeatedly and effusively thanked
"our nurses, doctors and frontline care workers for their extraordinary dedication and commitment as we continue to work together to protect the health and well-being of Ontarians."
On 12 June 2020 she told us:
"Nurses are heroes in our health care system. They have risen to the challenge. The matter (of their pay claim) was heard by the arbitrator. It was an independent process, protected everyone's rights. And so that isn't something for us to question. That's outside of our jurisdiction."
Ford: "I'd just give them the bank"
Earlier, the Premier, Doug Ford, was singing their praises - remarks captured by the Toronto Star's Queen's Park reporter, Robert Benzie. On 30 March 2020 Ford gushed:
"If it was up to me, I'd just give them the bank."
Of course it's up to Ford even though Buck-a-beer seems not to realise this.
Hands tied - otherwise 1.75%
In his decision on nurses' pay on 8 June 2020, the adjudicator John Stout said his hands were tied by the legislation (Bill 124) brought in by Doug Ford's Government.

He says the public sector wage restraint legislation, the Protecting a Sustainable Public Sector for Future Generations Act, 2019 (Bill 124) caps any increase to 1% for the next three years. He goes on to say (in paragraph 33):
"We are constrained by the application of Bill 124 and we can only award a 1% salary increase for each twelve-month period of the (three year) moderation period."
Stout then says that under normal circumstances he would have awarded the nurses
"a wage increase of at least 1.75% to keep nurses in line with other hospital employees who already settled their collective agreements for this period of time."

Spitting feathers
No wonder the nurses are spitting feathers. And to add insult to injury the Ontario Nurses Association wrote to the President of the Treasury Board, Peter Bethlenfalvy, on 13 January 2020 asking for an exemption from the wage restrictions and they were ignored. To this day the former "international leader in the financial services sector" hasn't bothered to reply.
Ford and Elliott knew exactly what they were doing when they brought forward Bill 124. Although neither spoke in the debates, on 7 November 2019 they both voted for the Bill at third reading – the last legislative stage before Royal Assent – knowing that it would cap nurses' pay for three years. For Elliott to say now that the matter is outside the Government's jurisdiction is duplicitous.
Elliott knows what she is doing
Before joining the Ford Government as Health Minister she was the Patient Ombudsman (Salary $203,543). And before then she was the PC's Health Critic in the Ontario Legislature for many years. Elliott knows how nurses' terms and conditions are determined. She knows how the system works - inside out.
The nurses say they will continue to do what they always do – take care of the people who need them.
"But the Ford Government has sent us a clear message… one we won't forget."
A politician to her fingertips, Elliott is clearly banking on the rest of us forgetting even if the nurses won't.
This email address is being protected from spambots. You need JavaScript enabled to view it.