Newmarket-Aurora's Liberal MP, Tony Van Bynen, is on a collison course with the Mayors of Newmarket and Aurora who say the legislation allowing municipalities to ban handguns is flawed and impractical.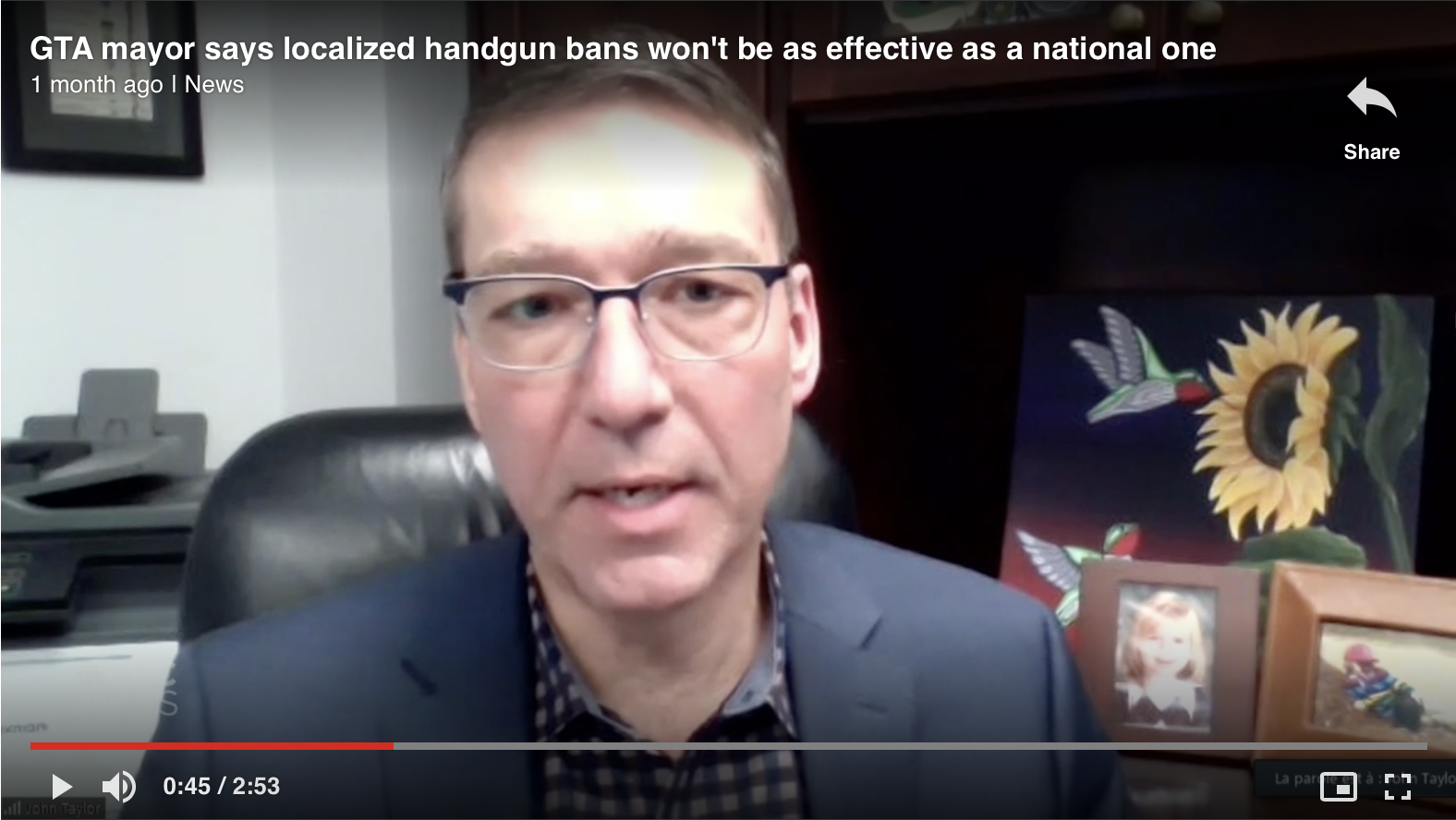 In a front page story in today's ERA newspaper Mayor John Taylor of Newmarket and Mayor Tom Mrakas of Aurora both reject the argument that municipalities should be responsible for bringing in a ban on handguns.
Last month Taylor told the CBC's Power and Politics program local hand gun bans wouldn't be as effective as a national ban.
The Firearms Bill (Bill C21) is currently going through its Parliamentary stages in Ottawa. The Bill's Second Reading (when MPs debate the principles of the Bill) got underway on 26 February 2021.
Following the line
During the last Federal Election campaign Van Bynen said he was in favour of a national ban on handguns but since then (on this issue and all others) he has rowed back, faithfully following the official Government line even when it is an incoherent and logical absurdity. As a former Mayor of Newmarket he will be aware of the mountain of issues that would arise in implementing and policing any local ban.
The Minister of Public Safety, Bill Blair, has conceded that municipalities will not be allowed to bring in a ban on handguns without the prior permission of the Province. Ontario's Doug Ford is on record saying he will not allow municipalities to ban handguns.
I have written to Van Bynen to ask him to speak in the debates on Bill C21 and to flag up the two Mayors' opposition to the legislation. (Click on "Read More" below to read the letter.)
This email address is being protected from spambots. You need JavaScript enabled to view it.
Update on 29 March 2020: From the Globe and Mail: Gun Control Group urges MPs to vote against weak Liberal Firearms Bill
Update on 8 April 2021: From the Globe and Mail: Shooting victims' families slam Ottawa over "toothless and cowardly" gun control reform
Update on 8 April 2021 from the CBC: Victims of Violence slam Federal Government over gun control reform
24 March 2021
By email and by Canada Post
Dear Mr Van Bynen
Handgun Ban
You will see from the front page story in today's ERA newspaper that the Mayors of Newmarket and Aurora have both rejected the argument that municipalities should be responsible for bringing in a ban on handguns.
Mayors Taylor and Mrakas both say the local bans as proposed are essentially unworkable:
https://www.thestar.com/local-newmarket/news/2021/03/22/newmarket-mayor-calls-for-national-ban-on-handguns-as-critics-take-aim-at-proposed-legislation.html
A municipal ban would of course require Provincial approval. But what if this is not forthcoming?
Newmarket's Mayor, John Taylor describes Bill C21 as "highly flawed public policy at best and political downloading at worse."
Mayor Mrakas says the proposed legislation "creates a porous patchwork of local bylaws that will do nothing to address the very real tragedy of illegal gun violence in our communities."
At the time of the Federal Election you vowed you would be the voice of Newmarket and Aurora in Ottawa – not the other way around. So what weight, if any, do you give the views of our local Mayors?
Will you seek to intervene in the debates during the passage of Bill C21 to put on the record the views of the Mayors of Newmarket and Aurora even though you clearly disagree with them?
I am copying this to Mayor Taylor and Mayor Mrakas.
Can I ask you to acknowledge receipt of this?
Yours sincerely
Gordon Prentice