Background: Carmine Perrelli is a York Regional Councillor representing the City of Richmond Hill.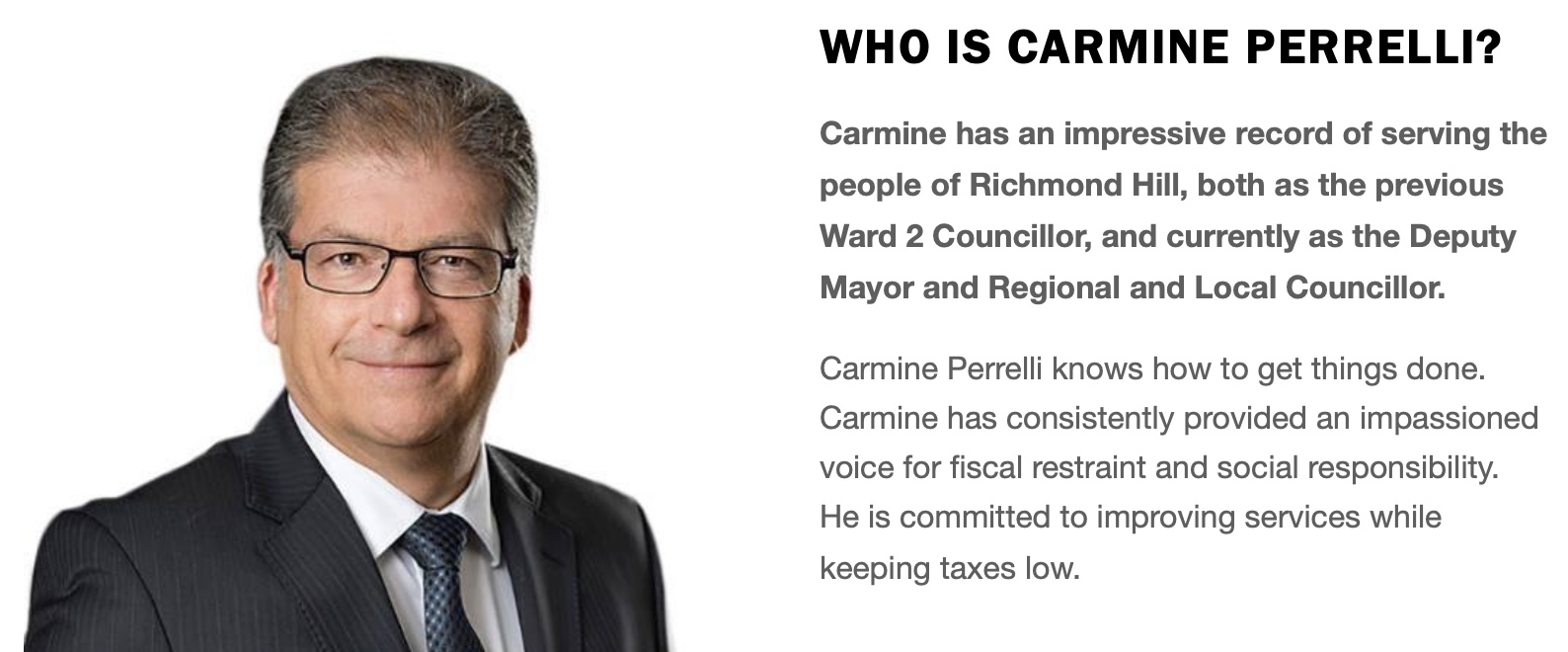 On 15 April 2021 the Regional Council considered a complaint against Perrelli brought by one of his constituents, Jason Cherniak, a Richmond Hill lawyer.
Cherniak said Perrelli had blocked him on Twitter, preventing him from commenting on the covid pandemic.
York Region's Integrity Commissioner, Jeffrey Abrams, upheld the complaint and recommended the Region revise and update its Code of Conduct to include matters which are not currently covered such as blocking on social media.
After a lively debate councillors directed staff
"to consider a social media policy for Members, starting with a Council Education Session on the matter in the fall of 2021"
No Education Session
The staff report, described as an "initial analysis", focusses on current practice elsewhere. It goes up the Committee of the Whole next Thursday (14 October 2021). Crucially, it makes no recommendations about the proposed Council Education Session and when it might be held nor the form it might take. It is left up in the air.
The report acknowledges that the Council's Code of Conduct is silent on the
"operational management of social media accounts, particularly when it comes to blocking."
and notes that
…the Region's Integrity Commissioner has indicated that arbitrary blocking is a breach of the Code of Conduct and recommended that Council develop specific provisions around social media activity.
The report concludes:
Should Council wish to pursue the Integrity Commissioner's recommendations, Council will need to consider how it wishes to manage blocking. Options could include a warning system prior to blocking, the circumstances under which people can be blocked and whether blocking will be temporary or permanent."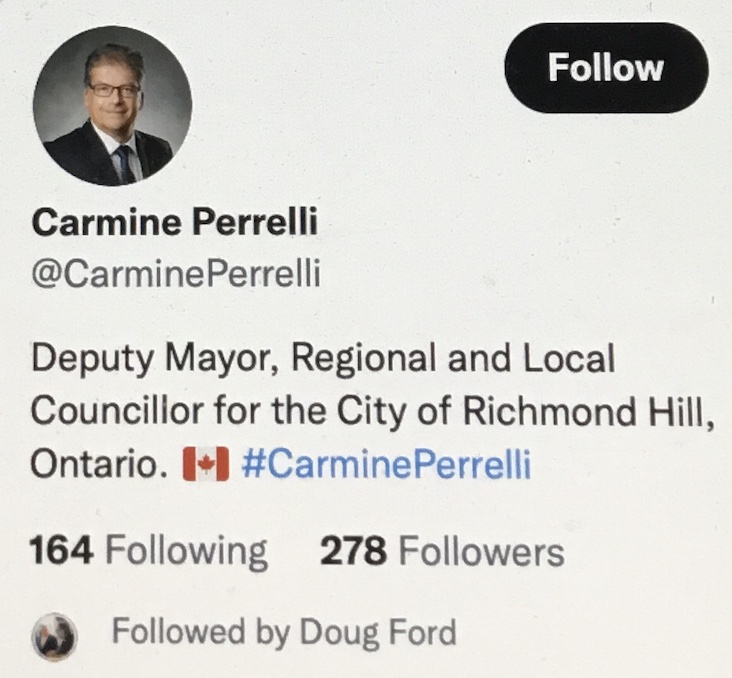 Staff recommend the report be "received". If this happens, the issue is effectively dropped. There will be no consideration or revision of the Council's Code of Conduct as recommended by the Integrity Commissioner. And Regional Councillor Perrelli will be free to continue blocking Jason Cherniak and others.
That said, Perrelli is not tweeting so much these days.
What is to be done?
The belligerent and quick-tempered Carmine Perrelli is a law unto himself. He writes his own rules and, if others object, he shouts them down.

For years, York Regional Council dragged its feet in adopting a Code of Conduct and only did so in 2019, years after most other councils.
Prominent members and former members including Newmarket-Aurora's newly re-elected Liberal MP, Tony Van Bynen, actively resisted adopting a Code of Conduct on the grounds that the lower teir municipalities already had them. They chose to believe, mistakenly, that a Regional Council Code of Conduct was unnecessary.
Long Grass
If the Regional Council "receives" the staff report next Thursday without proposing further action it will be knowingly kicking a contentious issue into the long grass.
That would be letting Jason Cherniak down. And it would be sidelining the recommendations of its own Integrity Commissioner.
All for an easy life.
This email address is being protected from spambots. You need JavaScript enabled to view it.
At the conclusion of the debate on 15 April 2021 when calling the vote, the Regional Chair, Wayne Emmerson, said:
"All we are doing with this is to approve and receive the report from the Integrity Commissioner, Mr Abrams.
All those in favour? Against? Being none."
The Minutes record that
"That Council receive the report from Jeffrey A. Abrams and Janice Atwood-Petkovski, Co-Principals, Principles Integrity, dated March 30, 2021." Carried