The Ford Government is putting the brakes on a major Wastewater Treatment Facility in East Gwillimbury fearing the plan to put 40 million litres per day of treated effluent into Lake Simcoe could lose them votes in next June's Provincial Election.
Of course they would never admit to that.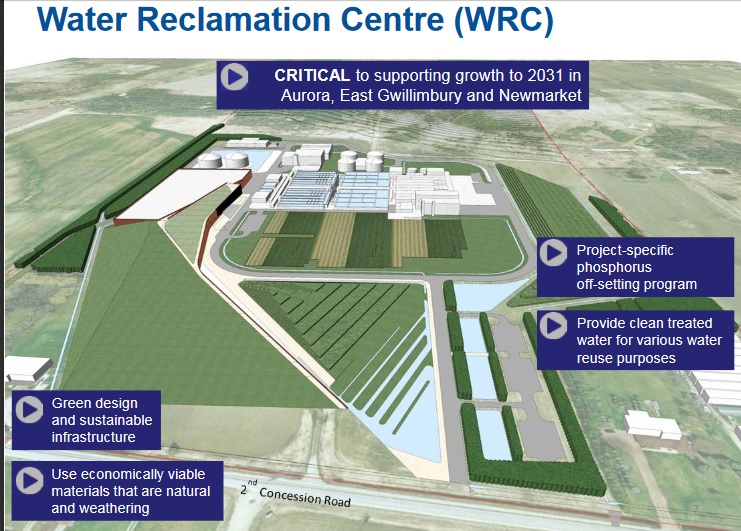 Oh no!
The official reason – the one we are expected to swallow – is that they need more time to
"gather up-to-date information on environmental, social and financial implications of any waste water solution for the region."
Members of York Regional Council are likely to be spitting feathers. They and their staff have been working on future waste water requirements for more than two decades. And its flagship project - the so-called North York Sewage Solutions – is ready to roll.
On Thursday (14 October 20221), York Regional Council will consider the implications of the delay which could be huge.
I've been blogging about the problem for years. And years. And years.
York Region Wastewater Act
But more delay is now inevitable. Last week at Queen's Park the Ford Government introduced Bill 5, the York Region Wastewater Act, a resurrected version of an earlier Bill which died on the Order paper when the Provincial Parliament was prorogued in early September. Ford did not want to risk any adverse headlines during the Federal election campaign so MPPs were sent home where they couldn't cause any trouble.
Bill 5 is currently having its second reading on the principles and is yet to go into Committee for line-by-line scrutiny.
Of course, people when asked raise legitimate questions. What about the phorphorus load in Lake Simcoe? Is it rising or falling? And the salt run-off? What about pharmacueticals flushed down the toilet? And birth control pills? And what about the fish? Lake Simcoe is very shallow. Wouldn't it be better and safer to pipe the sewage to Pickering and into Lake Ontario? It is so much deeper. But that would mean running a pipe through the protected Oak Ridges Moraine. These questions and all the others need answers. And I am sure York Region will be able to supply them. They have been in training for this for a decade and more.
Enter David Puccini....
Expert Panel required
The newly appointed Environment Minister, David Puccini (photo right), not yet four months into the job, wants to appoint an "expert panel" to advise the Government
"on the best and latest science, the latest data and the projected needs of a growing community".
He says the Government is
"driven by a commitment to sound and evidence-based decision-making".
And, admittedly with some justification, he blames the previous Liberal Government for failing to make a decision on the project, constantly kicking the can down the road.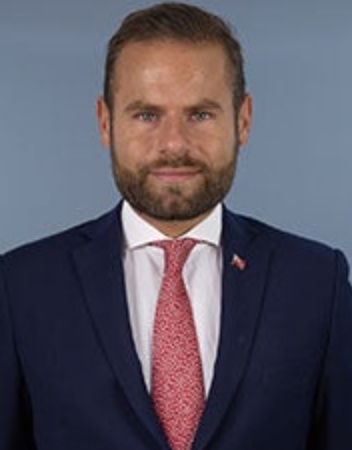 "…the data behind it was left to go stale by the previous Wynne-Del Duca government. They had the application, sat on it so long, and made that change (to the terms of reference ) in 2010 with very little to no consultation. It's been stale for a decade."
Wynne-Del Duca Liberals refused to make decisions
This theme is taken up by other Progressive Conservatives. The MPP for Barrie–Innisfil and Puccini's Parliamentary Assistant, Andrea Khanjin, echoes her Master's Voice. In a truly terrible stream-of-consciousness speech that was way too long and rambling she finds her target:
"We know the Wynne-Del Duca Liberals refused to make decisions. So this is something that we inherited… To no surprise, their decision-making was based on political maps of this province rather than… the science and the importance of the fabric of our communities…"
MPPs are told that the membership of the advisory panel is expected to be finalized by the end of 2021, with a report going to the minister by September 2022. We have no idea who is going to be on the panel. Nor do we have its terms of reference.
Progressive Conservative sing-a-long
Progressive Conservative MPPs are all singing from the same song sheet.
Jim McDonnell, the Parliamentary Assistant to the Housing Minister, Steve Clark, says the Bill
"will enable the regional municipality of York to establish the right evidence-based solution to meet its waste water servicing needs"
What about the Bradford Bypass?
We are told data underpinning the previous Environmental Assessment, finalised in 2014, is now too old. So they need another one. McDonnell says:
"Ontario's environmental assessment program is an important process that ensures impacts to the environment are considered before building infrastructure or other projects in our communities."
Excuse me?
The same Ministers say a new Environmental Assessment is not required for the Bradford Bypass even though that one was completed light years ago, in 1997.
This email address is being protected from spambots. You need JavaScript enabled to view it.
Note: Robin Martin - the Parliamentary Assistant to Health Minister Christine Elliott – tells us:
The expert panel will consist of experts in land use planning and waste water infrastructure and would consult with stakeholders and engage with potentially impacted First Nations. It would provide advice on:
—additional sewage capacity needed to accommodate forecasted population and development in the upper York region waste water area;
—all options for providing additional sewage capacity necessary to accommodate future populations and development in both York and Durham;
—the costs of developing and implementing Upper York Sewage Solutions options and any alternatives; and
—sustainability and efficiency of all options, including consideration of the use and optimization of existing waste water services and protection of human health.
That seems like a lot of work to me.
Click "read more" for Minister of the Environment's speech
Minister's response
Hon. David Piccini: It's always an honour to rise in the Legislature. I would just like to start by thanking the incredible ministry team at MECP and the incredible staff at the Ministry of the Environment, Conservation and Parks for all of the work that they do for Ontarians through the pandemic and each and every day, and, of course, the incredible people of Northumberland–Peterborough South, who elected me here.
Speaker, I'm pleased to rise before the Legislature today to again speak in support of Bill 5, the York Region Wastewater Act. I introduced this bill in the Legislature on Tuesday.
Yesterday, my wonderful colleague the member for Barrie–Innisfil provided the honourable members with an excellent review of the proposed act. She and the speakers who followed shared with this Legislature our government's commitment to ensuring the project is done right for the people of York region, ensuring that our decision-making and that of the municipalities can be based on the best and latest science, the latest data and the projected needs of a growing community. They also shared our commitment to environmental protection, which is a core part of any infrastructure that is created in Ontario. Our high ethical and environmental standards are a big part of what makes this such an exceptional place to raise a family and to grow a business.
I think of some of the incredible projects under way today: one of the largest freshwater cleanups of its kind on Lake Ontario; a day of action on litter; continued investments into waste water monitoring and waste water infrastructure, just to name a few.
In fact, it's our government that has launched the first-ever climate change impact assessment, to build resiliency against the impacts of climate change and better position our municipalities for the next decade and years ahead.
At its core, that is what this bill is about: better positioning municipalities for planned growth and supporting the growing needs, so that moms and dads in this great province can have the dignity of a roof over their heads and the ability to raise a family.
As Minister of the Environment, Conservation and Parks, these commitments that we make to the environment are commitments I take very seriously. In my ministry, our efforts to protect Ontario's air, water and land and to reduce litter in our communities and greenhouse gas emissions are all driven by a commitment to sound and evidence-based decision-making, which is exactly what this bill seeks to do.
We are supporting clean tech and innovation—new solutions that change the game for generational challenges that we face today.
Speaker, I'd like to begin with a few words for this bill on York region, which is why my colleagues in this Legislature know—this region is one of the fastest-growing communities in Ontario. Consistent with its unique mix of urban centres and farmland, York region has a diverse economy that ranges from high tech to agriculture, including a large portion of the Holland Marsh. As part of the greater Toronto area and the Golden Horseshoe, the economic engine driving the province, it's not surprising that the region is experiencing significant growth, with the population forecasted to grow from over 1.1 million people today to more than two million within 30 years. That's almost double the number of people we have in the region today.
The regional municipality of York understands that municipal planning is a long game. They understand the need to start planning well in advance to meet the needs of the residents. In anticipation of the infrastructure needs associated with such a rapidly growing population, York region has been planning to meet its future waste water requirements for more than two decades.
The investments originally led to the proposal of a new facility that would be connected to the York-Durham sewage system shared with Durham region. It is a series of pumping stations, force mains and over 120 kilometres of sewer pipe that service the municipalities of Newmarket, Richmond Hill, Aurora, Markham, Vaughan and Pickering.
Under the proposal, waste water would be treated at the existing Duffin Creek Water Pollution Control Plant in Pickering. That plant currently treats more than 80% of the waste water generated by homes and businesses in York region. The regional municipalities of York and Durham jointly own the plant, which discharges treated effluent into Lake Ontario.
To look at the wide-ranging issues involved in York region's project, the Minister of the Environment at the time required the region to undertake a full environmental assessment of the proposal, including an assessment of alternatives to the proposed infrastructure.
The proposal provided by York region in 2014 calls for a new waste water treatment facility to be built in the town of East Gwillimbury. It would treat about 40 million litres of sewage per day. York region refers to this facility as a water reclamation centre and its process would involve four levels of treatment for waste water, including microfiltration and reverse-osmosis waste water treatment technology. This is leading-edge technology and its use in the Upper York Sewage Solutions project would be a first for Canada. The project also involves off-setting programs for phosphorus to reduce phosphorus through a variety of stormwater measures, such as retrofitting existing stormwater management ponds through the Lake Simcoe watershed.
The Upper York Sewage Solutions environmental assessment application has been the subject of consultation since its submission. Of particular note, Speaker, there have been lengthy discussions, or a lack thereof, over the last decade with the Chippewas of Georgina Island First Nation. They have significant concerns about this proposal, and they and the residents of all regions impacted by this project need to be confident that their water resources are protected now and into the future by good decisions, based on the best and most up-to-date information. Looking at the outdated information this is riding on, I and our government do not believe they can have that confidence.
As we know, Speaker, this dates back into the early 2000s. In 2009 and 2010, the then minister at the time decided to change the terms of reference with zero consultation with Georgina, with Chief Big Canoe and her community. I had the opportunity to speak with her yesterday, and I think an important commitment we all in this Legislature must make and continue in the very real discussions we're having around reconciliation today is to meaningfully engage not just at the ninth hour, but from the beginning. I made that commitment to the chief. I've only been in this portfolio three months. It's an important commitment I take as minister and that we take as a government. To proceed without this level of public confidence would be a great disservice to the people of York region and to the stakeholders, including Indigenous communities, that have very real questions and concerns.
Madam Speaker, what I've just shared with you and the data behind it was left to go stale by the previous Wynne-Del Duca government. They had the application, sat on it so long, and made that change in 2010 with very little to no consultation. It's been stale for a decade, Speaker. Our government will not compromise on our commitment to fixing this wrong.
My predecessor, the honourable member from Elgin–Middlesex–London, introduced the York Region Wastewater Act, 2021, on June 3 of this year. We know it's clear in this past decade that any solution is significantly complex and it requires further examination. If passed, Bill 306 would have put a hold on the Upper York Sewage Solutions environmental assessment. The pause would have provided more time for information to be collected—current information that would give an accurate look at the situation on the ground, and science- and evidence-based decision-making. I recognize, as does Parliamentary Assistant Khanjin, the work that has been done by staff at the regional municipality of York, and we thank them for that. They are skilled and dedicated professionals who are determined to find the best solutions to meet the needs of York residents, and I speak on behalf of the government of Ontario for our appreciation in their efforts.
0940
Madam Speaker, I will again say that the situation that was allowed to drag on by the former Liberal government necessitated the bill that we are debating here today. As we can all see, the York Region Wastewater Act, 2021 is brief and to the point. Its intent is simple: It proposes to pause the York region's nearly 10-year-old environmental assessment so that we can gather up-to-date information on environmental, social and financial implications of any waste water solution for the region.
In my just three months on the job, I've seen incredible solutions, worldwide and within Canada, that must be looked at. It must be looked at because we owe that to the people of York region, we owe it to the people of Ontario and, most importantly, real and meaningful engagement and a dialogue is needed to be had with the Indigenous communities in the surrounding area.
Protecting our water resources, now and into the future, is a top priority for the government, and certainly for myself and my ministry, and listening to some of the comments, I think it's important to underscore a few things, Madam Speaker. As I said, the intent and clarity of this bill—it's very clear. But members have also brought up what must the government do to protect source water protection. Well, it's this government that launched one of the largest freshwater cleanups of its kind, Pollution Probe in Lake Ontario. I would encourage the members opposite to visit my community, for example, and the harbour in Cobourg—or forget mine, any other community along Lake Ontario—and see the litter traps. See the source water microplastics, the partnerships with our research institutions and the incredible work being done by scientists in this province to study source water pollutants.
If that's not enough, maybe look to our budget 2020, which these members voted against, which included historic commitments to water monitoring. And what really, really concerns me—listening to the member from Hamilton, knowing the discharges that are happening in her own community, why would that member vote against commitments that this government is making to monitor discharge, and investments we're making to improve infrastructure? Because we know that protecting Ontario's water resources now and into the future matters, and we know that we must rely on the best technology. We must engage in robust consultation. That's what we're doing with this bill. If passed, this bill will lay the framework, and this government will establish an expert advisory panel to dig into the options and their associated bodies of water and advise on the best possible solutions. I look forward to the expertise they will bring in a variety of areas, including land use planning and waste water infrastructure.
The panel will assess the sustainability and efficiency of the Upper York Sewage Solutions undertaking and any alternatives, including consideration of the use and optimization of existing—
The Acting Speaker (Ms. Jennifer K. French): I apologize for interrupting the minister, but pursuant to standing order 50(c), I am now required to interrupt the proceedings and announce that there have been six and a half hours of debate on the motion for second reading of this bill. This debate will therefore be deemed adjourned, unless the government House leader directs the debate to continue.
I recognize the deputy government House leader.
Ms. Andrea Khanjin: Thank you, Speaker. Please continue.
The Acting Speaker (Ms. Jennifer K. French): Okay. I will invite the minister to continue, should he so choose. You have the floor.
Hon. David Piccini: Thank you, Madam Speaker, I appreciate the opportunity to continue.
I look forward to this panel engaging with municipalities, key stakeholders and potentially impacted Indigenous communities. Protecting the water, as I said, is the goal of this project, so impacted Indigenous communities must be key contributors on this path forward. As I mentioned, the government is aware and listening to the concerns of the Chippewas of Georgina Island. The panel will want to hear from this community so that we can ensure their input is reflected in options for the path forward for this project. And I want to say, consultation with First Nation and Métis communities is a key part of environmental assessment applications we process as a government. We take the duty to consult very seriously, and respect Aboriginal treaty rights, established and asserted.
Our government's work to provide the strongest possible community, water and waste water protections, as well as stringent water quality safeguards, is absolutely essential to protecting our incredible water legacy going forward. Ontario is known for this over the world, and no body of water is more important to life in York region than Lake Simcoe, which features as a major site of significance for this project.
Lake Simcoe is the largest inland lake in southern Ontario. The lake provides drinking water for seven communities and generates millions in annual revenue from agricultural activities. More than 450,000 people live in the Lake Simcoe watershed as of 2017, and the population is expected to grow significantly by 2041. The Lake Simcoe watershed is under many environmental pressures—most notably, high levels of phosphorus and chloride pollution in streams and rivers as in the Holland Marsh.
For decades, the runoff of phosphorus from fertilizer used on farms in and around Lake Simcoe has been problematic for the area, and as a government, our actions to care for the lake are being guided through the Lake Simcoe Protection Plan—which I encourage all members of this place to look at—which focuses on the lake's water quality, reducing pollutants such as phosphorus, caring for natural heritage and addressing the impacts of invasive species and other emerging threats. I'd especially like to thank Parliamentary Assistant Khanjin for doing incredible work as an advocate for Lake Simcoe and engaging the communities in and around.
As a result of our collective actions over the last 30 years—because this is not a partisan issue, this is a focus of successive governments. We understand the value of Lake Simcoe, and we're working to take decisive action to protect that body of water. Because of actions of this government and previous governments, we've seen levels of dissolved oxygen in the deep water of the lake continue to increase, which indicates improved water quality. The amount of algae has also decreased over time, leading to improved water quality. Signs of naturally reproducing cold-water fish continue to be observed, a positive step towards restoring and sustaining a cold-water fish community.
But even with these encouraging developments, we recognize that much more work needs to be done. When the environmental assessment applications were submitted in 2014, phosphorus loads were 71 tonnes per year, much higher than the goal load of 44 tonnes per year as set out in the Lake Simcoe Protection Plan. As of the last minister's 10-year report on Lake Simcoe, released in 2017, those loads had risen to 131 tonnes per year. The ministry is now working with the Lake Simcoe Region Conservation Authority to calculate the 2018 to 2020 base-load levels.
Our government has a strong commitment to helping protect Lake Ontario. It's a changing aquatic environment, and there is a need for current facts and figures. Looking south, Lake Ontario—which you, Madam Speaker, I know, know well—is at the heart of countless communities in southern Ontario that we have the honour of representing, and is core, of course, to our province's water legacy.
As a government, we recognize our enormous responsibility as a protector of Lake Ontario. We are backing up this recognition with a comprehensive Great Lakes strategy, which sets the province's economic, social and environmental priorities for the Great Lakes basin. The current strategy incorporates Great Lakes priorities from across 14 ministries, with a focus on sustainable development, creating climate change resiliency and protecting water, species and green spaces.
We've seen a historic commitment to expand the greenbelt. We've seen, as I mentioned, clean water projects in the litter bins across Lake Ontario. We've seen the climate change impact assessment—all done under this government. And we are partners in the ninth Canada-Ontario Agreement on Great Lakes Water Quality and Ecosystem Health.
The Canada-Ontario agreement, also known as COA, sets out specific actions that the federal government and Ontario government will take as we work together to restore, protect and conserve the Great Lakes. In fact, it was just two nights ago, I was speaking with former environment minister Jonathan Wilkinson. Perhaps he may, this month, continue in that role. But we share in the commitment for the Canada-Ontario agreement, which marked its 50th anniversary.
The ninth COA agreement outlines new and ongoing actions to safeguard the world's largest freshwater lake system. This includes improving waste water and storm water management—I've already outlined some of the fiscal commitments this government has made to do that; managing nutrients; reducing plastic pollution—again outlined in my speech; restoring native species and habitats; and increasing climate resiliency—again, another thing I outlined with our climate change impact assessment.
This agreement also includes a new focus on protecting Lake Ontario, supporting nature-based recreation opportunities and strengthening engagement with First Nations and Métis in the implementation of the agreement.
0950
I hope all here today can see what's at stake. You can't drop a pin on a map for York region's waste water management. Whatever the solution, it will impact not only development and growth in York region but the infrastructure, creeks and lakes downstream, each with its own characteristics and sensitivities.
Lake Simcoe and Lake Ontario are jewels of this province that we all enjoy. The species and communities that call their shores home deserve any decision that impacts them to be sound, well-researched and based on current information that Ontarians can be confident in.
We heard members from the opposition say yesterday that they don't want us to pause, they don't want the best data, they don't want us to look at new and emerging solutions. From one member in particular, we heard the message loud and clear that they just don't want it in their backyard, where their votes come from. I would submit to you, Madam Speaker, that we owe it collectively to the people we represent—something I take seriously in this ministry; it's no longer just the people of my community, but all the people of Lake Ontario, Lake Simcoe and this great province—to get the best possible solution forward for the people of York region. That's why this panel, as I said, will lean on expert advice and will be done in a 12-month period. It's part of our broader strategy to ensure the quality of life in Ontario communities and that Ontarians can continue to count on the best possible protections for their health, prosperity and quality of life.
This act is short, but it will have a long-lasting impact on York region's ability to meet its waste water servicing needs. By pausing the EA for the Upper York Sewage Solutions project, we are enabling everyone to take a step back from the plan that was left to fall flat, that was left stale by the previous government, and looking at proposed options with a fresh eye and in the spirit of a renewed and engaged discussion, a very real discussion, on reconciliation with Indigenous communities, a strong scientific lens that takes into account the widest possible range of impacts on the local environment and the economy, as well as ensuring that social needs are met in the region.
Madam Speaker, I am pleased to stand before this Legislature to encourage all of my honourable colleagues in the strongest possible terms to support this important piece of legislation.
The Acting Speaker (Ms. Jennifer K. French): Questions and responses?
Ms. Sandy Shaw: My question to the Minister of the Environment: I am incredibly proud to be the official opposition environment critic in this province. That's why I wish that this bill was actually about the environment, but it is not. Nothing in this bill mentions the environment.
Instead, we can only look to your government's abysmal track record when it comes to the environment. Your first act as a government was to cancel renewable energy projects and pass legislation to indemnify yourselves, just like in this bill. You ripped out charging stations from the ground. You kneecapped conservation authorities and their ability to protect our waterways. You issued an MZO to build a warehouse on a protected wetland. You voted down a motion to declare a climate emergency in this province. You have absolutely no credible climate plan.
We need a Minister of the Environment every day, not just on litter day. Will you please withdraw this one-page bill and bring something forward that protects the environment?
The Acting Speaker (Ms. Jennifer K. French): A reminder to all members that you direct your comments through the Chair and not to the members on the other side.
Response?
Hon. David Piccini: I didn't hear one solution offered in those regressive comments. I heard a shot taken at my proud colleague, the PA and member from Barrie–Innisfil, because that member is void of solutions—not a single solution, not a solution for the people of Hamilton. Well, we've got one. We're monitoring waste water effluents into Lake Ontario. We're increasing the stringent water monitoring and we're asking municipalities to work with us on that. We've invested in the budget, into improving waste water infrastructure. I didn't hear it—in fact, it wasn't supported—from the member opposite. We have engaged in the largest freshwater cleanup of its kind—again, void of any solution from that member.
Before you stand up in this place, you have a duty to the people you represent, a duty to the people of this province: Work together, bring forward solutions and don't just nag and rag on people on this side of this House trying to make a difference for their communities.
The Acting Speaker (Ms. Jennifer K. French): All members are reminded, politely, to address their comments to and through the Chair, full stop. Thank you.
Further questions?
Ms. Goldie Ghamari: Madam Speaker, science and best practices are at the core of every decision this government makes. For the environmental assessment at the heart of this decision for York region, this means building a panel of experts who will be bringing their significant expertise to examine the needs of the region, needs that continue to evolve and grow as population and development expand.
Could the minister share with me the role that the government envisions the York region waste water advisory panel will play?
Hon. David Piccini: That was an excellent question on what we envision this panel to do and where they will go. So leaning on expertise in land use planning and expertise in waste water and scientists who have expertise in water quality and water management—and leaning on their expertise, again in a defined time period, because we know we can't lag and we can't have a decade of inaction like we saw under the previous government. We've got to move swiftly and quickly on this.
That's why we've given this panel a 12-month window in which to look at alternative solutions, one that will engage both the communities of Durham that you and I have the honour of representing, the communities of York and Indigenous communities in the renewed spirit that we see across this nation to engage in the very real, challenging, difficult, but important discussion that we're having—renewed discussion—with Indigenous communities. We're going to lean on their expertise in that 12-month duration, and I look forward to the work that they're going to do.
The Acting Speaker (Ms. Jennifer K. French): Questions?
Ms. Judith Monteith-Farrell: I rise today with the spirit of Sheila DeCorte, who is a water walker from Thunder Bay. We live by the greatest Great Lake, so our commitment to the water in our constituency and our passion about keeping it pristine is very, very deep-rooted.
My question to the minister today is one that I think is very important that we understand. This bill, purported to be one that we want to have a clear understanding of moving forward to keep water safe—in this bill, though, we do not have that transparency. If we had the assurances that this advisory committee, that is not in the bill, was in fact going to be one that was robust, there might be something. So please explain why the details are not in this bill.
Hon. David Piccini: Two important points to that question. And I thank the member for the work that she does and enjoyed hearing about the important commitment that she has for Kakabeka Falls and some of the things we discussed over the summer.
A few things: The government has provided substantial investments for the ICIP program for water and waste water to improve the water quality in Indigenous communities. We've provided over $10 million to improve transparency around monitoring and public reporting of sewage overflows that I mentioned earlier. This bill is the legislative tool that we need to use to put a pause on the environmental assessment.
I've also, as I mentioned, put forward a panel that has a 12-month duration and will be composed of experts to provide high-quality advice to this government, utilizing the latest technology and solutions, leveraging what we've seen worldwide, with a jurisdictional analysis of the latest technology to guide planned growth for York region and Durham region, and one that engages all communities.
The Acting Speaker (Ms. Jennifer K. French): Further questions?
Ms. Andrea Khanjin: I thank the minister for, actually, some vision that we finally hear on the environment in this Legislature. Certainly we don't hear any other visionary ideas.
You had touched upon the terms of reference and how that was obviously changed and how we need to go above and beyond and not just rely on our great experts, like Sarah who works in the environmental assessment unit—I'm sure she's watching—but many others. But we're going above and beyond—and why it's so important to go above and beyond, and to even go above and beyond the duty to consult, to engage even more with the First Nations communities.
Hon. David Piccini: Thank you for the shout-out to the incredible staff at MECP. I think, as we look at these solutions—and I understand; I'm three months into this role—and speaking with the incredible staff in the ministry and looking at some jurisdictional analysis of what they do with waste water worldwide, that necessitated this legislation today, which takes the stale approach from the early 2010s—one, to be frank, that wasn't open and transparent and one that led to significant concerns.
1000
When I spoke yesterday with Chief Big Canoe, I was open and honest, in the things I did know, in the things I didn't, but appreciate what she'd said. I heard her message loud and clear: Continue that engagement and continue it through, not at the ninth hour. I think the regressive delays from the previous government necessitated this bill today which is going to, as I say, pause the EA assessment, but then we're going to have that panel and their important advice.
The Acting Speaker (Ms. Jennifer K. French): Question?
Mr. Joel Harden: I listened intently to what the minister had to say this morning. A question for him, based upon what you said, which—I'm happy to hear about the ongoing discussions you're having with Indigenous leaders in the province around this particular project. Yesterday in debate, I brought forward the story that is breaking news back home in Ottawa about the remediation of Victoria Island, Speaker, that is being done through a shared governance model with Algonquin leadership; in fact, the first time ever an Algonquin-owned company, Decontie Construction, is going to be involved in a major infrastructure project in the city of Ottawa.
My friend the member from Kiiwetinoong mentioned yesterday in debate as we discussed this that Indigenous folks in this province are not stakeholders. They are the original keepers of this land. So I would love the minister's reflection, as you want to go above and beyond, which I think is a laudable goal: Would you entertain that idea of having them beyond being stakeholders, beyond being members of an expert panel, but helping Ontario make sure this project is in keeping with our commitment to the water?
Hon. David Piccini: Thank you to the member opposite for that very important question. Yes; in short, the answer is yes. On this panel that we've put forward, we stipulated there must be an Indigenous member on the five-person panel, and I think it's because we share in the need for robust engagement. I have, in fact, reached out via letter to your colleague who you mentioned who is an important champion for Indigenous communities, an important partner—as you said, not stakeholder, but partner.
I know in conversations with Chief Hare that there were some concerns with respect to the legislation that was proposed. But what we agreed on together was that we can link arms, my ministry, and I've offered to the member opposite to have a seat at the table with us with Chief Hare on finding solutions for going forward. We've instructed OCWA and Walkerton to do important water consultation, to do important water training, and have seized them with the fact that you've got a working partnership with Indigenous communities. Thank you for the question.