The new MP for Aurora, Oak Ridges and Richmond Hill, Leah Taylor Roy, has spoken out against the Provincial Government's plans to build the Bradford Bypass and Highway 413.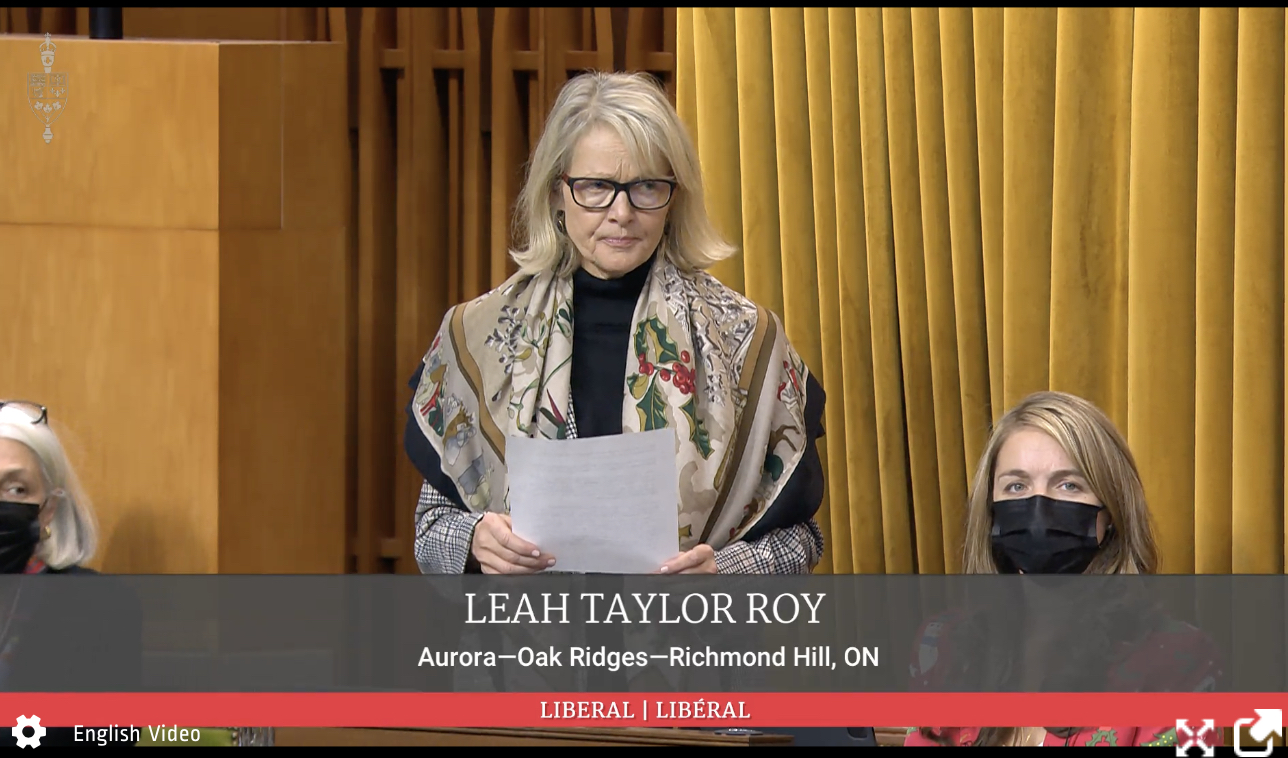 Earlier this month she told the House of Commons:
"Each of these projects comes with profoundly negative environmental consequences, such as running through the pristine greenbelt and fertile farmlands, raising emission levels, degrading the water quality in Lake Simcoe and undoubtedly leading to increased development in the green spaces surrounding them."
Her next-door neighbour, Newmarket-Aurora's Liberal MP, Tony Van Bynen, has yet to make his position clear.
Ford rules out new Environmental Assessment
However, the former Mayor of Newmarket will be under pressure to take a position now that his old Council has nailed its colours to the mast. Last Monday (6 December 2021) Newmarket councillors unanimously passed a resolution calling on the Province to carry out an environmental assessment before any work begins. The Province has ruled that out.
In the absence of a Provincial environmental assessment, Newmarket councillors want the Federal Government to step in and OK a Federal Impact Assessment. (Click "read more" below to read the debate at Newmarket).
National Platform
Taylor Roy has been appointed to two key Standing Committees – Agriculture and Agri-Food and also Environment and Sustainable Development - which will give her a national platform.
The previous Minister of the Environment, Jonathan Wilkinson, rejected the call for a Federal Impact Assessment but we are now in a new Parliament with a new Minister of the Environment and a second request for a federal impact assessment is going in. The arguments for the first FIA were put by Eco-Justice and can be read here.
Opposition to the Bradford Bypass is growing. This morning's Toronto Star carried a full-page advertisement calling on Doug Ford to "cancel these highways".
This email address is being protected from spambots. You need JavaScript enabled to view it.
Update on 17 December 2021. Newmarket Today reports:
"Aurora-Oak Ridges-Richmond Hill Liberal MP Leah Taylor Roy spoke about the project's potentially negative environmental impact in the House of Commons Dec. 3. Newmarket-Aurora Liberal MP Tony Van Bynen said they have received emails from constituents they have forwarded to new Environment Minister Steven Guilbeault for consideration. He said the federal ministry is content the processes in place for the project are sufficient. But he said transportation is an issue within York Region, and there needs to be a solution to address traffic growth.
"I'd like to see us expanding transit systems. The growth problem, it's not going to go away, so we need to find environmentally sensitive ways to respond to that."
Opaque, as ever. Does this mean Van Bynen supports Newmarket Council's position or not?
Update on 30 December 2021. From the Toronto Star: Something is stirring in Suburban Voters in the 905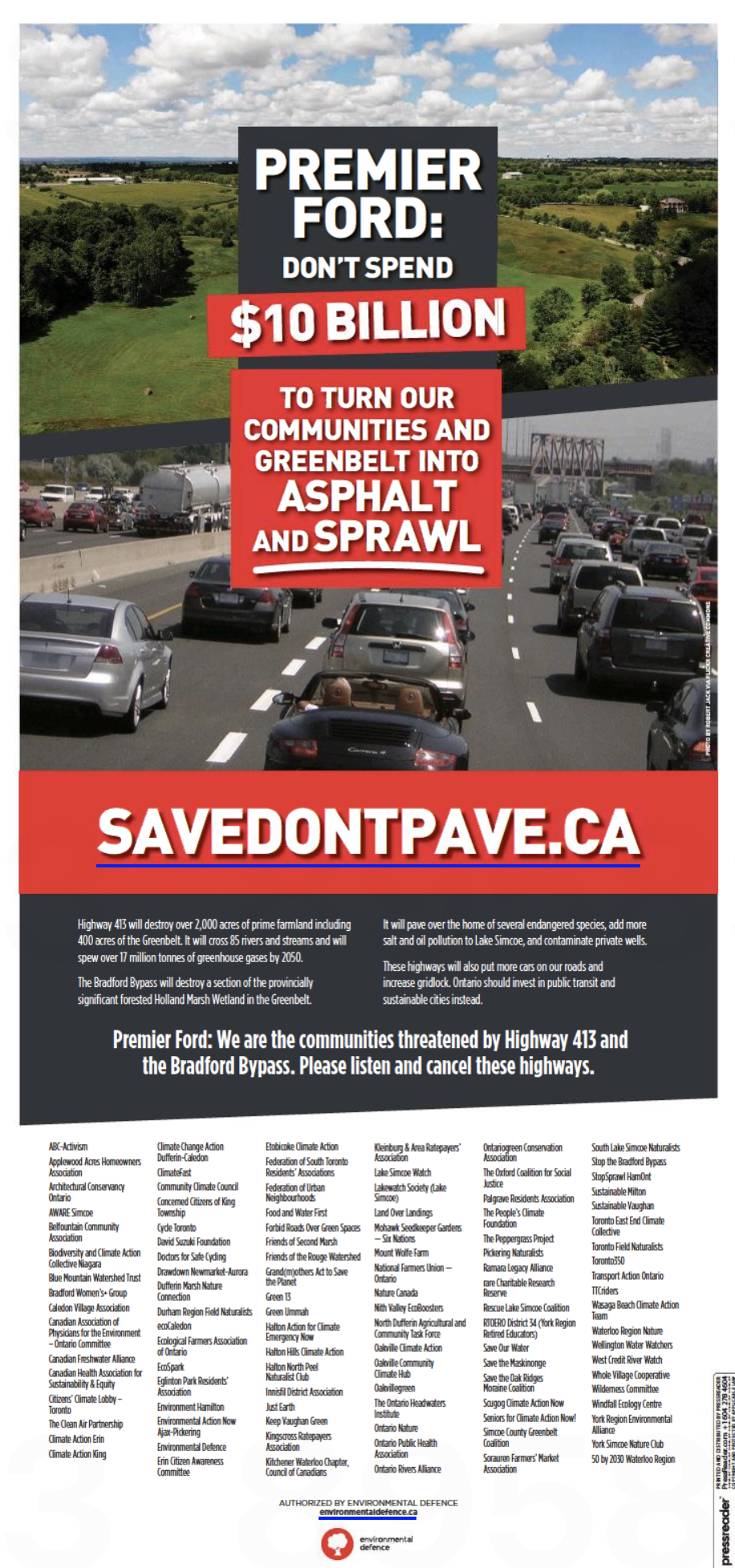 See also: Impact Assessment Agency of Canada: Highway 413 Project
Bradford Bypass Deputations to Newmarket Committee of the Whole: By Zoom on 6 December 2021 (Check against delivery)
Mayor Taylor: First deputation is Claire Malcolmson, Executive Director of Rescue Lake Simcoe Coalition. Claire, are you there?
Claire Malcolmson: Hello. Good afternoon. Thank you very much Mayor Taylor and members of Newmarket Council.
I'm Claire Malcolmson the executive director of the Rescue Lake Simcoe Coalition, strategically situated here so you can see the Lake Simcoe watershed right behind my Christmas tree. The presentation and the last conversation (you had) was really interesting and important I just want to segue from that.
We're talking about systemic change. There's a lot of systemic change that needs to occur in this world and you're working on the ground in Newmarket, making recommendations for how we can move towards a safer world for everyone. And I just want to thank you all for that very positive direction you just took an anti-black racism. And also to just point out that what I'm talking about is really systemic change as well.
Seize the moment
It's really important while we're thinking about this very large topic of systemic change to understand that when you have these moments of opportunity it is really important to seize those moments to act in ways that reflect council's commitment to the changes that are required. I'm talking about the environment, clean water, climate change.
I'm here to talk about the Bradford bypass. I first want to say thank you very much for allowing me to make this quick delegation today. I know you have a full agenda. The reason (I'm here) partly is because the Federal Minister of the Environment and the agency that looks at the impact assessments are receiving public input until December 9th on a second request for a federal impact assessment on this highway project.
Any action taken after that is also very helpful. However, December 9th is just around the corner so thank you for putting us on at short notice. I just want to start off by saying that we're not saying no to road improvements. We are saying no to what you see in front of you which is an elevated highway over the largest and most important wetland in the Lake Simcoe watershed.
Lake Simcoe and wildlife and all of us who value clean water and outdoor recreation deserve better than a project like this as is currently proposed.
The Lake Simcoe watershed sustainable recreation sector generates $420 million a year and good long term sustainable jobs for small businesses. And that relies on a clean Lake Simcoe. That is at risk with this highway and with many other projects that we come to you to speak about.
Issued tenders
Last week the province of Ontario issued tenders to try to get an interchange built at Yonge Street, just north of Bradford. The thinking is that this timing is really to game the federal government's ability to intervene and do a federal impact assessment. They are trying to get a portion of the Bradford bypass substantially built which precludes any consideration of any other route alternatives should that proceed.
And so the timing here is really quite important. So the province wants to start building a bridge at Yonge Street before there are any detailed technical engineering design drawings of the highway. There is no budget. They are in effect putting windows on a house with no foundation.
So let's talk about the foundation. It's a wetland. It's squishy and wet. And full of water. So what other infrastructure projects in Canada have been decimated by water recently as a result of record breaking floods? We go to the next slide.
My sister is in government in British Columbia and they are dealing with this. Massive infrastructure damage. I think this is a time for us to stop and consider whether it's a great idea to put highways over wetlands without full engineering studies and without any climate change assessment. I think the answer is clearly no. Next slide.
Society of Professional Engineers
It is certainly not just environmentalists who are concerned about the approach the Province is taking to this Bradford bypass highway proposal. The Ontario Society of Professional Engineers notes - this is a quote – "the Environmental Assessment process and requirements have changed drastically throughout the time frame starting in 1997 and so has the environment. The Province should ensure a new robust environmental assessment is conducted. Construction should not start without a property EA in place and in fact the Province is trying their hardest to start construction having exempted this project from the environmental assessment process.
Next slide. Lake Simcoe is a delicate ecosystem. The picture here is from an aerial view of where the proposed route of the Bradford bypass would go. We're looking here at farmland, the meandering river and Cook's Bay.
This project would have 28 water crossings including the east and west Holland rivers. The wildlife surveys are old and they predate federal and provincial species at risk protections and the listing and recovery strategies.
In 24 years no mitigation for severe storm water and groundwater impacts have been proposed or identified. There is a lack of adequate and up-to-date aquatic, terrestrial and wildlife surveys for the Holland marsh and the Maskinonge impacted areas.
Salt
This is not a good time to add more salt to Lake Simcoe. It is on a trajectory to be a body of salt water in 38 years, maybe even sooner. There has been no assessment of the additional nutrient loading and chloride in Lake Simcoe as a result of this project. We know from the construction of Hwy 404 that salt pollution in the Maskinonge river has increased drastically.
Before the 404 twelve percent of water samples of river quality exceeded the provincially acceptable chloride levels. Now, after the 404, 74% of samples exceed the acceptable chloride level. There are little to no remediation techniques for salt and there's been no estimation about whether this project can be completed within the parameters of the Lake Simcoe Act and plan. Next slide.
Sadly, just before Christmas, 80 to 200 homes have received expropriation notices so that the Province can build a highway that they still have no budget for and that has been opposed by numbers of municipalities. Next slide please.
Neither the Region nor the Province are really listening to council concerns. Even supportive councils have made requests that are so far going unheard. Yet the dominant narrative is that mayors and officials are on record supporting the Bradford Bypass suggesting that the Province is going to take care of the environment and data required studies. They are not. The chair of York Region and the conservation authority says that we should have faith in the Province's process. There is nothing to substantiate these claims (other than) an act of faith. Bill Foster will speak about some of the alternatives to this project and why they ought to be considered. Next slide please.
York Region's public comments - and their staff report to the impact assessment agency – are that the region anticipates the current provincial environmental assessment process for the Bradford bypass will continue to address environmental social economic and health issues as well as necessary public consultation.
Sadly that is also not happening since the government has exempted themselves from the environmental assessment process having already very drastically weakened it. Next slide please.
Ramara, Barrie and Brock
This is why we need Newmarket to say something that is helpful. Oh sorry! The last letter (sent to the Council) should have mentioned that Ramara, Barrie and Brock asked for impact assessment. So Newmarket would not be the first to make that ask. East Gwillimbury and Georgina have also asked for a long list of studies that the Province has not been clear about whether they are going to undertake.
So this slide just shows you the state of Lake Simcoe. The red dotted line which shows you the 44 tonnes a year phosphorus loading going into the lake. Right now we're at about double that. One of the reasons why these phosphorus loads are so up and down is because climate change itself, driven by increased vehicle and transportation emissions, is actually creating these really severe rain and weather events and these events put more phosphorus into the lake.
So this is not just about the route of the bypass. We are talking about the need to re examine how people get around so that we can reduce greenhouse gas emissions which are on a trajectory to go up.
I'm not going to go through all of the rest of the slides here. Really they just detail for you if you're interested all of the objectives and principles and targets of the Lake Simcoe protection plan that are frankly ignored and undermined. And the achievement of those objectives will be much harder to reach with the Bradford Bypass.
I'm just going to go to the last slide. I urge Council to investigate this further by putting in writing what it is that would satisfy your desire to see the Lake Simcoe watershed protected.
I want to thank you for your time and to remind Council that your role is not just to stay in your lane and support ideas that have been around a long time but to act in your constituents' best interests for now and for the future. Thank you very much for all the work you've done for Lake Simcoe. I would really welcome any questions you may have.
Mayor Taylor: Thank you very much. Any questions from members of the Committee? Councillor Bisanz.
Councillor Christina Bisanz: Thanks so much for the for the deputation. That's really appreciated and we certainly received a lot of additional comments in writing from a number of local residents as well as other organisations and clearly there's notable and important concern here.
If another study is done what is the anticipation that that study will produce sort of dramatically different results than the study that's 24 years old and considered to be out of date?
I recognize that a lot has changed in 24 years just simply from a climate perspective and a lot is changed in our own consciousness around this issue of the environment. This council has taken very strong positions on climate change and so forth over the last few years and have implemented a number of environmentally sensitive and responsive policies and plans and actions. So I'm just kind of curious when we talk about doing a new study what it is that that potentially were hoping to see come out of that that perhaps we don't know now.
Claire Malcolmson: Thank you for the question. What we would hope to see in a Federal Impact Assessment would be a consideration of alternatives to the highway across the wetland. So there is no disputing the fact that there are existing and growing traffic issues. The Bradford Bypass was one of many options considered when the EA was conducted. I think it's time to look at those other alternatives. At the time the EA was really just looking at 400 series highways and one of the arguments I think that Bill will be making is that in fact one highway between two very heavily congested highways is actually not going to solve your regional road problems.
So there must be solutions that would be far less damaging to the environment that would address the regional traffic and transportation issues as well as a consideration of what public transit and better strategic planning would do to reduce the need for people to get into their cars every time they need something.
And, further, because the EA was so old and because no studies have been - or I believe no studies have been updated… I know many studies have not been updated since the EA was conducted. But it is critical that we're dealing with current information and we're actually dealing with the current population in a location that we now know the population is growing. Right.
I know your region has just updated their official plan so you have to use current information to make this kind of plan. And a new federal review would help in that regard. And we also know that the new federal Minister of the Environment takes climate change very seriously as a minister of the environment should. And so I think it would be very helpful to have somebody who (takes) the environment seriously to oversee a significant project that could cost the tax payers billions of dollars while damaging our environment.
Mayor Taylor: Any other questions?
Deputy Mayor Tom Vegh: Thank you so much Claire for your presentation. I do sit on the Lake Simcoe Regional Conservation Authority and the conservation authority will be looking at this plan also. As you know we really don't have very much authority on provincial construction plans at all but, nevertheless, we will be commenting on this.
And I do agree that environmental standards have changed. The lands have changed. We're looking at things like climate change that perhaps we weren't looking at the same way 24 years ago when many of these studies were done.
So I agree with you that the study needs to be reviewed. But I just want a little bit of clarification and it's a bit of a follow-up to Councillor Bisanz's question and I'm not sure if I quite understood your response. Are you saying that under no circumstances there should be this type of highway connection between the two highways? Or are you saying that under some circumstances it maybe OK? I just wasn't very clear on your position on this.
Clair Malcolmson: Absolutely. Thank you. I am no traffic engineer and no-one in the Rescue Lake Simcoe Coalition is either. We need to have a full set of studies that look at what the context is today. And that context would include a consideration of GO transit improvements that have already been made that were not in place when this EA was first conducted. And it would also have to look at other regional transit and transportation that has been updated since that time and that will continue to need to be updated.
So the scoping work that has gone into the project that the Province is trying to advance is really inadequate in terms of servicing your regional transportation and traffic needs and also in terms of impacts to the environment.
What is needed is a new look at this to see what is the best solution. So I'm not in a position to say whether the best solution would be a new highlway between 400 and 404 or whether there are regional road improvements that would be less costly and less environmentally damaging. That's exactly what a full thorough new environmental assessment or an EA or impact assessment would give us.
The Province of Ontario has really doubled down on… I don't know… an obsessive need to build highways. And I just think it's a really outdated approach. We need some sober second thought and I don't think we're going to get that from the Province of Ontario.
Mayor Taylor: Other questions? No. Thanks very much. Will somebody please move the receipt of that deputation?
(Deputation follows from Bill Foster from Forbid Roads Over Green Spaces)
Mayor Taylor: There's a motion for Council discussion in relation to the two deputations.
I'll briefly introduce the motion which, I think, speaks for itself.
We know we have an issue we have to address. We live in one of the fastest growing areas in North America frankly and traffic is an ongoing challenge. But I think we also owe everyone involved, the public, environmental organizations, everyone involved, due process. And I think due process is a provincial Environmental Assessment.
The EA is verging on 25 years old. The data when it was started was at least that old or older. And at that time there was no Greenbelt or Lake Simcoe Protection Act. This highway's been in the planning for 25 years. And I think 26 years with due process is a better outcome than 25 without (due process).
I would suggest we call on the Province to do a Provincial Class Environmental Assessment and, in the absence of that, the Federal Government do an independent Federal Impact Assessment.
I'll close with this statement and I will admit this is partly frustration. This government believes that a fully completed environmental assessment of thousands of pages, at millions of dollars… I believe, roughly $20 million costs for the Upper York Sewage Solutions is not adequate and requires an expert panel to review it. But this doesn't even require an EA. I find that extremely confusing.
The questions were asked. It (an Environmental Assessment) might reinforce the need for this as it is. It might reinforce the need for a slightly altered highway. It might reinforce a different approach. I don't know. But I do think we need one after that long. But I can tell you that at the Region a private proponent would not be able to move forward with a 10 year old EA. I think this is the right balance to find a way forward to try to get this resolved and make sure the due process is observed that people are seeking. Any thoughts or comments?
Deputy Mayor Tom Vegh: I am certainly pleased to move this. On point 3 can we just include the Lake Simcoe Region Conservation Authority in the group that's being informed.
Mayor Taylor: Good point.
Councillor Jane Twinney: The first deputant, Claire, mentioned that the region really hasn't taken a stance. Just that they trust the environmental assessment from the original one. Is that correct? Is the Region taking any approach like this at all?
Mayor Taylor: Fair question. The Region is on the record going back a long time - I forget the first year of supporting the Bradford bypass. They have it in mapping etc. I don't think there's been a recent position or discussion to the best of my memory for quite some time.
Tom Vegh: I don't recall having much discussion with this. This is moving fairly quickly. But I'm fairly certain the Region will be having discussions on this. It will be coming up from probably East Gwillimbury and representations from the Lake Simcoe Conservation Authority. Plus I fully expect we having deputations coming up.
Mayor Taylor: Any other questions? Deputy Mayor to move. Seconded by councillor… Councillor Kwapis you have a question? I am so sorry.
Councillor Bob Kwapis: In number 3 before we actually move it… can we also add the AMO (Association of Municipal Organisations) to that list. I think it's very important. And just a comment on this since it is on the table.
I believe there is economic benefit that supports the business case for the Bradford bypass. However, I too find that going ahead without the EA and to go ahead with building this bypass based on outdated environmental assessment is quite irresponsible.
I just feel that bulldozing environmentally sensitive areas without fully understanding the environmental impact is a major step backwards that ignores our responsibilities to the environment. So I personally cannot support the Bradford bypass without fully understanding the impact to the environment.
Therefore I do like the recommendation brought forward right now and I will support that.
CARRIED
(Check against delivery)