The relationship between Southlake's top managers and the hospital's nurses has been strained for years.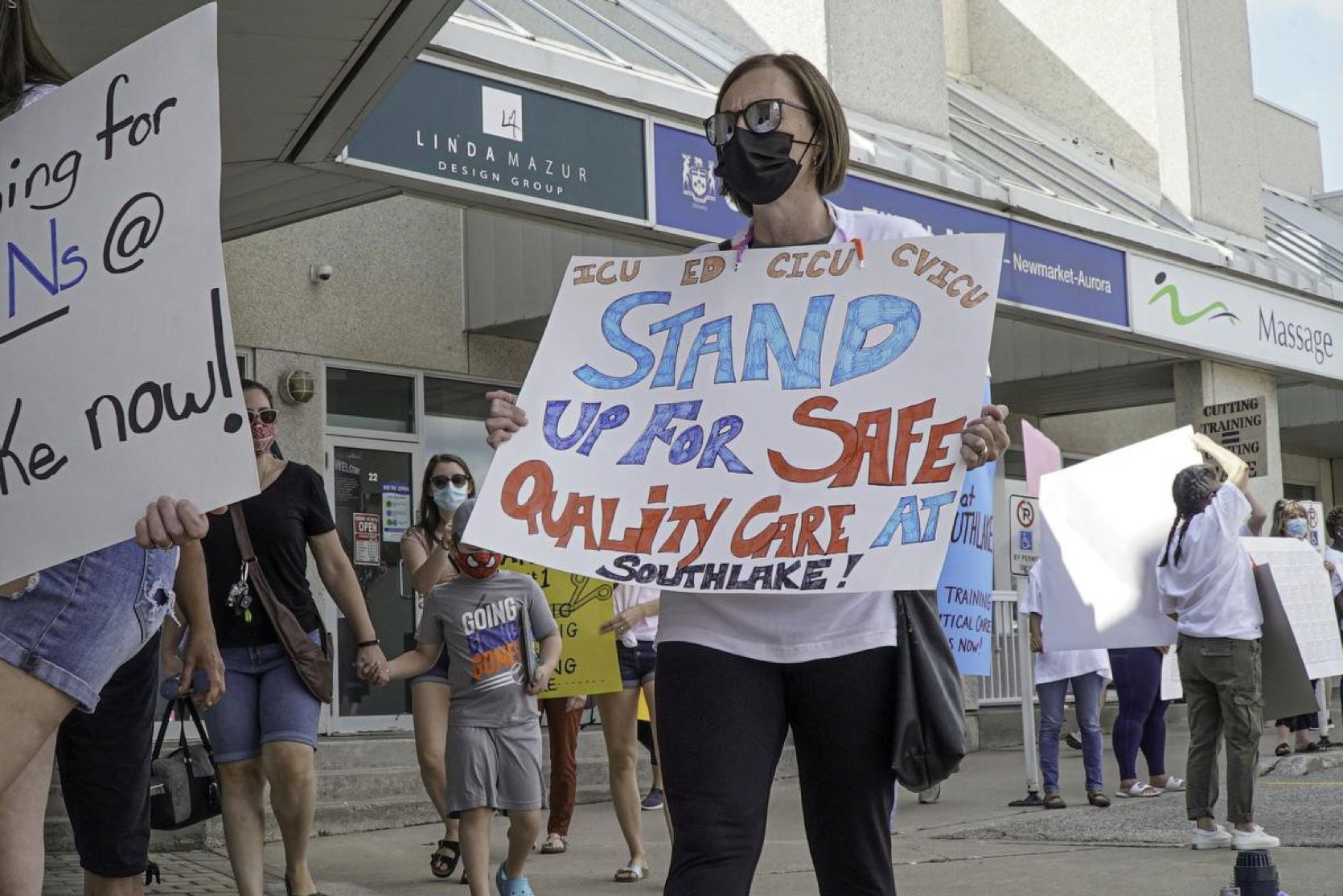 The nurses in the Intensive Care Unit and in the Medical Assessment Consultation Unit say patient safety is being put at risk. They point to the downsides of team-based working which is not used anywhere else in Ontario.
Rebuffed and discounted
They asked to meet Arden Krystal, Southlake's Chief Excutive, but were rebuffed. They asked to meet the hospital board but were ignored. They pleaded for a meeting with the local MPP, the Minister of Heath, Christine Elliott but got nowhere. They took their case to the press and media who listened.
Frustrated at every turn, the Ontario Nurses Association triggered a review under the Collective Agreement they had with Southlake. A three-person independent review panel was constituted (with nominees from Southlake, the ONA and an independent chair with impeccable credentials) which reported on 14 November 2021.
Unsafe
I've read it cover-to-cover and the panel – with no dissenting voices – confirmed what the nurses had been saying all along. The working practices imposed by the top hospital managers were unsafe.
"For approximately the past 2 years, the Medical Assessment Consultation Unit (MACU) Registered Nurses have consistently reported their concerns in relation to an increased workload, resulting in decreased quality of care and safety."
The report shows staff turnover sky-rocketed in the Medical Assessment Consultation Unit in 2020-2021. The Independent Assessment Panel:
"heard that the staff has lost trust in the leadership team as a result of being told multiple times that the practice environment would change for the better and nothing occurred. Building trust is imperative in increasing job satisfaction, increased organizational commitment, quality of care and retention. Moving forward, the Hospital will need to deliver on their promises to re-build the trust that was lost over the past years."
Trust is a precious commodity
Trust, when lost, can take a long time to rebuild. If ever.
Integrity, judgement and competence are key qualities in leaders and once these are forfeited we are all in trouble.
The Independent Review Panel heard about the constant leadership changes in the Medical Assessment Unit. There have been 4 managers since 2019 with 3 of them since February, 2021.
"The present manager started in August, 2021. While the MACU Unit Council used to meet regularly, all meetings have been on hold since 2019. Huddles were also not being implemented. While they have been re-initiated by the new manager in mid-August, 2021, there appears to be no pre-defined times or standard work (structured and consistent process) for the huddles each day…"
The nurses' union told the panel that requests for increased staffing
"when patient acuity exceeds the staffing resources or the unit is short staffed… were often not met, with no explanation provided."
Time to Listen
I hope Southlake's top management learns from this measured report and starts listening to the nurses on the frontline.
Arden Krystal's refusal to meet the nurses to hear their concerns was a disgrace. She's a busy person – whose salary in 2020 was an eye-watering $479,677 – but, as a former nurse herself, she should have made the time to meet them.
Other people, too, should listen and learn.
I include Newmarket-Aurora's Liberal MP, Tony Van Bynen, who told the House of Commons on 1 December 2021:
"As a member of the board of directors for Southlake Regional Health Centre for nine years, I understand the challenges in meeting the financial obligations of dealing with inflation and particularly in increased patient loads as a result of growing communities. I do understand there is a critical need to look at funding for health care."
He went on:
"I believe the Prime Minister did say that was going to be reviewed in due time, as soon as we deal with what is in front of us right now with regard to COVID, vaccines and making sure that we have a plan that gets the economy back on its feet. Following that, we might be in a better position to review what should be considered going forward."
That's way too leisurely an approach. But it's what I've come to expect.
Talking to the people on the front line
Maybe he should try talking to people on the front line who have something to say.
In 2019, when he was running for election as a newly minted Liberal, I asked him at his "Meet Tony" event at Tim Hortons why he hadn't been down to talk with the paramedics who had been demonstrating outside Christine Elliott's office every Friday lunchtime for months.
He told me he didn't do that sort of thing.
More's the pity.
This email address is being protected from spambots. You need JavaScript enabled to view it.
Van Bynen is no longer a member of the Health Committee.
Note: In their briefing to the Panel, Southlake tells us that as of August 2021, the hospital is funded for 486 beds, and has consistently been operating and staffing for on average 464 beds. The beds increased to 519 to address surge capacity as a result of the COVID-19 pandemic.