The Liberal Party member of a few month's standing and wannabe MP, Tony Van Bynen, wants us to vote for him on 21 October because he is a "trusted community leader".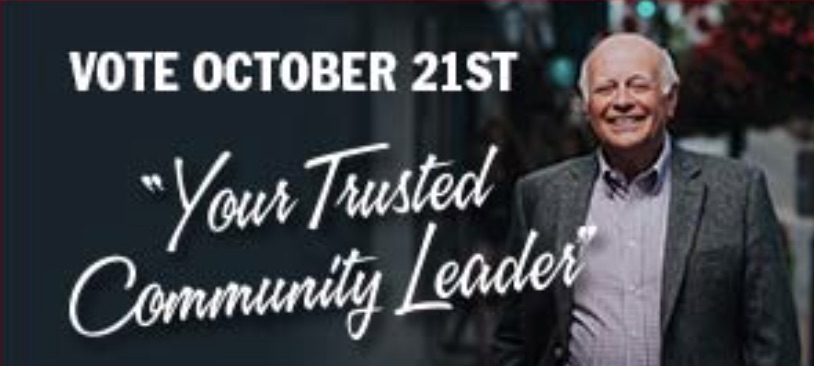 Where is the evidence for that assertion?
Dave Kerwin knew Van Bynen for decades and saw him close up on Newmarket Council. He told Van Bynen to his face in front of a packed Council meeting:
"You never show any leadership!"
Kerwin, the longest serving councillor in Canada until he retired after last October's election, stands by that brutal assessment.
Gradualist
In truth, Van Bynen is essentially an administrator, rarely if ever leading from the front. He is a gradualist, content to watch the paint dry.
At the candidates debate last Thursday he displayed no urgency on tackling climate change. The warnings from the UN that we have 11 years to do something cut no ice with him. He says it's not possible. During the debates on extending the 15-minute GO train service northwards to Newmarket from Aurora he said he would like to see us "easing into that" as we go forward. No rush. He says he believes in "followership" as much as leadership.
Van Bynen hoards information like the secretive old banker that he is. He says his word is his bond. Yet the record shows he trades in half-truths.
There are examples when he broke the trust placed in him. When Newmarket Council called for the Chair of York Regional Council to be directly elected by voters at large (by a vote of 7-1) he broke that trust. At York Regional Council, in defiance of his own Council's position, he voted for the status quo and for cronyism.

Saints and sinners
When we elect an MP we are, of course, not electing a Saint nor, we hope, a sinner. But Van Bynen's long municipal career is studded with sins of omission and commission.
He talks blithely of transparency and openness yet, even now, fails to tell the press about the full extent of his $162,739 severance package and how he requested payment of the huge slab of cash from York Region to be deferred from 2018 to 2019 "for tax planning purposes". Is this what the Voice for Fiscal Prudence really means when he talks about "fiscal responsibility"? Telling us he will be watching out for our interests while looking after his own?
Against Code of Conduct
Van Bynen voted against the introduction of a Code of Conduct for York Region. These codes underpin the relationship between politicians and public. Earlier this year the Region was forced by law to adopt a Code. It calls on members "to act in a way that bears public scrutiny". So I expect him to be fully transparent on the arrangements he made for his second severance payment of $67,068.
Van Bynen addressed the issue of trust in an interview with Newmarket Today (while admitting ignorance about one of the major issues of this Liberal administration):
"Trust is a one-on-one thing, I don't know enough about the SNC-Lavalin issue to understand what's going on there and, for me, it's important that people make a local decision first and trust me as their local representative to take our issues to Ottawa… and I intend my community to hold me accountable to them."
How can Van Bynen be properly held to account if his way of doing politics is to trade in half-truths or, indeed, conceal the whole truth?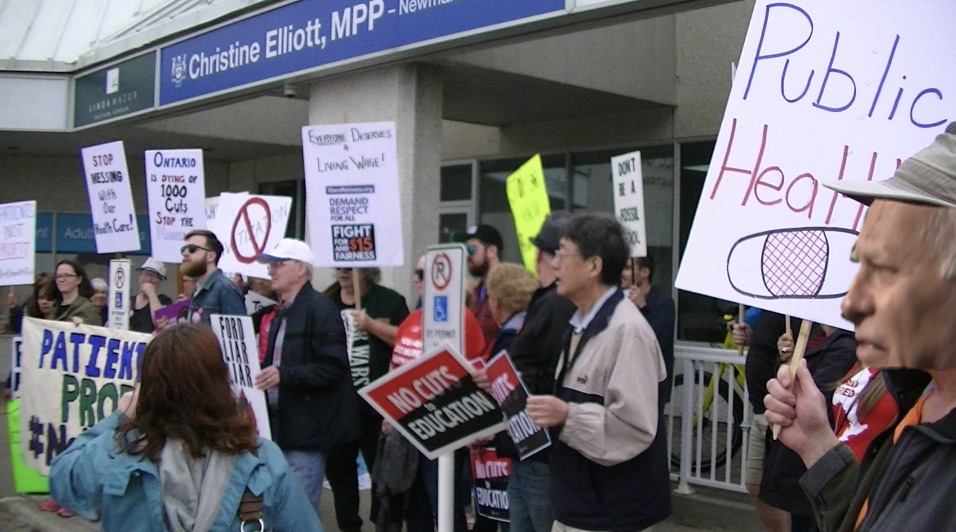 Glenway: no explanation
The former golf course at Glenway is now being redeveloped for housing but during the height of the controversy – when we saw enormous public meetings attracting many hundreds of residents - we were not told that Mayor Van Bynen and his Council had the opportunity to buy the golf course land in 2008 but turned it down. Here was an opportunity to protect open space but Van Bynen rejected it after an in-camera 20 minute discussion.
Later, when residents and the Council were doing a post-mortem on what went wrong at a so-called "Lessons learned" meeting, he chose to stay silent (other than thanking people for their contributions) offering no explanations for his actions. This failure to address issues head-on in an open and transparent way is entirely typical of the man.
"Polarity"
After the experience of Glenway, Van Bynen was desperate to cut a deal with the Clock Tower developer Bob Forrest. He told the ERA newspaper:
"We've learned through Glenway that polarity doesn't help anybody."
On the redevelopment of the Clock Tower he was less than candid. This was a major issue for the Town yet he told me in writing there had been no one-on-one meetings with Bob Forrest, the developer. Again, he was being economical with the actualité.
Clock Tower: there may have been one or two conversations
When pressed at a packed meeting of the Committee of the Whole on 18 April 2016 Van Bynen qualified his earlier statement:
"There may have been one or two phone conversations but they've been general in nature. They were about the project overview, the planning process and community issues. No commitments were given to support the application.
The week before Van Bynen had told the ERA newspaper that
"The Clock Tower is a great example of the intensification we need."
He went on to support the redevelopment and ended up being in a minority of one. His "leadership" on this issue was rejected by every one of his Council colleagues.
Doug Ford's cuts
Now, as a newly minted Liberal candidate, he excoriates Doug Ford and his cuts but couldn't find any time over the summer to talk to the paramedics, teachers, librarians and others who gathered outside Christine Elliott's office every Friday protesting about the very same Provincial Government cuts.
He now admits he doesn't do that sort of thing.
Van Bynen retired after the October 2018 election but stayed on the Board of York Net Telecom - an entity wholly owned by York Region – as a "citizen member". He is the only one.
The position is unremunerated.
But I had to check.
I couldn't take something like that on trust.
This email address is being protected from spambots. You need JavaScript enabled to view it.