Tony Van Bynen, the wannabe Liberal MP for Newmarket-Aurora, arranged for his severance payment of $67,068.33 from York Region - which he claimed in 2018 - to be paid in 2019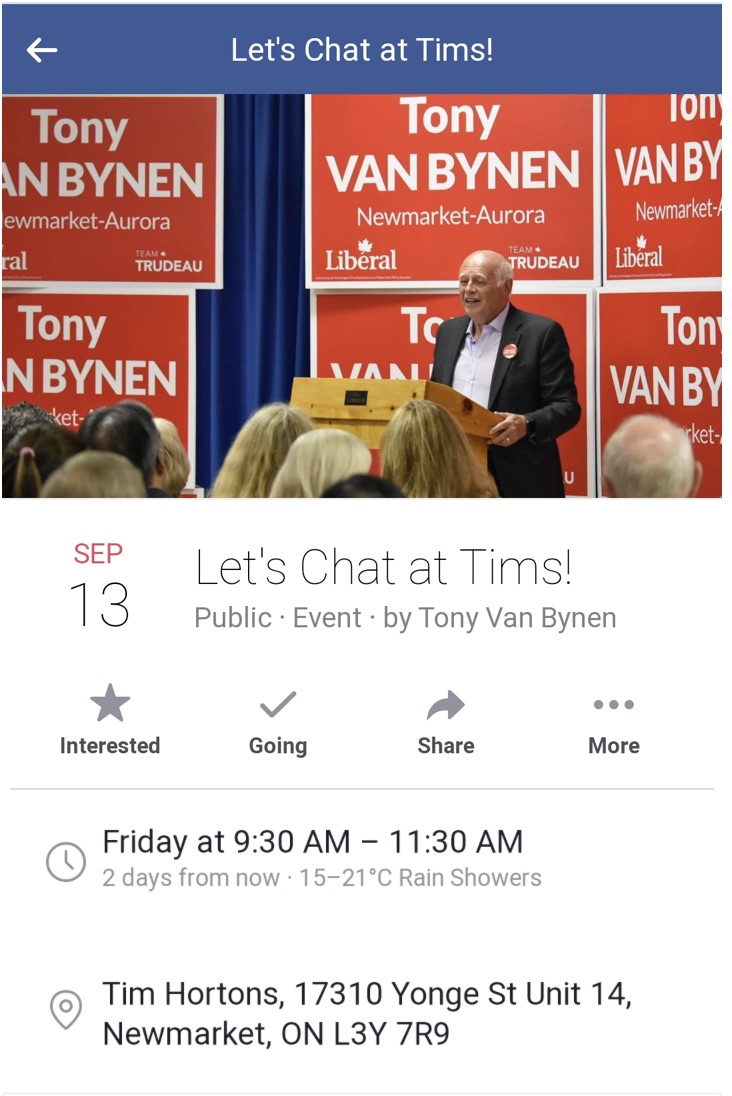 "for tax planning purposes".
Van Bynen, who retired from municipal politics in October 2018, also received a severance payment of $95,631 from the Town of Newmarket.
I asked Van Bynen why he did not tell Newmarket Today about this second severance when he was interviewed by the press in June. He tells me he was commenting about the principle of severance payments rather than the actual figure.
Hmmm.
I learn this after I wander into the Tim Hortons on Yonge Street, next to the York Administrative Headquarters Building. Van Bynen wants to chat to his future constituents and this is an offer I can't refuse.
Startled to see me
I arrive at 10:45am hoping to see him after the initial surge of curious constituents has thinned out. I spot him sitting by the window alone, gazing at his laptop. I put my stuff down on the chair opposite. say hello, then get a coffee. He is startled to see me.
Now he is sitting in front of me, looking uncomfortable, and I ask him why he is all alone. He says Tim Hortons is a commercial business and you've got to be respectful of that. I ask if he has had any customers so far and he says he has had a few. I say I've got a few questions for him and as they'll come up during the campaign I hope we can talk.
Are you recording this?
He appears very guarded.
"Are you recording this?"
I reply:
"No I'm not. But I'd like to. Do you mind?"
He says:
"If you do, this conversation is terminated.
OK. No worries.
SNC Lavalin, no clue
I start with a question about SNC Lavalin which featured in yesterday's Newmarket Today. The journalist Kim Champion quotes Van Bynen:
"Trust is a one-on-one thing, I don't know enough about the SNC-Lavalin issue to understand what's going on there and, for me, it's important that people make a local decision first and trust me as their local representative to take our issues to Ottawa".
I find it incredible he doesn't know enough about the SNC-Lavalin affair to venture an opinion.
"Have you read the report of the Ethics Commissioner?"
"No" he says.
This is jaw-dropping. SNC Lavalin has been front page news for months and the Ethics Commissioner's report has been out for ages. I tell him he is going to be asked about this sort of stuff during the campaign and he better get an opinion asap.
Blocking people from seeing Tweets
Now I am asking if he will continue to block me on Twitter once he is my MP. He says I am not respectful. I tell him I never say anything libelous. (Most of my views are rooted in fact with the occasional prejudice thrown into the mix.)
But surely he cannot block people just because he disagrees with them? He says he doesn't like how I characterise things.
Oh dear!
He tells me I have been disrespectful for years. I ask him how he defines "respect" but get nowhere.
I tell him throughout his career he has spoken in half-truths and have a long list in my head should he challenge that assertion.
Protests outside Christine Elliott's Office
Now I ask why he never joined the protesters outside Christine Elliott's constituency office. (See my YouTube here.)
His unofficial campaign manager, Jackie Playter, repeatedly told me that Tony would be coming along but he never showed up.
On one occasion Jackie solemnly promised me Tony would be joining the protest but couldn't because of a funeral.
Van Bynen insists Jackie Playter had never spoken to him about "joining the picket".
Not again! Who on earth do we believe?
I ask if he has ever joined a picket, at any time, ever.
"No."
He says he wouldn't go down to Christine Elliott's office because the demonstration was all about provincial politics.
But I remind him he has been talking about Doug Ford's cuts.
"Does this mean that you will not be talking about Doug Ford during this election campaign?"
He hesitates before conceding that, yes, he will be talking about Ford.
It was one of those "Gotcha" moments but I say nothing and quickly move on. I have a lot of ground to cover and he could pull up the drawbridge at any stage. I strive to be respectful while gently quizzing the great man.
Freshly minted Liberal
I ask when he joined the Liberal Party.
"Earlier this year after meeting Kyle (Peterson)."
"Have you ever been a member of another political party?"
"No."
Now I want to probe Van Bynen's green credentials as someone who is the self-proclaimed "voice for fiscal prudence".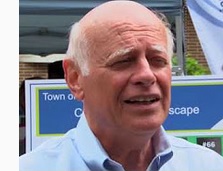 How Green is Van Bynen?
I want to know if it was a good idea for the Federal Government to spend $4.5 billion to buy the trans-mountain pipeline project. Yes or no.
He says he would have to think about it and do some research. I tell him this won't wash if he is asked the same question in an election debate. I tell him he has to have a view.
He says he needs to examine the business case.
Now I am getting exasperated but don't let it show.
He says the decision has been taken so it is not up to him to express a view. I tell him the decision hasn't yet been implemented.
Now he says the pipeline will allow Canada's energy resources to get to overseas markets.
Now I ask him about the development of the oil (or tar) sands in Northern Alberta. Surely their continued development is inimical to Canada's efforts to combat climate change and global heating? No, he says. It is possible, with the right mix of policies, to promote green energy while developing the oil sands.
Would he cap production at current levels, as a start to weaning ourselves off fossil fuels? No answer.
What about the dangers of an environmental catastrophe in the High Arctic? I ask him if he knows what a tailing pond is. These gigantic ponds that can be seen from space hold all sorts of toxic sludge which, if released into the Athabasca River by accident, would be discharged into the High Arctic. He says Environment Canada looks after that sort of thing.
Nothing to worry about then?
Apparently not.
Newmarket-Aurora's voice in Ottawa
Now I hear myself asking him if he intends to be Newmarket-Aurora's representative in Ottawa or Ottawa's voice in the riding.
He clearly believes his job is to take the concerns of his riding to Ottawa. Taking small town politics to the nation's capital.
Van Bynen expresses no interest in foreign policy. I ask him if he has ever said or written anything, anywhere, at any time on foreign policy issues. I get another blank stare.
Now I am asking him about banning handguns and assault weapons. He says is in favour of a ban. He doesn't need to do any research or look at business cases or any of that stuff which is his stock in trade. I congratulate him:
"You see we can agree on some things!"
Now it is time to wrap things up and I thank Van Bynen for his time. I ask him if I can repeat the exercise once we are into the campaign.
I tell him I hope to speak to all the other candidates.
As I am finishing my coffee he asks why I am not running for elected office. I tell him I don't want to. But the question leaves me wondering why the 69 year old Van Bynen wants to be our Member of Parliament. He is not someone who is driven by passionately held convictions. He believes in simple neighbourliness.
Van Bynen wants to go to Ottawa
Kyle Peterson told the Liberal nomination meeting in July:
"When Tony Van Bynen indicated to me he was interested in running, it made me feel much better about my decision, because like me, and all of us, Tony cares about this community."
And that really is the long and the short of it.
When Kyle decided to stand down after one term it unexpectedly opened up a vacancy which Van Bynen found appealing.
But he would first have to join the Liberal Party. And he did.
The well-formed views and opinions might, or might not, come later.
This email address is being protected from spambots. You need JavaScript enabled to view it.