Who could possibly begrudge our former Mayor Tony Van Bynen his severance pay of $95,631.11?
Surely all reasonable people believe he deserves to be compensated for his altered circumstances? As a private citizen he is, for example, no longer able to bill his lunches to the taxpayer.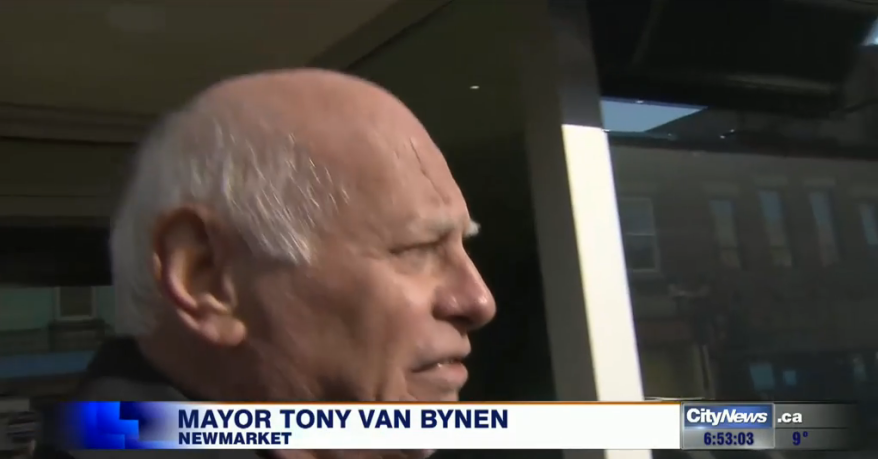 Throughout his long municipal career he has largely kept out of trouble by following the old maxim:
"Never complain; never explain"
Even when Darryl Wolk was yelling at him about his Mayoral compensation he kept his cool, not taking the bait. He has always been able to deflect criticism by pointing us to policies and practices and common-standards and nothing-being-out-of-the-ordinary.
He is now a wannabe Liberal MP and has all that cash stuffed into his back pocket. But, as sure as night follows day, he will be asking Liberal minded folk in Newmarket-Aurora to help finance his election campaign. I'd bet on it.
Double-dipping
Our wannabe MP tells Teresa Latchford:
"It's not unique and severance is part of the overall compensation package. It is all part of what the market has provided and other municipal service employees get severance."
"If I am successful (and become Newmarket-Aurora's MP), the federal position won't start until later in the year so there is no double dipping."
Van Bynen knows all about double dipping. He has always pointed to the Sunshine List as a true indicator of his municipal income yet the old banker knows it is as phoney as a three dollar bill.
It does not distinguish between municipal politicians who receive one-third of their remuneration tax free (like Van Bynen) and others from Municipalites such as Hamilton where the politicians had bravely gotten rid of it. It distorts comparisons. In fact, it makes them next to impossible.
Fortunately, the Federal Government has now taken away this generous concession.
Back in March 2017 Newmarket Council voted to keep the cash on the grounds it would amount to a 10% - 15% cut in their take home pay.
And then they had second thoughts.
Consultant's report on pay is off-limits
In April last year our elected officials received a report from Associum Consultants which impertinently suggested at least some of our councillors were getting paid too much. When I tried to get a copy of the complete unredacted report so I could fully understand the consultant's reasoning my Freedom of Information request was blocked. I was told information from third parties would be revealed. (The Associum Report is here at page 170)
So the Town has yet to take a view on Council remuneration but a report is supposed to be coming later this year. In the meantime Council pay has not been grossed up to compensate for the removal of the 1/3rd tax free provision.
I believe our elected officials should get the rate for the job. No question. They do important work on our behalf and they should be properly and fairly rewarded, including severance pay. But, as a quid pro quo, there should be absolute transparency so we all know where the dollars come from and we can compare apples with apples.
Sunshine List
Tony Van Bynen would rather have his teeth pulled than volunteer information on his remuneration. Over the years he has had a million opportunities to put the record straight and point out the defects of the Sunshine List. Its flawed design masked the true take home pay of municipal politicians. But he chose to obfuscate.
Our wannabe Liberal MP Tony Van Bynen has spent a lifetime laughing all the way to the bank, milking the system.
This email address is being protected from spambots. You need JavaScript enabled to view it.
The Town tells me Newmarket's 13 comparators for setting the remuneration of elected officials (and which were established through an external consultant review) are: Ajax, Aurora, Barrie, Burlington, Caledon, Halton Hills, Markham, Milton, Oshawa, Pickering, Richmond Hill, Vaughan and Whitby.
I am told the comparators were derived from, but not limited to, municipalities meeting the following criteria:
 Population of approx. 50,000 to 250,000
 Municipalities with a Ward system (but Aurora has an at-large system?)
 Location in similar proximity to the GTA and municipalities in surrounding areas (including York and Durham Region communities
 2-tiered governance systems (municipal and regional)
Severance and the Chair of York Regional Council, Wayne Emmerson.