Ontario Premier, Doug Ford, is yet again using the infamous "notwithstanding clause" of the Canadian Charter of Rights and Freedoms (section 33), this time to prevent a strike by 55,000 school support staff which could begin as early as Friday of this week. (Photo right: Stephen Lecce, Education Minister)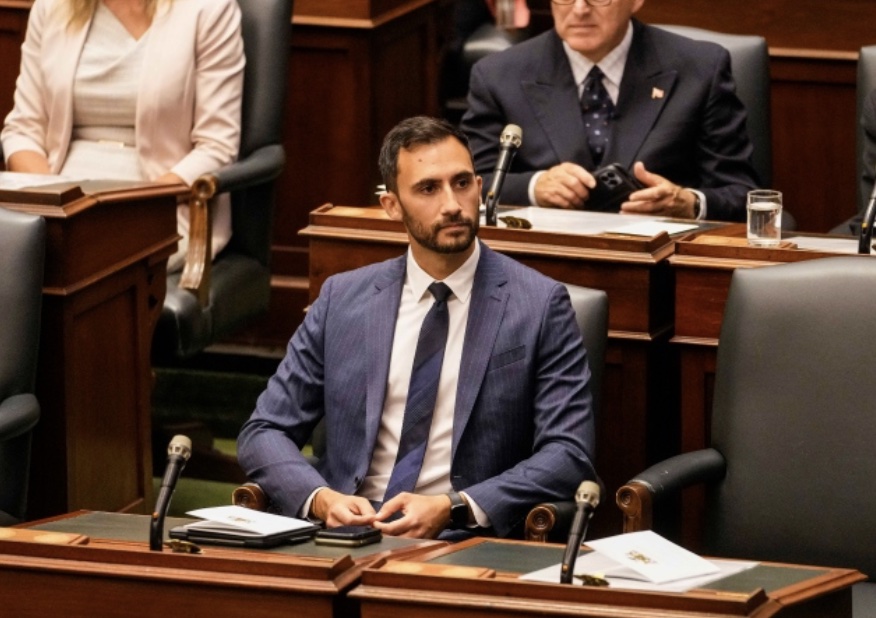 Today's Toronto Star editorial summed up the issue rather nicely:
"Negotiate – not legislate – school labour dispute"
The Ontario Legislature convened this morning at 5am to give a second reading to Bill 28 which is described as an Act to resolve labour disputes involving school board employees represented by the Canadian Union of Public Employees.
The Star says the Government:
"… invoked the notwithstanding clause to prevent a legal challenge on grounds that the government move infringes on Charter protected rights of workers… And the invocation of the notwithstanding clause is an admission that the government knows it's wrong and that its legislation likely wouldn't survive a legal challenge."
The Globe and Mail quotes legal experts saying the use of the notwithstanding clause to quash the ability of education workers to go on strike is "extreme, politically fraught and unprecedented in the history of labour disputes."
Professor Braley-Rattai tells the Globe and Mail:
"Section 33, the notwithstanding clause, is so rarely invoked that in the first few decades of the Charter, some thought it to be political suicide. But I think that has begun to change, and I anticipate seeing more of this from right-leaning governments."
Political Advertising
Last year the Superior Court of Justice struck down amendments to the Election Finances Act which restricted third party spending on so-called "political advertising" in the 12 months leading up to a Provincial election.
Ford responded by invoking the notwithstanding clause and the changes were pushed through, restricting political advertising by any third party in this year's election to $637,200 across the entire Province and $25,488 in any given riding. (The latter sum is about half of what I could have spent on my recent campaign for Deputy Mayor/Regional Councillor.)
By using the notwithstanding clause Ford is showing he is ready and willing to exclude the Courts from adjudicating on highly partisan legislation which undermines and erodes Charter Rights.
I wonder what my MPP, Dawn "Corn Roast" Gallagher-Murphy, thinks about this?
Gordon Prentice 1 November 2022
TVO Podcast 1 November 2022: The notwithstanding clause strikes again
Update on 2 November 2022: Toronto Star editorial: An offensive assault on labour rights. And from the Globe and Mail: Doug Ford's constitutional overkill
Update on 3 November 2022: from the Toronto Star: "It's time to ditch the notwithstanding clause"
From the UK's Guardian: "Canadian Bill would fine workers $4,000 for each day they strike."
Update on 7 November 2022: From the Toronto Star's Martin Regg Cohn: Doug Ford has stained his legacy in a way that backing down won't fix
Newmarket Aurora MPP Dawn Gallagher Murphy voted at first reading for Bill 28, Keeping Students in Class Act 2022. On 1 November 2022 she asked the Parliamentary Assistant to the Minister of Education:
Mme Dawn Gallagher Murphy: My question is this: Could you describe the harm of a strike on our most vulnerable students right now—those requiring special education?
Ms. Patrice Barnes: We need to keep our students in school. COVID-19 has been very hard on students. We keep discussing workers, and workers are very important, and I would never say that I do not appreciate everything that workers do in our schools. But students are impacted. It has been two years. And if we're not willing to stand up for our students, then who will?