Newmarket-Aurora MPP, Dawn Gallagher Murphy, spent more than $8,000 providing free meals to voters in the run up to last June's provincial election.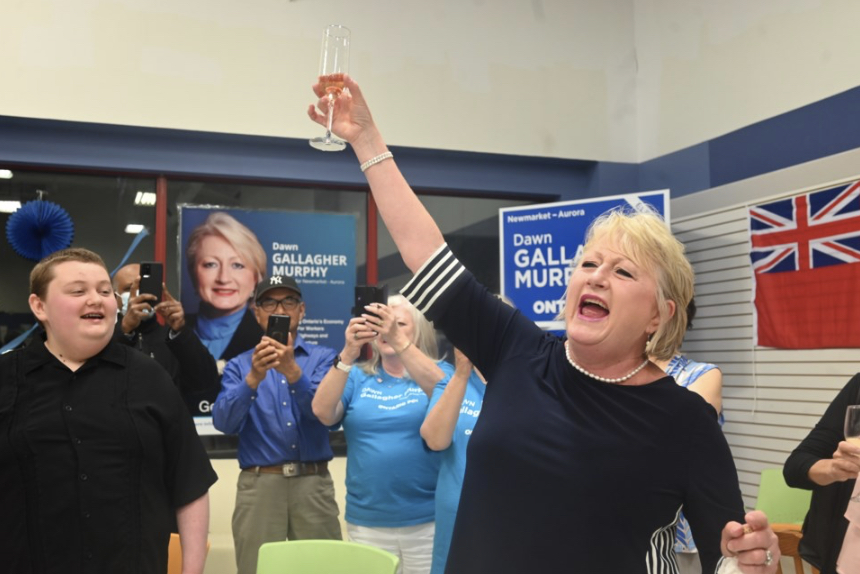 Dawn Gallagher Murphy's financial statement (or CR-1) was filed with Elections Ontario on 30 November 2022.
It itemises her election income and expenditure.
The Hostess with the Mostess
Her Statement of Expenses tells us she forked out $5,228.60 to feed voters at meetings she hosted.
But, intriguingly, in Schedule 6 (List of Suppliers) the following are listed under the expense heading "Meetings Hosted".
Meetings Hosted
Description of Expense Supplier Amount
Food Molisana Bakery $367.25
Food Wicked Eats $947.72
Food MrCorn Ltd $1,356.00
Food 180 Drinks $2,397.86
Food A Million Mouthfuls $3,159.28
This list totals $8,228.11 for food for "Meetings Hosted".
I've asked Dawn Gallagher Murphy to explain why there is a difference between the two figures - $5,228.60 and $8,228.11.
Meeting and Eating
Curiously, Gallagher Murphy gives no other information about the meetings she hosted other than the cost of the mountains of food the voters consumed. She says they were not fundraising events.
There are no other costs associated with the meetings such as hall rental. Were they street parties?
We are not told how many meetings she hosted, nor the venues nor when they took place. (Photo right: Dawn Gallagher Murphy at her victory party)
And because these were not fundraising events Elections Ontario says there is no requirement to give this information.
Wining and Dining
Dawn Gallagher Murphy was absent from all the election debates. She said the first one she missed was due to a "family emergency" but then she boycotted all the others without giving reasons. It was as if the debates were a huge inconvenience when she could be spending her time more profitably wining and dining her future constituents.
I emailed DGM on 14 February 2023 asking her to tell me more about these meetings she hosted. Where and when did these meetings take place? It's radio silence. I hear nothing.
Corn-Roast
Last October, after she had won the election, DGM hosted a free barbecue and corn roast at the Riverwalk Commons in Newmarket.
Newmarket Today reported:
"The event is a celebration of the season and a thank you for the support the community has given her."
Dawn Gallagher Murphy clearly has a passion for food. She says the free corn roast is to become an annual event.
Of course, what she does with her own money between elections is a matter entirely for her.
Treating the voters
But wining and dining voters in the run up to voting is quite another matter.
Or at least it should be.
Why stop at $8,228.11 for free meals for the voters?
Why not spend $18,228.11 or $28,228.11? Or more.
Is there a limit? And if not why not?
This email address is being protected from spambots. You need JavaScript enabled to view it.
Contributors to DGM's campaign are here.