Tomorrow, 4 March 2023, marks the first anniversary of Dawn Gallagher Murphy's appointment as the Official Progressive Conservative candidate for Newmarket-Aurora.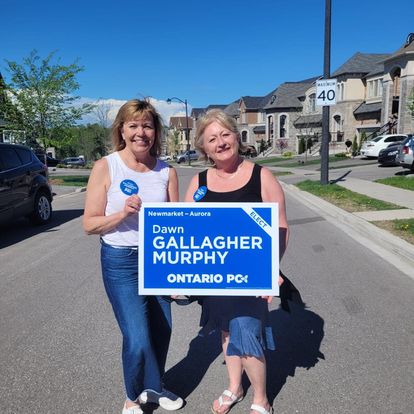 Our Progressive Conservative MPP was never chosen by Party members in Newmarket-Aurora. She was foisted on them.
After repeatedly assuring people that she was going to run again for a second term Christine Elliott abruptly announced her retirement on 4 March 2022. And, without missing a beat, Doug Ford immediately installed her Office Manager, Dawn Gallagher Murphy, as the official PC candidate.
Definitely running
Christine Elliott had previously told The Agenda's Steve Paikin - and others - she was definitely running for re-election.
Steve Paikin: Are there any circumstances under which you could imagine that not happening?
Christine Elliott: Well, there's lots of circumstances but I hope none of them happen to me. There's illness, I hope not. But other than that, no, I don't expect that.
As late as 17 February 2022 the Newmarket Aurora Riding Association was still telling the world Christine Elliott would be their candidate in the June 2022 Provincial election.
Bombshell
Then came the bombshell on 4 March 2022. Newmarket Today reported:
"The Ontario Progressive Conservatives announced March 4 that Dawn Gallagher Murphy would take over the nomination from Newmarket-Aurora MPP and Minister of Health Christine Elliott. The long-time official had announced she would not run for re-election that same day."
The local Party was completely blindsided. They were cut out of having any say in who should be their candidate in the June Provincial election. Instead, Doug Ford brazenly told them who their candidate would be. It would be his choice, not theirs. A fait accomplis.
A deal had been done between Elliott, Ford and Gallagher Murphy to stitch up the candidacy. And Party members of the Newmarket-Auroral PC Riding Association were left looking on, as hapless bystanders.
This email address is being protected from spambots. You need JavaScript enabled to view it.