The Integrity Commissioner, David Wake, should summon Southlake CEO, Arden Krystal, to explain what happened on 1 November 2022 when she was offered Greenbelt land for a new hospital in King for a "nominal fee".
Commissioner Wake said today he is prepared to summon "numerous witnesses".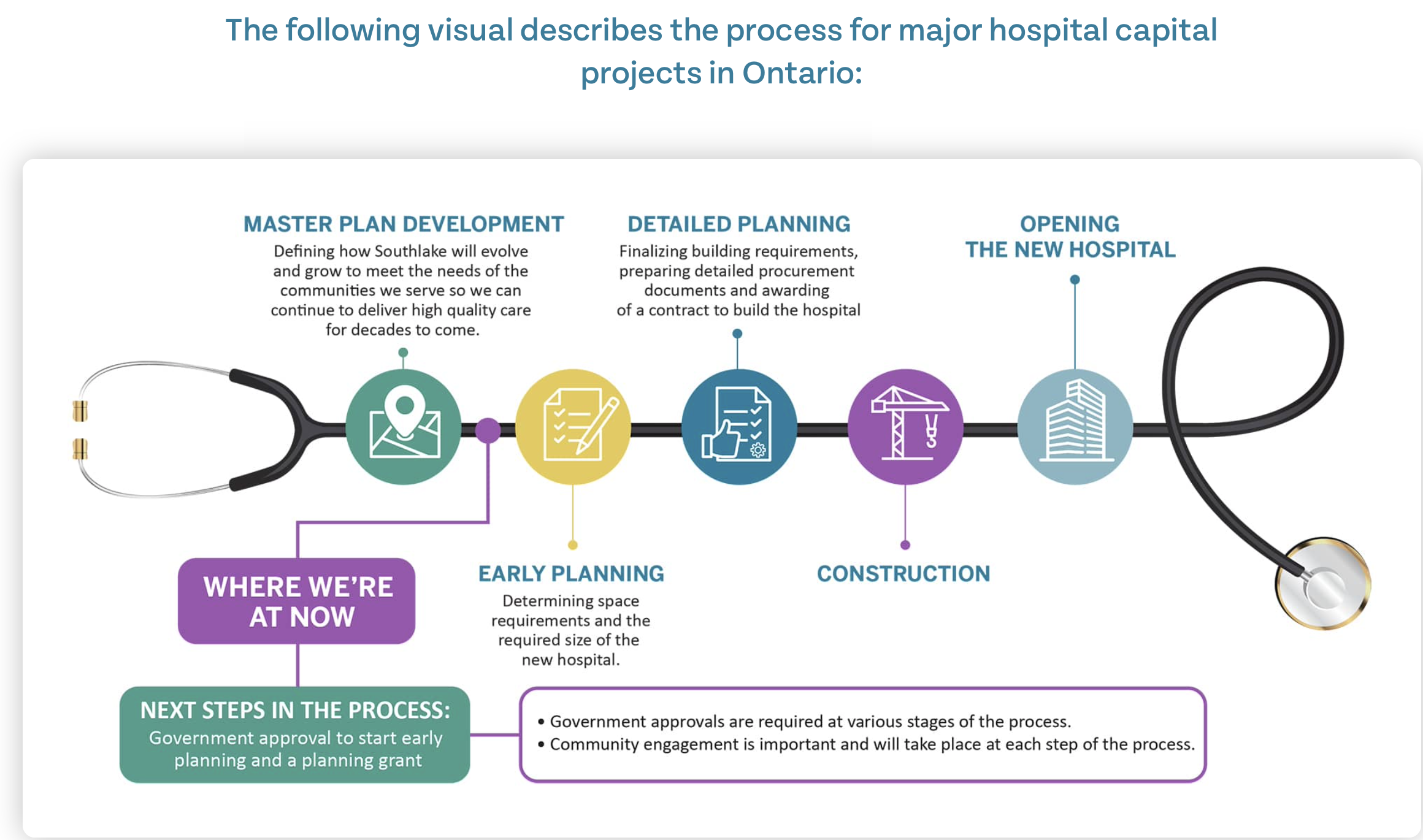 On 1 November 2022 the developer Michael Rice offered Greenbelt land in the Municipality of King to Southlake for a new hospital "for a nominal fee". This was three days before the Government announced that certain Greenbelt lands – including his own – would be opened up for development. Rice bought the lands on 15 September 2022 from Bob Schikendanz, the then president of the Ontario Home Builders Association, for $80M.
As I tap this out on Thursday evening (16 March 2023) the Municipality of King and Southlake continue to insist they have no records of that consequential meeting on 1 November 2022.
I do not believe either of them.
To my mind, it is inconceivable that the details of a gift of a huge tract of Greenbelt land should not be recorded anywhere by Southlake or King. Do they take us all for fools?
Southlake has charted the process to get its new hospital. (right)
But, mysteriously, the offer of land for the new hospital, essentially gifted, is not recorded anywhere.
Numerous witnesses
The Toronto Star reported this evening (16 March 2023) that
"Ontario's integrity commissioner has asked "government and non-government sources" to hand over documents related to a complaint about the province opening up portions of the Greenbelt, and plans to summon "numerous witnesses," says an interim report issued Thursday.
In the report, J. David Wake says he is also putting on hold a second complaint by NDP Leader Marit Stiles as he investigates her first one.
In January, Stiles asked the integrity commissioner to investigate whether there was any conflict of interest or sharing of confidential information by Municipal Affairs and Housing Minister Steve Clark regarding the government's decision to swap land out of the Greenbelt for housing. The complaint came after what she called the "curious timing of recent purchases of Greenbelt land by powerful landowners with donor and political ties to the Ontario PC Party."
"I have required the production of documents from government and non-government sources. My staff and I are reviewing the extensive material gathered so far and have done independent research on the matter. We are preparing summonses for numerous witnesses to be interviewed. In the end I will prepare and deliver a public report on our inquiry as I am required to do."
Record keeping is required by law
Hospitals are required to keep records under the Archives and Recordkeeping Act 2006.
On its own admission Southlake doesn't.
If we are to get to the bottom of what happened the Integrity Commissioner David Wake must summon all those who participated in the key meeting at King Municipal Centre on 1 November 2022 which resulted in the commitment by Michael Rice to give Greenbelt land to Southlake for a new hospital. Those called before Commissioner Wake will, I trust, give evidence under oath.
If I were Ontario's Integrity Commissioner I'd call the following to appear before me:
Arden Krystal, Chief Executive, Southlake Regional Health Centre
Steve Pellegrini, Mayor of the Township of King
Stephen Naylor, King's Director of Growth Management
John Marshman, Southlake's Vice President Capital Facilities and Business Development
Michael Rice, the Rice Group
I have a million questions for each of them.
But Commissioner Wake need only concern himself with one.
What happened at the 90 minute meeting on 1 November 2022 which resulted in Southlake being promised land in the Greenbelt for a nominal fee?
Who said what?
This email address is being protected from spambots. You need JavaScript enabled to view it.
Update on 17 March 2023: I am told there is no record of the 1 November 2022 meeting. Not even in files relating to hospital administration and governance.