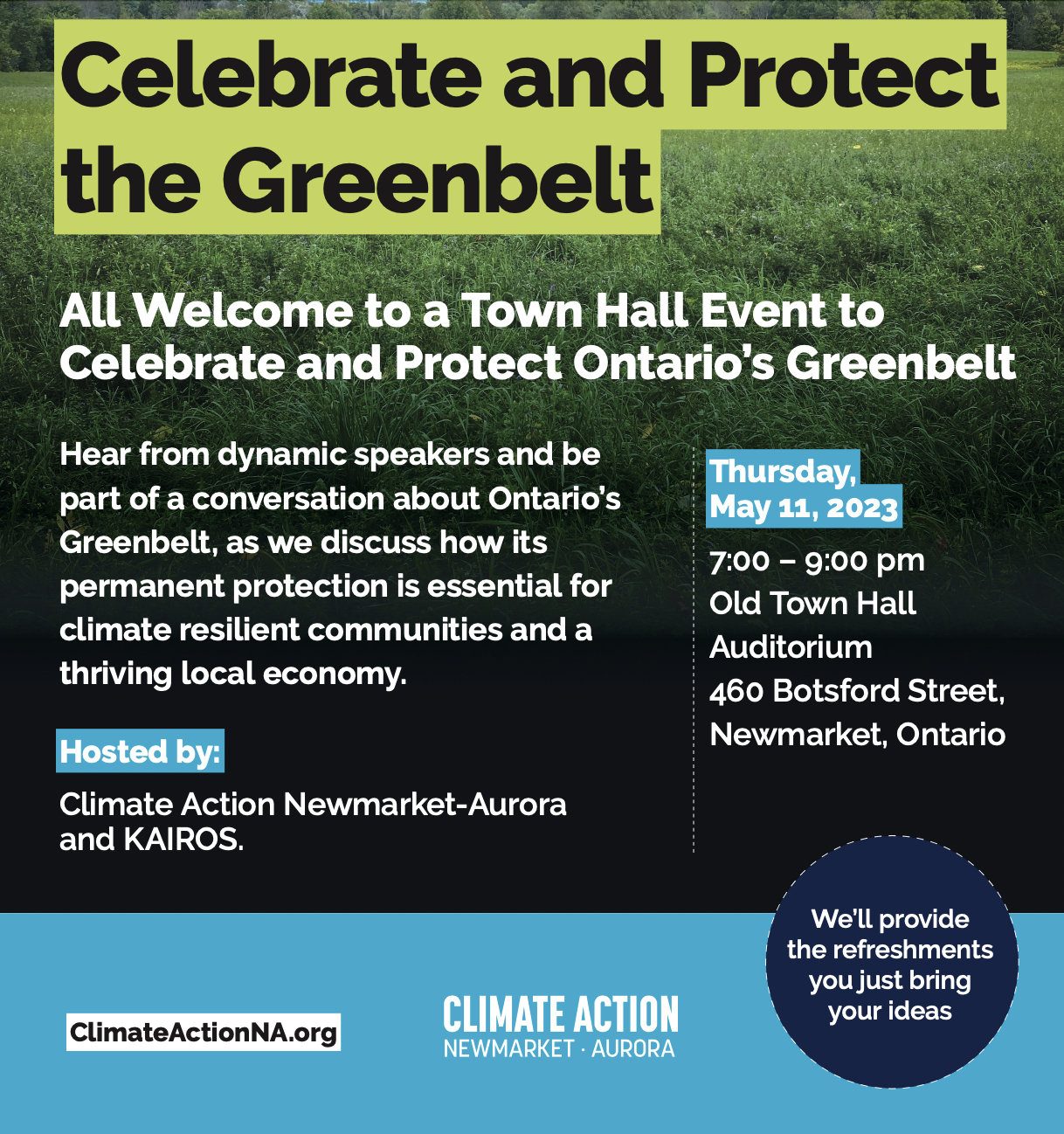 Climate Action Newmarket-Aurora writes:
We're expecting a full house to participate in our event to Celebrate and Protect the Ontario Greenbelt. Please encourage your friends, family and political representatives to join us. There will be opportunities for discussion and to ask questions of our three knowledgeable speakers:
Franz Hartmann is the Coordinator of the Alliance for a Liveable Ontario and has a long history in building alliances and community engagement. He served as Chair of the Ontario Greenbelt Alliance (OGA) for four years and helped the Alliance build vast community support for the Greenbelt. He is currently serving as the OGA Coordinator. Franz also held the role of Executive Director of the Toronto Environmental Alliance (TEA). Under his leadership the TEA succeeded in getting key environmental policies adopted at Toronto City Hall. This included a new climate action plan and a zero waste plan. Prior to working at TEA, Franz was the Environmental Advisor to City Councillor Jack Layton.
Franz will provide a brief history of the establishment of the Greenbelt, and the benefits that it provides for biodiversity, food security, clean water and air, and recreation. He will highlight the top threats to the Greenbelt. Franz will let us know what we as individuals or teams can do to help.
Claire Malcolmson has worked on Lake Simcoe issues since 2001. Currently she is the
Executive Director of the Rescue Lake Simcoe Coalition. Claire played a leadership role in the successful passage of two pieces of Ontario legislation: the Lake Simcoe Protection Act(2008), and the Great Lakes Protection Act (2015). Claire and the Rescue Lake Simcoe Coalition's work on "Campaign Fairness" resulted in changes to the Municipal Elections Act (2016), banning corporate and union contributions to election campaigns. Claire has also held roles with Environmental Defence, the Lake Simcoe Coordinating Committee, the Oak Ridges Moraine Foundation Board and Paddling Around Lake Simcoe.
Claire has a Masters degree in Integrated Watershed Management
Claire will focus on Lake Simcoe and protection of the watershed, and land use planning impacting forests, wetlands and the impact of the Bradford ByPass.
Michael Wilson is a Food and Farming Business Leader with Clearwater Farms – Willow Beach, who also calls himself an Agri-preneur. Michael has been with Clearwater for 7 years, currently as the operations manager. Michael started off farming and is now focused on sales and distribution. Clearwater Farms' purpose is captured on their website "Inspired by water, we exist to deepen young people's connections with the natural environment, marrying the arts, science and technology to cultivate a more sustainable future."
Michael will speak to protecting the environment through smarter Agriculture practices in and around the Greenbelt. This includes regenerative and organic approaches to food security, healthy soil and water conservation.