My friend Kevin passed on this email exchange he had with Dawn Gallagher Murphy's Office yesterday. He thinks it deserves wider publicity and I agree.
People can't sit on the fence on this issue. Nurses' pay is being deliberately held down. And the Ford Government is turning to agency nursing where costs are going through the roof.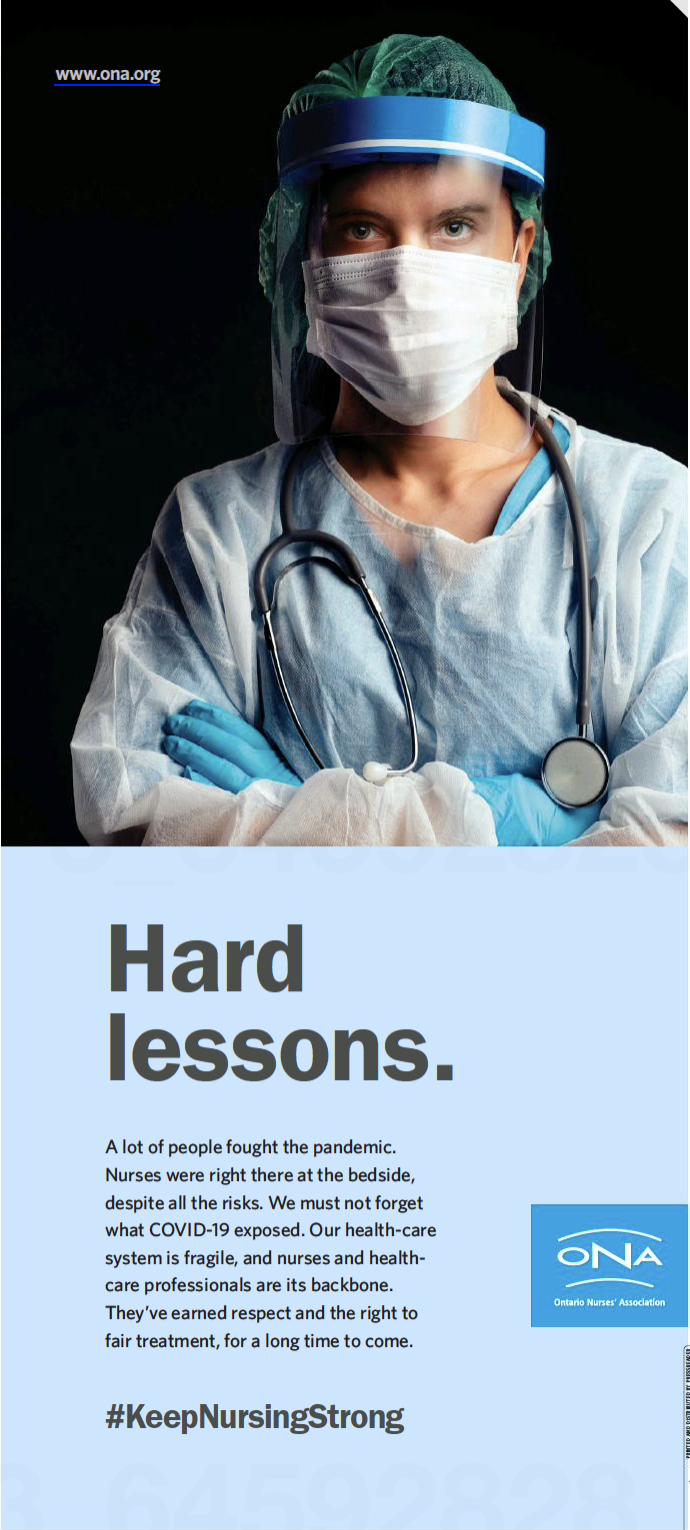 As Parliamentary Assistant to the Minister of Health, our local MPP, Dawn Gallagher Murphy, has done absolutely nothing to ensure nurses get a fair deal.
24 July 2023: 7.54am:
Good morning Dawn.
I wonder if you have read The Globe and Mail article on the use of agency nurses in Ontario hospitals? Do you have any thoughts on the cost of agency nursing?
Regards
Kevin Shackleton
24 July 2023: 10.32am
MPP Gallagher Murphy noted your email this morning (24 July 2023) and asked that I provide some background on what our government is doing to address this situation.
Indeed, the proportion of agency nurses has decreased from 3.8 % in 2017 and remains under 2% of total hours worked in hospitals. As a result, we have launched the largest healthcare recruiting and training initiative in the province's history. We also launched the "Learn and Stay" grant for nursing graduates to receive full tuition reimbursement in exchange for committing to practice in an underserved community.
Between 2018 and March 2023, over 60,000 new nurses have registered to work in Ontario. This includes over 12,000 new nurses registered and ready to work on 2022 , a record year for Ontario.
Ontario is also investing a total of $80 million over 3 years, starting in 2023-24, to further expand nursing education in universities and colleges by increasing enrolment by 1,000 registered nurses, 500 practical nurses and 150 nurse practitioner seats.
This also includes new initiatives to make it easier for foreign credentialed health workers to work in Ontario hospitals and other healthcare settings in need of staffing report.
Our government will continue to work with the healthcare sector to ensure Ontarians can continue to count on the care the need and deserve.
With all these initiatives in place we are confident that the nursing situation will continue to improve in Ontario.
I trust this helps you to better understand what our government is doing to address this important issue.
Best regards,
Dennis C. Flaherty
24 July 2023: 11.11am
Good morning Dennis.
Thank you for your rapid response to my email. Your comments seem to come straight from the communications person in the Deputy Premier's office, who also happens to be Minister of Health. The article indicated that 78 hospitals are using agency nurses up from 31 in 2020-21. It also indicated that the cost of agency nurses had ballooned 341 percent from 2020-21. The average nurse in a hospital setting is paid $49.02 an hour while agency nurses can cost as much as $250.00 an hour.

It seems to me that a conservative government would look at this situation and realize it is not getting value for money and pay nurses under contract a better wage. Your comments do not address the issues raised in the article and the Ontario Nursing Association disagrees with the government's figures.
Yours truly,
Kevin Shackleton
This email address is being protected from spambots. You need JavaScript enabled to view it.
The Arbitration Panel's Report quotes figures from Ontario's participating hospitals:
"In the 2020-2021 fiscal year, the Participating Hospitals reported spending $38,350,956 on agency nurses, in 2021-2022, $70,978,158 and in 2022-2023, $173,669,808 (with the numbers for 2022-2023 probably an undercount for reasons explained in the Ontario Nursing Association brief, reply brief and at the hearing).
Agency hours grew from 449,608 in 2020-2021, to 1,183,358 in 2022-2023 (or, according to the Oontario Hospitals Association, 1,259,183)."
In the video below we can see thousands of nurses protesting in Toronto on Thursday 2 March 2023:
Click below for Globe and Mail article:
Ontario spending on private nursing agencies quadrupled since COVID-19, data show
KELLY GRANTHEALTH REPORTER
PUBLISHED YESTERDAY
The amount of money Ontario hospitals pay private nursing agencies has more than quadrupled since the first year of the pandemic, with agencies charging an average of $140 an hour for a registered nurse, according to new data provided exclusively to The Globe and Mail.
The number of hospitals in Canada's most populous province that rely on agency nurses ballooned to at least 78 last year, up from 31 in 2020-21. Together, they sent more than $168.3-million in public funds to for-profit nursing agencies in the first three quarters alone of last year – a 341-per-cent increase over the $38.1-million hospitals spent on agency nurses in all of 2020-21.
The steep rise in the use of agency nurses in Ontario is more evidence of how the pandemic-era staffing crisis in health care is hobbling Canada's medical system. Behind every headline about a closed emergency department or surgical backlog is the same root cause: Burned-out health care workers are retiring, switching to part-time schedules or leaving the public sector for what some consider the greener pastures of private staffing agencies.
"The nurses did not disappear in some kind of cosmic rapture," said Alan Drummond, an emergency physician in Perth, Ont., whose rural hospital is counting on agency nurses – many of them living in hotels – to keep its emergency room open this summer. "They're just voting with their feet, saying, 'There's no future in this.' "
Health leaders in other provinces, several of which also rely on temporary nurses, have complained openly about the high cost, with Quebec going so far as to pass legislation banning the use of private staffing agencies in the health care system by the end of 2025.
The long-term care industry is struggling, too. In February, AdvantAge Ontario, which speaks for non-profit nursing homes, released the results of a survey that found its members were being "gouged" by "predatory temporary staffing agencies."
Private health care staffing agencies have played a small part in providing medical care to Canadians for decades. Traditionally, they shored up hospitals and nursing homes in an ad hoc fashion, supplying nurses, personal support workers and other crucial health workers for single shifts when an employee called in sick and nobody else was available to fill in.
The unpredictable nature of the work, coupled with its lack of benefits or a pension, used to make agency jobs less attractive than staff jobs, said Erin Ariss, a veteran ER nurse and president of the Ontario Nurses' Association (ONA) – even though agency work paid more per hour.
But as COVID-19 simultaneously made hospital working conditions more punishing and nurses more sought-after, private agencies ramped up their recruitment efforts, raised the rates they paid nurses and persuaded some hospitals to offer agency nurses predictable schedules.
Agencies also increased the rates they charged hospitals, according to ONA's figures, which don't cite any of the private companies by name.
"Our tax money is going to these corporations," Ms. Ariss said. "This is for-profit care. This is more privatization."
ONA asked the Ontario Hospital Association (OHA) to instruct hospitals to share figures on their use of private agency nurses with ONA as part of contract negotiations, which ended in arbitration. In a decision released Thursday, arbitrator William Kaplan wrote that "the vast expansion of overtime and agency nurse usage – demonstrated by a truly astonishing growth in both – establishes a true recruitment and retention problem" for hospitals. He awarded nurses an average wage increase of 11 per cent over two years.
ONA shared the hospital data with The Globe, providing a rare glimpse into how heavily some hospitals have come to lean on contract workers to keep their emergency rooms, intensive-care units and other departments afloat since the pandemic began. The data cover the fiscal years 2020-2021, 2021-2022 and the first three quarters of 2022-2023.
Over all, the union found that the average actual cost per hour of an agency RN for hospitals almost doubled to $140.47 last year from $74.38 in 2020-2021. (The actual cost includes the amount paid to the nurse and the agency's share.) A handful of Ontario hospitals reported paying more than $250 an hour for agency nurses, a figure that could include accommodations and travel costs for out-of-town nurses.
By way of contrast, the top rate last year for a full-time ONA nurse employed directly by a hospital was $49.02 an hour, plus benefits and a pension.
Timmins and District Hospital has the distinction of spending the most on agency nurses last year. It paid almost $18.1-million for 110,014 hours of agency nursing between April 1 and Dec. 31. Two years earlier, in all of 2020-2021, it spent just over $2.4-million for 16,015 hours.
Other hospitals that have seen significant spikes in their spending on agency nurses include William Osler Health System, which oversees the Brampton Civic and Etobicoke General hospitals; Quinte Health Care, which oversees hospitals in Belleville and three nearby towns; Muskoka Algonquin Healthcare; Trillium Health Partners in Mississauga; and the Sioux Lookout Meno Ya Win Health Centre in Northwestern Ontario.
Those hospitals and half a dozen others The Globe reached out to declined interview requests. Most sent statements via e-mail describing the challenges that led to their greater reliance on agency nurses, including the nationwide nursing shortage and a steady rise in demand for medical care from a population that is both growing and aging.
Some cited local barriers to recruitment. Muskoka Algonquin, for example, has struggled to attract young nurses to cottage country, where housing is expensive and daycare scarce, said Diane George, vice-president of integrated care, patient services and quality at Muskoka Algonquin, which oversees hospitals in Huntsville and Bracebridge.
The hospital in remote Sioux Lookout, meanwhile, used to have "the advantage of being able to offer new graduates full-time positions, whereas the major centres had mostly part-time and casual opportunities to offer," said president and chief executive officer Dean Osmond. "Today nurses are able to find employment in their home communities and don't need to relocate."
Hospitals that did not report agency use face similar headwinds – they've just opted to navigate them in a different way.
Instead of leaning on agencies, London Health Sciences Centre decided, beginning last November, to offer double overtime to staff nurses willing to work more than 75 hours in two weeks. Some small-town hospitals have resorted to occasional night and weekend emergency department closures rather than hiring private nurses whose presence might undercut staff morale.
Nurses who choose agency work often do so for the higher take-home pay and ability to control their schedules and vacation time, even though their jobs generally don't come with benefits or a pension. Such flexibility is not usually available to young nurses on staff at the bottom of the seniority ladder.
Staff nurses sometimes find it frustrating that their temporary colleagues earn more per hour despite knowing less about their hospital's processes, said Kat Anastasiou, an emergency nurse at Belleville General Hospital. She spoke to The Globe in her capacity as the ONA bargaining unit president for Quinte Health Care.
ONA's arbitration brief mentions that Quinte Health – which went from using no private staffing before the pandemic to paying for more than 65,000 hours of agency RN time in the first three quarters of last year – was so desperate that it resorted to offering four- and six-week schedules and onsite parking to agency nurses, leapfrogging staff nurses who had been told onsite parking was not available.
Still, Ms. Anastasiou said, "I don't think that this is a Quinte issue. I think Quinte, like many other hospitals, has just had to use the resources that are available to them because of what the province has done."
She was referring to Bill 124, a controversial law that capped public-sector wage increases at 1 per cent a year for three years, including for nurses. In November, a court struck down the bill, and the government is appealing.
Ontario Health Minister Sylvia Jones declined an interview request. Her office also declined to respond to e-mailed questions. Instead, Hannah Jensen, a spokesperson for the minister, sent a statement saying the government had increased the health care budget by more than $18-billion since 2018 and that "the proportion of agency nurses has decreased from 3.8 per cent in 2017 and remains to be under 2 per cent of total hours worked in hospitals."
Ms. Ariss of ONA disputes those figures. She said the data provided to the union show agency nurse hours and the proportion of those hours compared with staff nursing hours effectively tripled between 2016 and 2022-2023.