Our local MPP, Dawn Gallagher Murphy, is a Parliamentary Assistant to the Minister of Health.
For this she gets a top-up to her MPP's salary of over 14%.
Before being appointed by Ford as the PC candidate for Newmarket-Aurora Dawn Gallagher Murphy was invisible. Now she is absolutely everywhere. She is on Twitter and Facebook and every week she is smiling at us from our local on-line newspapers, posting happy ads, wishing us all well. When she is not opening things she is congratulating people. She is omnipresent.
Arbitration
So I am waiting to see if she will say anything about the arbitration award that gives nurses, on average, a pay rise of 11% over two years.
When she was elected last year she said Southlake would be her number one priority but, since then, she's had nothing to say about nurses' pay and the fact that it has been capped at a 1% increase for the past three years.
Today we learned an Arbitration Panel had found in the nurses' favour.
The Toronto Star reminds us that an Ontario court found Bill 124 unconstitutional late last year, but the government appealed.
"Even though that ruling is under appeal, the nurses were able to go back to the arbitrator to secure additional wages for 2020-2022 under the previous contract, since the contracts were subject to reopening if Bill 124 was repealed or declared invalid."
Righting Past Wrongs.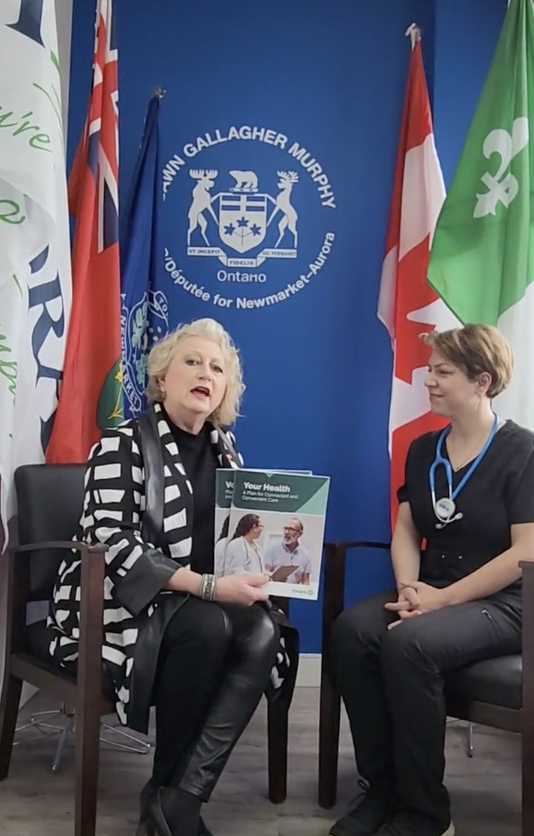 The President of the Ontario Nurses Association, Erin Ariss, RN, says:
"This decision is a first step to righting past wrongs, and bringing hospitals nurses' compensation up to where it should be. In his decision, Arbitrator Kaplan explicitly recognizes that improving wages is among the best ways to recruit and retain desperately needed nurses and begin to fix the nursing shortage. ONA members have been organizing across the province to push for better wages to improve staffing and patient care. This time, we were heard."
Dawn says Nurses keep us safe

In May, during National Nursing Week, an excited Gallagher Murphy posted this gushing video on Twitter thanking the nurses for what they do for us:
DGM: Dawn Gallagher Murphy here, your MPP for Newmarket Aurora. And happy National Nursing Week!
Nursing week is May 8th until May 14th and this year's theme is:
"Our nurses. Our future"
and I'm so excited to be sitting here with my dear friend and constituent, Ruth. And Ruth is a nurse. Nurses come in all kinds of forms. They work in our hospitals. In long term care. In our community. They work to take care of us and they help us in our health care to ensure that we are safe.
And I just wanted to ask Ruth what made you want to become a nurse?
Ruth: Really I just like helping people.
DGM: That to me says it all. So everybody thank you nurse. Because I'm thanking Ruth for everything she does to take care of us.
Ruth deserves her pay rise
Personally, I think Dawn should thank Ruth by telling her she welcomes the decision of the arbitration panel. Ruth deserves a pay rise.
Dawn could even tweet about it.
This email address is being protected from spambots. You need JavaScript enabled to view it.
See also: Dawn Gallagher Murphy's "free BBQ and Corn Roast" cost the taxpayers $11,000
Update on 24 July 2023: from the Globe and Mail: Ontario spending on private nurses soars since COVID 19.
See also my blog (from September 2021): Southlake and Agency Nurses