Newmarket-Aurora MPP, Dawn Gallagher Murphy, charged the cost of her "Free BBQ and Corn Roast" to the taxpayers.

The event on 16 October 2022, billed as a thank you to the community, cost $11,160.50 which was reimbursed by the Ontario Legislative Assembly.
Gallagher Murphy was first elected in June 2022. She was appointed by Doug Ford as the PC candidate for Newmarket-Aurora on the same day – 4 March 2022 - as Christine Elliott announced she would not be standing in the Provincial election.
The rules allow MPPs to host events in their ridings and be reimbursed for expenses where the event is open to the public and is "non-partisan and non-political". The relevant rules are here.
Totally indefensible
Personally, I think this kind of "thank you to the community" bankrolled by taxpayers is totally indefensible. If she wants to pay for a huge free BBQ out of her own pocket that's a different matter entirely. But I don't want my tax dollars paying for a publicly funded knees-up celebrating her arrival as Newmarket-Aurora's new MPP.
I am left wondering if there is a cap on the amount that can be spent on any single event and if there is a cut-off date before the next scheduled election where these events are impermissible.
Gallagher Murphy says these free BBQs and corn-roasts are to become annual events.
Figures don't add up
Elsewhere… I wrote to Dawn Gallagher Murphy on 14 February 2023 about a discrepancy in her Campaign Candidate Return which she filed with Elections Ontario on 30 November 2022.
Her Statement of Expenses at line 034 shows that $5,228.60 was spent on "Meetings Hosted". Yet in Schedule 6 (List of suppliers) the total amount paid to suppliers of "food" for the expense "Meetings Hosted" is $8,228.11.I asked Gallagher Murphy why there is a difference of $2,999.51 between the two figures. She ignored me. So I asked the Campaign's chief financial officer, Blake Koehler, and the Riding President, Teresa Kruze, for an explanation but, again, there's radio silence.
Auditors recall email
One week ago I wrote to the Gallagher Murphy campaign auditors – Impact CPAs LLP down in Richmond Hill.
I received a reply which gave certain figures. Then minutes later a second email came winging in telling me the auditors
would like to recall the message, "The Candidate Compliance Return (CR1) of Dawn Gallagher Murphy filed with Elections Ontario on 30 November 2022".
I wait to hear from them.
You can read my letter to Dawn Gallagher Murphy by clicking "read more" below.
This email address is being protected from spambots. You need JavaScript enabled to view it.
Note: Candidates for election to the Provincial Parliament must submit details to Elections Ontario showing how much money they raised and what they spent it on.
Below: from Dawn Gallagher Murphy's Expense Claim:

Update on 16 March 2023: From Newmarket Today: MPP's Barbeque Expense is the top expense of all MPPs
Tuesday 14 February 2023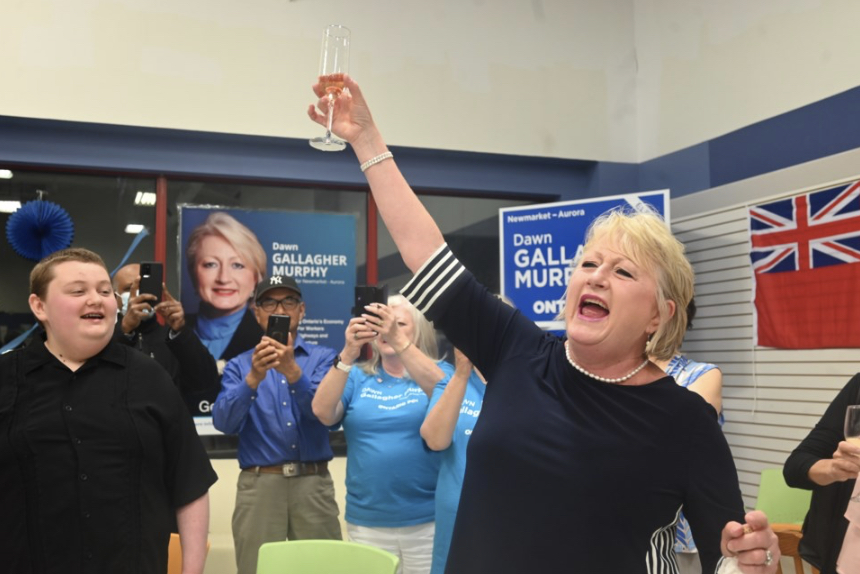 By email and by Canada Post
Good afternoon Dawn
Your Candidate Campaign Return (CR-1)
I hope you are well.
I have read your Candidate Campaign Return (CR-1) submitted to Elections Ontario and I wonder if I could ask you one or two questions about entries which perplex me? There are two areas I should like to focus on – (1) Meetings Hosted and (2) Signs. I take these in turn.
Meetings Hosted
I notice that you did not complete Schedule 4 giving details of "Meetings Hosted".
The candidates' guide to CR-1 says
"The supporting schedules are an integral part of the financial statements. It is important that each schedule agrees with the primary statements as required.
Supporting schedules should be completed first as they are used to populate the primary statements. Amounts are rounded to the nearest dollar"
The only expense for the meetings you hosted is food. Your Statement of Expenses shows an expense of $5,228.60 at line 034 and in Schedule 6 the following are listed under the expense heading "Meetings Hosted"
Description of Expense Supplier Amount
Food Molisana Bakery $367.25
Food Wicked Eats $947.72
Food MrCorn Ltd $1,356.00
Food 180 Drinks $2,397.86
Food A Million Mouthfuls $3,159.28
This totals $8,228.11 for expenses for Meetings Hosted.
Can you explain why there is a difference?
The Guidance says:
Each social function and/or meeting must be reported separately on Schedule 4.
Provide complete details of the date, type of function, location and gross revenue. If there are additional events to report, include with your filing a copy of Schedule 4 completed as necessary or attach another sheet in a similar format.
Meetings Hosted
This includes all expenses related to meetings, such as advertising, printing, postage, hall rental or refreshments.
Your Statement of Income shows that these meetings which you hosted were not fundraising events. Nevertheless, can you tell me the dates and times on which these meetings took place and, in each case, the venue?
And why was Schedule 4 left blank?
I now turn to the matter of election signs.
Campaign Signs
Elections Ontario guidance for candidates says expenditure on signs should go in line 043 in the Statement of Expenses from May 4, 2022 to September 02, 2022. The guidance says expenditure on signs
"includes all payments for sign design, printing, distribution etc. This account should not be adjusted for changes in inventory."
Line 043 shows you spent $820.37 on signs in this period.
Line 033 in your Statement of Expenses shows the inventory of campaign materials at the start of the campaign period which was transferred to you. This shows the figure $9,516.84 which is taken from Schedule 7 line 701.
This figure is broken down in Schedule 7:
Description Date Acquired Supplier Unit value Quantity Total Value
Signs 9 February 22 Lakefront GT $4.3557 1,200 $5,226.84
Signs 9 February 22 Lakefront GT $14.3000 300 $4,290.00
The signs were acquired before you were appointed as the candidate.
On 17 February 2022 the Newmarket Aurora Riding Association said Christine Elliott was running in the June 2022 election. On 4 March 2022 Ms Elliott said she was not running. At the time Newmarket Today reported:
"The Ontario Progressive Conservatives announced March 4 that Dawn Gallagher Murphy would take over the nomination from Newmarket-Aurora MPP and Minister of Health Christine Elliott. The long-time official had announced she would not run for re-election that same day."
Can you tell me a bit more about the signs that were acquired on 9 February 2022. Were these generic "Vote Progressive Conservative" signs? Or were these originally Christine Elliott signs which were subsequently redesigned when you became the candidate?
Would you let me have a copy of the invoice from the supplier?
Again, on Schedule 7 we see $9,516.84 for signs (line 701) but $0 in line 703 for closing campaign goods and materials.
The Elections Ontario guidance says:
"The amount of opening inventory and prepaid expenses transferred to the campaign as shown on Schedule 7 should agree to the statement of income and expenses, while closing inventory as shown on Schedule 7 should agree to both the statement of assets and liabilities and statement of income and expenses."
Your list of Assets and Liabilities as of September 2022 shows at line 004
"Inventory of Campaign Materials (from Schedule 7 line 703)…. $0.00"
Does this mean your election signs were thrown out after the campaign?
There are three other references to signs in your Return:
Lawn signs, Town of Aurora, $270
Signs, Campaign Office, Fastsigns $1,045.37
Signs, date originated 23 February 2022, Supplier: Town of Newmarket: $300
The campaign office sign seems self-explanatory but can you tell me what the Aurora and Newmarket sums are for? Are these sign deposits or what?
I have been in touch with Elections Ontario about these matters and while they do compliance reviews to ensure compliance with the Election Finances Act they advised me to contact you, the association or Party for sight of the supporting documentation I requested.
If it would be easier, I am more than happy to come to your constituency office where you would be able to walk me through your Campaign Return taking my questions as we go along. I look forward to hearing from you.
Gordon Prentice
____________________________________________________
Members can host events in their riding, if the events are:

non-partisan and non-political
open to the public
free of alcohol
Expenditures covered for hosting events include but are not limited to:
refreshments (coffee, tea, pop, juice, etc.)
light foods (sandwiches, muffins, doughnuts, cakes, barbecue items, fruit and vegetable platters, etc.)
certificate of insurance
entertainment
space and equipment rentals
advertising
The Legislative Assembly will not cover expenditures for constituency events if:
any of the costs are shared or funded by a riding association
a public or private organization has provided financial support or shared in the costs in some way
any fundraising activities are held or monetary donations are collected
the event is for invited guests only
there is a cost to attend the event