What is this all about and why is it important? Live video streaming of York Region meetings could be more than a year away because there is no funding for it in next year's Budget. The current chair, Wayne Emmerson, doesn't like the cameras so he sabotaged moves to get live streaming up and running sooner rather than later. So there will be no news clips on television in 2017 from the Council Chamber informing us what the region is up to. Screens across all media platforms will be blank. And in 2018, for the first time ever, there will be a hugely important region-wide election for the regional chair. Now read on...
This morning York Regional Council approved a Budget which includes total operational spending of $2,097 million in 2017. Capital spending is budgeted to be $942 million next year with projected capital spending of $6.1 billion out to 2026.
By any measure, York Region is a behemoth when it comes to spending.
So it is more than unfortunate there is no video record of who said what. There is a live audio feed - a rather quaint innovation which, for Committees, is barely three months old. When the meeting is over the plug is pulled and what was said disappears into the ether forever.
But that is going to change. The Region has decided in principle to video stream. The question is when?
Sleeping on the job
We need live video streaming now - and a searchable archive to see who sleeps on the job, contributing nothing to the debates.
As it happens, a report on video streaming for Council and Committee meetings is on the agenda today but it pulls its punches. We are told amendments to the Municipal Act currently before the legislative assembly may
"permit Council members to participate electronically in public meetings"
and
"if the amendment is enacted, additional renovations to the Council Chamber might be required to allow for electronic participation. There is the potential to reduce overall renovation costs for the Council Chamber f the video streaming and electronic participation renovations are completed at the same time."
You wanted a cadillac
Wayne Emmerson, the Regional Chair, didn't get to where he is today by relying on fancy technology. Or a pretty face.  He did it the hard way. Making deals and stitching things up.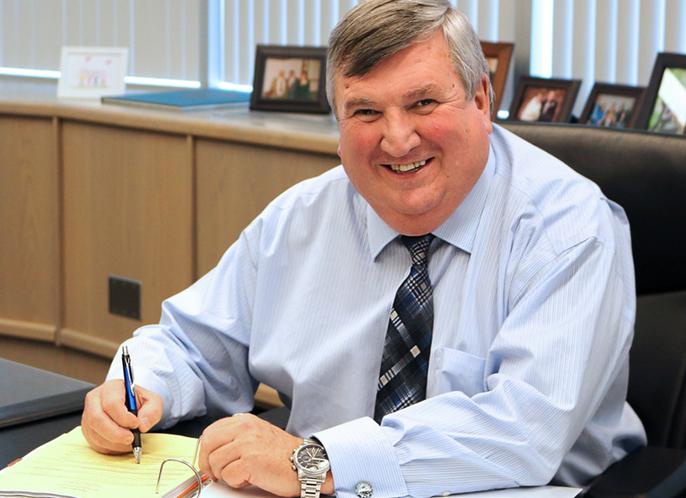 He tells his startled colleagues that the cost of installing video streaming would be in the order of $500,000. I hear a collective sharp intake of breath.
And, he says triumphantly, there is nothing in the Budget!
"But you wanted a cadillac..."
He says video streaming is a big deal. It's like putting on a show! The old lights in the Council Chamber would have to be ripped out and new brighter ones installed so viewers at home could enjoy watching their councillors in high definition. (I made the last bit up.)
Quality is an issue
Dino Basso, the Commissioner for Corporate Services, says these are only preliminary estimates but he reminds members they wanted a good viewing experience and that requires proper state-of-the-art lighting.
"There are cheaper versions but the quality may not be as good."
Basso, now increasingly assertive, tells them:
"Let's do it once and let's do it properly."
Newmarket's John Taylor who has been pressing for live streaming for a while seems to be caught off guard.
"The cost here seem immense compared with other municipalities."
He wants to know how the $500,000 splits between operating and capital expenditure.
All eyes turn to Bill Hughes, the regional treasurer, who knows where every cent goes. But in this case, unusually, he is foxed. There is more work to be done. He needs more information.
The ever-accommodating Taylor says he is prepared to be patient. Markham's Nirmala Armstrong is also surprised at the cost but she too will wait. Richmond Hill's Vito Spatafora - never one to rush into things - says they should do nothing until the legislation is passed that mandates the direct election of the regional chair.**
This leisurely timetable suits Wayne Emmerson who is now smiling.
He reassures them video streaming will happen.
"If it's in 2018 that's fine."
This email address is being protected from spambots. You need JavaScript enabled to view it.
*  Bill 68 will also force York Region to bring in a Code of Conduct for members. At present it chooses not to have one on the grounds that it would duplicate the Codes of Conduct in its constituent municipalities. As I tap this out I am thinking of Vaughan's Michael Di Biase.
** The Province is now legislating to force the Region to have a directly elected Chair from 2018 (the position has always been indirectly elected by Council members) and the present incumbent, Wayne Emmerson, has already declared his candidacy.
The Building Ontario Up for Everyone Act (Budget Measures) 2016 says:
The (Municipal) Act is amended by adding the following section:
Head of regional council
   218.1  (1)  On the day the new council of a regional municipality is organized following the regular election in 2018, the head of council of a regional municipality shall be elected by general vote in accordance with the Municipal Elections Act, 1996.
Another report on video streaming is expected to go before York Regional Council by March next year.
---