Sunday 11.30am
Paul Calandra's views on direct elections for chair of York Region is fake news.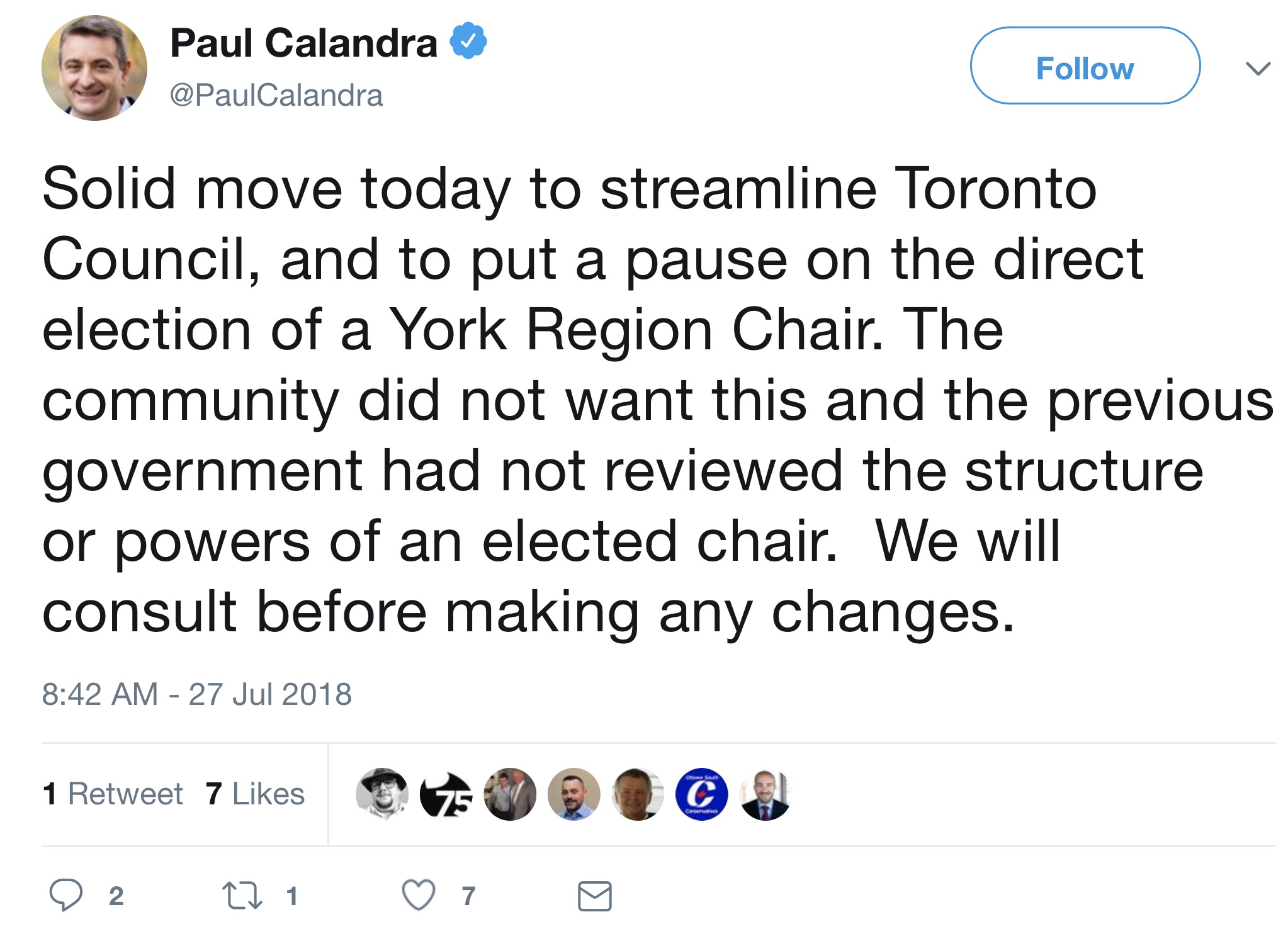 The Progressive Conservative MPP for Markham-Stouffville says it was a solid move to streamline Toronto Council and put a pause on the direct election of a York Region Chair.
He says wants to consult on the latter but not on the former. He claims:
"the community did not want this."
Where is the evidence for this assertion?
This is straight out of 1984.
Ford should appoint Calandra to run a new Ministry of Truth. He would be at home there.
The former Liberal MPP for Newmarket-Aurora, Chris Ballard, insists support for the direct election of York Region Chair came from across the political spectrum:
"(My Private Members' Bill 42) received unanimous support by all Parties before being sent to an all-party committee for consideration. At committee, residents of all political stripes came forward to testify in support of my Bill.
Previous versions of my Bill 42 had been introduced by York Region MPPs Reza Moridi and Helena Jaczek. They, too, had received all-party support, including from my predecessor, Frank Klees, a Progressive Conservative. Julia Munro, Progressive Conservative MPP for Simcoe North spoke in support of my Bill in the Legislature, as did MPP Gila Martow, Progressive Conservative, representing Thornhill."
The PC MPP leading for the then Opposition, Ernie Hardeman, (now Minister of Agriculture, Food and Rural Affairs) said in Committee on 24 February 2016:
"I support the bill 100%, and I do hope that we can get it through as quickly as possible."
and on 2 March 2016:
"… we all have to accept that there's a cost to democracy. To talk about what's the best way to elect a regional chair, to put it on the cost of doing it, doesn't make a lot of sense to me. Obviously, if we really believe that, then why don't we just have eight-year terms instead of having four-year terms? You could save half the money by doing that. It doesn't make any sense."
Hardeman – the PC's wise old owl - shouldn't give Ford any ideas.
This email address is being protected from spambots. You need JavaScript enabled to view it.