Why on earth does the convicted fraudster Conrad Black want to return to the United Kingdom to reclaim his seat in the House of Lords?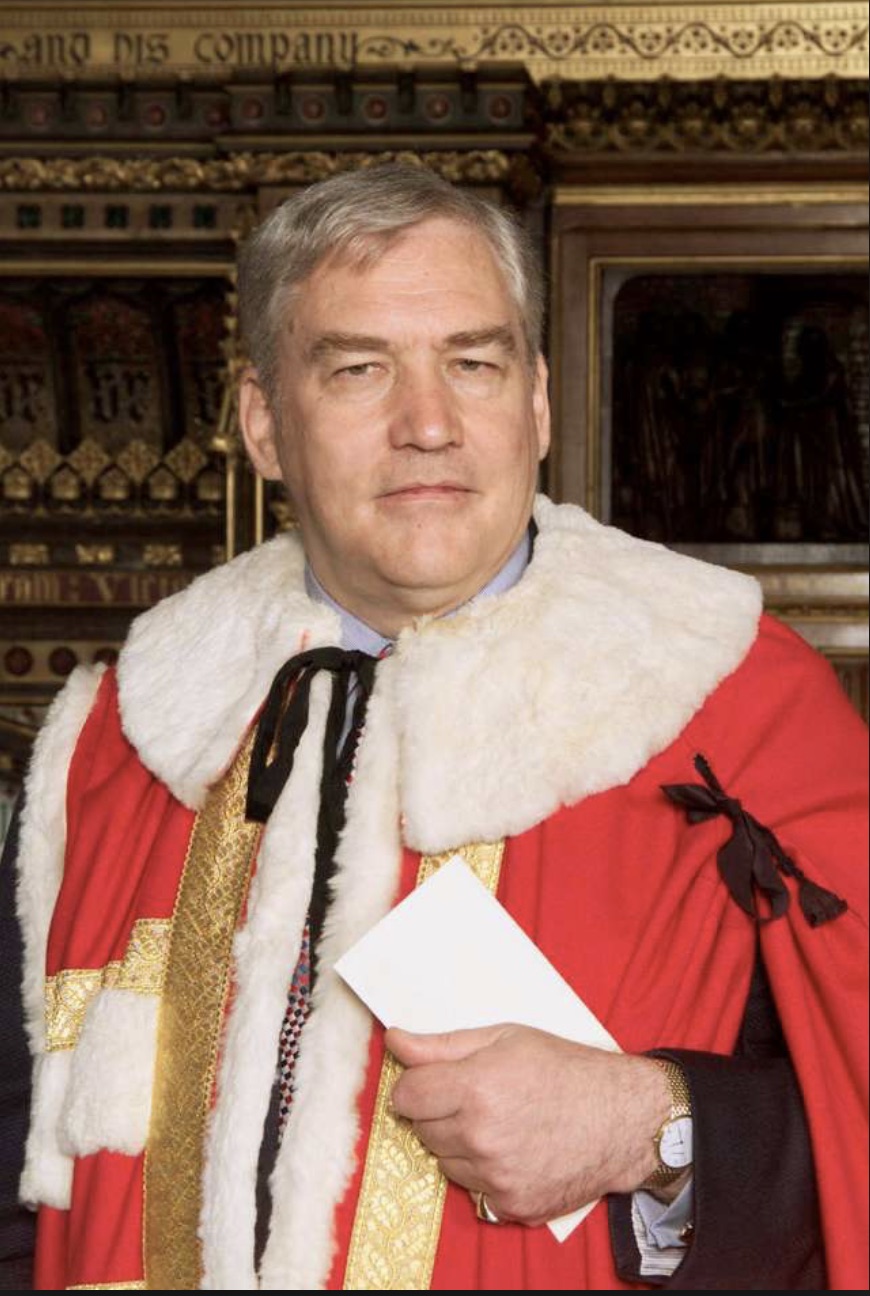 Does he just like dressing up? Or has he got something to say?
Black has been on leave of absence from the House of Lords. To get back he needs to give the Clerk of the Parliaments three months notice that he intends to sit in the Lords again.
The BBC recently reported that Black was planning a return to the House of Lords for the first time since he was convicted in 2007.
"Lord Black said he had already planned to retake his seat after being released from prison but the presidential pardon "makes it easier"."
The reporter points out:
"Your co-defendants convicted of the same crime (Richard Boultbee and Peter Atkinson) did not receive a pardon."
And Conrad Black replies:
"But they haven't asked for one… I don't see why they don't apply for one."
Pardon me. Pardon them.
I suppose His Lordship could make a recommendation to Trump, to pardon them as Trump pardoned him.
Eric H. Sussman, who prosecuted Conrad Black, told readers of the Financial Post that the presidential pardon is a mockery of justice:
"The pardon lays bare the fact that justice in Donald Trump's America is unapologetically linked to who you know and how much money you have."
Sussman says he was saddened but not surprised that Trump decided to pardon Black for his theft of millions of dollars from public shareholders and obstruction of justice.
"Nothing betrays the mockery that President Trump has made of our justice system more than the fact the Black's co-defendants, Richard Boultbee and Peter Atkinson, Canadians who were convicted by the same jury, at the same trial, of the same fraud crimes as Black, did not receive any pardon consideration from President Trump. They remain convicted federal criminals with no pop singers or right-wing pundits to vouch for them."
In fact, Black did not go through the usual channels (ie the US Department of Justice) to apply for his pardon. He lobbied the White House directly through Alan Dershowitz, the Harvard law professor who is one of Trump's staunchest defenders.
The Washington Post reported on 23 May that:
"Conrad Black (had) enlisted one of Trump's biggest on-air defenders, Alan Dershowitz, to get the president's attention."
And it worked.
Black has refused to send me the Report from the White House Counsel's Office which allegedly persuaded Trump to issue his pardon. So I asked the Office of the Pardon Attorney for a copy. They tell me:
"We have received your correspondence requesting a copy of a report alleged to have been created by the Office of White House Counsel related to Conrad Moffat Black, who was granted a Presidential pardon on May 15, 2019."
"Please be advised that Mr. Black did not submit a pardon petition through the Department of Justice (the Department), so we are unaware of and cannot confirm or deny the existence of the records used by the President to make the above-referenced clemency decision."
Black's contributions in the House of Lords
Black joined the Lords on 31 October 2001.
In his maiden speech on 15 May 2002 Baron Black told his fellow peers:
"My Lords, it is a privilege to be here. After the tortuous course that I pursued getting to your Lordships' House I would be remiss if I did not thank the former Leader of the Opposition and the Prime Minister for their kind persistence on my behalf…"
Next up is Viscount Slim who says it is a great privilege to hear from Lord Black:
"We hope to see him here often. I congratulate him on a marvellous maiden speech."
We hope to see him here often!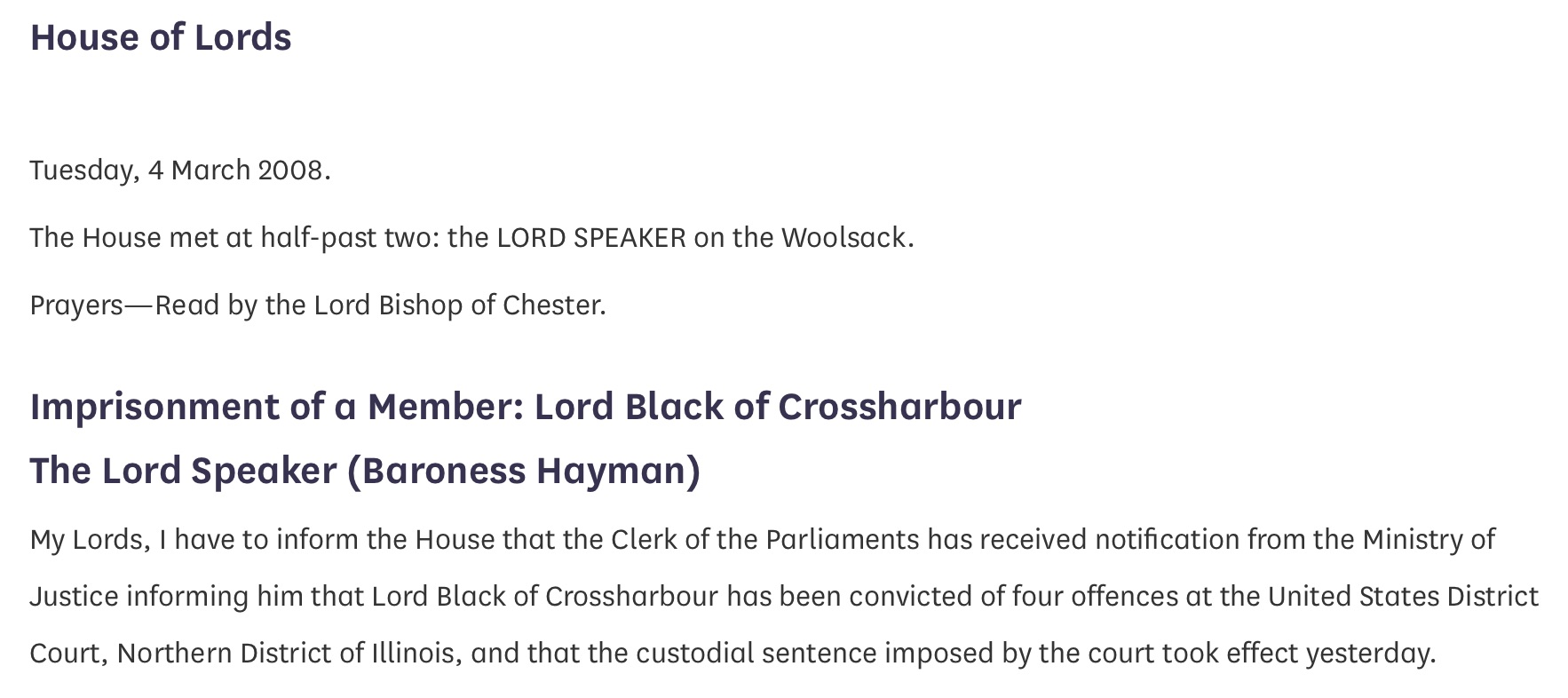 In all his many years as a member of the House of Lords Conrad Black has spoken twice. (The second occasion was on Iraq on 28 November 2002.)
Isn't it an impertinence to allow someone like Black, a convicted fraudster, to be part of the UK's legislature, making the laws for everyone else?
Criminal Record not "expunged" by Trump's pardon
To be clear, Black's criminal record is not expunged by Trump's pardon. Only a Court of Law can expunge a criminal conviction.
New rules set out in the Standing Orders of the House of Lords, agreed in 2015, make provision for the expulsion or suspension of a member but these are not retrospective. He is a peer for life and has been registered to sit as a cross-bencher (or independent) since the Conservative whip was withdrawn in 2007 on his imprisonment.
In the House of Commons the rules are different. A jail sentence of a year or more for an MP means automatic expulsion.
Despite everything Lord Black of Crossharbour retains his title and his privileges and his trade-mark braggadocio.
When he eventually stirs himself and returns to the House of Lords I am left wondering what his third speech will be all about.
This email address is being protected from spambots. You need JavaScript enabled to view it.
Black renounced his Canadian citizenship in 2001 to get into the House of Lords. On his release from prison in the United States in 2012 he was allowed into Canada on a temporary residence basis. He is still here.