Full Disclosure: I've known Yvonne Kelly for many years. She has been active in the NDP and in community politics more generally for as long as I can remember. She was the NDP candidate in Newmarket-Aurora in the 2015 Federal Election.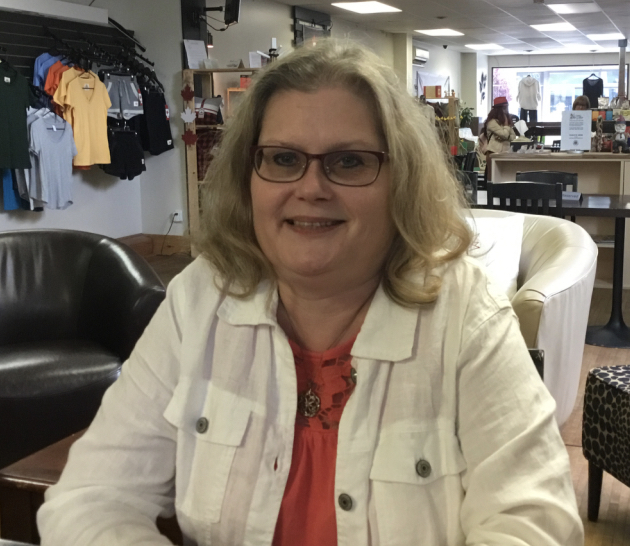 It's Tuesday morning and I am waiting for Yvonne to join me for a cup of coffee at the A Hui Hou Coffee Shop on Main Street South. It used to be a bookshop and, in the distant past, a Bowling Alley. They serve great coffee.
I am chatting to some people about this week's big event, the Candidates' Debate at the Old Town Hall in Botsford Street this Thursday (26 September 2019) from 7pm-9pm. It is open to all and is free. Climate change was the original focus but it will now cover pretty much everything.
Empty Chair
The Conservative candidate, Lois Brown, will be absent though I am told she was invited back in June. All the other candidates are expected to be there, leaving an empty chair for Lois in the hope she will have a last-minute change of mind and participate. I hope so.
Now I see Yvonne coming in and she joins the conversation. She is very much a "people person" and has an easy manner.
Her election calling card tells us she is a Community and Partnership Developer with the York Region District School Board and co-chairs the Region's Social Planning Council. She also chairs the Social Planning Network of Ontario.
Election platform
But I already know all that. This morning I hope to find out how comfortable Yvonne is with the NDP's election commitments which are bold, wide-ranging and expensive. How they are going to be paid for? (The Parliamentary Budget Office costs the Parties' election proposals.)
And, crucially, what are the key issues for voters here in Newmarket-Aurora?
We talk about the forthcoming candidates' debates at the Aurora and Newmarket Chambers of Commerce. Sure, she will be talking to people who run businesses but she says they wear other hats too. Maybe they are parents with children in school. Or have health issues. She believes we should be wary of putting people into silos – business people have lives outside their businesses. I get the feeling she will be coming out fighting in the Chamber debates, calling on the business community to look at the bigger picture.
Everyday Canadians
I point to the NDP leaflet in front of me which talks about "everyday" Canadians and ask her if she is one. She laughs. Yes. It is shorthand for people who sometimes struggle to make ends meet and don't have a fortune to fall back on. She says $70,000 a year in York Region doesn't go far if you have to spend 30%-40% of your income on housing.
Affordable housing is one of the big issues in this election and I press her on the NDP's commitment to tackle the housing crisis. They say they will do this:
"by taking on the money launderers and real estate speculators, making it more affordable to buy or rent. And we'll make sure Ottawa is in the business of building affordable housing again – across the country".
But how exactly will this work in practice? By having a national housing strategy. She says that's nothing new. Canada used to have one.
Back to the future? I suggest. And she laughs.
Affordable Housing a top priority
She talks about the difficulties of finding an affordable place to stay if you are in precarious employment. About young people "couch-surfing". About the difficulty of getting by on the minimum wage.
I remind her what former MPP Chris Ballard said during the last provincial election; that people on the minimum wage don't keep their money off-shore.
She agrees. They spend what they earn, locally.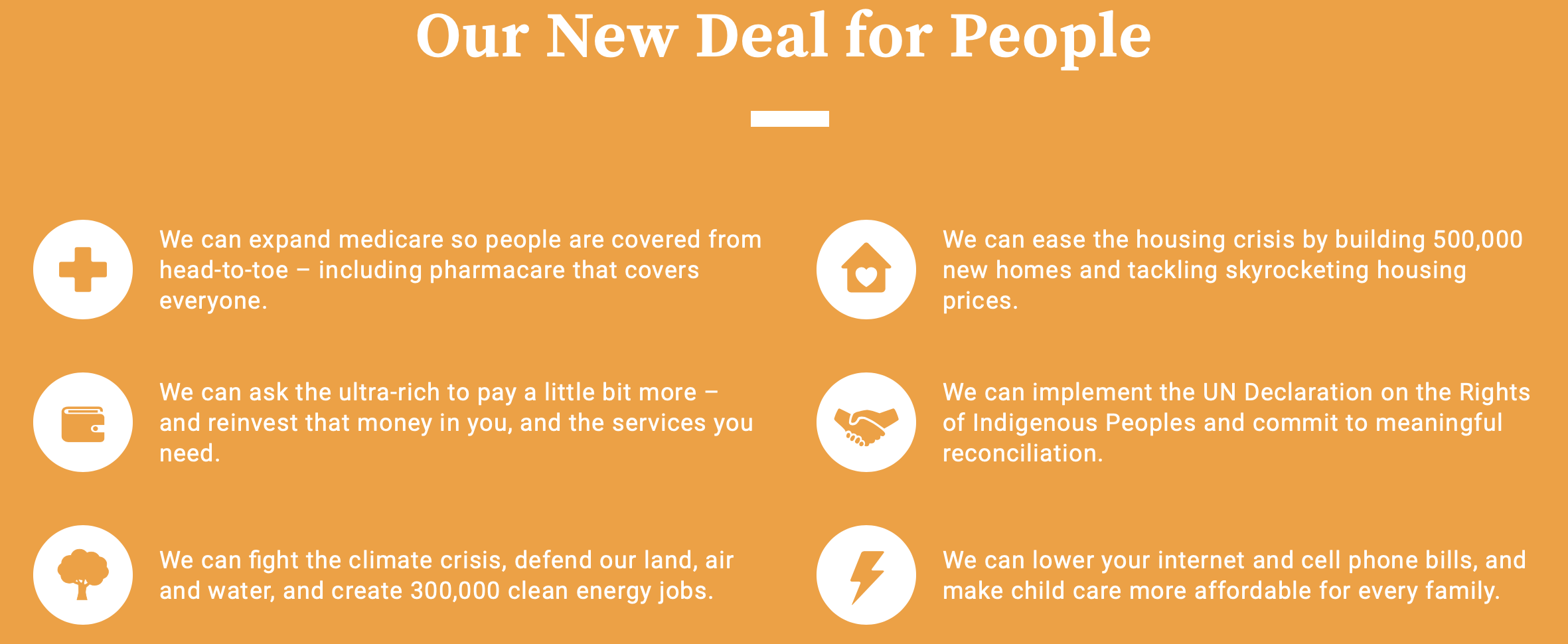 I point out the arresting statistics in this morning's Toronto Star. In 2016, the 87 richest families in Canada had a total net worth of $259 billion. This is nearly the net worth of every person living in Prince Edward Island, New Brunswick and Newfoundland and Labrador put together. I ask if she is in favour of a wealth tax – she is - but I suggest it could be known by another name that wouldn't scare the horses, perhaps "hyper-wealth tax". It would only catch people who are stratospherically wealthy.
The argument that the hyper-rich would leave a safe rule-of-law country like Canada for somewhere more amenable is, at least to me, completely bogus. The list of attractive alternatives to Canada is very short.
Like the Green's Walter Bauer, Yvonne says it is time to crack down on the tax evaders.
She talks about the difference between "spending" and "investment" and how the word "taxation" is so often viewed as a bad thing. She says people and parties on the right have been very successful in persuading people that tax is a four letter word. Tax cutting is portrayed as a good thing - even if it means underfunded public services with needs going unaddressed and unmet, costing us all more in the long term. She reels off a list of examples.
Pharmacare
I suggest people have got to feel they have a stake in social programs if they are going to support increased spending. People who are moderately well-off may feel the NDP spends too much time talking about people who are not like them. She says that's why universal programs like Pharmacare – a centrepiece of the NDP platform - are so important.
Yvonne grew up in Saskatchewan, in and out of hospital all the time with asthma. She knows from personal experience the importance of high-quality healthcare for everyone, when they need it.
Elections are dominated by the polls, who is up and who is down, and the narrative that creates. There is a two-horse race between the Conservatives and the Liberals and then there are the also rans, the Greens and the NDP. Given that reality, how do the smaller parties capture public attention and break through?
She says she is in the election to win, reminding me that in last year's provincial election in Newmarket-Aurora the NDP took almost a quarter of the vote, coming second with the Liberals trailing in third place.
Yvonne says the NDP program looks ahead 10-15 years. Obviously, there are commitments for the here-and-now but they are also looking "generations out".
Now we are on to climate change and its imperatives. We talk about the riveting speech by the Swedish 16 year old, Greta Thunberg, at the United Nations.
Jagmeet Singh
I ask Yvonne if Jagmeet Singh pulls his punches just like all the other politicians. Yesterday I heard him promise no new pipelines without buy-in from the Provinces – even though pipelines which cross provincial borders are a clear Federal responsibility. I suggest this is like Justin Trudeau refusing to take action on handguns, passing the buck to cities to impose their own restrictions. (If they are allowed to by their own Province.)
Yvonne looks disappointed and nods. She didn't see the clip but heard others talk about it. I sense there will be more to come on this.
It's not just about Party leaders
We tend to think of election choices in terms of the Party leaders and their programmes for Government. But local candidates can make a difference.
Elected officials have name recognition. Lois Brown has been around for years. Tony Van Bynen, who joined the Liberal Party a few months ago, was Newmarket's Mayor for over a decade. But is being an ex-MP or an ex-Mayor enough? Aren't there other factors that are more important than just being a name?
Is the candidate enthusiastic, energetic, persuasive with a coherent approach that is thought-through?
Can you trust them to do the right thing?
This email address is being protected from spambots. You need JavaScript enabled to view it.
Update: And here is Newmarket Today's interview, published on 25 September 2019.