PACE Credit Union has been good to former MPP, Frank Klees, who represented Newmarket-Aurora in the Provincial Parliament for 19 years from 1995 – 2014.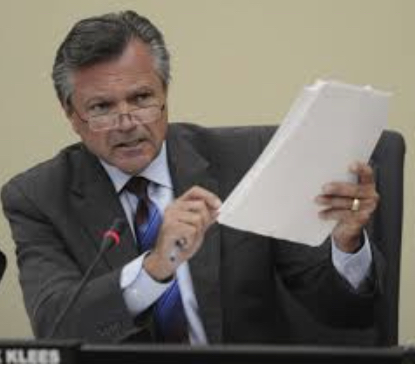 On 19 March 2014, just six weeks before stepping down as an MPP, he welcomed important visitors to Queen's Park, giving in his own words "special recognition" to
"Mr. Larry Smith, who is the CEO of Pace Credit Union, as well as the CFO of that great organization, Mr. Phillip Smith."
A detailed investigation of the two Smiths in the Globe and Mail on 23 November 2019 paints a less benign picture of the father and son duo who allegedly committed civil fraud with years of secret payments. The father, Larry, had been running the show as Chief Executive for 28 years and his son, Phillip, succeeded him in 2015. Clearly, PACE, based in Vaughan, was a family affair.
The Deposit Insurance Corporation of Ontario started investigating last year and fired the Smiths.
Financial journalist James Bradshaw writes:
"Larry Smith…arranged loans and business deals, as was his job. But Mr. Smith and a number of his family members and associates – including one former provincial cabinet minister – also pocketed millions in "consulting fees" and other benefits in connection with those deals, according to an extraordinary set of allegations levied by a financial regulator."
Millions in commissions
The cabinet minister in question is, of course, Frank Klees who, as a hired hand, took millions in commissions before joining the PACE Board in May 2018.
The Globe and Mail tells us Klees was a long-time friend of the Smith family.
"In 2013, before Mr. Klees left politics, he signed a consulting contract with PACE, approved by Larry Smith. It paid Mr. Klees a $5,000 monthly retainer in its first year and promised him a percentage commission on loans or joint ventures that he helped arrange for the credit union."
But after Klees retired from politics his income (presumably) ballooned:
"Between 2015 and 2018, Mr. Klees collected nearly $2.8-million in payments for consulting work on two joint ventures between PACE and Geranium, according to court filings. Some of the payments were made by PACE, as shown in invoices he submitted, for amounts ranging from $169,500 to $678,000. Mr. Klees also invoiced JLG Consulting, Mr. Giampietri's company, for $339,000 for consulting services."
When Klees joined the PACE board of directors he was getting around $12,500 a month for his work. But the regulator raised a red flag, pointing to a possible conflict of interest with his primary duty as a Board member - looking after the interests of the depositors.
Sourcing and facilitating
What is not in doubt is that Klees was raking in the cash, big style.
"As a consultant, my role was to source and facilitate real estate development projects between Pace, land owners and developers/builders… For those services, the parties with whom I had agreements were invoiced by my company for fees commensurate with the services delivered."
I am left wondering how many real estate development projects Klees facilitated here in Newmarket, if any. I'd love to know.
But I suppose it is none of my business.
I am just endlessly fascinated by the millions of dollars people make by "facilitating" things.
PACE was, of course, heavily involved with the Slessors and with Bob Forrest when he took out a mortgage on his Clock Tower property but I've no idea if Klees was involved in any way.
This email address is being protected from spambots. You need JavaScript enabled to view it.
Update on 26 November 2019: Today's Globe and Mail takes the story further. Regulator adds former PACE credit union directors to lawsuit alleging negligence in "secret" payments
Update on 1 December 2019: Frank Klees and Places to Grow. My exchange with Frank in 2012.
Update on 27 May 2020: From the Globe and Mail. Ontario issues special orders to approve developers' plans and quash opposition.
"The developers, represented by lobbyist and former PC cabinet minister Frank Klees, have offered to create larger, enhanced wetlands nearby, with the blessing of the Toronto and Region Conservation Authority. But they say the province's Ministry of Natural Resources and Forestry, which also supports the plan, does not have the power to lift the existing protections quickly."
Update on 23 November 2020: From the Globe and Mail: Regulator takes over PACE after board resignations.