Big decisions on Regional Express Rail (RER) that will affect the shape of development in Newmarket for decades to come are likely to be on the agenda of the Metrolinx Board when it next meets on 28 June 2016.
But I could be wrong.
With Metrolinx we always get the dance of the seven veils. No-one can be certain what is going to be revealed next.
We still don't know, for example, what Metrolinx plans to do about grade separations at Mulock Drive (photo below) and Davis Drive. Both are needed. It is inconceivable that a fast rail service could operate through Newmarket with the old level crossings still in place, with their quaint bells and flashing red lights.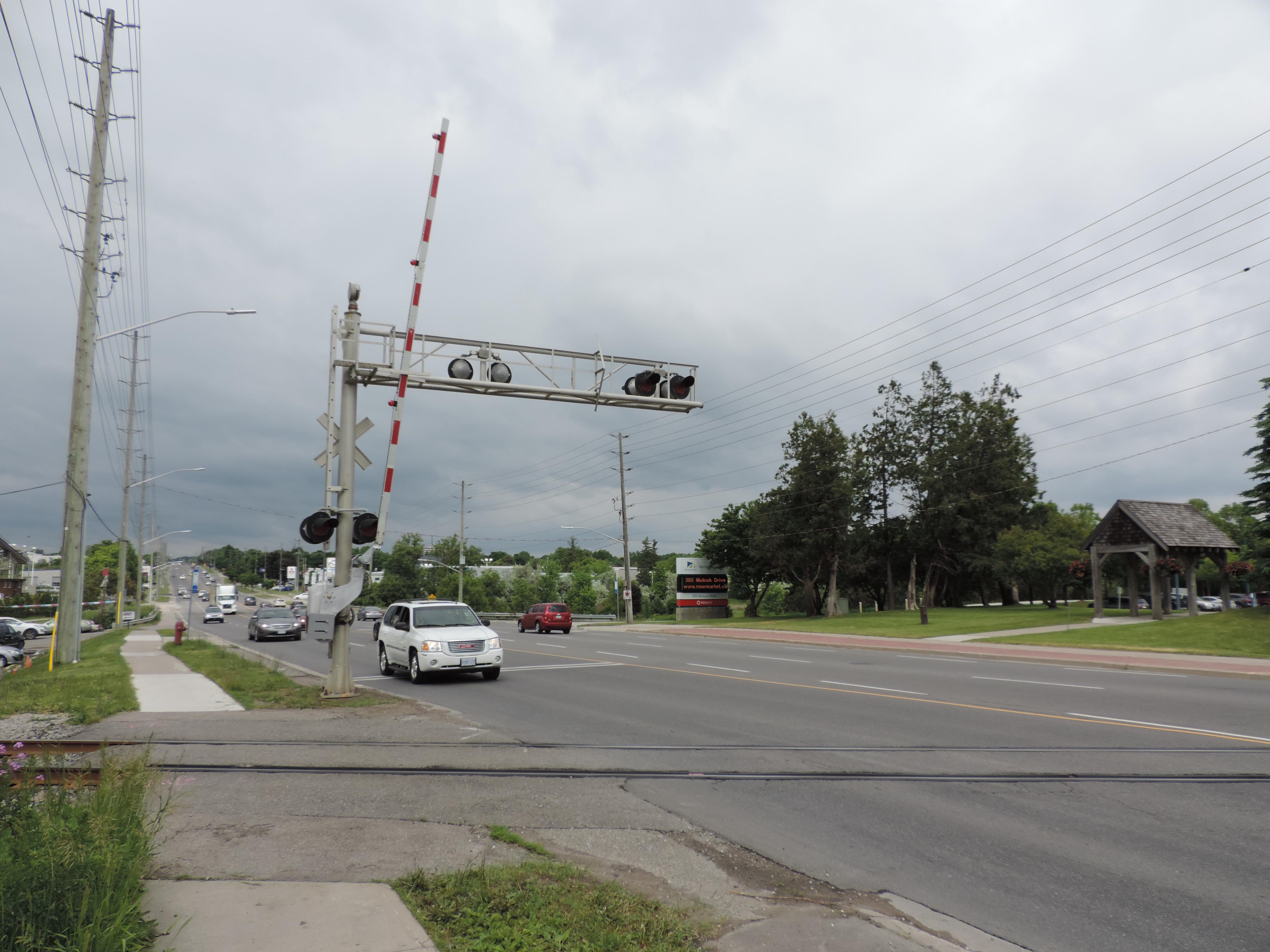 Transport Canada's guidelines set thresholds where rail/road grade separations may be warranted. If this "exposure index" (daily road vehicle traffic x daily train traffic) exceeds 200,000 then grade separation should be considered. Here are the current figures for three key road/rail intersections:
Mulock Drive           458,400
Davis Drive             396,000
Green Lane (EG)      464,400
And what is going to happen at Water Street and Timothy Street where the GO tracks cross local roads which are the responsibility of Newmarket, not the Region?
(And, to complicate things further, the Town is considering a new parking lot alongside the rail tracks at Water Street.)
A new GO rail station at Mulock Drive?
We still don't know if there will be a new GO rail station at Mulock Drive. I'd say fat chance.
The Town never did any work on the proposal which simply appears as a dot on a map.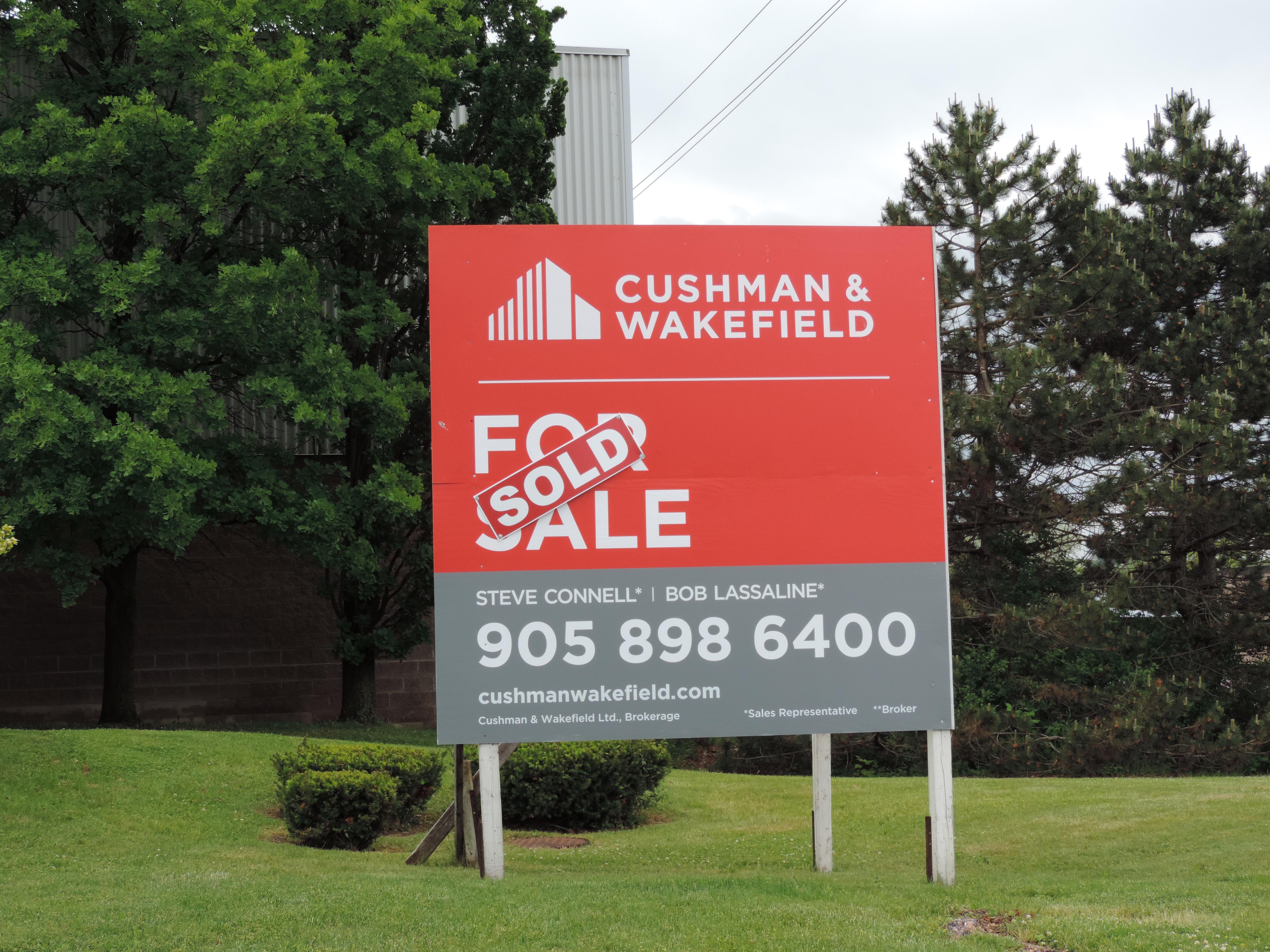 The land so identified as the most likely site for the new GO rail station was up for sale last year and has now been sold.
I would be truly astonished if the Town were the buyer.
The Town has shown absolutely no interest in acquiring the land.
(The question is: should I fork out $30 to the Land Registry – up from $8 - to have that confirmed?)
Regional Express Rail on the cheap
An update on RER progress that went to last week's York Region Committee of the Whole makes depressing reading. The report says:
"The Initial Business Case outlines Metrolinx's recommended service plan and infrastructure requirements for each of the GO rail corridors within the RER program including Barrie, Richmond Hill and Stouffville GO corridors in York Region….  It does not include all infrastructure required to mitigate the impacts of RER to the Regional transportation system or local communities."
Put simply, Metrolinx is trying to do RER on the cheap. The Region says:
"For Metrolinx to successfully deliver Regional Express Rail they will need to do more than expand existing GO rail service levels."
The Region has a shopping list of things that need to be done to make RER deliver the results as intended. There are 19 level crossings on Regional roads that need to be improved. There are overpasses and underpasses that need attention. There are new GO rail stations. And much more besides.
"Misalignment" between Metrolinx and the Region
In a delightful understatement, the Region's Commissioner of Transportation Services, Daniel Kostopoulos, told the Committee of the Whole on 9 June 2016 there was a "misalignment" between Metrolinx and York Region on key recommendations.
As yet, Metrolinx has only identified four level crossings in York Region where road/rail grade separation is promised: Rivermeade Road, Rutherford Road, Langstaff Road and Steeles Avenue. Not one in Newmarket though Metrolinx admits the exact number of grade separations has yet to be decided.
Regional staff and Metrolinx are looking at ways of sharing the huge costs of road rail separation and at new sources of finance. York Region staff expect a report to go to Council in the fall.
Elsewhere, unfortunately, the die is already cast for major elements of the RER program on the Barrie line.
Van Bynen throws in the towel
All-day two-way GO trains every 15 minutes will run from Union Station to Aurora. Newmarket gets a 30 minutes service in the weekday rush hour and then a 60 minute service during the day, in the evenings, and at weekends. There will be twin tracks to Aurora and then a lonely single track, with passing places, north to Barrie.
Our Mayor, Tony Van Bynen, never one to rattle the bars of the cage, meekly accepted this second fiddle service to and from Newmarket. On 9 November 2015 he told Metrolinx's Chief Planning Officer, Leslie Woo:
"In my own mind the difference between a 15 minute and 30 minute service doesn't change the world immensely although I think eventually we'll need to get there. But I'd rather see us easing into that, responding to the demand as we go forward."
That statement is entirely typical of the man.  If the difference between 15 minutes and 30 minutes is inconsequential, can the same be said of 15 minutes and 60 minutes? Because that's what we are getting outside peak periods.
Van Bynen is by temperament a cautious gradualist. He will never loudly and insistently bang the drum to get attention – even when the facts are on his side.
Newmarket is, of course, a designated place to grow which will see its population increase dramatically over the medium term. Over 30,000 new residents are expected in the Yonge/Davis corridors alone. And our neighbour, East Gwillimbury, will see the greatest percentage population growth in York Region hitting 95,000 people by 2041.
Not making the case for twin tracking north from Aurora – at the very least to East Gwillimbury - is a missed opportunity.
And a big one.
This email address is being protected from spambots. You need JavaScript enabled to view it.
---