Background: Last September Southlake Hospital in Newmarket announced that it would be eliminating 97 Registered Nurse positions because of "significant financial pressures". The hospital said it hoped to avoid "any frontline involuntary employment loss".
So what happened?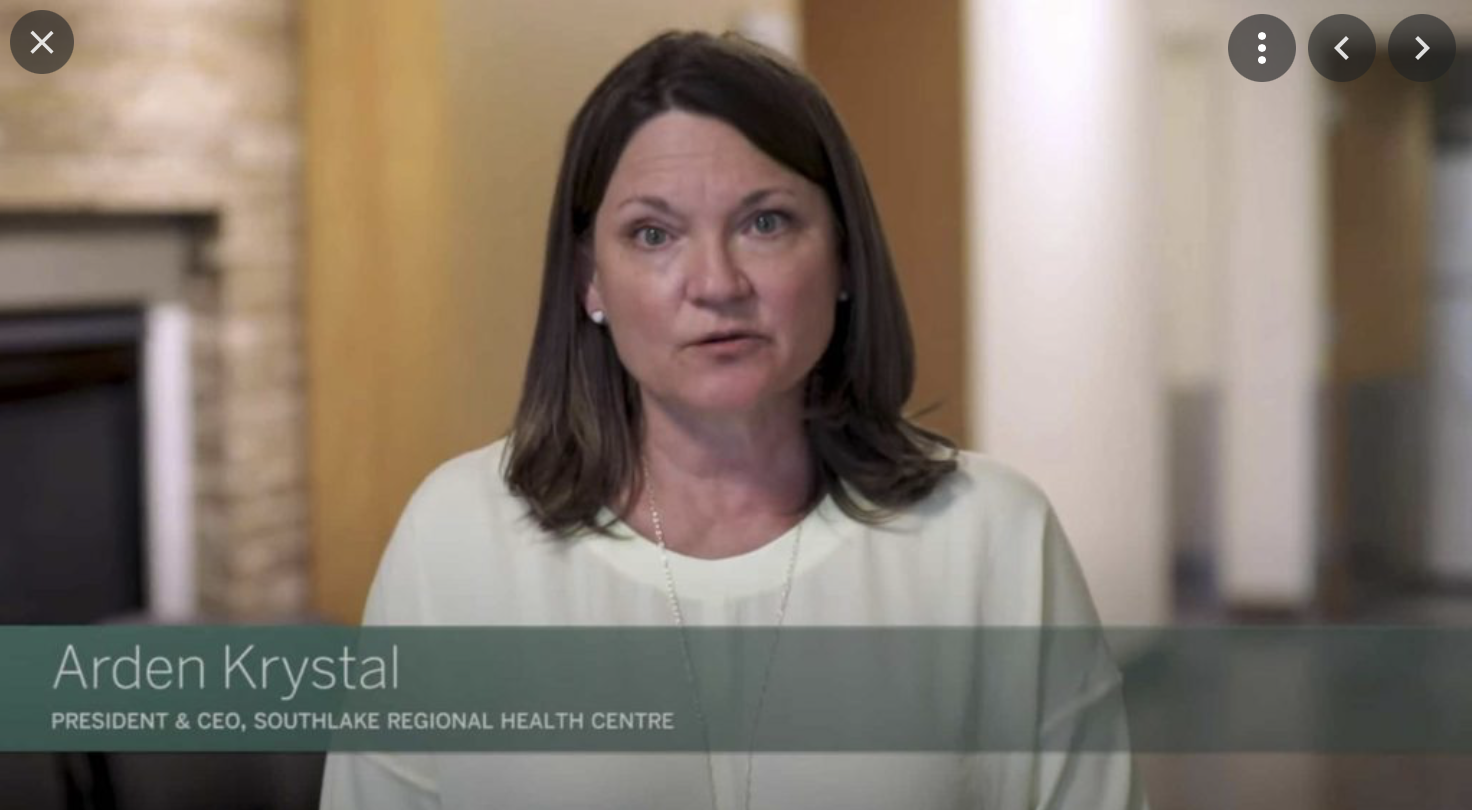 Southlake gets "one-off" bail out
Southlake Regional Medical Centre received an $18.5M one-off cash injection from the Province to help fund its day-to-day operations during 2020-21. The hospital has been in the front line, battling the Covid 19 pandemic.
Southlake's Annual General Meeting passed without fanfare on 23 June 2021when the Treasurer, Steve Hills, warned Board members that, despite the extra funding from the Ministry of Health, the hospital would be back in deficit next year.
Hills told Board members the Ministry funding was
"intended to help address working capital deficits accumulated in previous years. While this result is a positive step in addressing the structural financial challenges of the hospital, it was achieved largely off of one-time supports received in March 2021 and therefore does not represent a permanent solution. At this time, the Hospital is forecasting a deficit position for fiscal 2022."
"Not sustainable"
At last year's AGM on 17 June 2020 when he reported a deficit of $17,679,000 Hills said:
"The current financial position is not sustainable."
In his Treasurer's Report Hills says the Ministry of Health provided financial support throughout the pandemic.
"We were also fortunate to receive a combination of base and one-time operating funding and working capital support to assist with the ongoing financial challenges that pre-date and are unrelated to COVID."
"Team-based staffing"
The papers put before the Board last week make no mention of the cuts in the numbers of registered nurses other than the Treasurer's oblique reference to "team based staffing models".
Perhaps the hospital's Annual Report will shed some light on this but it has yet to be posted on their website.
While the hospital and its staff have worked heroically to protect us all from Covid, the pandemic has ensured things can never be quite the same. The hospital has to address increased wait-times arising from delays to treatments and postponed surgeries as well as dealing with
" expected challenges with health human resources as staff recover from an unprecedented year. These will be coupled with increased future demands for specialty staff as the health system tries to catch up for lost time.."
Burned out
Last year, Southlake's Chief Executive, Arden Krystal, told the House of Commons Health Committee that dealing with the pandemic meant cancelling operations.
Our hospital went down to 30% of our normal volume. We've modelled that for hip and knee replacements alone it could take us seven years to recoup the number of surgeries we would need to do if we don't work evenings, weekends and everything else. Of course, the problem with that is human resources. As one of my other colleagues mentioned, they are pretty burned out. To try to get them to work those extra hours, even if we were funded for it, would be very difficult…"
Which brings me back to where I started. What has happened to the plans to get rid of 97 Registered Nurse positions?
The Ontario Nurses Association tells me that 70 have received termination notices but none, as yet, has been laid off.
Newmarket-Aurora's MPP is the Minister of Health, Christine Elliott.
This email address is being protected from spambots. You need JavaScript enabled to view it.
Update on 3 July 2021: Below: Ontario Nurses' Association ad in this morning's Toronto Star and Globe and Mail: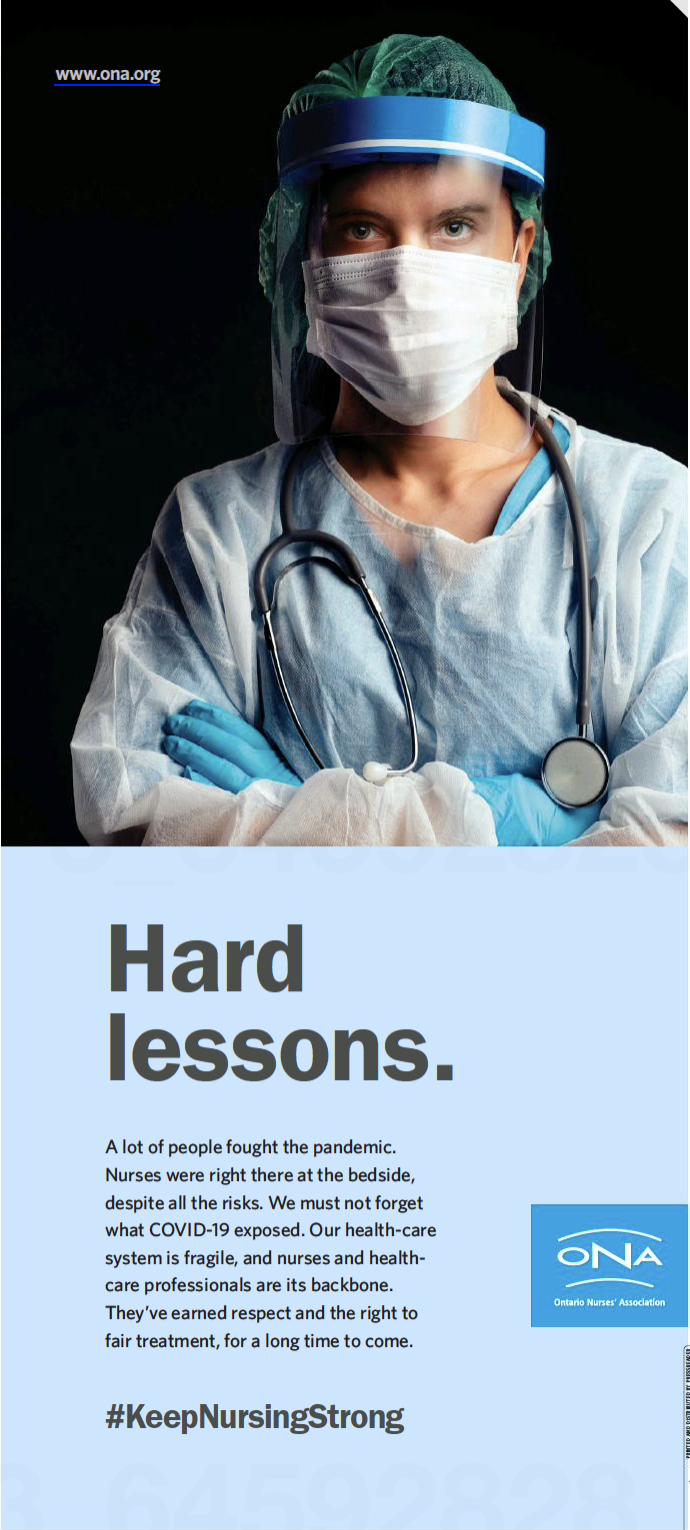 As a result of the pandemic, Southlake's Board suspended open board meetings from March 2020 and meets virtually. Last week's AGM – as with the year before - was also virtual with no public attendance. Click here to read the reports that went before the Board.