Justin Trudeau's handgun ban is dead in the water.
He says the Provinces and Territories must decide whether they want a ban. It is not a matter for him.
The Liberal platform released earlier this week promises to: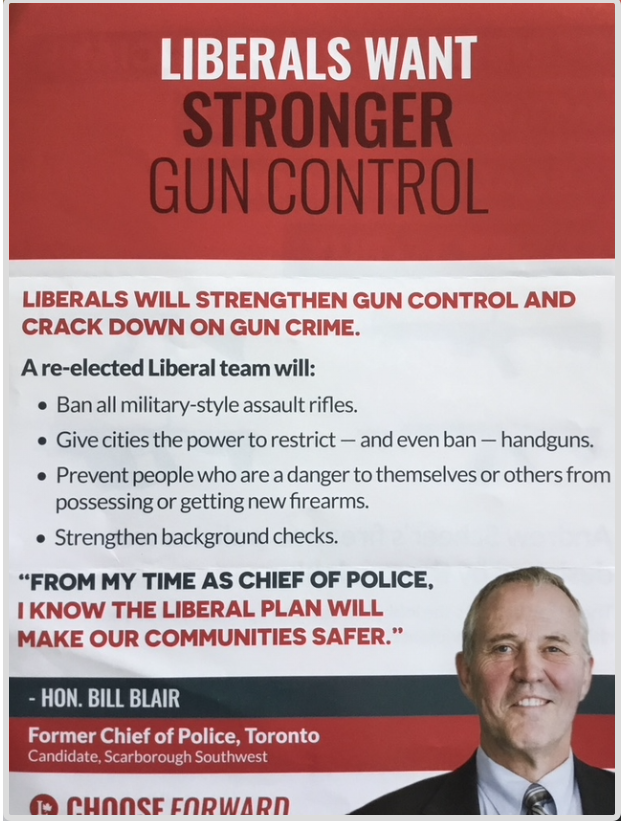 "Set aside a minimum of $1billion to support provinces or territories who implement a ban on handguns across their jurisdiction, to keep our cities and communities safe."
This changes their 2019 policy which was to
"Give cities the power to restrict - and even ban - handguns." (right)
The Cities of Toronto and Montreal have both called for a nationwide ban, insisting that a patchwork quilt of different policies on handguns across municipalities is impractical and unworkable.
Our local Mayors in Newmarket and Aurora, John Taylor and Tom Mrakas, agree.
No handgun bans in Ontario
However, Ontario's Premier, Doug Ford, has made it crystal clear he would not legislate to ban handguns.
The Liberals have tried to get round the absurdities of their 2019 policy by transferring ultimate responsibility to the Provinces and Territories, effectively giving them a veto. If a Province or Territory doesn't want to ban handguns then it simply won't happen.
Assault weapons
Over the past few days the debate has been entirely focussed on "assault weapons" and how these should be defined.
But handguns are the biggest problem.
The most senior civil servant in the Ministry of Public Safety, Talal Dakalbab, told me earlier this year:
"Handguns are the most commonly used type of firearm in violent crime and gang related homicides."
61.5% and 16.9%
Figures from Statistics Canada tell us there were 3,351 victims of violent crime involving a handgun in 2010. By 2018 the number of victims had soared to 4,601. This represents a staggering 61.5% of all victims of firearm related violence. By contrast, in the same year (2018) there were 1,262 victims of a rifle or shotgun assault, representing 16.9% of the total.
Despite being aware of this, the Prime Minister passes the parcel to the Provinces in full knowledge that some are implacably opposed to a handgun ban.
So far as I am aware there are no detailed background papers or analysis, published either by the Federal Government or the Liberal Party, explaining how the policy is expected to work in practice. The Liberal's gun control Bill (Bill C21) touted by the Prime Minister as game-changing legislation died on the Order Paper when he called the election and Parliament was dissolved. But questions remain unanswered.
$1,000,000,000
Is the $1 billion offer time-limited or open-ended? To qualify for a slice of the money will the Provincial legislation have to be in a prescribed form, set by the Federal Government?
How will the $1 billion be apportioned?
What happens if there is not a 100% take up? Will the opt-in Provinces get a bigger slice of the $1 billion?
What will this $1billion be spent on?
What estimates, if any, have been made of the cost of implementing and administering a Provincial handgun ban?
Does this opt-in opt-out handgun ban have any implications for the Criminal Code and on sentencing policy more generally? If so, what are they?
We could ask our Liberal candidate for answers to these questions.
But the self-styled "Voice for Fiscal Prudence" has no more idea than I do.
This email address is being protected from spambots. You need JavaScript enabled to view it.

Update on 5 September 2021: from the Sunday Star: Pressed on gun control Erin O'Toole still won't say which firearms he'd ban
Update on Monday 6 September 2021: from the Toronto Star: O'Toole reverses course on firearms ban
Update on 8 September 2021: from the Toronto Star: Conservatives and Liberals are both missing the biggest danger