At 1.12pm on Thursday 6 January 2022 Newmarket Today posted a story telling us that members of the Newmarket-Aurora Provincial Liberal Party would be choosing their next standard bearer for the Provincial election in June in a members' vote on 12 February 2022.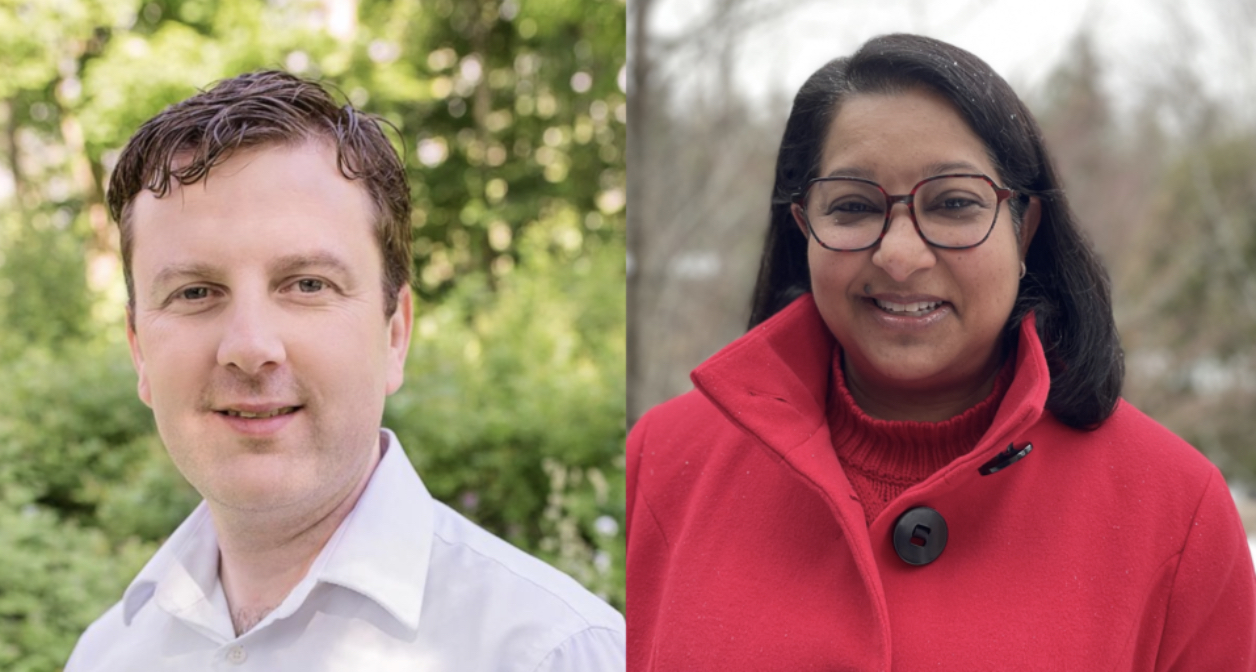 We were also told that readers who wanted to cast a vote could join the Liberal Party free of charge provided they signed up by 5pm that very same day. (Photo from Newmarket Today)
The former MPP, Chris Ballard, decided not to run again leaving the field open to two wannabe MPPs, Dr Sylvain Roy, a psychologist and Shameela Shakeel, a psychometrist. (The Canadian Oxford dictionary tells me psychometrics is the science of measuring mental capacities and processes.)
"Feels connected"
Although he doesn't live in the riding, Roy tells us he has worked on homelessness issues in York Region and feels connected to Newmarket-Aurora. He says he was encouraged to run by Ballard, a colleague and friend. He tells us:
"Our former MPP Chris Ballard has both endorsed my candidacy and agreed to chair my campaign. I am grateful for Chris' support and with his help and your help I am confident we can win back Newmarket-Aurora."
Acclamation preferred
Shakeel tells Newmarket Today she would have preferred acclamation after spending some months as the only prospective candidate. This is proof positive that she is not your typical politician. If she were, she would have enthusiastically welcomed a contest while privately spitting feathers that one was necessary.
It looks as if her opponent, Dr Sylvain Roy, threw his hat into the ring at the last moment, tweeting on New Year's day that he had decided to seek the Liberal nomination.
This gave him five days to sign up supporters. A Herculean task given that his opponent had been dug in for months if not years.
To get the party's nomination you've got to get the support of the members and what better way than to recruit them yourself!

State Secret
Leading Liberals in Newmarket-Aurora are tight lipped about membership figures. They treat it as a State secret. But we know that in some ridings Liberal membership levels are stratospheric. Getting selected there means getting elected.
I don't know when the Newmarket-Aurora contest was called but in the 32 Liberal Party nomination contests in the period 2017 – 2021, and reported to Elections Ontario, the average time between the call of the contest and the members' vote was 96 days. The longest contest was in York Centre which kicked off on 12 September 2017 and concluded on 8 April 2018, a leisurely 208 days. There were two contestants.
The shortest – a breathless 14 days – was in Humber River-Black Creek where, at the end of the day, there was only one contestant.
In fact, of the 32 Nomination Contests reported, eleven ended up with one contestant.
Sitting MPPs are generally acclaimed.
Costs of a contest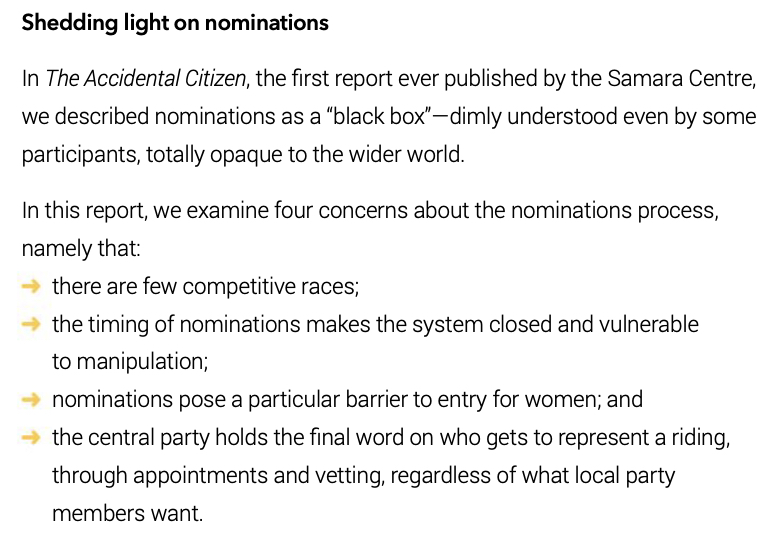 Of course, it costs money to run in a contested nomination. In Newmarket-Aurora there is a $23,159.76 spending limit for each person seeking the Party's nomination. There is also a non-refundable "processing fee" payable to the Liberal Party of $2,500 – or $1,250
"if the person is a woman"
or $500 if the person is under 30. I am left wondering why this hefty fee couldn't be income related (although I think I understand the reasoning behind the differentials).
For the Liberals – and, indeed, for most of the other parties - acclamations are pretty much the rule. Samara, the non-partisan democracy think-tank, studied almost 3,900 nomination races held by federal political parties between 2003 and 2015 and over 70% had a single contestant.
Join the Party today and be an MP tomorrow
Here in Newmarket-Aurora, former Mayor, Tony Van Bynen, then 69, was the only candidate for the nomination in 2019, despite joining the Party earlier that year. His predecessor, Kyle Peterson, was also acclaimed. In fact you have to go back to 2008 for a contested nomination on the Federal side and that was when former Aurora Mayor, Tim Jones, defeated Gus Khouri.
On the Provincial side, Chris Ballard, was acclaimed in 2014 when he was first selected as the Liberal candidate for Queen's Park. And as the sitting MPP he was again acclaimed as the nominee in 2018. Ward 7 councillor Christina Bisanz ran in 2007 and again in 2011 against the then PC MPP Frank Klees. I don't know if she was acclaimed but it wouldn't surprise me if she had been.
So, selecting candidates by acclamation is nothing new here. Despite all the talk about casting the net more widely.
Bad Practice
Personally, I think acclamation is bad practice. Nomination contests, at their best, force the candidates to open up and reveal their politics. Can they think on their feet? Are they articulate? Can they persuade? Do they have a position on the major issues of the day which is thought-through? Or are they content to read a script written by others, keeping their head below the parapet, rarely staking out a public position and defending it.
Roy and Shakeel will be giving an on-line presentation to members of the Newmarket-Aurora Provincial Liberal Party on 10 February 2022. For an hour.
The winner won't necessarily be the best on the night.
But the one who has secured most votes.
Signed-up by 5pm on Thursday 6 January 2022.
This email address is being protected from spambots. You need JavaScript enabled to view it.
Updated on 12 January 2022 to remove description of Roy and Shakeel as both being psychologists. Only Roy is registered with the College of Psychologists of Ontario.
Update on 15 January 2022: From Newmarket Today: "This is why people who look like me and think like me don't run": Newmarket-Aurora Liberal candidate speaks out against "smear campaign"
Update on 22 January 2022: From Newmarket Today. Letters to the Editor: "Smear effort"