It's official.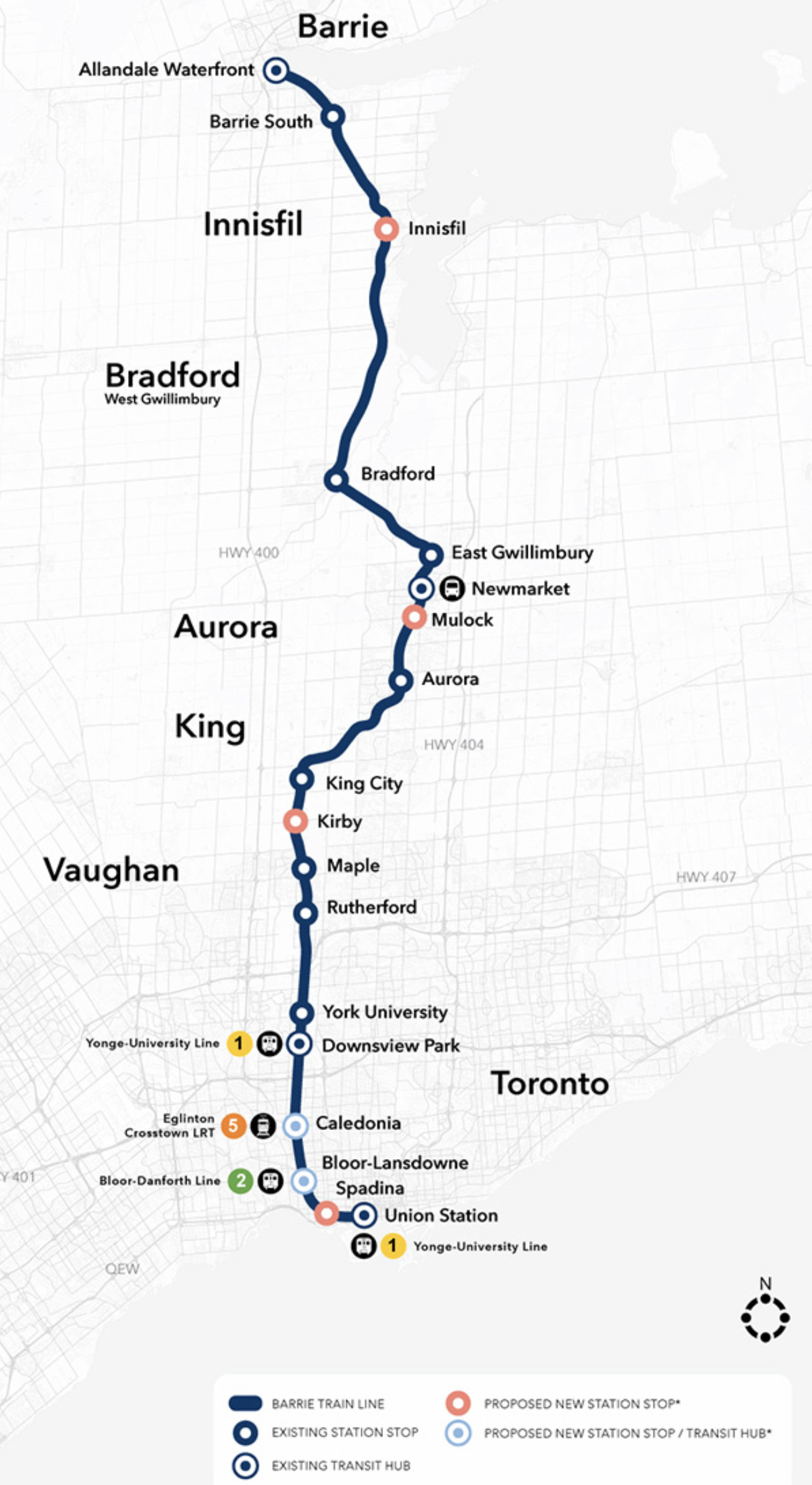 Our neighbour to the north, East Gwillimbury, is the fastest growing municipality in Canada.
It is a Town on steroids.
Between 2016 and 2021 its population increased by an eyewatering 44.4%.
By contrast, Newmarket's population grew by a modest 4.4% over the same period.
This explosive growth has consequences. How are people to get about in future? Will they drive huge distances in their daily commute? Or will they let the train take the strain?
GO expansion
The expansion of GO Rail, initiated by the Kathleen Wynne Government, was absolutely the right thing to do. It is a program that is far-sighted and much needed.
It will bring huge benefits to Newmarket and to communities all along the corridor. It will take traffic off the roads. There are no downsides.
Six months ago to this very day, Metrolinx told East Gwillimbury Council that it would extend the planned all-day two-way 15 minute service north from Aurora to Bradford. Metrolinx said it could do so
"thanks to further study and optimisation of service plans".
Grade Separations
I'd like to see these plans. What assumptions has Metrolinx made which would allow it to run fast and frequent trains through Newmarket? Will there be grade separations at Mulock Drive and Davis Drive? And, if so, who will pay for them? These are big questions but the sooner Metrolinx lets us into its thinking the better.
On 7 December 2021, East Gwillimbury's Community Infrastructure chief, Mike Molinari, told councillors:
"Metrolinx will be extending 15-minutes all-day two-way electrified go train service through East Gwillimbury through to Bradford GO Station. I look forward to that. That will serve the town very well in the coming years.
Also was good news the grade separation on Green Lane for the rail line is being actively discussed with York Region and Metrolinx for planning and delivery. That's not confirmed that it's happening, but discussions are dancing with respect to that and we will make sure that we keep Council apprised of the outcomes on that.
We will continue to meet with Metrolinx and the region and we've actually asked for Metrolinx to provide regular project updates to us and come to council periodically to provide updates on this very important initiative…."
Later that month, when I asked East Gwillimbury staff if there would be grade separations in Newmarket to allow Metrolinx to run a 15 minute service to Bradford I was told:
"We do not have these details in hand and will continue to work with Metrolinx to understand their implementation strategy."
Planning assumptions
That really isn't good enough. Metrolinx doesn't have to play its cards so close to its chest.
It must be possible for Metrolinx to share its planning assumptions with the municipalities directly affected by the decision to take the 15-minute service north from Aurora to Bradford.
Newmarket Mayor, John Taylor, is pressing Metrolinx for more information and says he will be working closely with neighbouring municipalities. He raised the issue at York Region's Committee of the Whole on 11 November 2021 with the Acting Commissioner of Transportation Services, Ann-Marie Carroll, who seemed caught off guard and completely unprepared. Yet York Region is currently drawing up its new Transportation Master Plan.
She told Taylor there would be money in the Budget for grade separations but we don't know the details. She says a number of grade separations will be required over the next thirty years but gives no indication which locations will be prioritised or how long the necessary studies will take. (To read the exchange click "Read more" below)
Grade separations can change the streetscape very significantly – a point Taylor stresses – and they can cost an arm and a leg. So, I ask again, are grade separations needed in Newmarket to deliver a 15-minute service and, if so, who pays?
These are very big issues.
And with a provincial election a little over three months away it is time for Metrolinx to share its planning assumptions.
Before the politicians start sharing theirs.
This email address is being protected from spambots. You need JavaScript enabled to view it.
19 November 2021: York Region Committee of the Whole
Mayor Taylor: I met with Brian previously about this. I really want to highlight it here as well for other staff. Currently the proposed road network map indicates grade separations, both as capital programme and prioritized.
I guess what I would say is… My understanding is that, at this point, both Metrolinx and the Region, and certainly the lower tier municipalities, are at the very early stages of understanding what grade separations would look like and even the merit of them at different locations – or the level of merit in different locations.
And so, for example, my concern here is that Davis Drive does not have a grade separation indication on it at all, of any nature.
And it would seem to me that even other locations, whether one would occur or not - and the reasons and the rationale for that, is very much in its infancy. And so I guess I'm asking that the Davis Drive location at least be indicated as a grade separation study area. Or that they all be - or many more of them be - indicated as grade separation study areas.
Because this seems to be saying to the public: this is going to happen here and this is not going to happen here.
And in some cases I have a feeling it may not even happen in some places (where it is) indicated and it may happen in some that are unindicated.
We don't know that yet… but I guess I'm just trying to find a way to indicate the nature of where grade separation is at (and) its maturity in this process.
Ann-Marie Carroll: Acting Commissioner of Transportation Services: Thank you Mayor Taylor. Actually, Brian and I were just talking about this earlier today. And I think the approach that we are going to take is exactly how you are describing it.
We are identifying that there will likely be X number of grade separations required during, you know, this 30 year period. And we will continue to hold a certain number of grade separations within our budget. But we recognize that there needs to be some continued analysis done to identify exactly which of these locations are going to require a grade separation.
Mayor Taylor: And so, on mapping, will all the ones there, and maybe some more, be indicated as potential grade separations? And then there will be a sense that they may be either budget constrained or need the result of a study of some sort to indicate whether it is even advisable? Is that where it is going?
Ann-Marie Carroll: Acting Commissioner of Transportation Services: That's correct.
Mayor Taylor: OK. The only thing I would say in closing on this is that I think we are all discovering that grade separation in relation to the 15 minutes service is going to be a huge issue for all of us. And I think the implications financially are massive and how much burden they try to put on us.
But the second part is just in terms of how it can change the streetscape of an area of significance dramatically - depending on what engineering design is finalized.
So, this is something I am really looking for support from the Region on… in helping the lower tier municipalities understand this fully and make sure we are working closely with Metrolink so that they (too) understand our concerns and needs in relation to this topic. Thank you.
CHECK AGAINST DELIVERY