What personal qualities do you associate with Tom Vegh?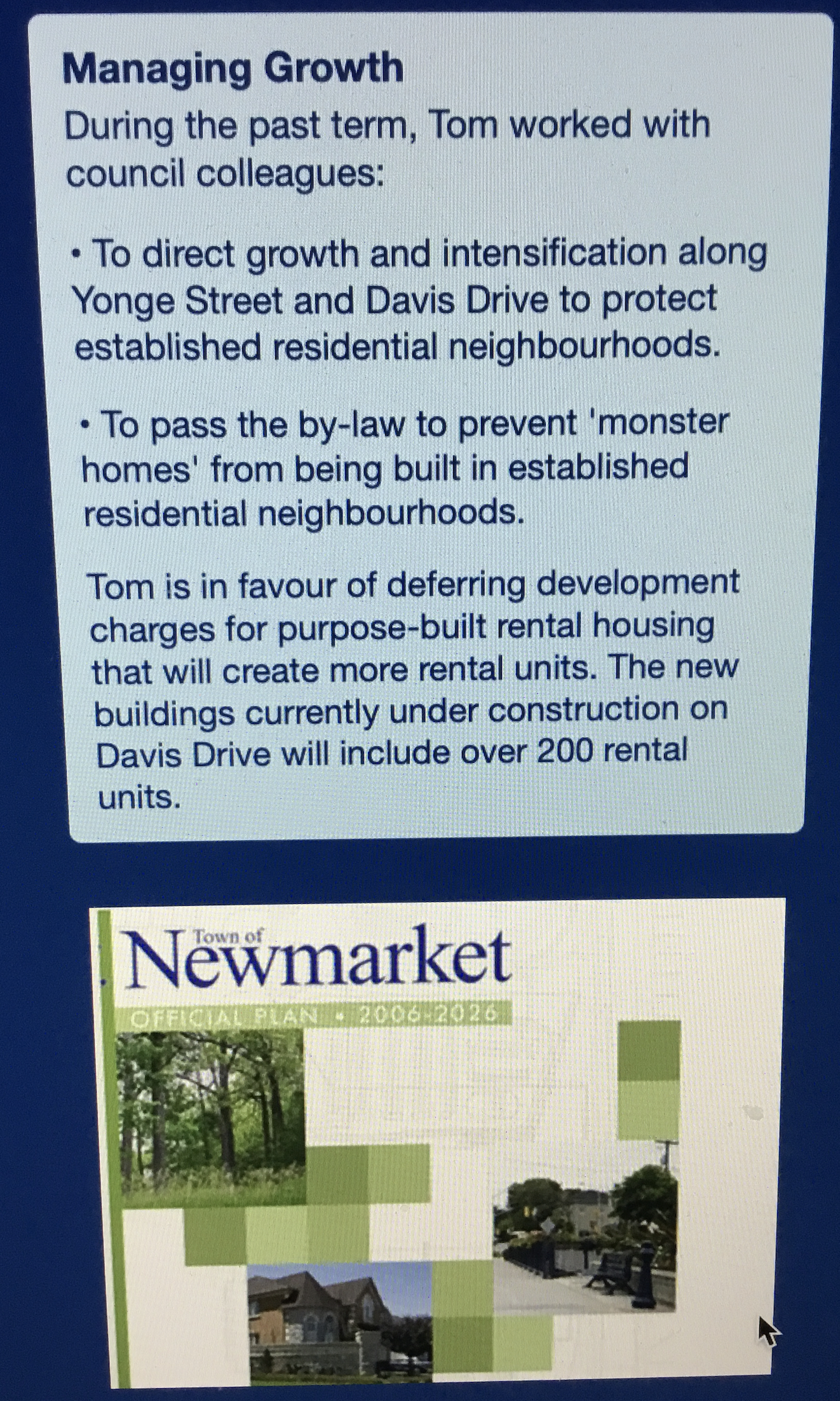 Personally, I think he is devious, reckless, dishonest and manipulative.
But I may be misjudging the man. I am only going on his record.
I am waiting with keen anticipation for the publication by Newmarket Today of his "candidate's questionnaire". After all, advance voting begins in six days time.
I returned mine some time ago.
Top four qualities
The paper asks:
What are the top four qualities required to be an effective municipal representative?
And they want to know if candidates will accept money from developers.
That's a tricky one for Tom given he was bankrolled by them in 2018.
Vegh has yet to return the questionnaire but there is no deadline. The paper asks only for a completed response prior to the October 24 election:
"which would be published in order when received."
The same formulation was used by the Toronto Society of Architects and Vegh found no difficulty in returning his questionnaire with boilerplate answers.
Visit TomVegh.com
I recommend all voters visit Tom Vegh's website. It tells you everything you need to know about our Deputy Mayor and Regional Councillor.
The website is impressive. It's well designed and probably cost a fortune. It reaches out and grabs your attention. Here is a man comfortable speaking to crowds. A man of action. Leading. Directing. Pointing. Charting the way forward.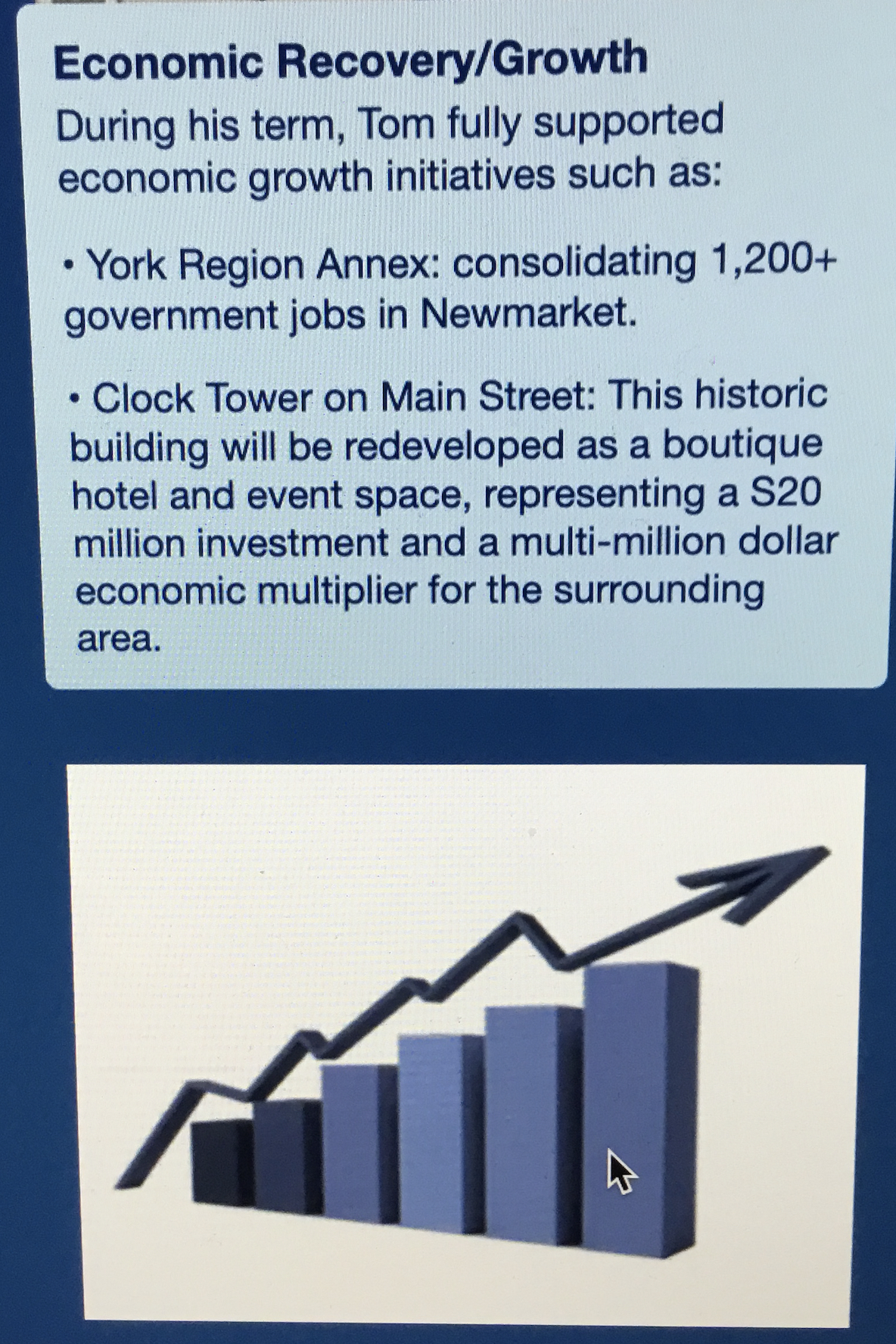 "Leadership you can count on."
What hokum!
But dig a little deeper. Have a look at the section: "Working for you"
Click on the tab "Managing Growth" and there is nothing at all about his votes at York Region to pave over the countryside. Nothing about his votes to convert prime agricultural land to other uses.
He says he passed the by-law to prevent "monster homes" from being built in established stable residential neighbourhoods. I pressed the council to act on the issue (he said modestly). And I was grateful they picked up the ball and ran with it.
Claiming Credit
Now click on the tab: Economic Recovery/Growth
He claims credit for the Clock Tower on Main Street and bringing the Postmark Hotel into the historic downtown:
"This historic building will be redeveloped as a boutique hotel and event space, representing a $20 million investment and multi-million dollar economic multiplier for the surrounding area."
What was Vegh's role in getting the Postmark Hotel into Town? Was he instrumental? Was he the deal-maker? I want to know.
I could write a book about the battle to save our historic downtown from developers and Tom Vegh wouldn't rate a mention.
He was a spectator throughout.
Tom! Just stop talking about the Library!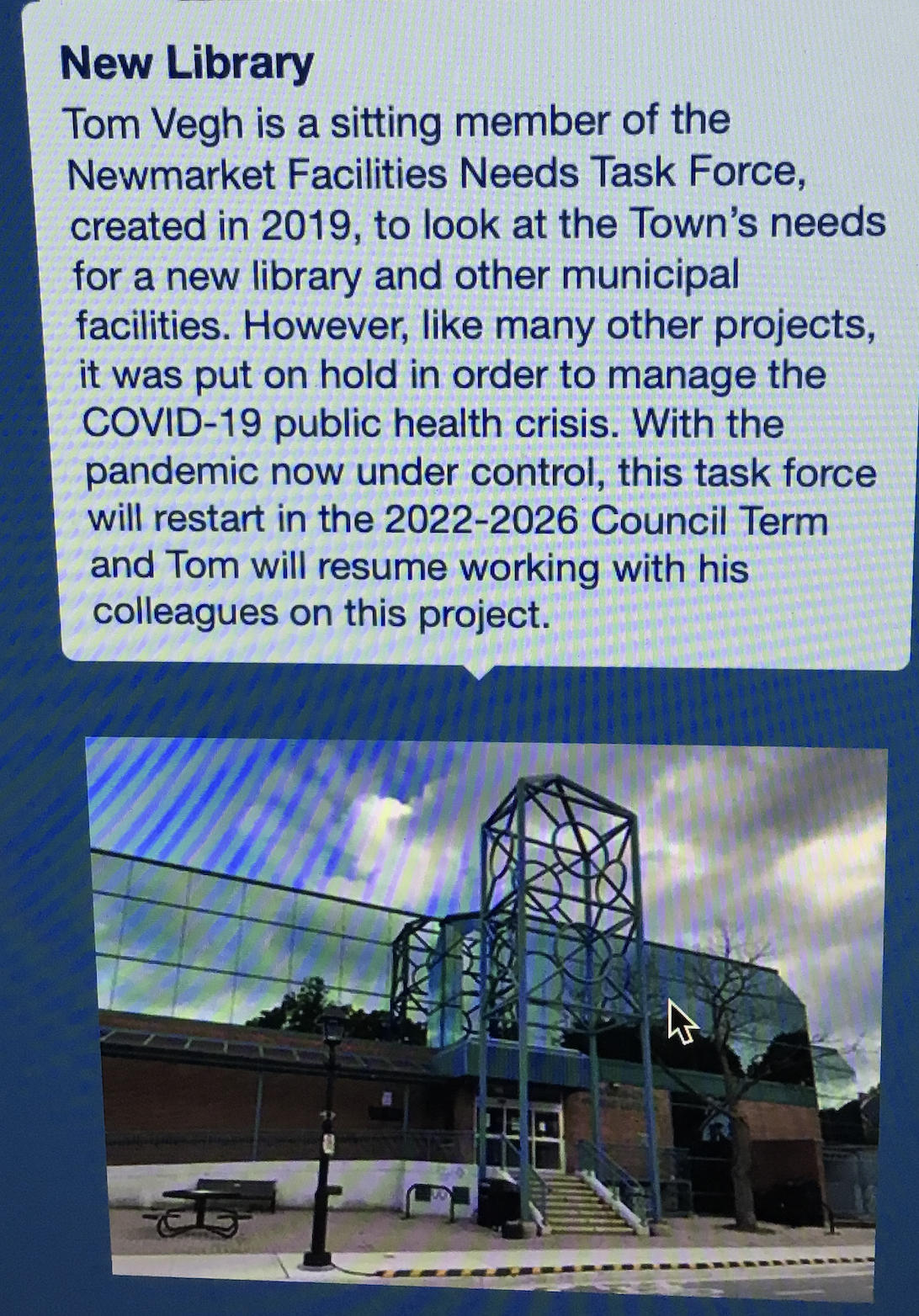 Now click on the tab: New Library.
"Tom Vegh is a sitting member of the Newmarket Facilities Needs Task Force, created in 2019, to look at the Town's needs for a new library and other municipal facilities. However, like many other projects, it was put on hold in order to manage the COVID-19 public health crisis, this task force will re-start in the 2022-2026 Council Term and Tom will resume working with his colleagues on this project."
Complete tripe. Work on the library was put on the backburner after the 2018 election and Vegh was content to leave it there.
Covid came to Canada on 25 January 2020.
I discover that Vegh is asking for donations and the money will be picked up! How quaint.
"Your Donation Can Help. Donate to the Tom Vegh Re-election Campaign by using the form below to make arrangements for your donation to be picked up."
Maybe that's how he got the money from his developer friends in 2018. By picking it up in brown paper envelopes in wads of $50 bills.
I discover another delicious irony.
His website tells us Tom Vegh is Vice Chair of the Town's Audit Committee.
You really couldn't make it up.
Gordon Prentice 9 October 2022
Below. Retrieved on Sunday 9 October 2022