The Ford Government believes winning 40.8% of the vote on 2 June 2022 - in the lowest turnout ever in an Ontario Provincial election (43.5%) - gives him the mandate to do whatever he wants. But does it?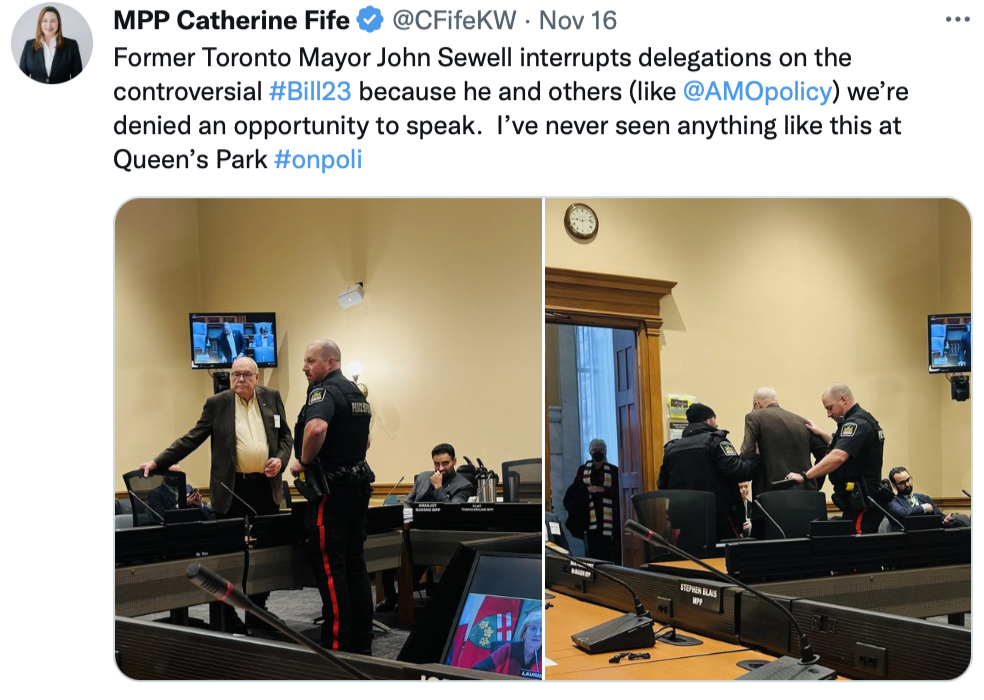 On 16 November 2022 a former Toronto Mayor, John Sewell, was removed from a Committee meeting at Queen's Park by uniformed police officers because he complained he and others such as the Association of Municipal Organisations were denied an opportunity to speak on Bill 23: More Homes Built Faster.
NDP MPP Catherine Fife tweeted:
"I've never seen anything like this at Queen's Park."
Who needs a majority?
The Standing Committee on Heritage, Infrastructure and Cultural Policy which is considering Bill 23 is also limbering up to examine Bill 39: Better Municipal Governance Act. This controversial Bill will allow the Mayor of Toronto to propose a by-law "which could potentially advance a prescribed Provincial priority" and get it passed "if more than one third of the members of city council vote in favour of the by-law".
Ford needs a simple majority of the votes at Queen's Park to legislate. But now the largest City in the Province will be able to pass by-laws opposed by a clear majority of City councillors. The Committee webpage tells me today:
"This committee is not currently holding public hearings related to this matter."
But, of course, that could change. (See update below)
Highly consequential legislation is being introduced that never appeared in the PC Platform at the election only six months ago. Expect big changes to the Greenbelt.
There used to be a convention that major legislative proposals should be flagged up in Party Platforms. Ford has thrown that one overboard.
Whatever happened to constitutional conventions?
The Ontario Legislative Assembly is responsible for its own procedures and rules but there are conventions which supposedly regulate their use. Because Queen's Park has the power to legislate for anything and everything within its competence it does not follow that it should. The recent use of the notwithstanding clause is a case in point.

These constitutional and Parliamentary conventions have been described as rules of good political behaviour. They play a key role in the orderly functioning of the legislature and, more generally, in oiling the machinery of government. These constitutional conventions are not enforced by the courts because they are not laws.
In the UK the convention is for two weekends to elapse between the First Reading of a Bill (ie when it is introduced and ordered to be printed) and when it comes up for debate at Second Reading. This delay is to allow MPs, the press and media and members of the public to familiarise themselves with what is in the Bill and to consult experts and others on the implications. Here everthing is done at breakneck speed.
The Ford Government routinely has second reading debates within a day or two of First Reading. When Bills are sent by the House into Committee for "line by line examination" the result very often is a farce. People are not given adequate notice to allow them to get in a request to speak to MPPs at Committee. Bill 23 provides a classic case study.
More time needed to consult the public
On 10 November 2022 at the end of the evidence session on Bill 23 the NDP MPP Jessica Bell asks the Committee to meet for an extra day to hear from the public.
"We've had an unprecedented number of people sign up to speak to us for next week in Toronto, and because the hearings in Toronto are virtual, it means that—it doesn't just cover Toronto; it covers the entirety of Ontario…
When I look at the list of stakeholders who have signed up to speak, they are people who would be impacted by this sweeping bill; they are people who are experts on the subject matter that this bill impacts. We have AMO. We have provincial stakeholders. We have financial experts. We have a CMHC rep who is looking at speaking. We have a mayor who has signed up to speak as well. We have a responsibility, as MPPs, to make sure that the bills that we introduce and pass are as good as they can be, and that can only happen if we have expert public consultation and we take the time to listen to them and make amendments so that this bill can be improved. It's just one extra day, and it will allow some additional experts to speak."
MPP Vijay Thanigasalam explains in his own strangulated and convoluted way why the Progressive Conservatives are going to quash that nonsense:
"We are having adequate time to listen to stakeholders across the region, especially—I want to note that we're just concluding our second day of these public hearings, and yesterday we had public hearings, on November 9, in the morning from 10 a.m. to 12, and also from 1 p.m. to—we heard stakeholders all the way to how many stakeholders who want to show up. Today is the second day we are going to have—and today is November 10—from morning to the entire day be allocated for public hearings.
However, since we have these adequate times allocated, which are November 9, November 10, November 16, as well as November 17—November 16 and November 17, as I said, moving forward, is going to be a hybrid model. So I feel like this is comprehensive time, adequate time for the public hearings. Therefore, we will not vote in favour of this motion."
There speaks the ventriloquist's dummy.
Maybe this time Ford has bitten off more than he can chew.
Gordon Prentice 24 November 2022
The Ontario Legislative Assembly helpfully publishes a booklet on-line explaining how an Ontario Bill becomes law. See graphic right. It was written in the pre-Ford era – in August 2011 - and needs to be updated.
Update at 4.35pm on 24 November 2022: on Bill 39: Better Municipal Governance Act 2022: The Committee webpage says this:
The Standing Committee on Heritage, Infrastructure and Cultural Policy will meet to consider Bill 39, An Act to amend the City of Toronto Act, 2006 and the Municipal Act, 2001 and to enact the Duffins Rouge Agricultural Preserve Repeal Act, 2022.
The Committee intends to hold public hearings in Toronto, Ontario on Wednesday, November 30, 2022 and Thursday, December 1, 2022.
Interested people who wish to be considered to make an oral presentation on Bill 39 are required to register by 12:00 p.m. (EST) on Monday, November 28, 2022.
Those who do not wish to make an oral presentation but wish to comment on the bill may send a written submission by 7:00 p.m. (EST) on Thursday, December 1, 2022.
To register or send a written submission, please visit the following link: ola.org/en/apply-committees.
Update on 24 November 2022: From Andrew Coyne at the Globe and Mail: "Thank you Doug Ford..."
Update on 26 November 2022: The Toronto Star's Martin Red Cohn writes: "Ford is enabling Mayor John Tory's anti-democratic ambitions." and from the Star's City Hall reporter: "How a Toronto City Council revolt against strong Mayor powers fell apart"
Update on 29 November 2022: From the Toronto Star: What would have happened if Rob Ford had Strong Mayor powers.
Update on 13 December 2022: Toronto Star Editorial: When Strong Mayors Speak Out.