King Mayor, Steve Pellegrini, believes the Province can put a hospital anywhere in the Greenbelt (or outside) they deem suitable. By repeatedly insisting on this, he puts himself at odds with the Chief Planner of York Region, Paul Freeman, who says a new hospital in the Greenbelt should go to a settlement (or built up area) rather than on prime agricultural lands.
Global News sums up the issue here.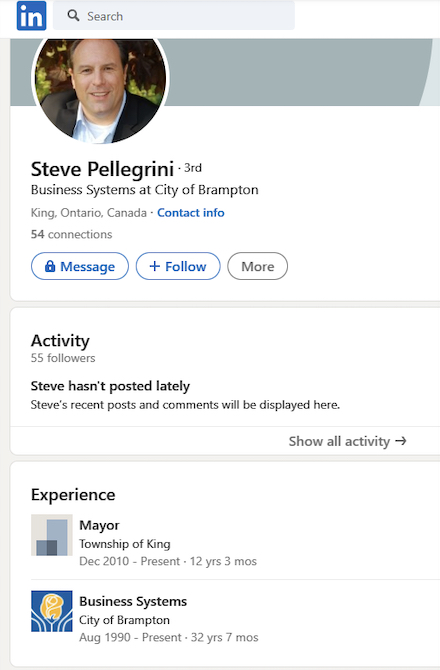 Pellegrini told the King Sentinel yesterday:
"Notably, the Province does not require the removal of lands from the Greenbelt to build a hospital. They may build Provincial infrastructure on any lands that they deem suitable."
Steve Pellegrini is a four term Mayor with decades of experience on the staff of the City of Brampton who should know better. (He is no longer in the staff directory so he may have moved on.) He is totally familiar with municipal practice so why does he keep getting it wrong? He has immediate access to the best advice available. He could pick up the phone today and talk to Paul Freeman.
Perhaps he relied on advice from the professional staff at King who may believe a hospital can be built absolutely anywhere. I don't know.
Open to discussion
In any event, Pellegrini told the Sentinel the idea of a hospital in King was not a new one.
"I have been moving this idea forward since 2019 – on different lands, with different landowners. At the time of our meeting, I brought the idea of a hospital forward to the Rice Group and they were open to discussion."
Last month I filed a Freedom of Information request for sight of emails, meeting notes and internal memos from 2019 onwards relating to the scan or sweep of lands which might be suitable for a new Southlake hospital.
And since there has been so much confusion about who met whom and when I've asked for sight of records showing the dates in 2022 when Mayor Pellegrini and/or Township staff met Michael Rice, the owner of the (now former) Greenbelt lands.
I emailed Mayor Pellegrini on 24 January 2023, copied to the Township Clerk, asking if he would let me know who called the in-person meeting on 1 November 2022 and for what purpose. I am waiting to hear from him. (To read the email click "read more" below.)
This email address is being protected from spambots. You need JavaScript enabled to view it.
See also Global News on 9 February 2023: Integrity commissioner clears Doug Ford after developers attend daughter's stag and doe.
And from the Toronto Star on 10 February 2023.
Update on 14 February 2023: The Globe and Mail editorial: Developers at daughter's wedding only deepen the mystery over Ford's Greenbelt decision. And the Toronto Star editorial: There's every reason for Ford Government to be vigilant in dealings with developers.
Update on 18 February 2023: From Newmarket Today: Greenbelt Hospital: Environmentalists push back against King proposal
24 January 2023
Dear Mayor Pellegrini

Last month I filed a Freedom of Information request with your municipality asking for sight of records held by the Township relating to the commitment given by the landowner of certain Greenbelt lands in King to provide the necessary lands for the Southlake Regional Health Centre for a nominal fee.

This commitment was reflected in the motion you moved at the Committee of the Whole on 7 November 2022 which was carried unanimously.

On 20 January 2023 the Township clerk, Denny Timm, told me that no responsive records were located but he was able to tell me that the "nominal fee" commitment was conveyed verbally to you during an in-person meeting with Rice Group and Southlake representatives on November 1, 2022.

Would it be possible for you to let me know who called the in-person meeting on 1 November 2022 and for what purpose?

And did you ask the landowner for his evidence that the lands south of Miller's Side Road, east of Dufferin and west of Bathurst were developable?

As this is a matter of public interest I very much hope you will feel able to share this information with me.

I should be most grateful.

I am copying this to Mr Timm.
Yours sincerely
Gordon Prentice