181 Beechwood Crescent was the centre of attention back in February when the owner, Norm Stapley, a builder by trade, took his chainsaw and clear cut the lot in 24 hours, denuding it of long established trees including a 125 year old Heritage Sugar Maple.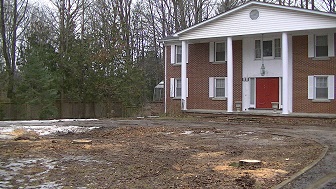 This was a public relations disaster but, for Norm, a necessary prelude to a lucrative redevelopment of the site.
Norm weathered the storm - even taking a call from the Town's chief administrator, Bob Shelton - and last month was seeking permission to sub-divide the lot.
My spies who know about these things tell me Norm could build a 6,000 sq ft house on the west lot and 5,000+ on the east in this supposedly stable residential neighbourhood.
Ward 5 Councillor Bob Kwapeese, the jewel with the backbone, has been telling people the developments will be 2,000 sq ft but that is, apparently, only the footprint.
Newmarket's jewel is probably just passing on what he has been told by an expert.
Elgin Street

Elsewhere... there is still radio silence on the monster home going up at 1011 Elgin Street. On 27 March 2017, Ward 3 councillor Jane Twinney called for a debate on infill developments but I suspect that's been kicked into the long grass.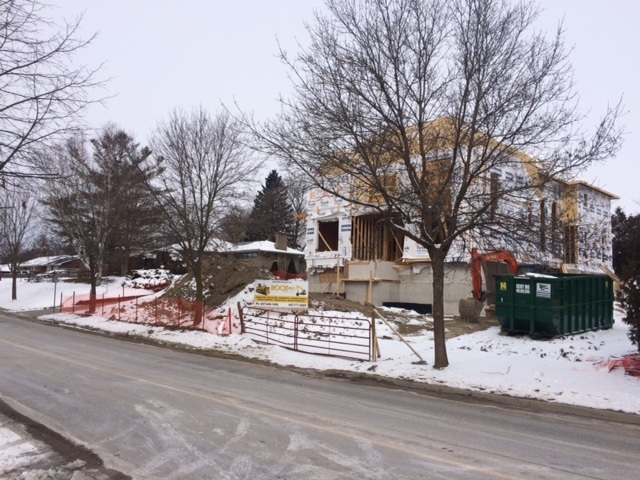 It would be impossible for Jane to speak authoritatively in a debate she initiated on infill development without knowing for certain that the house being built at 1011 Elgin Street complies with the Town's zoning by-laws.
In the Elgin Street area, these stipulate a maximum lot coverage of 35%. The site plan shown to the Town indicates a lot coverage of 31.33%.
The Town's Director of Planning, Rick Nethery, went down to have a look in mid-March this year and says it complies with the Town's zoning standards. Two months ago he asked the owner for sight of the survey which, so far, has not been forthcoming.
This email address is being protected from spambots. You need JavaScript enabled to view it.
---