Background: Early last year the Province embarked on a review of Ontario's regional municipalities. It turned out to be a damp squib. The Government had second thoughts and abandoned the exercise – no doubt chastened by the outcry over its decision to axe 50% of Toronto's councillors in the middle of the election campaign.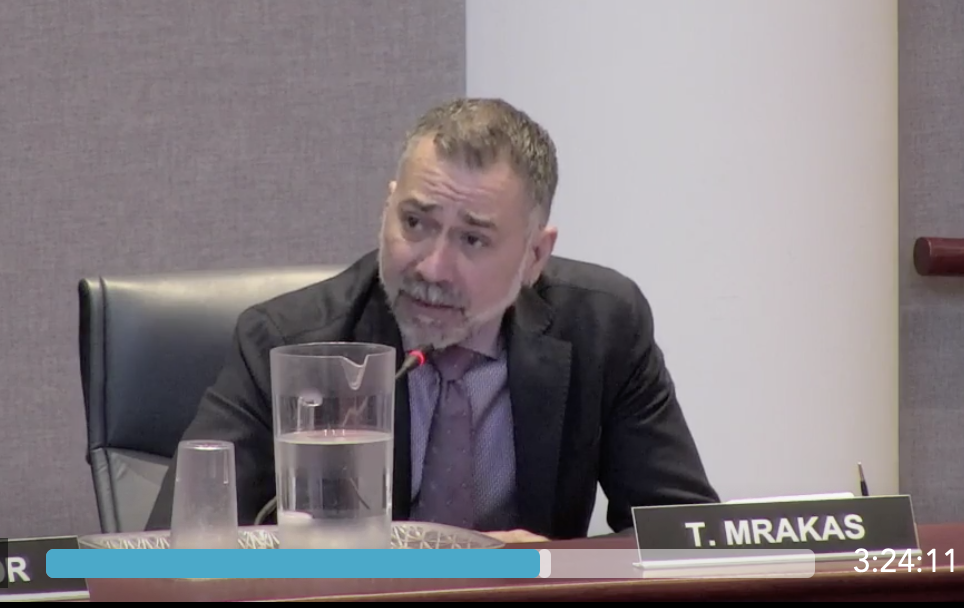 On 25 October 2019, the Government confirmed there would be no top-down reorganisation. Instead the regions were asked to review their own composition by 7 December 2020, indicating whether they wished to stick with the status quo or make changes.
Regions that recently reviewed their composition are not required to repeat the exercise.
But York Regional Council is obliged to carry out this review, whether it wants to or not. If it doesn't meet the 7 December deadline the Minister can step in and change the composition in any way he wishes.
The Mrakas Factor
Last month Aurora Mayor, Tom Mrakas (photo right) lobbed a hand grenade into the debate by tabling a motion at York Regional Council proposing it get rid of all regional councillors. He calculates this would save $600,000 a year – a drop in the ocean in a $3.3 billion budget. He wants the Council to be run by the Mayors of the Region's nine constituent lower tier municipalities.
This is an eye-catching proposal, no doubt attractive to those who believe in "small Government" but it won't fly.
Mrakas says the Region could get by just fine without regional councillors. They in turn say it's time to get rid of the Mayors.
We are in for many months of navel gazing. Do we need more elected members? Or fewer? Or just better ones? And how do our elected members spend their time at the moment?
I recall many years ago spending an hour one-to-one with Sir Ian Valance, then Chief Executive of the British telecoms giant BT (British Telecom), who back then was paid an absolute fortune. Fascinated by his vast remuneration I asked him to describe how he spent a typical day. I seem to remember a lot of time was spent "thinking".
How do our elected members spend their time?
I'd like to know what kind of caseload regional councillors carry. How involved are they in exploring policy options with senior staff? If they have outside appointments which come as a result of their membership of the Regional Council what does that mean in practice?
They are elected as independents – each with their own agenda. Do they see it as part of their role to lead and shape public opinion? If not, why not?
And what about the Mayors? They fly the flag for their own Councils but do they have the time or the inclination to get involved in the nuts and bolts of policy making at regional level? Newmarket's former Mayor, Tony Van Bynen, in contrast to his successor John Taylor, was mute in the Council Chamber, making negligible contributions to debate.
Government by PowerPoint
York Regional Council could be run quite easily by its professional staff. The traffic lights would still work. Of course, the elected members set Council policy but, in most cases, they do so only after they have been nudged in the right direction by staff. York Regional Council operates by PowerPoint presentations and seminars steered discretely by professional staff who know how the system works.
The Regional Council is, in large measure, a closed organisation whose members owe their primary loyalty to the institution itself rather than the Region's voters.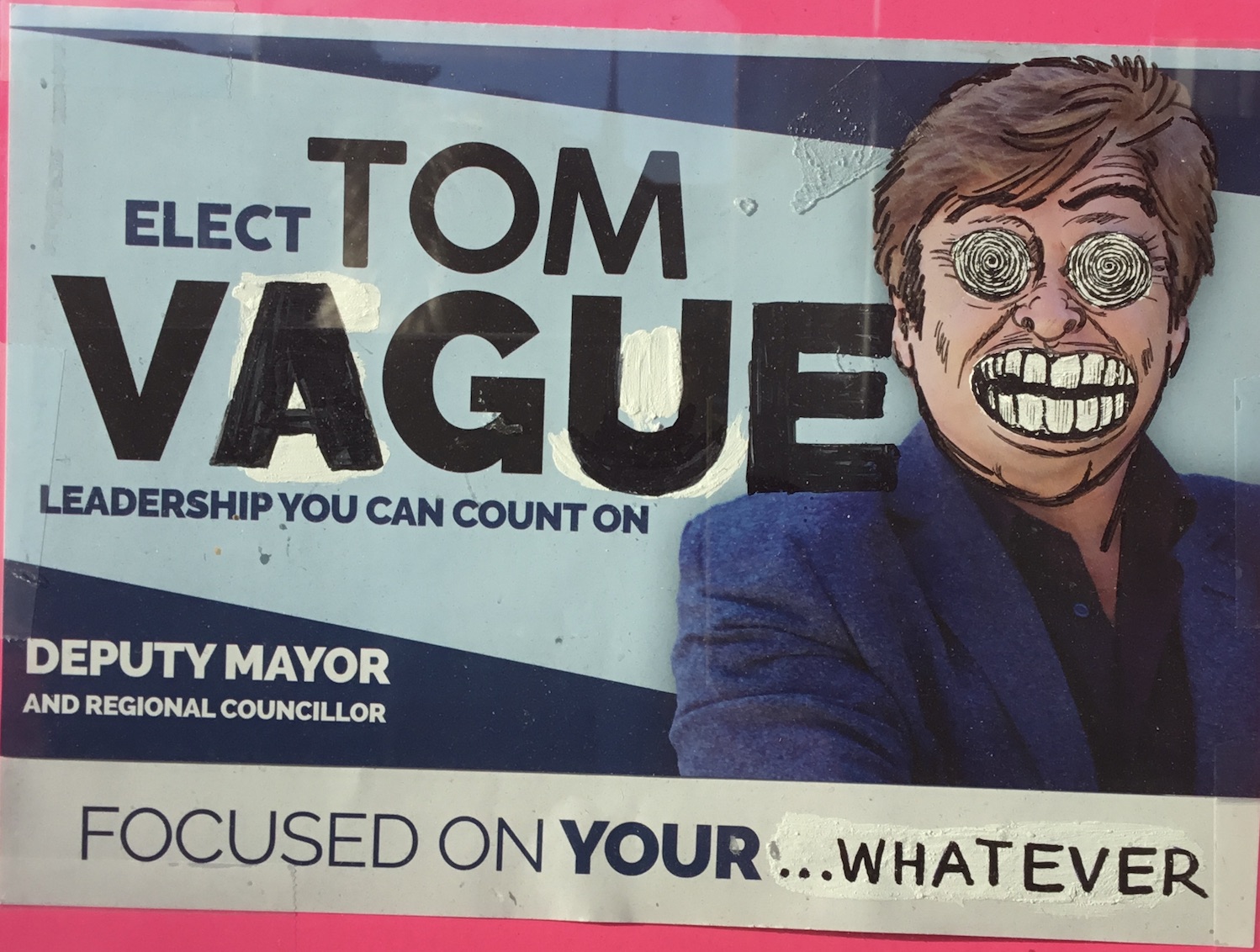 The Regional Chair, Wayne Emmerson, is indirectly elected by the Regional Council and not by the voters at large. Given that York Region has a population bigger than PEI, Newfoundland, Labrador, New Brunswick, Nova Scotia and Saskatchewan and is closing on Manitoba this seems kinda weird.
Leadership you can count on
At the Newmarket Council meeting on 10 February 2020 Regional Councillor Tom Vegh gives his "Regional Report" bringing his colleagues up-to-date on what's been happening at the Region.
Tom manages to meander through a long and convoluted explanation of the review on Regional Council composition without mentioning Tom Mrakas or his motion once. This is an astonishing omission.
It falls to Newmarket Mayor, John Taylor, to fill in the blanks left by Tom's report. Taylor wants the Region to look again at the election of the Regional Chair. (Doug Ford cancelled the planned direct election of York Regional Chair at the same time he axed Toronto City Council.)
Taylor believes there is a "decent likelihood" that the Province would agree to the region-wide election of the Regional Chair if that is what the Region wants.
Christina Bisanz who pushed hard for the direct election of the Regional Chair last time it came up for debate is unlikely to drop the issue now.
And what about Tom Mrakas' revolutionary proposal to have the whole show run by the Mayors?
Is it doomed?
Is the Pope a Catholic?
This email address is being protected from spambots. You need JavaScript enabled to view it.
The motion below was agreed by York Region's Committee of the Whole on 6 February 2020. It recommends adoption of the following recommendations, as amended, in the report dated January 27, 2020 from the Chief Administrative Officer:
Council approve the timelines to complete the legislated review of Council composition as detailed in Attachment 1.
Regional Council consider the following scenarios at its February 27 meeting:

Option 1 – Remove one member representing City of Markham
Option 2 – Remove three members representing Town of Georgina, City of Markham and Town of Newmarket
Option 3 – Add one member representing City of Vaughan
Option 4 – Add five members representing Town of Aurora, Town of East Gwillimbury, Township of King, City of Vaughan and Town of Whitchurch-Stouffville

Staff provide additional information related to the Regional Chair position: direct election, requiring the Chair to also be an elected member of a local Council and status quo.
The Regional Clerk circulate this report to the local municipalities.
(Tom Mrakas motion will be considered alongside the options shown above.)
Update on 24 February 2020 from YRC's Chief Administration Officer, Bruce McGregor, on the direct election of the Regional Chair.
Update on 27 February 2020. The Council rejects the Mrakas proposal and agrees to a further Council seat for the City of Vaughan. The Council will look again at the direct election of the Regional Chair in October 2020.