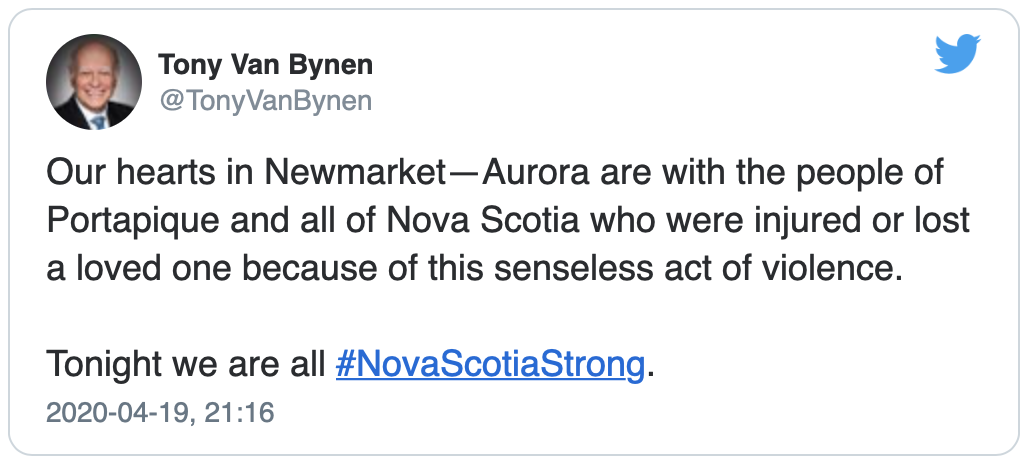 As I tap this out on Monday afternoon I learn that at least 19 people are dead in Nova Scotia, including the deranged gunman.
We don't know why the killer set out on this murderous rampage – the deadliest in Canadian history. Perhaps a suicide note will surface somewhere or maybe there will be clues on a hard drive.
We may never know.
Massacres will continue to happen
We can though predict with absolute certainty that these horrific massacres will continue until we ban the possession of handguns and assault weapons and tighten restrictions on all other firearms.
But what are the chances of this happening when the frontrunner for the Conservative leadership, Peter Mackay, was photographed in 2014 wearing a T shirt sporting the image of a maple leaf and an assault weapon with the words: "No compromise"?
Within a year of the Dunblane massacre in Scotland in 1996 handguns were banned. Such was the public revulsion. Today in the UK anyone found in the unlawful possession of a handgun gets 5 years in prison.
Thoughts and prayers
Thoughts and prayers have their place when the terrible slaughter is still raw and fresh in our minds. But as the memory fades – as it has with the Danforth massacre – we must remind ourselves why we should act quickly and decisively.
I have now written on three occasions to my MP Tony Van Bynen asking him to let me know what action he is taking in Ottawa to bring about a ban on handguns.
He has chosen neither to acknowledge nor to reply.
You can read my latest letter to him by clicking the link below the Bill Blair flyer.
I shall write again to ask what steps he will take to end this scourge of gun violence.
Six months ago during the Federal election campaign Tony Van Bynen told us he wanted to see a ban on handguns.
How long will we have to wait?
This email address is being protected from spambots. You need JavaScript enabled to view it.
Update on 21 April 2020: From the Toronto Star: Ottawa urged to ban "military style" weapons. And from the Globe and Mail: Death Toll Rises to 23.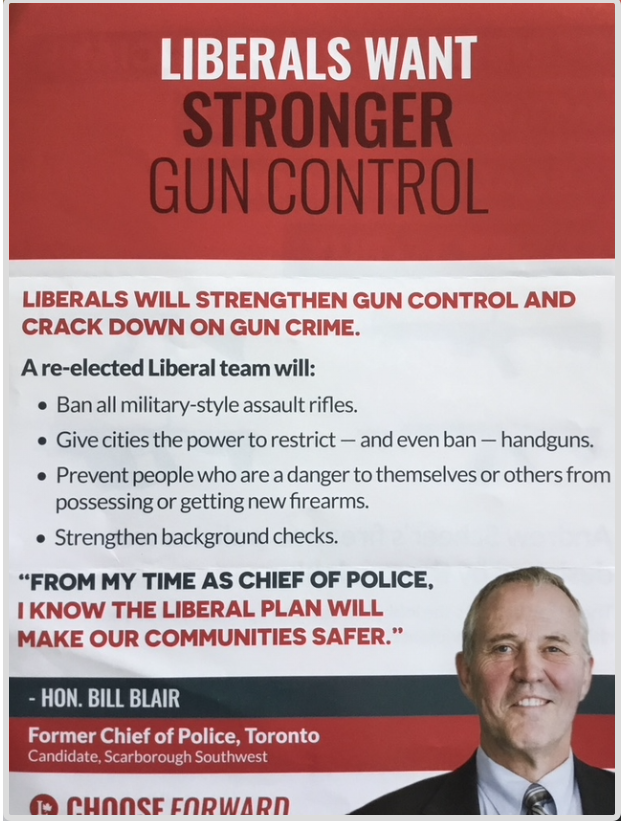 By email and by Canada Post
Tony Van Bynen MP
House of Commons
Ottawa K1A 0A6
26 January 2020
Good afternoon Tony
Banning handguns
I am writing to you again because we share a common objective to see handguns banned in Canada.
This morning's Toronto Star editorial calls for a ban on handguns and says the Prime Minister's mandate letter to Bill Blair in December only mentions assault rifles.
"On handguns, it speaks only of working with provinces and territories "to give municipalities the ability to further restrict or ban handguns" — the position the Liberals campaigned on last year.
This is an unworkable and ineffective idea. The idea that individual cities can usefully impose bans on handguns defies logic…"
https://www.thestar.com/opinion/editorials/2020/01/26/banning-assault-rifles-is-fine-but-handguns-are-the-problem.html
What are your thoughts on this?
At the bottom of page 4 of this morning's Star there is a short piece about a fatal shooting last night in Scarborough – Bill Blair's own patch. One man was shot in the chest and died and another was shot in the head and is in hospital with life threatening injuries. A woman was shot in the hand.
This kind of gun violence is becoming normalised with stories which would once have appeared on the front page being found deep inside the paper.
As Parliament returns this coming week after the Christmas break, would you (a) raise this issue of gun violence at the next Liberal caucus and (b) seek a meeting with Bill Blair to ask how he intends to respond to the plague of handgun violence. How will the plan to give individual cities the right to impose bans on handguns work in practice?
I wrote to Bill Blair twice during the Government's consultation on firearms.
I should also be grateful if you would table these written questions:
(1) What estimate the Minister has made of the cost to Municipalities of (a) implementing and maintaining a local ban on handguns or (b) restricting access to handguns?
(2) If the Minister will make it his policy to collect statistics on the number of people who have been left permanently disabled as a result of a handgun assault, specifying in each case the nature of the injury?
(3) How many persons under the age of 18 have been (a) fatally shot and (b) wounded in each of the last 10 years by someone using a handgun?
On 16 December 2019 I wrote asking if you would support the class action lawsuit brought by victims of the Danforth shooting against gun maker Smith and Wesson. The story is set out here in the Globe and Mail:
https://www.theglobeandmail.com/canada/article-toronto-danforth-shooting-victims-lawsuit-gun-maker-smith-wesson/
Can I ask when you are likely to be in a position to respond?
I look forward to hearing from you.
Your sincerely
Gordon Prentice